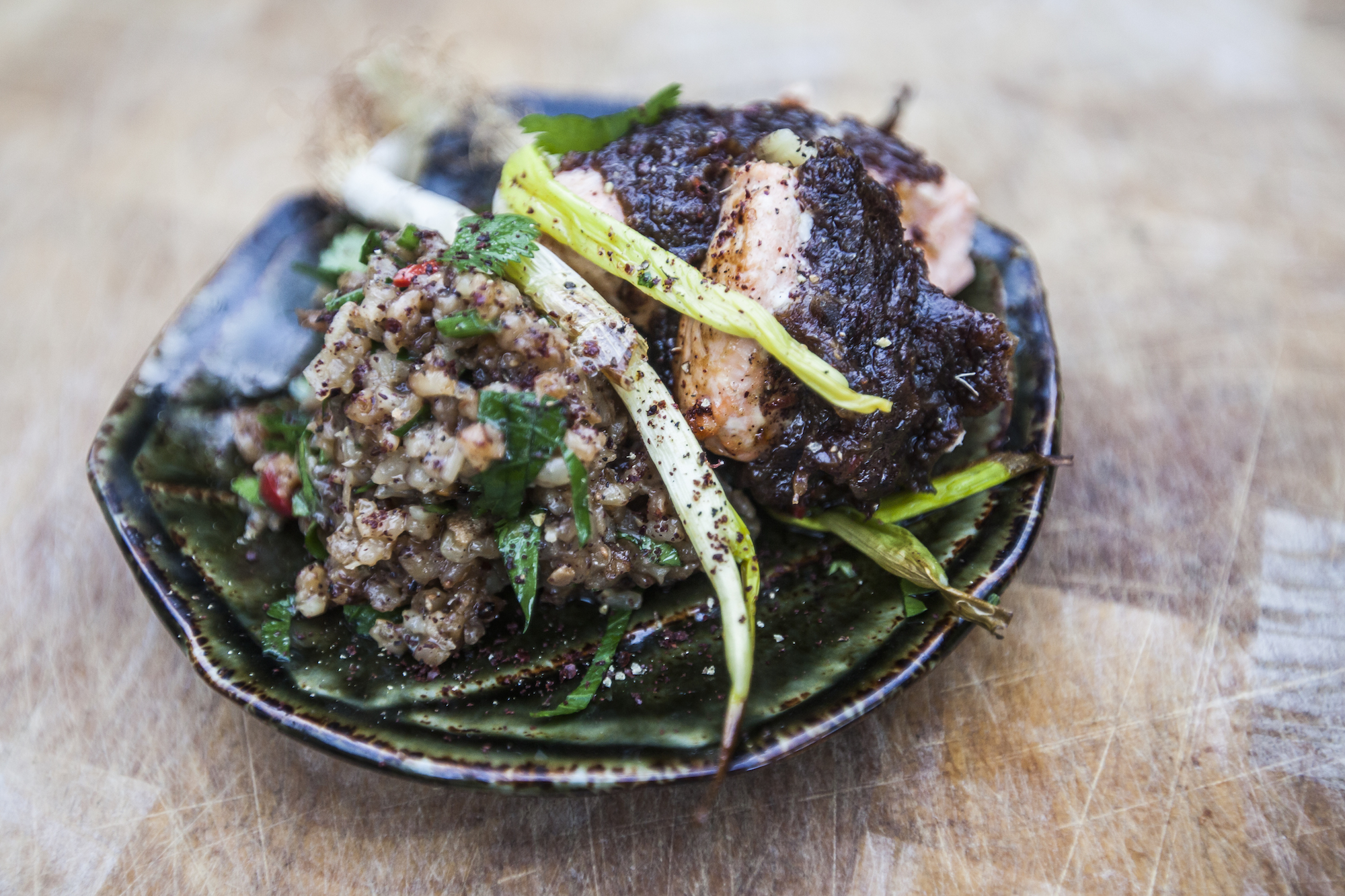 Sumac + Date Oven Roast Salmon. Punchy Brown Rice Salad + Mache
(Serves 10 people)
It's an unusual combination for us at Karma Cans, coconut, date, sumac. It is however, a bit of a stroke of genius, the date and sumac makes a sweet and sour sticky glaze on the salmon, I mean call us nobu and slap yourself with a black cod, because you don't get a glaze much better than this.
Method:
To cook the salmon:
Ingredients:
Salt
Pepper
1 tsp Sumac
1 clove of grated garlic
4 tbsp olive oil
5 dates
Method:
Get your salmon side on a greaseproof paper lined baking tray.
In a bowl combine the salt, pepper, 1 tsp sumac, 1 clove grated garlic, 4 tbsp olive oil 5 dates soaked in 5 tbsp boiling water and mash.
Rub this paste onto the fish flesh.
Bake at 160 c for 15 mins until the internal temp reaches 64 degrees.
To cook the Brown rice:
Ingredients:
500g brown rice for 10 ppl
1 onion finely diced
2 bay leaves
1/2 cup coconut cream grated and mixed with 1/2 cup boiling water
2 tbsp Vita Coco Coconut Oil
2 tbsp black pepper and salt
3 cloves garlic made into a paste
1 chilli made into a paste
1 finely chopped lemongrass stalk
Method:
Heat a heavy-bottomed pan on a medium heat and add your coconut oil and melt it. As it sizzles slightly, add your rice, stir and coat with coconut oil, keep stirring and fry for around 7 mins on that medium heat. You'll see the rice pop and brown; it will smell a little like coconut popcorn.
Add the onion cook for 5 mins.
Add the ginger, chilli and garlic bay, pepper and salt.
Fry for 10 mins, keep an eye on it, turn the light to med/low to prevent the dry grains burning, the goal is to sweat down the onions and garlic and crisp the grains.
Grate the coconut cream in.
Add enough water to cover and cook for 30 mins until the rice is soft. drain the rice, keep the liquid though – it's gold. Put the water back on the hob and reduce by 2/3 into a thick liquor, pour it back over the rice.
Then make your salad…
Ingredients:
3 courgettes cut into a 2 cm x 2cm dice
2 tbsp olive oil
Salt
Pepper
Roasted courgette cubes (roast the courgette cubes for 10 mins at 190 in the oil, salt and pepper until golden brown)
5 stoned dates roughly chopped soaked in 50ml boiling water and mashed up a bit
Juice of 1 lemons + zest
1 handful parsley
1 small handful coriander
1 clove garlic grated
50ml olive oil
Method:
Combine the dressing ingredients in the bottom of the serving dish, and then toss in the Rice.
Spoon over the courgettes, then scoop a piece of fish on top, finish with a handful of Mache lettuce.
This recipe was created by Karma Cans in collaboration with Vita Coco Coconut Oil.  With every Karma Cans order this week you'll receive the recipe to recreate at home along with a sample of Vita Coco Coconut Oil.