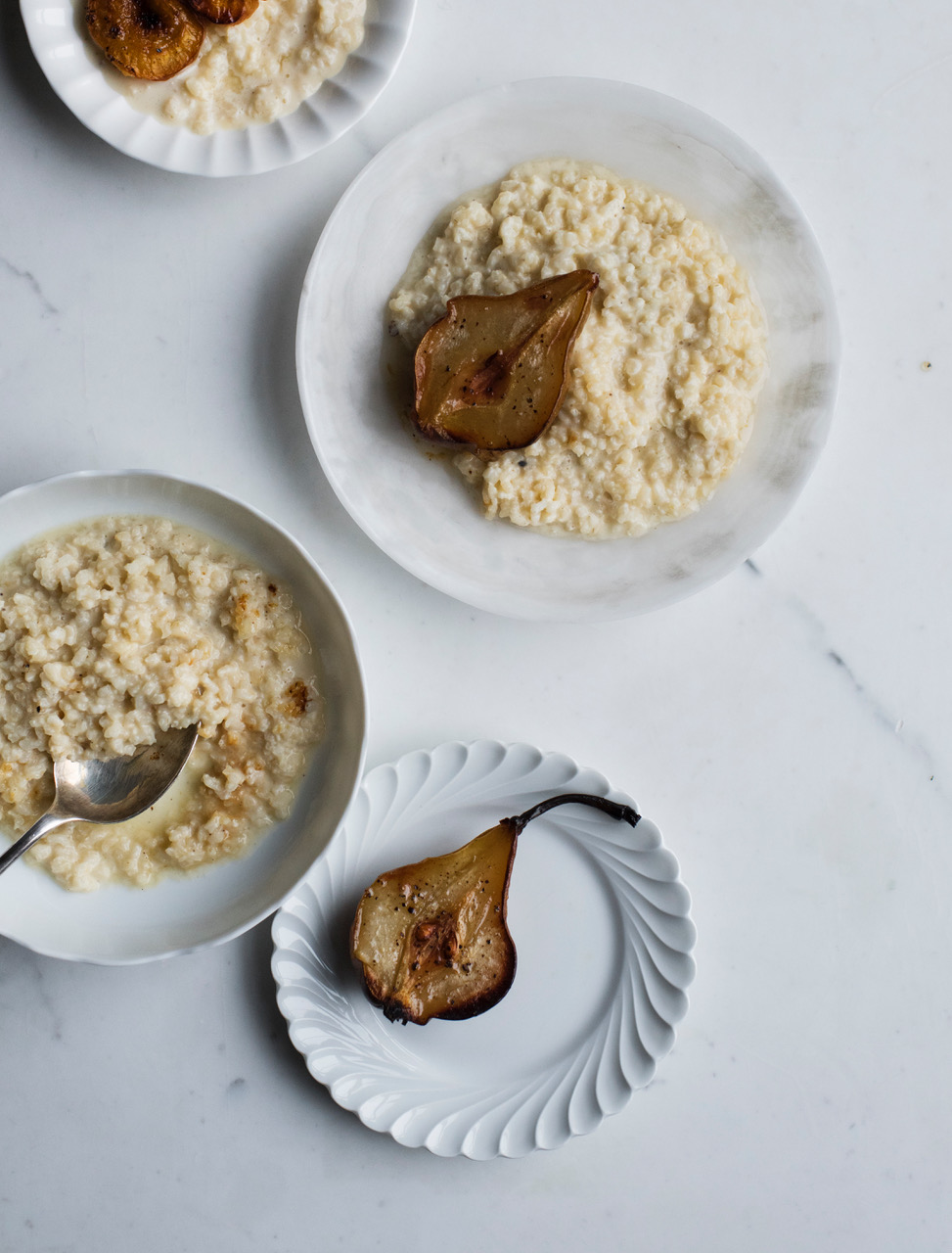 Forget the hearty stews and head straight to dessert for the best winter comfort dishes. This isn't an overly rich option and by swapping out any dairy in exchange for almond milk it's lighter but just as flavoursome. The cardamom with both the thyme and honey makes for the perfect balanced dessert. It takes minimal effort to make, it's the perfect dinner party dessert and with it's lack of dairy and processed sugar means any leftovers can double up as breakfast.
Cardamom Rice Pudding with Roasted Thyme & Honey Pears
Preparation Time 5 minutes
Cooking Time  1 hours
Serves 4
Ingredients 
100g pudding rice
600ml almond milk
4 gently crushed cardamom
3 tbsp honey/ maple syrup or caster sugar
Roasted Fruit
4 sprigs of thyme
2 bay leaves
2-4 pears – halved
several turns of black freshly ground pepper
drizzle of olive oil
generous drizzle of honey
Method
Add the pudding rice to a saucepan along with cardamom, almond milk and honey stirring occasionally. Allow to cook over a medium to low heat for 45 minutes to 1 hour.
Prepare the fruit and drizzle with oil, honey, seasoning and fresh herbs and roast for around 30-40 minutes until soft and a little dark around the edges. Note that the smaller and softer the fruit the less time they'll need. You can also let the rice pudding cook for its final ten minutes in the oven if you like it a little thicker with a skin.
Once cooked serve together.
Follow Anna Barnett on Twitter: @AnnaBarnettCook
Follow Anna Barnett on Instagram:  @AnnaBarnettCooks