Don't walk, run! Renowned Swiss sportswear brand On, known for its innovative designs and high-quality products, celebrated the opening of its first standalone store in the UK last month. The new store situated on Regent Street in London, one of the most famous shopping streets in the world, is a significant step for the brand. With the UK's increasing focus on activewear, On's entry into the UK market could not have come at a better time.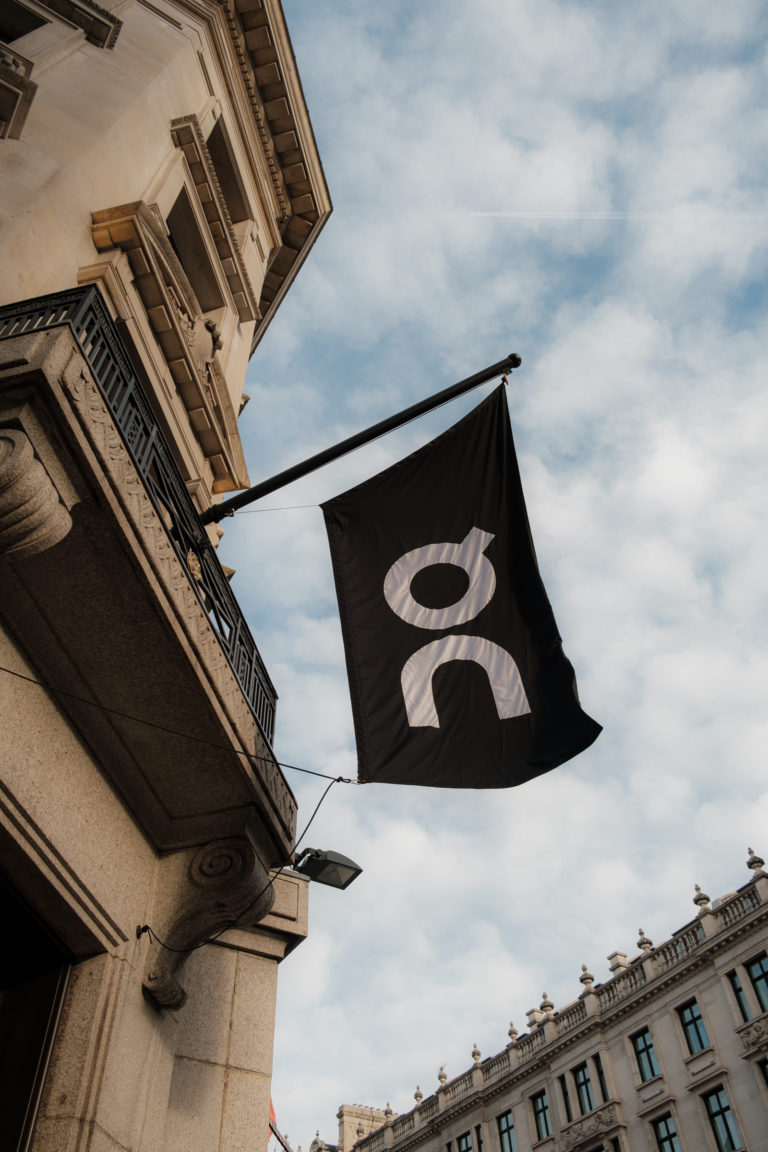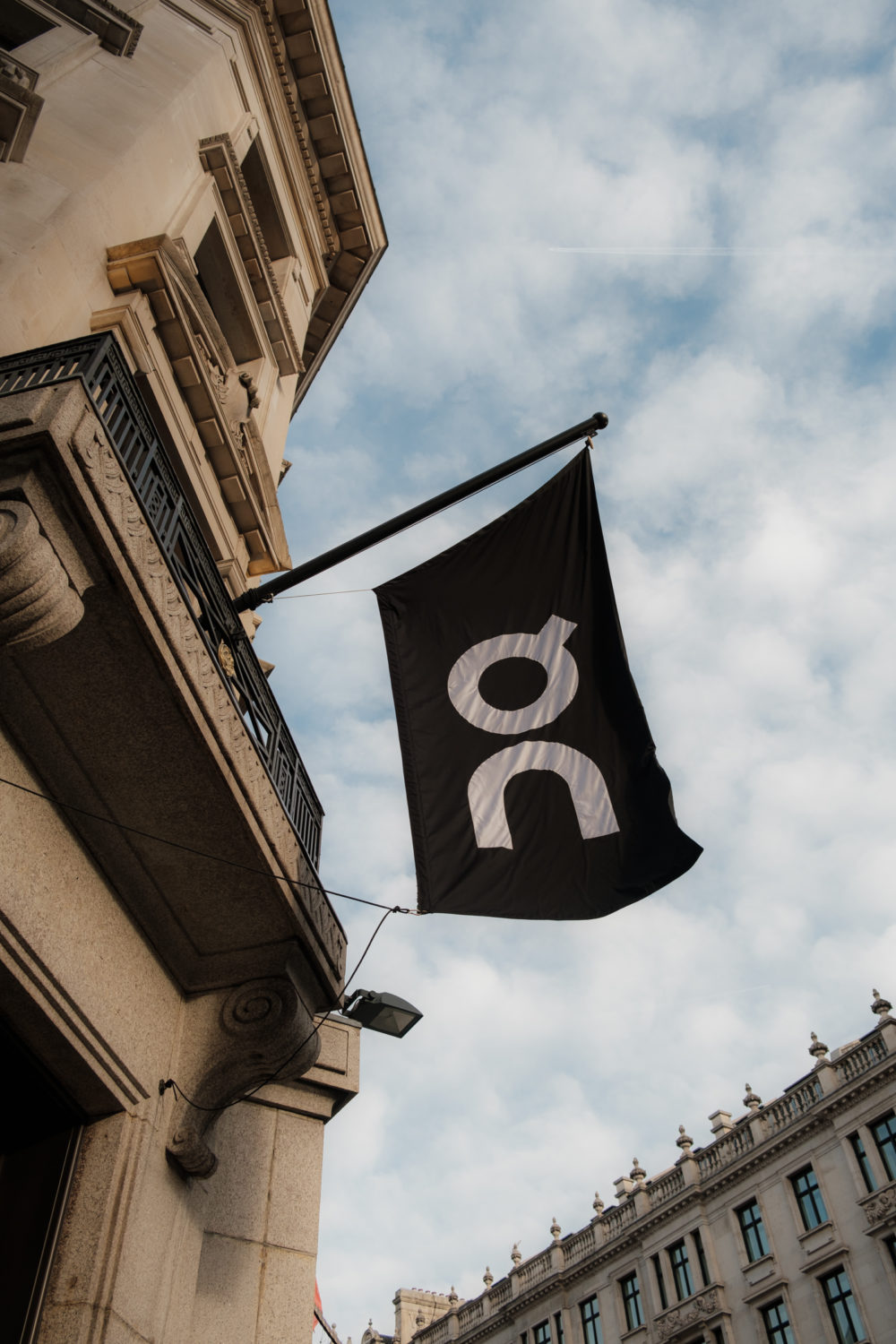 This highly immersive store offers a sensory experience featuring the latest innovations and technology, with the usual shoe analysis fitting not performed on a treadmill, but instead the store has hidden gait-cycle analysis technology cameras to track your perfect match. Stepping into the changing rooms really feels like you are walking through the Swiss Alps with that fresh air scent of the mountains and Alpine sounds. Plus, there is no more having to wait for trainers to come back and forth from the stock room! On's range of trainers are carefully stored in a high-spec magic wall carrying every style and size you desire – the attention detail here really goes without saying.
On's product range includes running shoes, performance apparel, and accessories for athletes and fitness enthusiasts. The brand is known for its use of advanced technologies such as their award-winning CloudTec technology to provide a comfortable running experience. Sustainability is also key at the new On flagship! You will find their 100% recyclable Cloudneo Cyclon subscription service – where you pay £25 per month for these high performance trainers and after around 600km worth of wear you then return them to be recycled and are sent a fresh new pair of Cloudneo.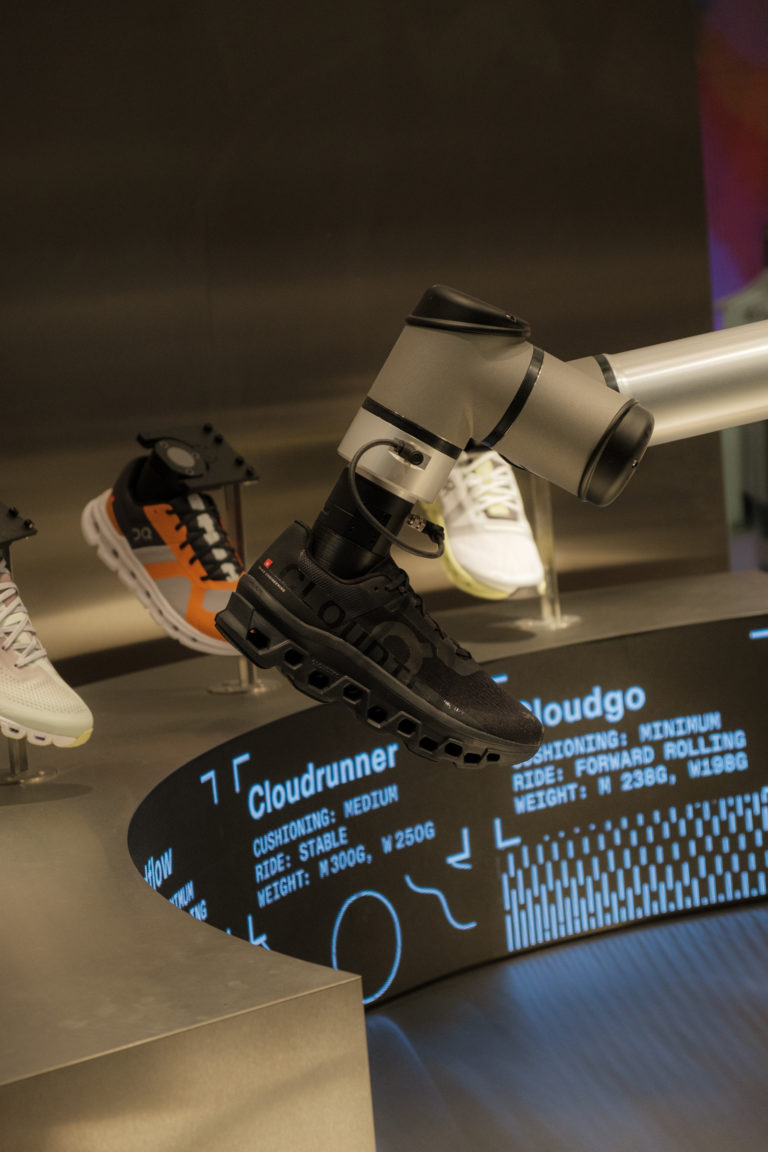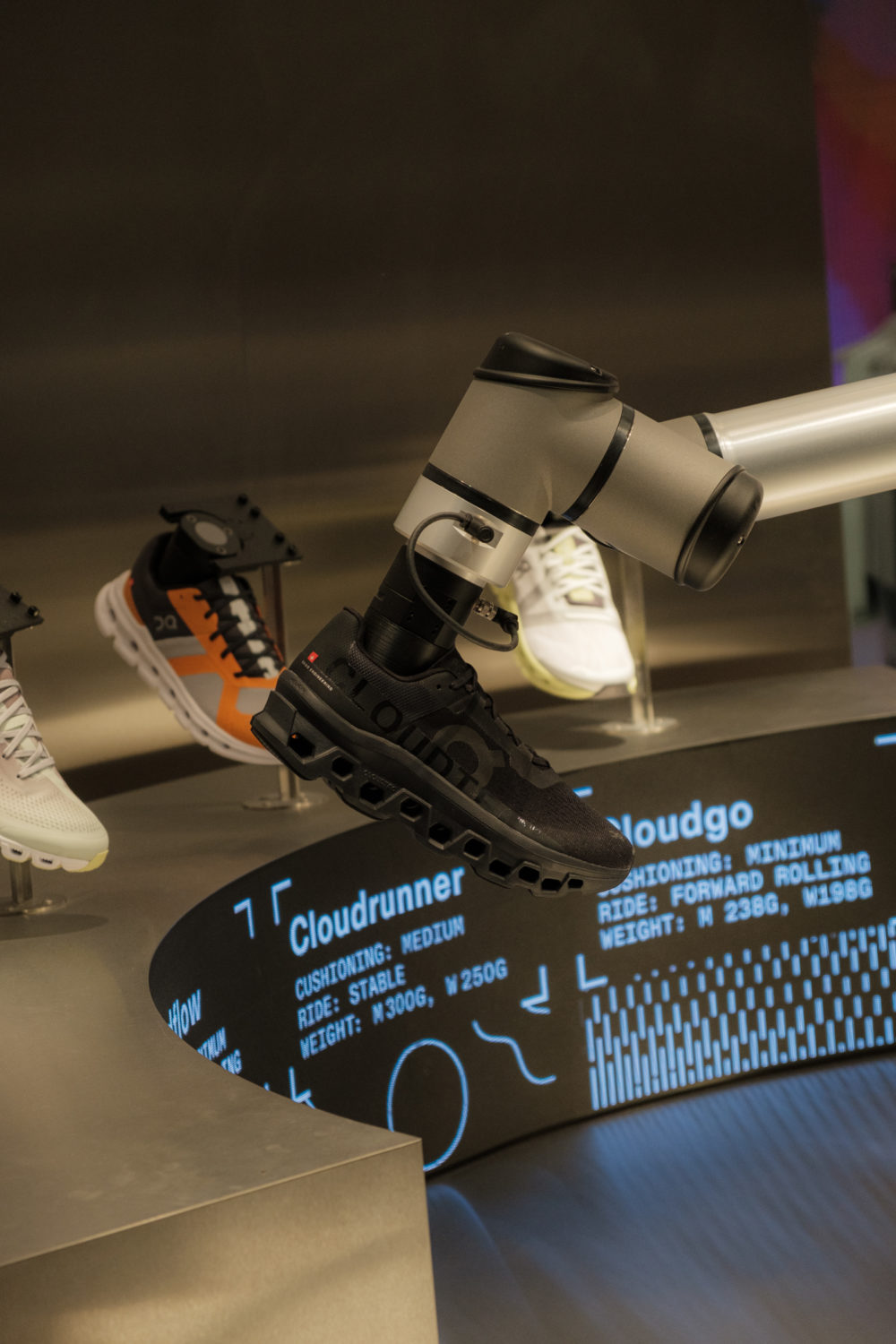 On has taken a thoughtful approach to designing their Regent Street store. By selecting materials that connect with the city's running path, On is creating a seamless transition between the outdoor activity of running and the indoor shopping experience.
Using paving stones for the floors is a clever choice thanks to the durability and providing a textured surface that can help with grip and traction, which is essential for runners. The walls of hand-applied natural clay are also an interesting choice as they provide a tactile, organic element to the space. Clay is a natural material that can help regulate humidity and temperature, making it a practical and eco-friendly choice for the environment.
By incorporating these natural and durable materials, On is staying true to their Swiss engineering ethos, which is tailored around using the latest technology and innovative design to create products that are functional, reliable, and of the highest quality. The use of these materials in the store design also helps to reinforce the brand's values and message to customers who visit the store.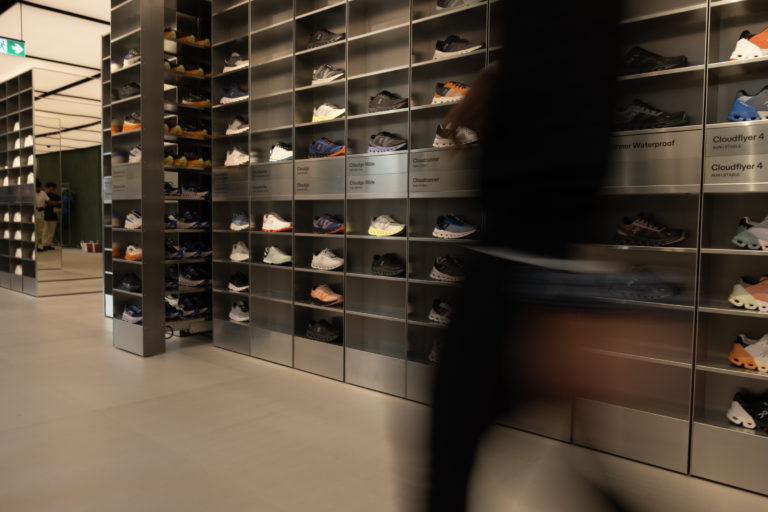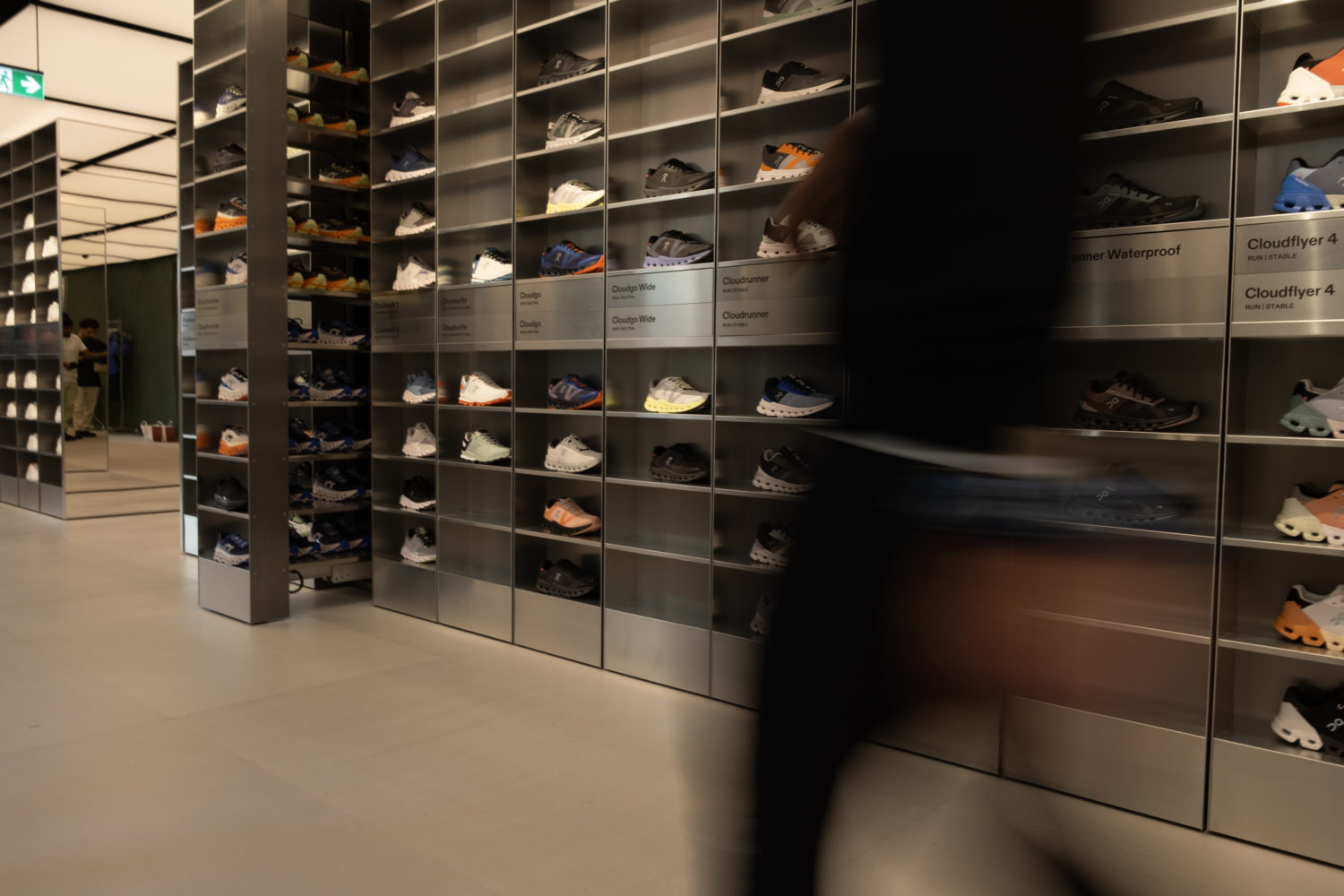 The store has a real community feel too, the lower ground floor of the store is a dedicated space for fitness workouts and events. A weekly run club takes place from the On store at 6pm every Wednesday, where you even have the opportunity to trial a pair of On's iconic running shoes out on the streets of London – what better way to try before you buy than out on a run?
There is a reason why there are queues outside The Regent Street store almost every day! The flagship is a serious hit with fitness fanatics and fashion-conscious shoppers alike.
On Flagship Store, 169-173 Regent Street