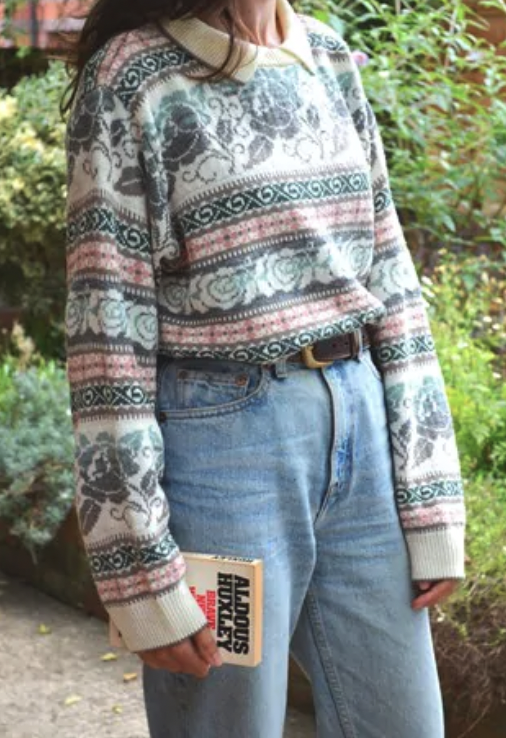 If you're tired of wearing the same pieces that you find in the shopping centers and you're looking for a new way of accessorizing your outfits, we've got you. With all the fast fashion brands selling the same pieces, it can get a little boring and unoriginal to just wear the same clothes. This is why, in this article we're gonna give you some advice on how to combine the modern pieces with some vintage ones in an eclectic and original outfit. For the vintage pieces, you can go on Etsy, Depop or try shopping in a thrift store. Read along and get ready to turn some heads with your originality this spring.
Vintage shirts
The first vintage piece that you can easily wear in a modern outfit is any patterned shirt that you find in a thrift shop. During the 60s and 70s, colorful patterned shirts were very popular, which is why you'll easily find them in vintage stores. Find one that fits you well, add a plain pair of mom jeans and some heels and you've got a unique and elegant outfit that you can wear to work, a date night or any meeting.
Tweed hats
Another way to add some uniqueness into a modern outfit is by accessorizing it with a vintage hat. Hats used to be a big fashion trend during the past centuries, so it doesn't make sense for them to become a dead trend now. Adding a tweed hat to your daily outfit will make sure that you give it a touch of elegance and old style, making it more original. To make this look more modern, you can choose a colorful hat that will give it a fresh look. 
Old blazers
The next one is not really a vintage piece on its own, considering that oversized blazers are still a trend these days. But if you want to find a high quality blazer that is definitely unique, you should search for them in thrift shops. An old oversized blazer will go with jeans, a T-shirt and some sneakers, as well as on top of a dress for a more smart casual look. This item is a statement piece while being easy to style and incorporate in many outfits.
Unique sweaters
The last item we suggest you include in your wardrobe is at least one vintage sweater. Knit sweaters are perfect for any season and any outfit. Whether you prefer to wear them casually tied on your shoulders, on top of a shirt or with your favorite sweatpants, having a vintage sweater will make sure you add an original piece to any of these outfits, you can try this online range of women Irish clothing that includes sweaters, cardigans, vests and all essential knits. You'll surely find many vintage sweaters in thrift stores, or online, and you can choose a couple of oversized ones as well as some fitted colorful knits that will go with anything.