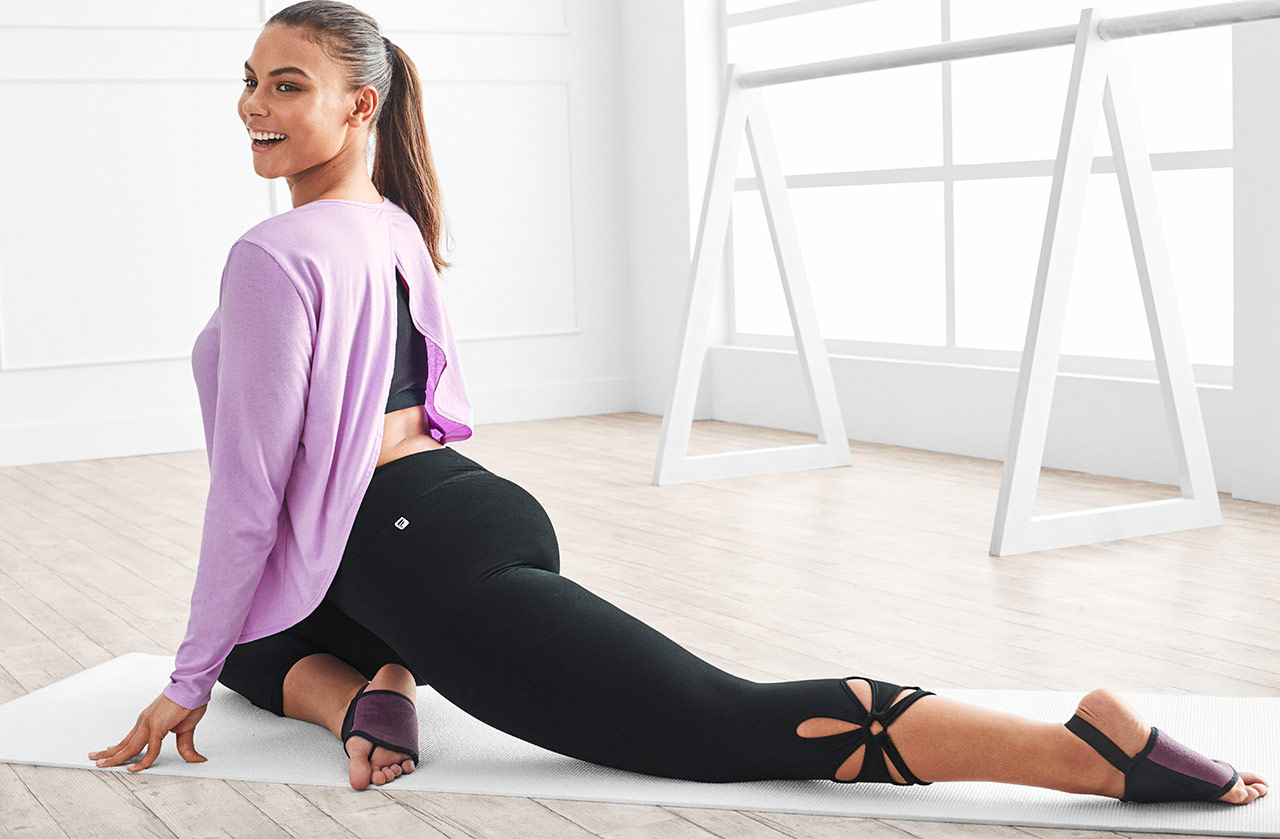 Thanks to the rise of the activewear craze, there's no shortage of gym apparel on the market in 2020. However, if you're not blessed with the perfect hourglass figure, you may feel a little disheartened by the size 8 celebs flaunting the latest athleisure styles.
Luckily, many affordable activewear brands now cater to the plus-size body shape, offering stylish curve-hugging collections. Read on to discover our top plus-size athleisure picks…
Tight-fitting yoga pants are not mandatory
The yoga girl stereotype may be a slim woman in figure-hugging leggings, but this doesn't mean that these are the only pants suitable for working out. Putting it simply, if you don't feel comfortable in tight yoga pants then don't wear them.
Thankfully, there are many alternative bottoms available that offer the same comfortability and range of motion. Most activewear brands now offer awesome plus-size clothing ranges featuring various styles of joggers that are suited to yoga, pilates, Zumba, and gym workouts. In particular, we're loving ultra high-waisted flare pants that still allow boundless motion.
Underwear that won't hinder movement
When building a wardrobe for physical activity, most enthusiasts focus on finding the best top, pants, shorts, and shoes specific to their exercise. Unfortunately, not many people put undergarments into account. What you wear under your clothes can significantly affect your performance. Although they can't be seen, they can either make or break your workout experience.
Because of your body's shape, finding the right underwear is even more important. You'll have to find undergarments that are plus-size-friendly, comfortable for the skin, and not restrictive pf your movement in any way. 
Active women can benefit from wearing leakproof period underwear. Leakproof underwear is made of high-tech absorbent fabric that can hold up to five tampons' amount of liquid. Surprisingly, it feels and looks like regular underwear. This type of underwear allows you to high-kick, exercise, dance, or perform any activity with confidence. Women can try leakproof period underwear from Undercovers or another trusted underwear company.
Plus-size women who are physically active need durable, comfortable, and perfectly fitted underwear. All too often, they struggle with ill-fitting and poor-quality underwear. Wearing too loose or too tight underwear may cause them discomfort, hamper their movement, and affect their confidence.
As more brands embrace the notion of providing plus-size individuals with their own clothing collection, plus-size underwear has also entered the picture. When shopping for undergarments for your workout, look out for soft, lightweight fabric, such as one made from bamboo viscose fabric by Bamboo Underwear.
Why bamboo fabric? Because of its lightweight and soft-to-the-touch feel, it'll feel like your second skin, making you comfortable and unrestricted whether you're doing low-impact exercises like yoga or rigorous activities like running. This type of material is even comparable to silk and cotton, two classic fabrics perfect for undergarments. However, bamboo fabric is considered more eco-friendly.
Also, some bras and bralettes can serve as your workout attire itself. However, take note that it's only advisable if you're into simpler and less active exercises, as your breasts will need a lot of support with all that movement.
Loose-fitting, moisture-wicking tops will keep you cool
Firstly, tight workout tops do not feel comfortable for anyone. When working up a sweat, you need quick-drying fabrics that help you feel light and breezy. Combine this with moisture-wicking technology that quickly mops up your sweat and prevents it from staining.
Above all, avoid materials that absorb moisture. With these garments, as you sweat your top will stick to your body in all the wrong places.
Whether you're in the gym or attending your yoga sessions, a breathable mesh swing tank top is a great choice of attire. By taking a glance at Fabletics videos you may better know why it is so. Also, the style that the attire offers is cut in a flattering swing silhouette style with move-easy side slits to keep you cool and sweat-free as you burn the calories.
A full-coverage, good quality sports bra is your best friend when working out
A high-quality sports bra will make your breasts look good under your flattening swing top. Moreover, it will help you feel safe and supported as you move around. Just because you're a large chested woman does not mean that you have to worry about your boobs slipping out every time you bend down to touch your toes.
A high impact sports bra will give you full coverage and support, helping you relax and feel at ease. Plus-size sports bras are specially made to give sufficient breathing space to your breasts without squishing them together. They also protect the tender breast muscles from injury when you work out rigorously, such as in that sweaty HITT class!
You'll also find that no-wire bras are very comfortable to wear. Some active women choose no-wire sports bras to perform at their best when engaging in sports, exercise, or other intense physical activities because the pressure and restriction of wired brassieres make them very uncomfortable. Hence, many brassiere brands offer no-wire brassiere options with beautiful designs.
When selecting activewear, it's crucial to consider proper fit or size, fabric quality, workmanship, and design. Of course, you must choose a trusted activewear brand. This gives you the assurance that you buy only functional, fashionable, durable, and comfortable underwear and bras that can match your active lifestyle.
As you can see, there are many flattering activewear styles out there that are designed to give you the support and confidence you deserve. With gym apparel for every body shape, there's no excuse not to make the most of your gym membership.