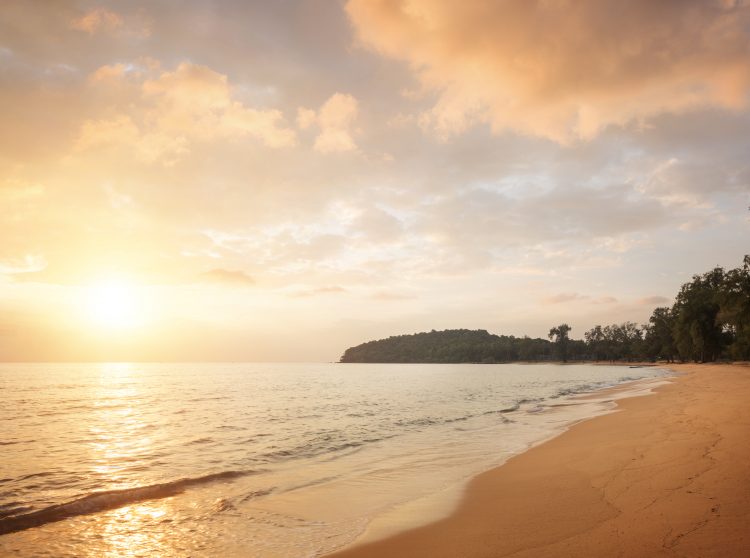 In comparison to the countries that border it, Cambodia has a lot less to offer in terms of hotels and tourist attractions.
It is evidently still recovering not only from war with the USA, which spread from neighbouring Vietnam, but also the Cambodian genocide in which around 2 million were killed by the Khmer Rouge regime. Apart from historical sites such as Angkor Wat, it is the turbulent history and remnants of the recent horrors that has attracted curious visitors.
However now, with a growing popularity of the south coast and the islands that adorn it, tourism is increasing and the country is developing quickly to keep up.
In April this year I travelled the breadth of the country in search of the best hotels and to uncover the pockets of luxury that are growing in a country slowly gearing up to rival the more popular tourist destinations in South East Asia. Whether you want an island escape, a quiet retreat or want to dive into busy city life, I have the best options for you.
Island life
Koh Russey attracts day trippers looking for idyllic beaches, something I was surprised not to find along mainland coast, and it is known among travellers as Bamboo Island as this is the Khmer translation.
There are several islands dotted along the coast to meet this need and despite Bamboo being well known, it doesn't get very busy.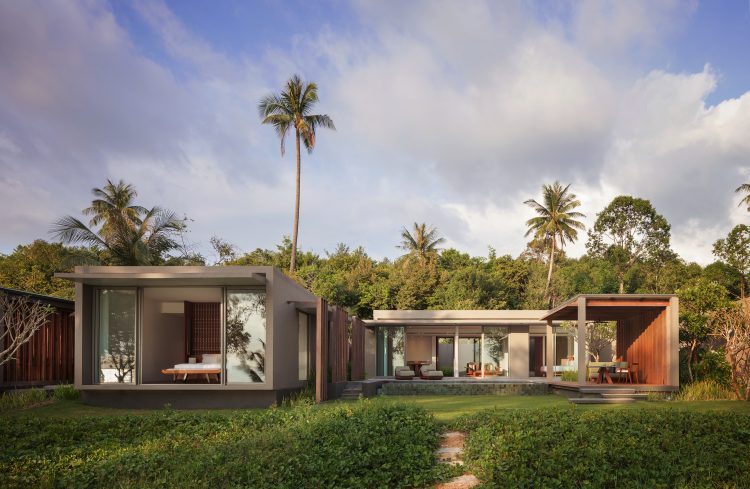 Before 2019 many people reported that you couldn't stay overnight, or that if you did there would be no electricity. The opening of Alila Villas in November 2018 wiped out this issue.
Built along a private stretch of beach shaded by native coconut and iron wood trees, it is adorned by clear turquoise waters ideal for snorkelling and water sports.
The minimalist cubic buildings, painted a deep gunmetal grey, camouflage into the jungle surroundings of palm and bamboo trees, creating an ecological Zen escape.
The flat top bungalows with high ceilings and large bay windows overlooking the ocean or landscaped gardens give way to a contemporary combined with a tropical ambience.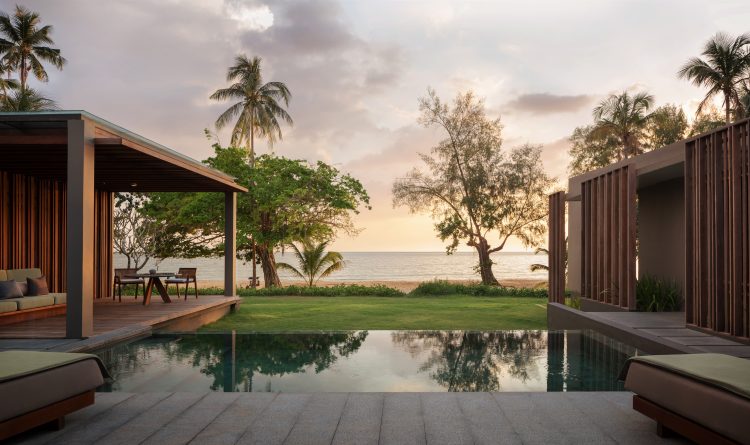 From within the resort you can enjoy the spa, water activities and yoga lessons, but more adventure awaits you at Alila. The hotel staff can arrange various excursions for you: from visiting a crab market in Kep or pepper farm in Kampot, to a paradisiacal picnic on another island or a night-time trip to see bioluminescent plankton out at sea.
The resort has bikes available to allow you to explore the island and the communities who continue to live traditionally in spite of the changing world of the 21st century.
For an experience evocative of life on a deserted island, you can visit an exclusive private island resort that blends into the canopy of trees and tropical landscape.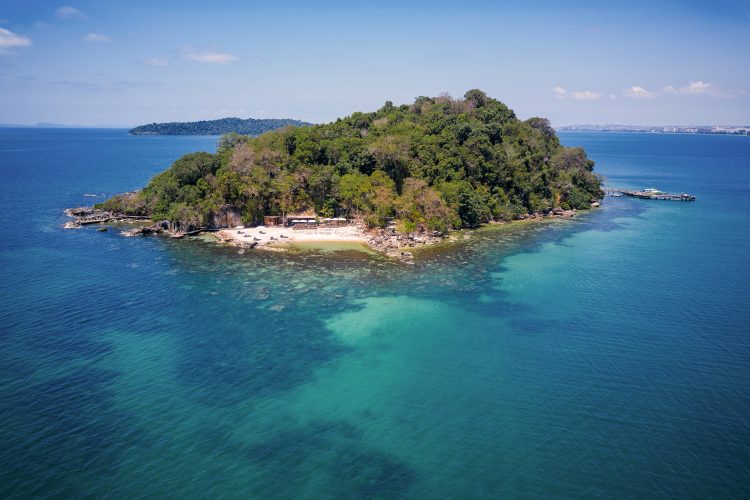 Six Senses on Krabey Island is one of the country's newest luxury hotels, having opened at the start of this year. When I arrived one month after it had opened its doors, I had to closely follow the arrival instructions from Sihanoukville Airport as it was still unknown among the locals.
Despite being a tiny island, there is an abundance of things to do (if you want to do anything, relaxing all day is a very good option). Experiences range from water activities, island hopping and boat trips, to the Six Senses Spa and fitness centre where you can discover personal wellness programs and natural beauty masterclasses.
During my stay I undertook the personalised wellness screening, learning all about my body's health and receiving advice on anything that needing fine tuning. Should you want to integrate wellness into your stay, Six Senses can tailor your food, create an exercise and treatment regime and work to combat the most common issues people face in today's increasingly hectic, stressful lifestyle. (I declined this experience, choosing to indulge myself in food and horizontal relaxation).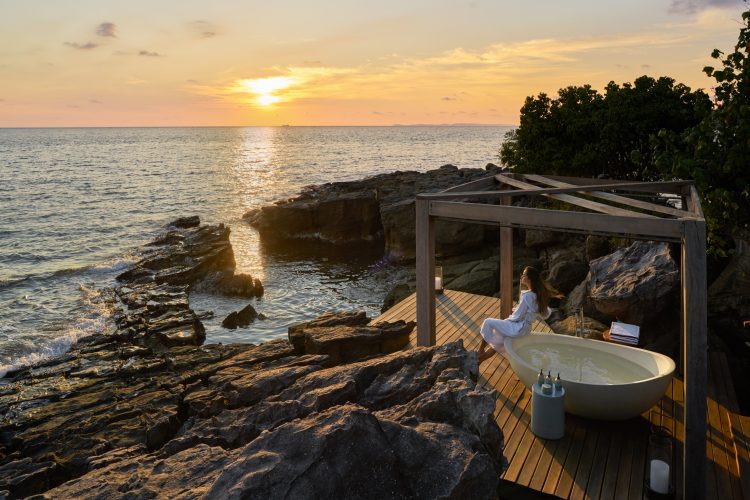 As well as your own private pool, a large lap pool overlooks the horizon. This sits in front of the sunset bar, main restaurant and ice cream parlour. Tucked slightly away into the island is a Khmer restaurant which offers a fixed menu of modern takes on traditional recipes.
(Despite the association of the word Khmer with a dreadful regime, it remains the name of the Cambodian language and is used to describe anything Cambodian, from food to arts and culture).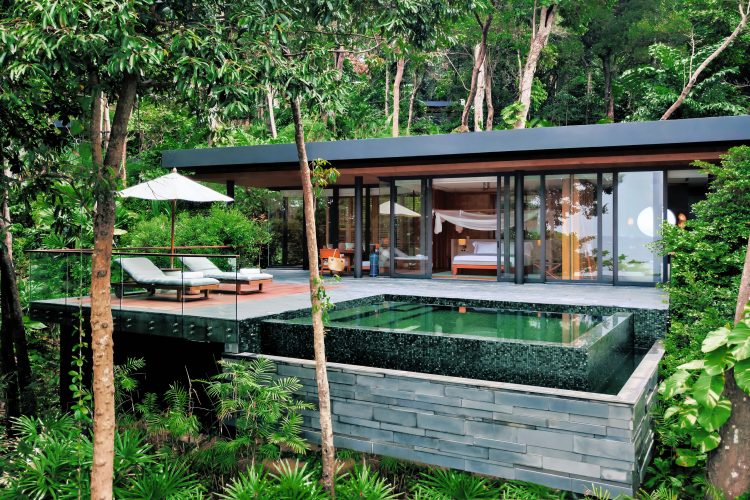 Rates at Six Senses Krabey Island start from $537 per night in an entry-level Hideaway Pool Villa Suite on a B&B basis. sixsenses.com
Rates at Alila Koh Russey start from $385 per night.
alilahotels.com/kohrussey
Quiet life
Outside of the cities and islands, there is little development to cater to tourism. Curious travellers who want a taste of traditional village life have only a few options.
Phum Baitang, which translates as 'the green village', has been open less than a decade but found worldwide fame when Angelina Jolie booked the entire place shortly after it opened.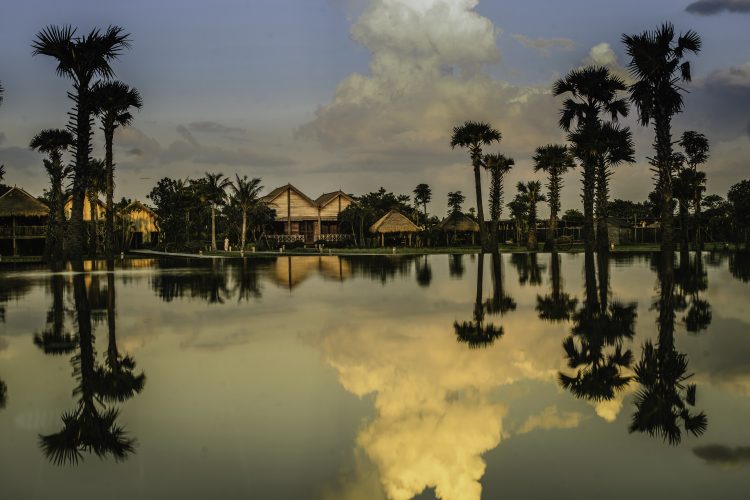 It sits just outside of Siem Reap and lives up to its name. Despite being a five-star resort you feel like you are in a Cambodian village as the 45 stilted villas, inspired by traditional Cambodian wooden housing, sits around rice paddies that provide the hotel with grains throughout the year. Wooden walkways cut through it allowing you to get around easily, and bikes are available too.
The serene atmosphere makes the resort feels more like a retreat. As you cycle around and pass grazing ox, stopping for a dip in the large outdoor infinity pool overlooking the fields, or stopping at the cocktail bar to watch the sunset in the distance, you will undoubtedly experience tranquillity.
With two restaurants to choose from, Bay Phsar and Hang Bay, I found myself with little desire to leave, even though Siem Reap is in reach.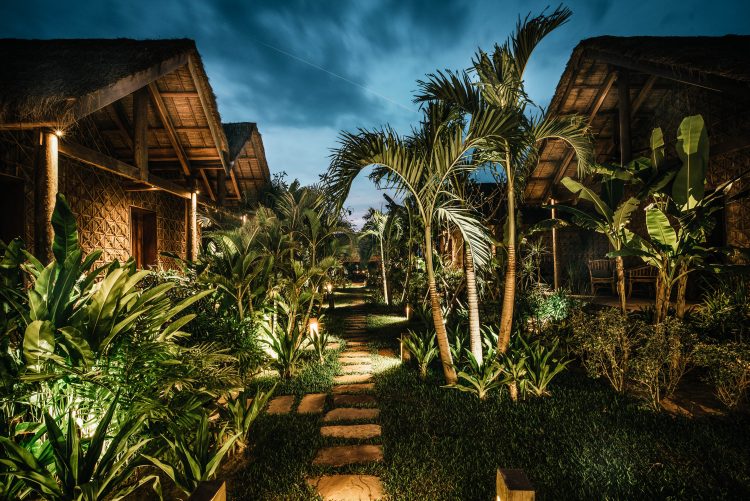 Through Phum Baitang the architectural design has been inspired by traditional Cambodian wooden housing. Both exterior and interior have been designed, sculpted and furnished to create an authentic, yet luxurious, Cambodian experience. Out of the 45 stilted guest houses 20 have a private outdoor pool and the remainder have a private terrace.
If you want a little more life and opportunity for exploration than the sleepy city of Battambang in the north west of the country will fit your needs.
It sits around one of the many rivers, Sangkae and despite once being a major commercial hub, today it is both quiet and quaint. The only attractions are an old bamboo train track that shoots you through a sea of green farmland and three temples: Barseat, Wat Ek and Ba Nan.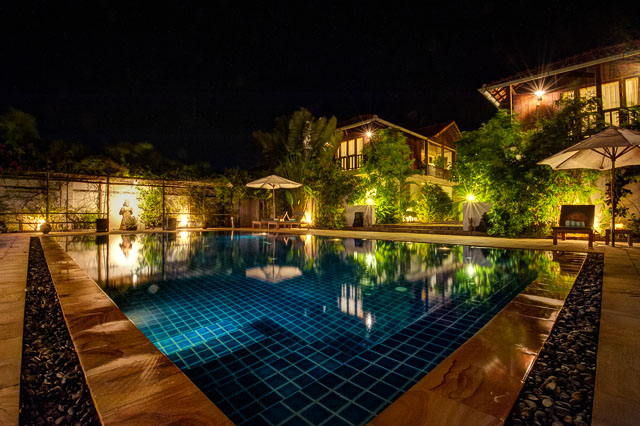 The Bambu Battambang is a charming boutique hotel with just 16 bedrooms arranged across three old-fashioned buildings that sit in the gardens behind the entrance and outdoor pool. The inspiration for the buildings and interior design is evidently rooted in traditional Khmer styles and French colonial architecture.
The rooms have wooden structures, with white walls bordering the traditionally tiled floors. The hotel opened in 2010 and the historic aesthetic allows the visitor to imagine they are staying in a bygone era.
A tuk tuk will take you into the city centre in less than five minutes, but if you choose to walk you will pass many local bars on the same road as the Bambu Battambang Hotel. In town, aside from the large bustling marketplace, you will find modern café and restaurants with The Place, a rooftop bar above a hostel, being one of the biggest night-time attraction for travellers of any age to drink while looking over the city at night.
Battambang has an airport, but you can arrange a taxi from Siem Reap for as little as £30 each way for two people (prices will go up for each passenger, and you may find the driver combines the trip with a delivery to make extra money on the journey).
Rates at Phum Baitang start from $385 per night for a Terrace Villa and $500 per night for a Pool Villa. zannierhotels.com/phumbaitang/en/
In high season (October to March) rates at Bambu Battambang start from $105. bambuhotel.com/
City life
There are two major cities in Cambodia and despite being the smallest of the two, Siem Reap attracts more visitors than the capital city of Phnom Penh because of the world-famous Angkor Wat.
Angkor, a UNESCO World Heritage Site, is one of the most important archaeological sites across the whole south east of Asia. The archaeological park contains the remains of the different capitals of the Khmer Empire, from the 9th to the 15th century, as well as the country's most spectacular temples. They include Angkor Wat and, at Angkor Thom, the Bayon Temple with countless sculptural decorations. UNESCO has set up a wide-ranging programme to safeguard this symbolic site and its surroundings.
In less than a decade tourism has boomed incomparably to the rest of the country, attracting five-star hotels and sending property prices so high they match most of Europe. A huge market area runs late into the night, with the notorious Pub Street attracting a throng of party people to the deafeningly loud array of bars.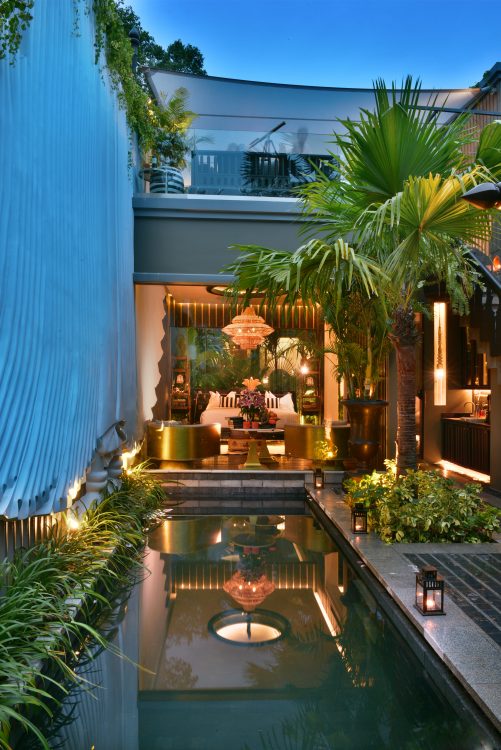 The Bensley Collection Shinta Mani Siem Reap mixes the hotel and villa experience, creating an almost unparalleled luxury (not to mention a sweet relief from the huge crowds you'll find at Angkor Wat). It is made up of 10 regal villas with a private pool, outdoor area, rooftop sunbathing section and a jungle-adjoining bathroom with glass walls and an outdoor bath from which you will be engulfed in greenery. Bill Bensley claims to have designed these residences as he likes to live himself – surrounded by lush gardens which are completely private.
Inside your villa you will find a bold and inimitable design. Striking colours of gold, black and orange make up the interiors with vibrant Khmer artworks. Almost every inch of the place has been custom made and the gargantuan beds are particularly difficult to drag yourself away from.
Two Shinta Mani hotels sit opposite each other adjacent to the villas and so on arrival you are seated and presented with a welcome drink of your choice and a small food board of snacks to graze on while listening to the set up that awaits you.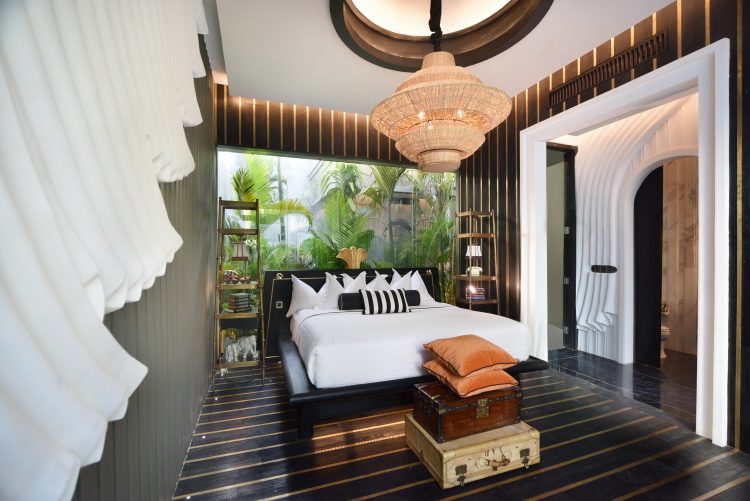 The Bensley Butlers are available 27/7 for whatever you need. You can enjoy breakfast in one of the sister hotels, or pre-order and allow your butler to set it up wherever you choose. They can help you plan your trip and will present you with a portable Wi-Fi device for extra ease when you're away exploring.
The country's capital city, sat where the Mekong and Tonlé Sap rivers meet, has nothing to rival Angkor Wat alone but has an abundance of things to do and see to make a visit worth your while.
Not only will you find parks, restaurants and bars bustling with locals and international visitors, but it is the one place in Cambodia that is home to many attractions. The Royal Palace, Silver Pagoda, National Museum and the massive art deco central market are among the most popular.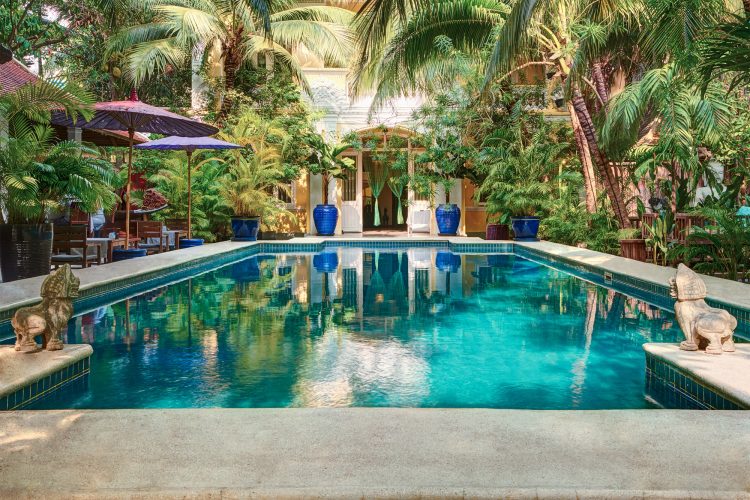 If you want to be in the thick of it, Pavilion Phnom Penh is within easy reach of the main sights, while offering a peaceful resting place with two outdoor pools sat within exuberant flora. All guests are treated to a short massage during their stay, and the hotel can provide you with boat trips along the Mekong.
The 36 rooms each promise their own distinctive character. I stayed in the jacuzzi bungalow, an elegant wooden and glass structure nestled in the gardens of the property with a private patio and open-air jacuzzi.
Pavilion Phnom Penh is adults-only, but next door the Kabiki 'Secret Garden Hotel' welcomes all ages and, also part of the Maads group, promises the same high-end escape.
Rates at Bensley Collection- Shinta Mani Siem Reap start from $661. bensleycollection.com
Rates at Pavilion Phnom Penh start at $70.
maads.asia/pavilion