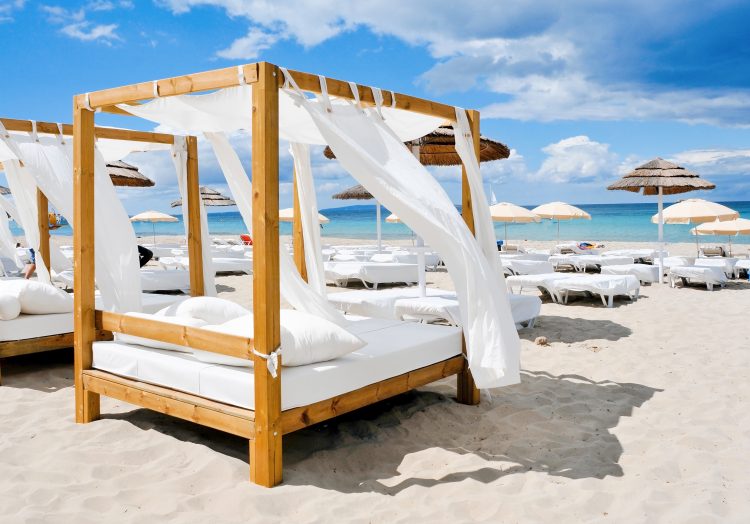 Since the 60s, Ibiza has been a hotspot for the free-spirited – enticing voyagers looking for paradise. The electronic music scene dominated the island from the 80s onwards, with Balearic house emerging in the 90s. Fast forward to 2018, it has also become the ultimate destination for foodies. Discover everything Ibiza has to offer and explore a few of their finest restaurants, idyllic panoramic views and alluring sandy beaches.
Stay at Sir Joan

The elegant modish architecture has a glamorous juxtaposition against the backdrop of more simple marina-view apartments. Its white exterior keeps to the 'White Island' moniker that was bestowed due to the architecture on the island and in the evenings, the building illuminates a warm, inviting glow. This boutique hotel, like many others in Ibiza, comes to life at night, with clarion house music on the speakers and attracts a mixture of a young and mature crowd, beautifully dressed, in white, of course.

The rooms were comfortable à la mode and were very efficient with the use of space, with beautiful oak floors and walls, sliding silver doors to break up the bedroom and powder room, whilst also doubling as the wardrobe door. A wall-to-wall shelf filled with books and pottery created a cosier ambience; the marbled shower, basin and luminous back-lit mirror added a touch of contemporary glamour. 

sirhotels.com/joan
Passeig Joan Charles I, 1, 07800 Eivissa, Illes Balears, Spain

Eat at Izakaya
Located within the luxury boutique hotel, Sir Joan, Izakaya has been integrated into Sir Joan's beautiful aesthetic, taking over the ground floor lobby, as well as the seating around the pool, allowing guests and diners to enjoy Izakaya's fine-dining menu from morning to night in a chic and laidback environment. The giant steel fridge in the centre of the bar is an impressive sight and stocks a vast international fine wine library as well as a unique selection of Japanese sake, Shōchū and whiskeys.
The menu is based on a Japanese grill with South American influences; executive chef Haripasad Shetty of Nobu London fame, has ensured only the freshest and highest quality ingredients, which is evident in how delicious the sashimi is. Be sure to try the corn tempura, perfectly crispy bites and easy to eat 10 in a row. The Salmon & Avocado Ceviche takes a popular sushi combination and has added a Peruvian twist by adding lime, lemon, onion and chilli. The Grilled Red Shrimp With Chilli Salt is also a delight, such a simple dish but so tasty and full of flavour.
Indulge in a plate of sashimi, alongside their Iced Fruit Selection and a Lycheeshu cocktail, an Izakaya Signature, by the pool. It will be nearly impossible to leave.
Passeig Joan Charles I, 1, 07800 Eivissa, Illes Balears, Spain
Eat at The Butcher
Ibiza is an island that comes alive at night and there is no better way to satisfy those late-night cravings or any time during the day than at The Butcher. Their goal of offering all day 'haut fast food' and has been achieved using the best quality Aberdeen Angus beef, herbs, fresh vegetables and homemade semi-brioche bun.
Ensure you go with an empty belly, you will want to try everything on the menu. If you do make that mistake, 'The Ugly' is slightly lighter with Prime Aberdeen Angus beef, lettuce, tomato, avocado, jalapeño, sour cream and barbecue sauce in a tortilla wrap. Enjoy it with one of their 'Superior Milkshakes' or 'Boozy Milkshakes', we recommend the 'Dark Rum N Chocolate'.
Keep cool inside and revel in the work of award-winning architects, Baranowitz + Kronenberg, who were inspired by the maritime life of the Balearics or relish your meal on the decked, outdoor seating area.
Passeig Joan Charles I, 1, 07800 Eivissa, Illes Balears, Spain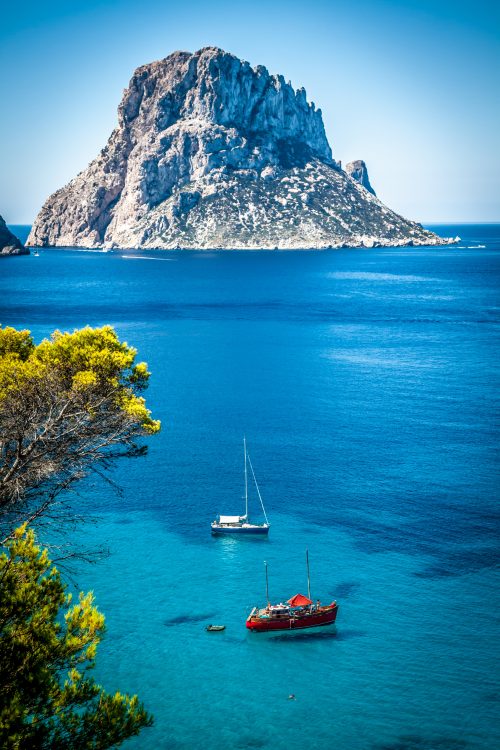 Stay at Can Talaias
It's easy to be swept away by the 'white Ibiza' that parties non-stop but take a couple of days out at the end of your holiday and retreat to Can Talais. Completely tucked away in the north-eastern part of the island, and so hidden that the sat-nav will only take you so far before you have to rely on good old-fashioned verbal directions. Can Talaias offer tranquillity and beauty, surrounded by hills and pine forests; it is a paradisiac haven.
The hotel delights in a very laidback ambience and you feel more like a guest in a home, rather than a hotel. This is because Can Talaias used to be the family home of comedic 1950s actor, Terry-Thomas, before his son, Cushan and Cushan's wife, Laetitia took over ten years ago and turned it into a boutique, family-run hotel, making it the first AgroTurismo on the island.
Wake up and take in the magnificent views from the terrace – lush green mountainous forests against the backdrop of the glittering Mediterranean Sea and the endless bright blue sky. Lounge by the pool or explore the nursery gardens that were originally designed by Mr & Mrs Terry-Thomas and hosts a selection of wild Spanish forest plants such as Common Pines, Spanish Oaks and Olive Bushes.
Apartado 244, 07850 Sant Carles de Peralta, Spain
Visit Cala Boix Beach
A 10-minute drive away from Can Talais, Cala Boix Beach is unprecedented in natural beauty. Surrounded by overrun fern cliffs, this diminutive black-sanded beach is absolutely breathtaking. Take a moment to watch the glorious Cerulean sea and listen to the sound of the waves as they crawl gently to the shore.
Take a stroll through the golden fields in the bucolic Ibiza countryside just nearby – if you plan ahead, it is the perfect picnic spot. If not, discover one of the restaurants at the top of the beach, we recommend La Noria, with incredible sea views and the best paella in town.
Camino 3 Cala Boix, 40, 07850, Illes Balears, Spain