It's easy to understand why an estimated 1.5 million tourists visit Corfu, or Kerkyra, each year. Known as the 'garden of the gods' as the island remains green all year, amongst devastating cliff-top views, supreme beaches and untouched villages, it is enough to keep visitors coming back year after year.
The island's north-east coast has been nicknamed 'Kensington-on-sea', the party town of Kavos pulls in the youth and for the more spiritual folk, they will head to Arillas. This particular adventure, however, takes place on the south-east coast of the island.
What started as a holiday home for the Dracopoulos family in the 1960s, in the little fishing village of Benitses, Corfu, has since expanded into the MarBella Collection, a luxury hotel empire that remains within the family today.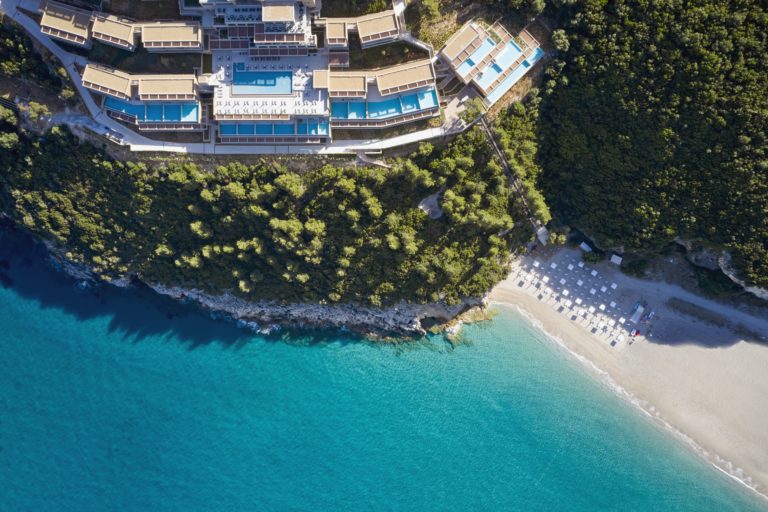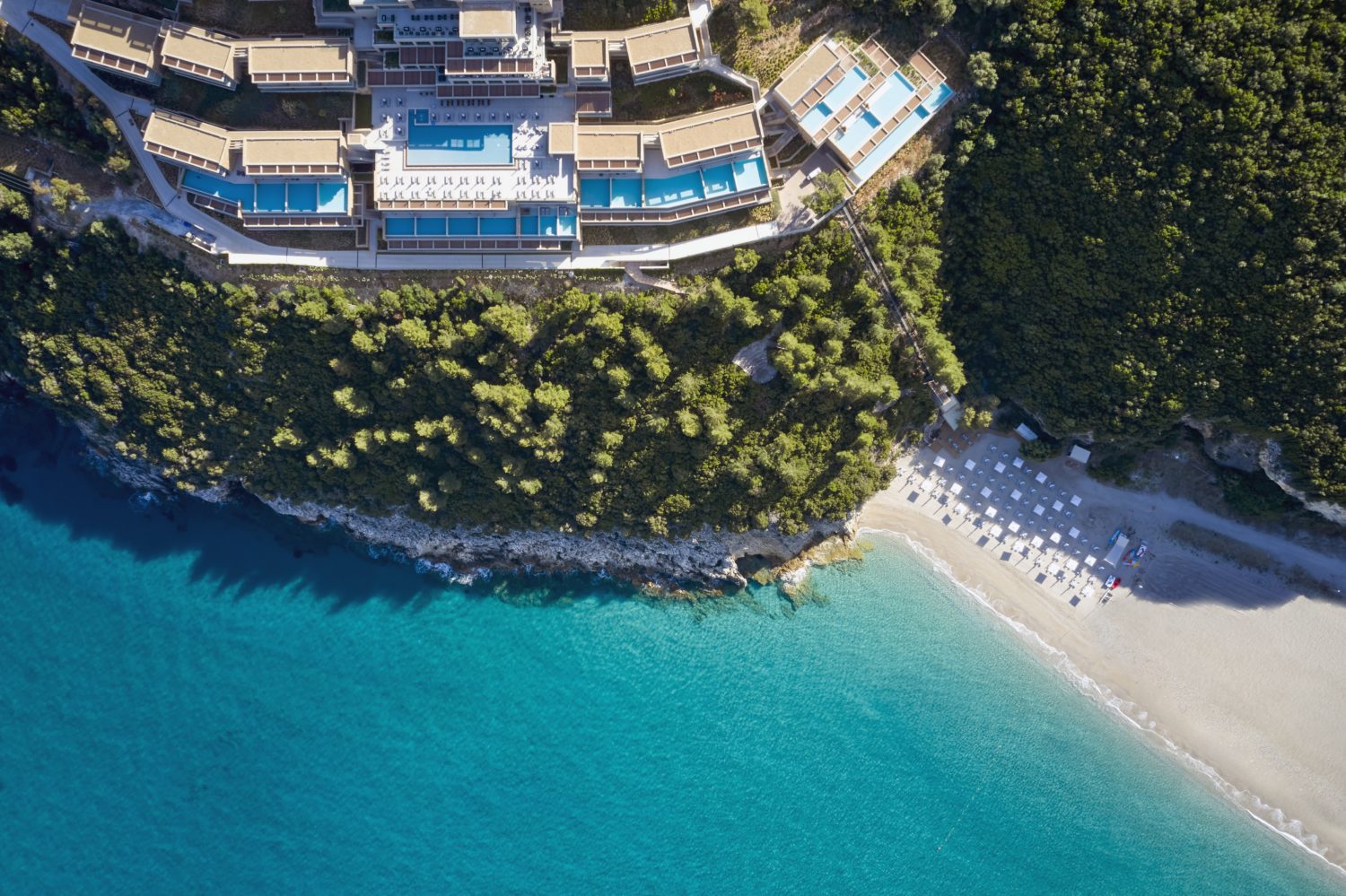 The collection currently comprises of three properties with two neighbouring hotels overlooking the glittering Ionian Sea in Corfu, their flagship MarBella Corfu and adults-only MarBella Nido. MarBella Elix, their third and latest property, is located in the Parga region of mainland Greece.
The smallest of the three hotels, MarBella Nido offers an understated luxury that offers peace and tranquility, but with the option to go next door to MarBella Corfu, should you wish to be somewhere more lively. A suite-only hotel, each terracotta-hued residence slopes down a steep hill and feels more like a charming Corfiot village than hotel resort.
All 70 suites boast private terraces offering sea views and come equipped with a pool or hot tub, an excellent way to end the day underneath a star-filled sky.
The deluxe suite comprised an open-plan layout opening into a spacious lounge area, the bedroom exhibited a muted taupe colour palette and natural wooden furnishings, with a wide archway displaying a deep freestanding bathtub.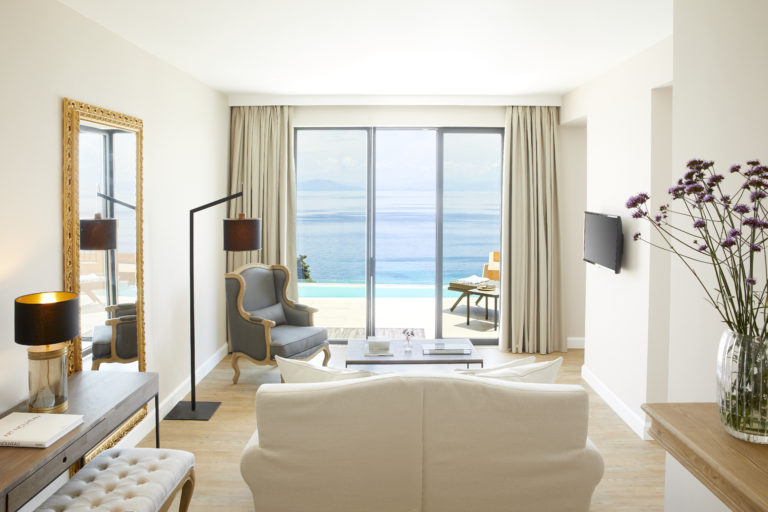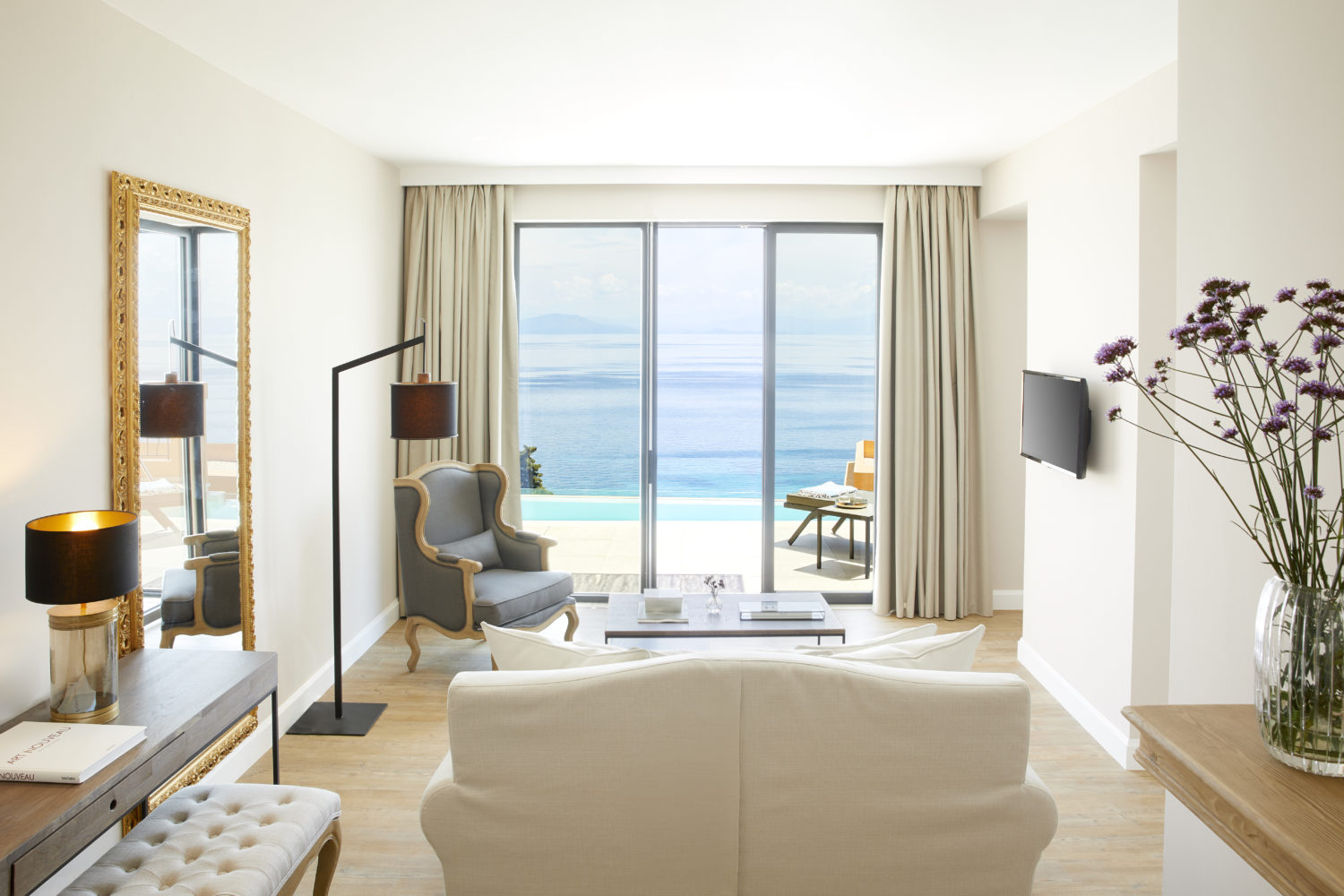 Whether you take a stroll down or opt for a golf buggy ride, it is a Mediterranean Eden with perfectly manicured pathways and included lime trees, olive trees, wild flowers, shrubs of lavender and rosemary bushes – creating the signature aroma of MarBella Nido. It was a true hideaway and I found myself reluctant to leave.
MarBella Corfu, on the other hand, is a resort in every aspect, with 384 rooms and suites, six restaurants, a tennis court, and a water park. It is the perfect family setting with plenty to do.
Opt for a Junior Suite Grand Terrace with Whirpool complete with a walk-in wardrobe, king size bed, separate lounge area and four-piece bathroom.
Take advantage of your close proximity to Corfu Old Town, only 30-minutes away, explore the UNESCO World Heritage site. The Byzantines, Venetians, French and British have all ruled over the island, due to the position at the mouth of the Adriatic Sea, resulting in enchanting architecture, several churches and old and new fortresses.
If you stroll past the captivating Vlacherna Monastery, you'll see the tiny Mouse Island as well as Albania in the distance.
Across the sea is MarBella Elix, perched on top of a pine-forested hill with unparalleled views of the Ionian Sea featuring neighbouring islands Paxos, Antipaxos, Corfu and the breathtaking landscape of the Karavostasi beach stretching out below.
Check into the Maisonette Suite which is complete with a private pool, looking out onto the mountains and glittering sea.
You can reach Elix by ferry and a scenic drive up the mountain, or you can take the chartered catamaran, which departs from a small dock 5-minutes away. The catamaran sails in between the MarBella Collection properties a few times a week. I recommend spending a day on the catamaran where you can cruise through the waters and explore the caves, swim over to the unspoiled pebble beaches and stop off in Paxos, another idyllic island – meander through the narrow alleyways filled with little boutiques before stopping for lunch.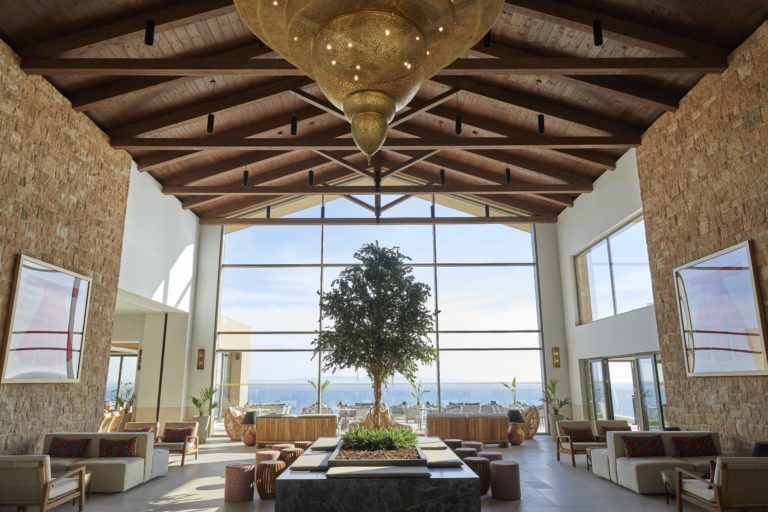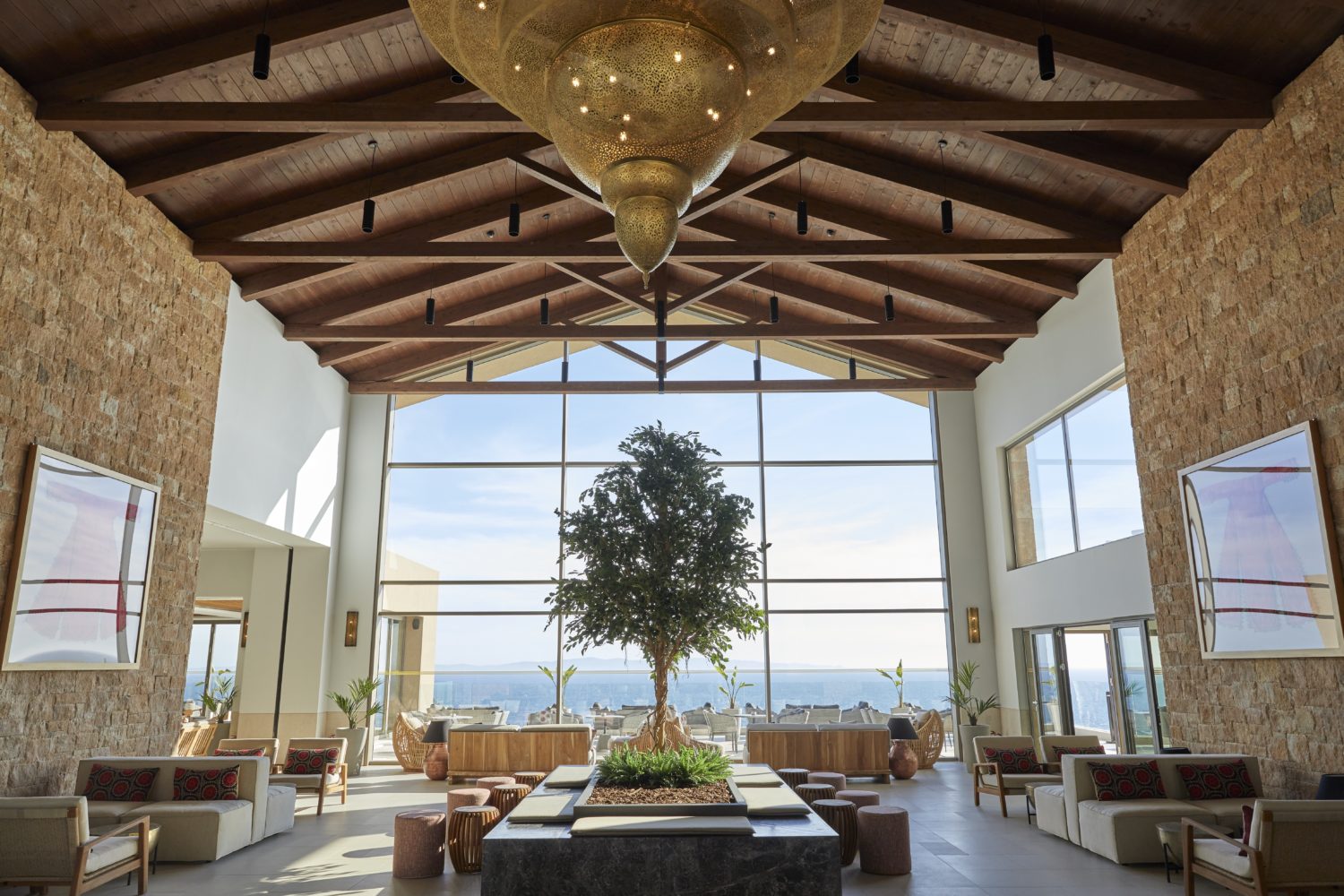 Elix is perfect for those who are a little more adventurous. Start the day with yoga on the new amphitheater offering the best views of the magnificent shoreline. Head down to the beach by foot or funicular to soak up the sun. From here, you can choose from an array of water sports activities including paddle boarding, kayaking, water skiing and exhilarating tube rides.
If you would prefer to stay on land, take a guided bike ride or hike to discover the local landscapes and wildlife. The Ancient Dimokastro hiking trail is exceptional in the morning or late afternoon and the perfect way to ground yourself in Mother Nature.
A highlight of the season is MarBella's culinary series, Greek Chefs Abroad, by bringing in the most celebrated Greek chefs to offer their takes on traditional Greek cuisine, it is an unforgettable fine dining experience.
Previous chefs have included Gikas Xenakis, Head Chef at Aleria Restaurant in Athens, his moussaka was served as a beef tartare, aubergine and milk chips.
Asimakis Chaniotis, Executive Chef at London's Pied a Terre, where he received his first Michelin star at 28, his version of traditional Greek honey and yoghurt was a feast for the eyes as well as the lips, beautifully presented as a silhouette of a bee and featured bee pollen and edible flowers.
Yiannis Kioroglou is the Executive Chef at La Guérite Restaurant, one of the leading restaurants in Cannes. He dressed Koiladas Shrimps in tomato, basil and watermelon.
The MarBella Collection is connected by more than just the Ionian Sea. The staff welcome you like family and attend to your every whim. It offers a wonderful experience for everyone, whether you are looking to escape from the world, go on an adventure or switch off for a week, you can rest assured that the MarBella Collection will not disappoint.
Agios Ioannis Peristeron. 490 84, Corfu, Greece
Karavostasi, Sivota, 461 00, Parga, Greece
Olympic Holidays is offering a 10 night Island hopping holiday from £1399 per person based on two people travelling. The package includes a 5 night stay at the 5* MARBELLA NIDO SUITE HOTEL & VILLAS, Agios Ioannis Peristeron, on a Bed & Breakfast basis, and a 5 night stay at the 5* MARBELLA ELIX HOTEL, Sivotaon, on a Half Board basis. The package includes return flights to London Gatwick airport, baggage & all connecting transfers. Departures are available on 12th May 2023. For bookings call0208 492 6868 or visit www.olympicholidays.com