Do you have a travel itch that's difficult to scratch? If so, pack your bags and head for Dubai! Offering first-class hospitality, delicious cuisine, awe-inspiring architecture, and endless entertainment options with something for everyone – what more can anyone ask for?
Experience all the wonders of this vibrant city and feel like royalty on vacation. From enjoying exquisite authentic Arabian dishes to discovering hidden gems dotted throughout the bustling metropolis – get ready to explore some of the best places in Dubai!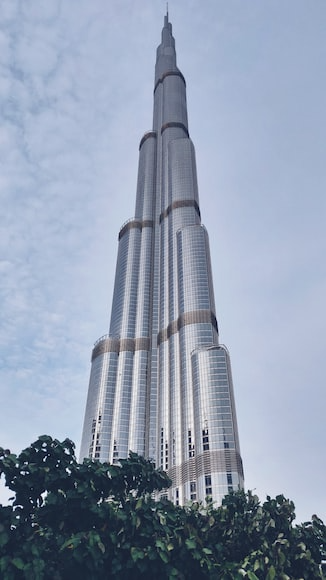 Visit Burj Khalifa
Standing tall in the center of Dubai's bustling downtown, is the magnificent Burj Khalifa – a landmark that is hard to miss. When it comes to marveling at architectural ingenuity and soaking in the panoramic views of the city, the Burj Khalifa will have you covered. As you make your way into the lobby, your eyes will be transfixed on the high ceilings and state-of-the-art features that are a treat in themselves. 
Elevators can take you up to the observation deck, where you can experience the world from a height of 828 meters. It is a haven for photography enthusiasts, as the views of Dubai are breathtaking at every level of the building. Visiting the Burj Khalifa is truly a once-in-a-lifetime experience that will leave you spellbound.
Explore the Dubai with Desert Safari
If you're seeking an adventure that will take you far from the hustle and bustle of the city, then the Dubai Desert Safari is a must-try! Once you set foot in the desert, you'll be captivated by its boundless beauty and get to indulge in a unique experience of a lifetime.
Imagine gliding on the dunes like a pro, taking in the sun setting over the desert, and soaking up the peace of the moment. All this and more await you on the best desert safari in Dubai, the adventure perfect for those who crave an adrenaline rush as you traverse through sandy terrain in a four-wheel drive vehicle. Don't miss this fantastic opportunity to explore the vast expanse of the desert and relish unforgettable moments.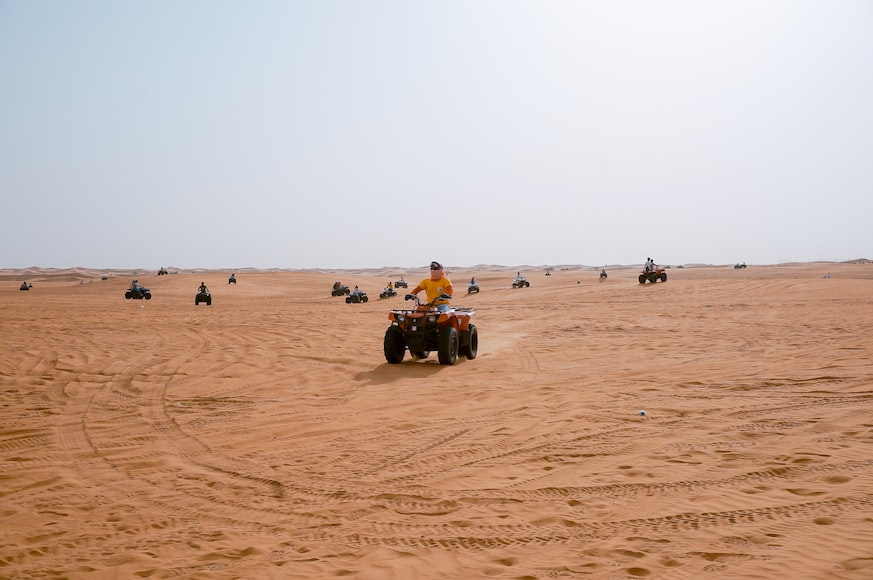 Enjoy some shopping at the Dubai Mall
Looking for a world-renowned shopping experience? Look no further than the Dubai Mall! With hundreds of shops and restaurants under one roof, this mall is a shopaholic's paradise. Here, you can find everything from luxury fashion brands to high-end electronics and even more affordable options. And if all the shopping makes you hungry, there are plenty of dining options to choose from – from delicious international cuisine to local delicacies.
Take a trip on the world-famous Dubai Metro
The Dubai Metro has earned a reputation as one of the most efficient public transport systems in the world, and for good reason – it is fast, reliable, and incredibly affordable. As you glide above the desert landscape in one of the sleek, air-conditioned carriages, you'll be treated to some of the most breathtaking views the city has to offer.
So whether you're a local or a tourist, be sure to add this incredible experience to your itinerary – the Dubai Metro is an adventure you won't forget!
Have a luxurious dinner
Dubai is a city renowned for its extravagant offerings, and one of its most sought-after experiences is a luxurious dinner at one of its high-end restaurants or rooftop bars. From breathtaking views of the city skyline to five-star cuisine, there's no better way to indulge in luxury than in one of these glamorous settings.
Imagine sipping a cocktail while overlooking the sparkling lights of the city, or savoring a delectable meal with the finest ingredients. These exclusive venues provide a truly unforgettable experience that is sure to leave you feeling pampered and satisfied.
Go see some local art galleries and museums
Art enthusiasts can explore the numerous art galleries and museums scattered around town to indulge in a truly cultural experience. These galleries and museums feature the works of local artists and showcase the rich history and traditions of Dubai.
With a diverse range of exhibitions, visitors can expect to be captivated by the creativity and talent on display. So, why not step out of the mainstream tourist attractions and discover a different side of Dubai through its art galleries and museums? It's a perfect way to immerse yourself in the local culture and broaden your horizons.
Dubai is an incredible city that has numerous attractions to offer. All this combined makes Dubai one of the most captivating destinations in the world. So if you're looking for a unique holiday experience with something for everyone – look no further than Dubai!