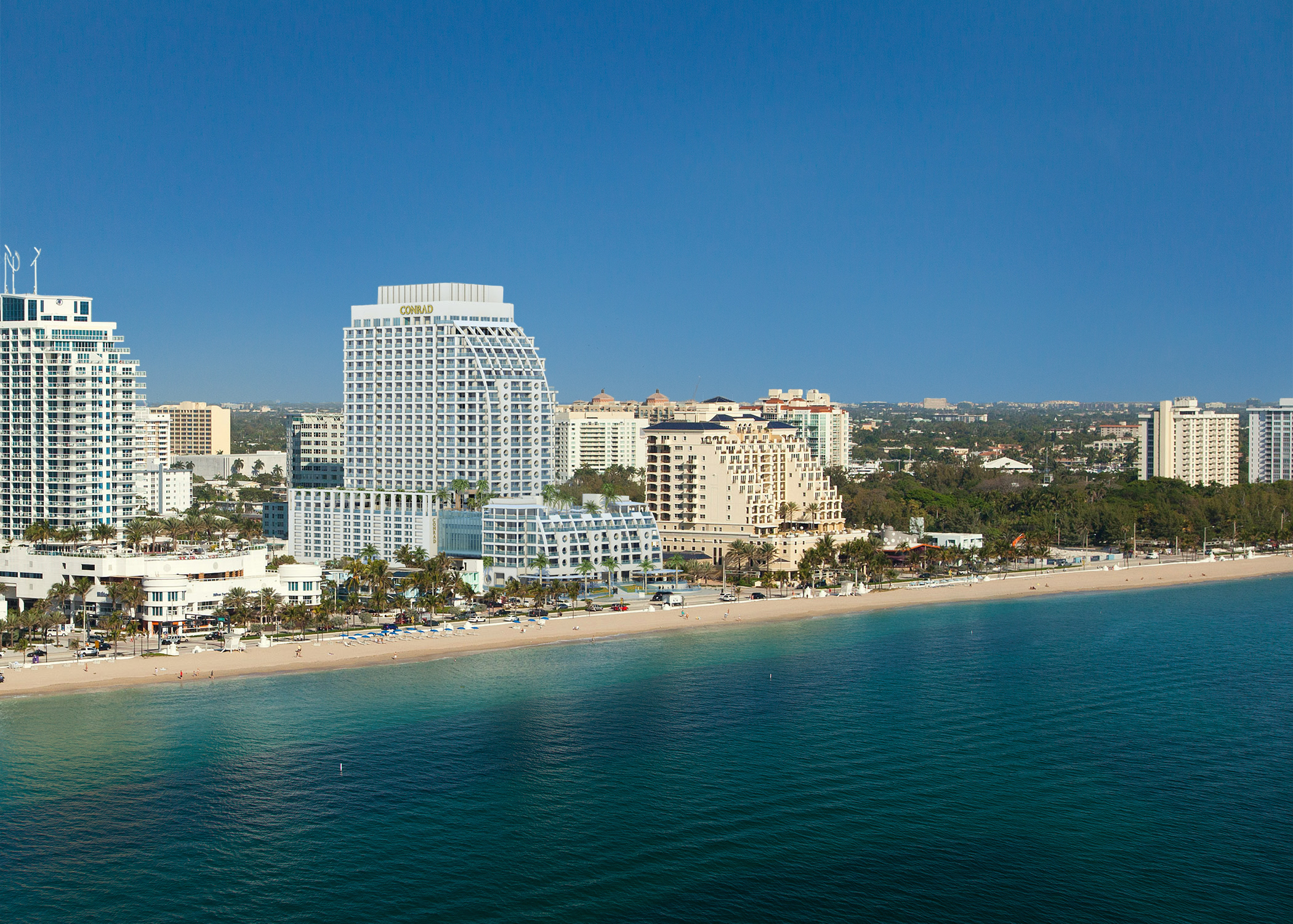 As the plane approached Fort Lauderdale, I could see the turquoise blue waters beneath me that belonged to the Bahama's, and I instantly felt my troubles taper. I was arriving in the US of A; surrounded by paradise.
The picture-perfect views of the ocean lapping up against the shore soon became views of the somewhat 500,000+ acres of Everglades which occupy two thirds of the Broward County, Florida. I hadn't even landed and I was eager to see and discover more of what was on the ground.
Shortly after arriving in Fort Lauderdale, I checked-in to the Conrad which is the newest luxury oceanfront hotel on the most desirable stretch of Fort Lauderdale Beach. The all-suite hotel sits alongside other world-renown hotels, including the W and The Ritz-Carlton, all of which share a front row seat to the Atlantic Ocean.
After I was given the key to my Fort Lauderdale home; I made my way up to the ninth floor where my suite was expecting me. I was told that no matter what suite you were staying in at the Conrad you had ocean views with a balcony, so the first thing I did as the lock turned in the suite door was head straight for the floor to ceiling glass doors that were calling me from the end of the room. I swung open the glass doors and was hit with that unmistakable tropical Miami heat and the sound of the ocean waves. And that was it; I didn't want to leave.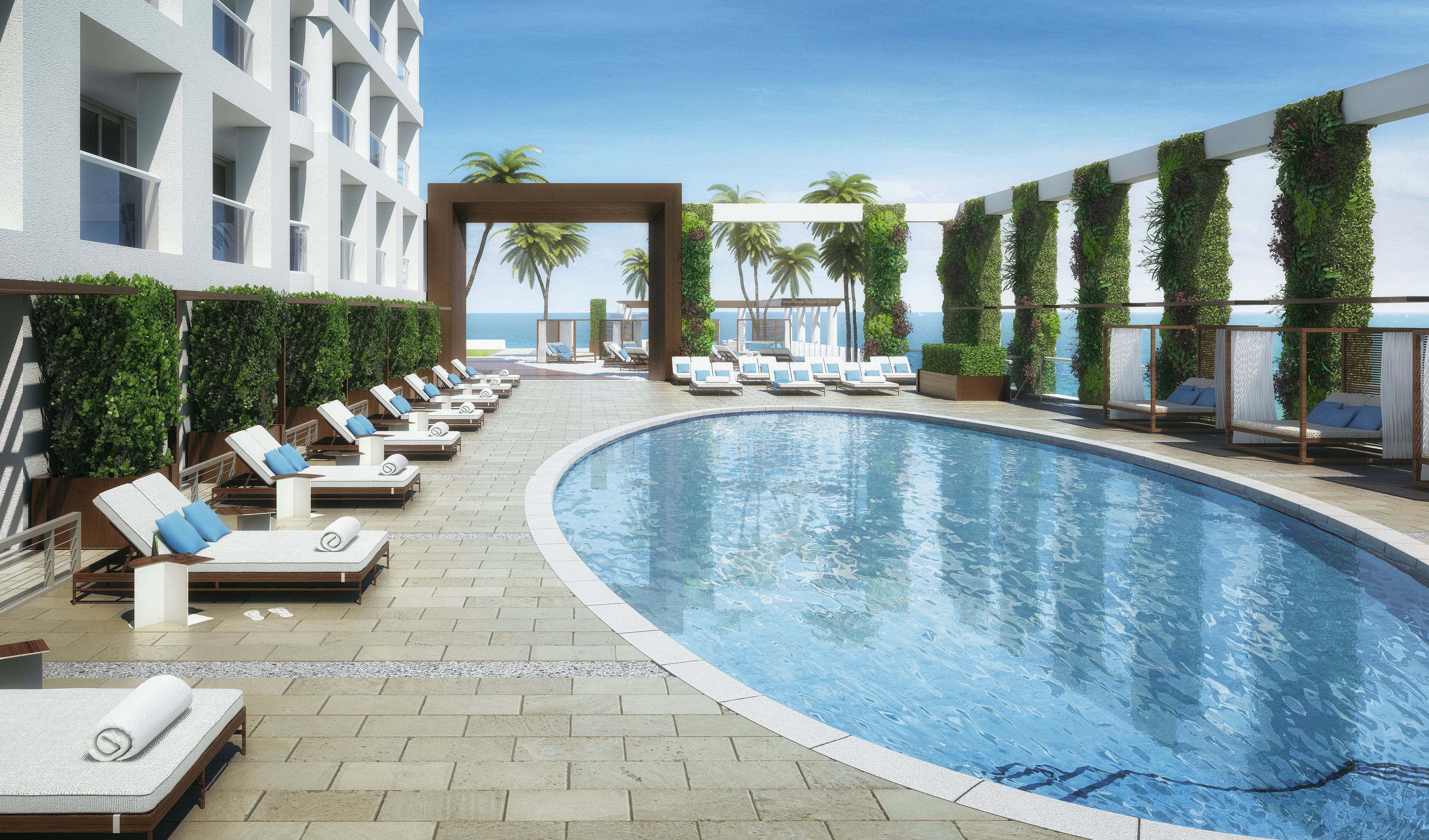 Why limit myself to the suite balcony though, I thought to myself, when there is a sky deck complete with four-poster Bali beds and an infinity style pool that looks over Fort Lauderdale Beach and the ocean. I made my way down to the sixth floor sky deck and ordered a Champagne cocktail to be brought over to my sun lounger. I could hear the waves, smell the sun cream and taste the Champagne that was lingering on my lips.
It wasn't long until my dinner reservation at the hotel's Terra Mare restaurant which provides casual yet sophisticated shared plate dining. Terra Mare goes beyond tapas by encouraging full plate sharing rather than individual bites; truly highlighting the communal dining experience. The overall dining experience is utterly unique and promotes conversation amongst diners throughout the meal.
After a soporific sleep I found myself awake much earlier than usual… jetlag. I took this opportunity to hire a bicycle from the hotel and cycle along Fort Lauderdale beach in the early morning. The typically American four-lane deep roads were busy with power walkers, joggers, and cyclists. Palm trees towered above me and wavered wearily in the light wind as the sun ascended just above the water on the horizon, creating an orange glow across the entire sky which gleamed off the still water that barely rippled at that time of the morning.
As if my early morning bicycle adventure and sunrise beach views hadn't satisfied me enough, I then opted in for the morning yoga session on the beach. There's nothing quite like feeling the sand between your toes as you descend into a deep relaxed state on Fort Lauderdale beach watching the sunrise.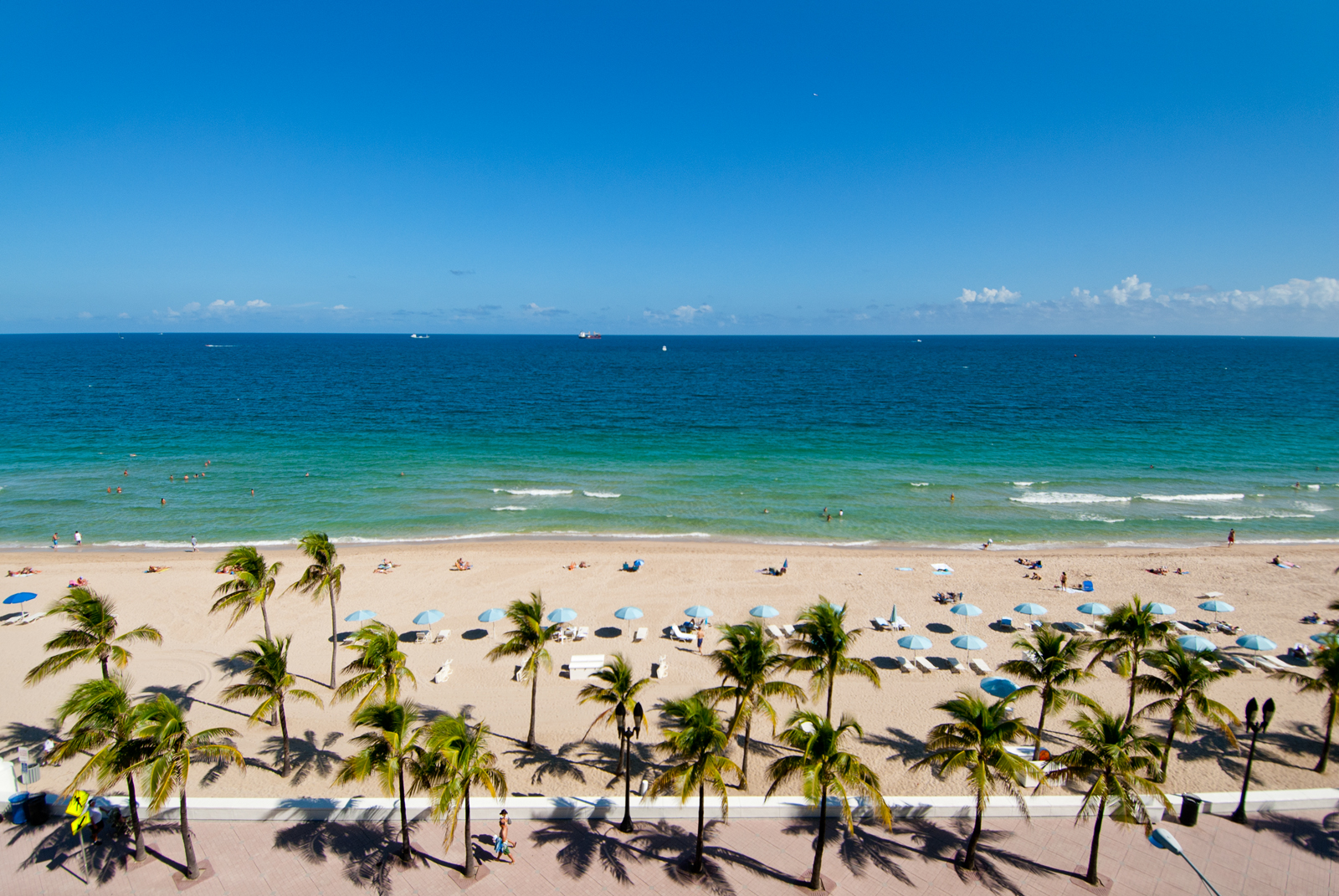 After a light breakfast, and a morning filled with intensely assuaging experiences, I was chauffer-driven to the Town Center at Boca Raton. Just a short drive outside of Greater Fort Lauderdale lies one of south Florida's top luxury shopping destinations, Town Center at Boca Raton, which features an outstanding mix of upscale and elite specialty shops along with favourite stores in an impressive indoor environment. The shopping centre is currently going through a multi-million-dollar renovation that will see more shops, luxury and style from late 2018, just in time for Christmas.
The impressive line-up of five department stores all under one roof – Neiman Marcus, Saks Fifth Avenue, Nordstrom, Macy's and Bloomingdale's – draws shoppers throughout all of Palm Beach and Broward Counties. Tiffany & Co, Louis Vuitton, Gucci, and Cartier are just 4 of over 220 noteworthy stores at the Simon Shopping Destinations.
Simon Shopping Destinations offers the largest collection of shopping destinations in the United States – with over 100, and it is their world's finest outlet shopping malls in particular that are always worth the trip. Simon Shopping Destinations can be held accountable for the thousands of dollars that visitors spend in just one day at the world-famous Woodbury Common Premium Outlets just outside of New York City. Yes… you know the one.
I was lucky enough to visit the largest outlet and value retail shopping destination in the entire US: Sawgrass Mills. The outlet has more than 350 stores, including Tommy Hilfiger and Ralph Lauren, and the luxury-brand outlet shopping at The Colonnade Outlets at Sawgrass Mills has over 70 exclusive outlets not found anywhere else in South Florida – these include Burberry, Diane von Furstenberg, GUCCI, Jimmy Choo, Prada, Saint Laurent, Tory Burch and Versace. The Colonnade Outlets at Sawgrass Mills are what dreams are made of.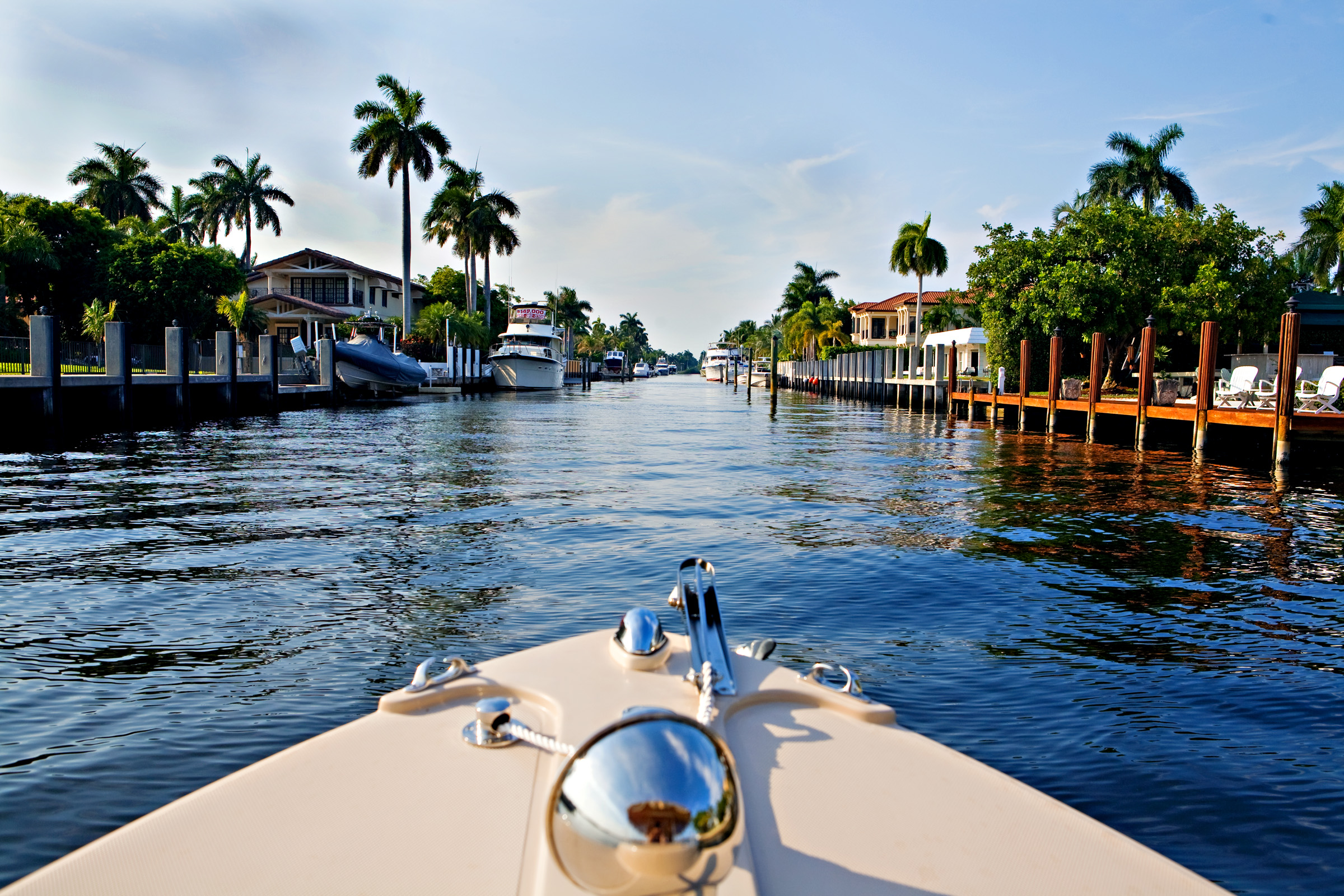 If luxury shopping isn't your thing and you prefer firm favourite stores, then Sawgrass Mills still has something for you because it is also home to another Saks Fifth Avenue department store, a Bloomingdale's outlet, and even a Century21.
Simon Shopping Destinations are the kind of shopping destinations where if somebody gave you $5000 and told you to spend it in a day then you'd hysterically laugh and spend it in an hour.
Miami is home to incredible shopping also, and it's now only a 20-minute train journey from Fort Lauderdale with Florida's new hospitality-focused express intercity passenger rail service, Brightline. This brand new passenger rail system connects West Palm Beach, Fort Lauderdale and Miami and is a state-of-the-art service. Enjoy champagne in the brand new VIP lounges at Fort Lauderdale's Brightline station before catching the train to Miami.
Shortly after arriving in Miami I checked-in to the Loews Miami Beach Hotel. A grand driveway lined with rows of towering palm trees and the unmistakable salty spoor of the ocean welcome you to the hotel. Located in the heart of South Beach, the blue-green waters and white-sand beaches of the Atlantic Ocean are just steps away from the hotel's back door, and outside the front of the hotel lies the vibrant Art Deco architecture of South Beach and all the excitement that Miami has to offer.
The iconic oceanfront hotel has 790 luxury guestrooms, including 65 recently renovated suites with incredible views, plus four presidential suites. I found my luxury guestroom on the tenth floor of the hotel, which had balcony views that overlooked Miami Beach on one side and the Miami skyline on the other.
The breakfast menu is extensive, with Lobster Benedict and Chocolate Chip American-style Pancakes with Syrup being the two dishes that caught my attention the most. I devoured the pancakes, which I also added banana to, and washed it all down with black American coffee. The ocean is in sight from any outdoor breakfast table, so after breakfast I was feeling satisfied with how much of the beach I had so far seen that day, and opted for a morning by the pool.
The Loews Miami Beach Hotel has a poolside with a youthful vibe and an exclusive and designated area for guests looking for a more special time by the pool in Miami. The SOAK cabana's have marble bathrooms with glass showers, four lounge chairs, umbrellas and soft seating on the rooftop sundeck which has ocean views, an exclusive Jacuzzi and a personalised butler service. The cabana's certainly make your poolside experience at the Loews Miami Beach Hotel a memorable one.
In the afternoon I visited my third and final Simon Shopping Mall. The Dadeland Mall is Miami's original and most iconic shopping centre and is anchored by Florida's largest Macy's, as well as another Saks Fifth Avenue and Nordstrom. The impressive Dadeland Mall occupies more than 1.4 million square-feet and features more than 185 retail stores and restaurants.
The evening was filled with experiencing Miami nightlife. The first stop was the Cibo Wine Bar, which is the biggest and newest Italian restaurant in all of South Beach. The bold and beautiful 12,000 square feet space is a blend of old world rustic and modern industrial chic, and is home to a soaring two-storey award-winning wine room which is filled with three and a half thousand bottles of Vino and equipped with a harnessed wine angel who will retrieve your favourite bottle of wine, all-the-while performing acrobats and somersaulting through the wine-lover's paradise.
Most notably though, is the brand new restaurant and hotspot, Chotto Matte Miami. From London to Miami Beach, CHOTTO MATTE combines the artistic energy of underground Tokyo with the modern sophistication of London's Soho in the heart of Miami's South Beach.
CHOTTO MATTE is fast becoming world-renown for its Nikkei cuisine: a fusion of Japanese and Peruvian flavours. Executive Chef Jordan Sclare, whose extensive derivation includes Gordon Ramsay's three Michelin-Star London restaurant and NOBU Park Lane, directs the CHOTTO MATTE Miami culinary team.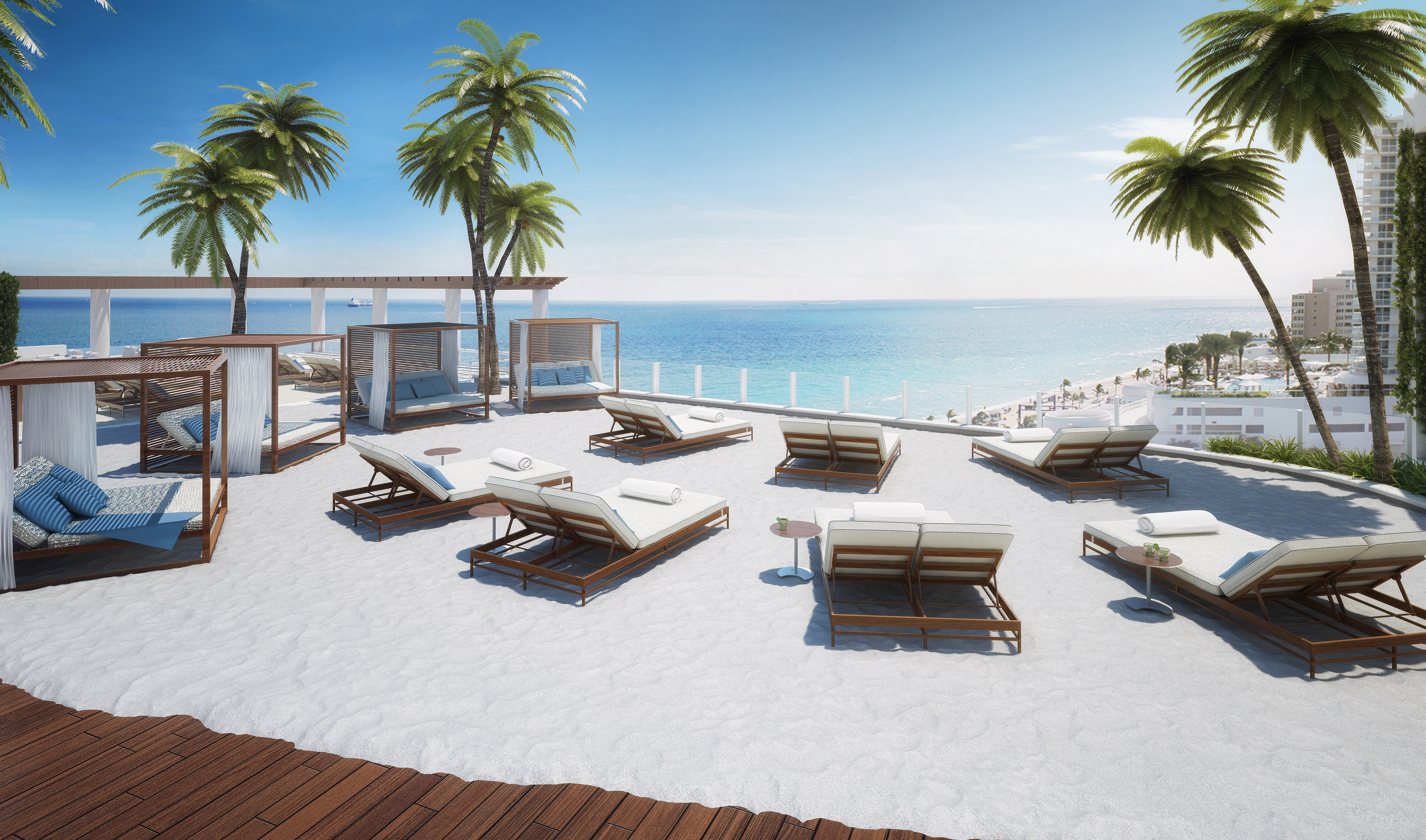 Expect to witness the freshest sushi being prepared behind the restaurant's state-of-the-art sushi bar which sits just in front of an impressive cocktail bar which surrounds a nineteen-tonne Sicilian boulder. Soaring above the boulder are palm trees which ascend and escape the space via the restaurant's retractable roof; adding a truly tropical Miami feel. The dramatic focal point creates an unforgettable atmosphere, as do the vibrant murals on the interior walls created by some of Miami's renown graffiti artists – most notably, Ahol Sniffs Glue.
The world-class design of CHOTTO MATTE intertwines natural stone, carbon steel, tinted glass, and dark stained timber for a textured palette, indicative of Japanese sensibility.
Impressive design, unique cuisine, specialty cocktails and an unapologetic atmosphere make CHOTTO MATTE Miami the place to be, and be seen, and the experience will be one that you will want to repeat time and time again.
Last year, Miami International Airport welcomed a record number of 22.2 million passengers, and it is not hard to see why. Miami is a place you can visit time and time again and it'll never become dull. There will always be something new inviting you to return.
Simon Shopping
6000 Glades Rd, Boca Raton, FL 33431
12801 W Sunrise Blvd, Sunrise, FL 33323
7535 N Kendall Dr, Miami, FL 33156
551 N Fort Lauderdale Beach Blvd, Fort Lauderdale, FL 33304
@conradftlbeach
@terramarefl
@FloridasHollywood
1 E Las Olas Blvd, Fort Lauderdale, FL 33301
@nsuartmuseum
1032 E Las Olas Blvd, Fort Lauderdale, FL 3330
@louiebossi
3033 NE 32 Avenue, Fort Lauderdale, Florida 33308
@shooterswaterfront