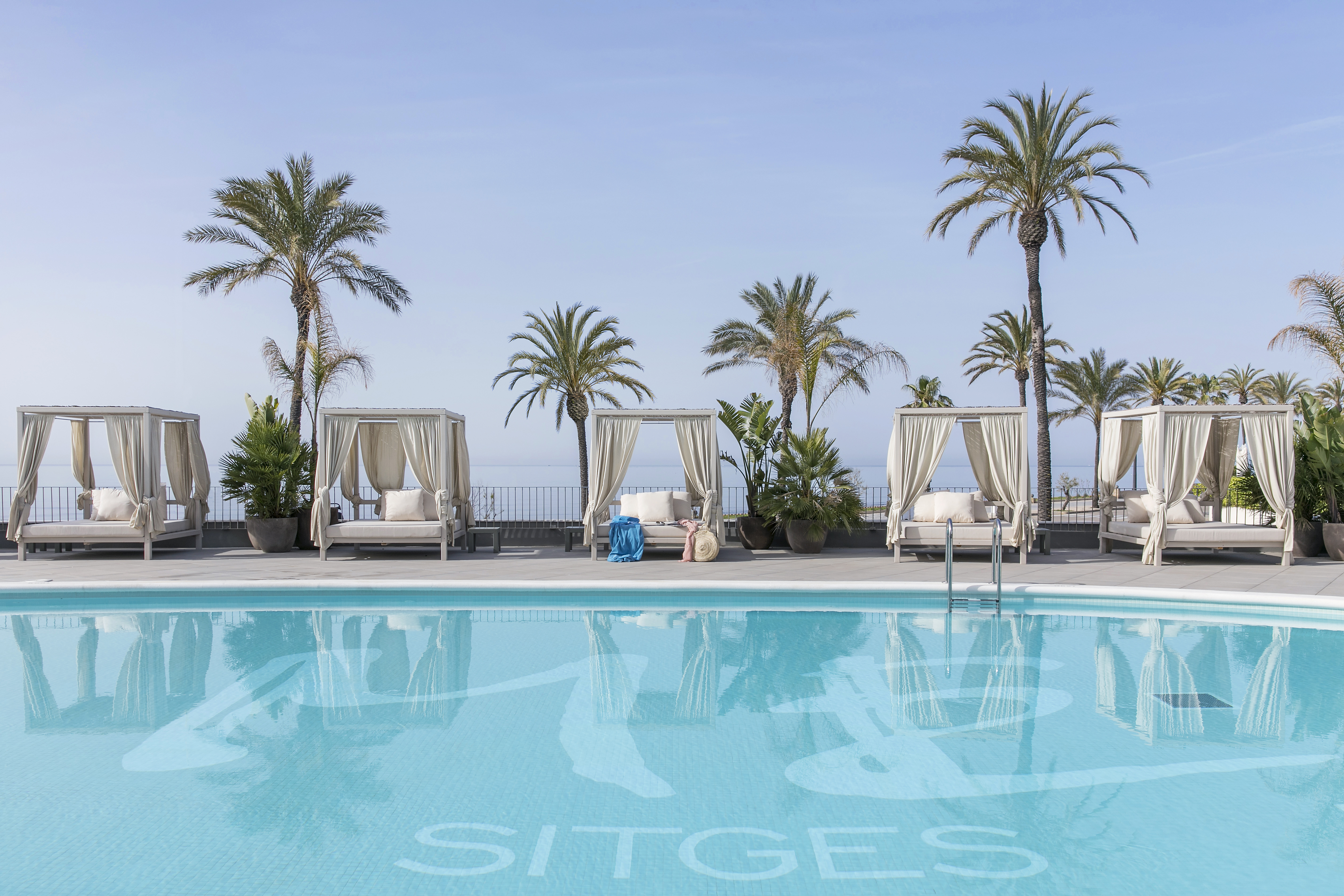 The beautiful town of Sitges could be considered a relatively secret destination. A coastal paradise situated a mere 40-minute drive from the busy streets of Barcelona. This compact beachside idyll offers visitors the best of both worlds, with picturesque views and charming old-town to explore in the daytime, and a vibrant LGBT-friendly nightlife to delve into during those warm summer evenings. With an impressive 17 beaches in total and an enviable climate that keeps them popular throughout the year, it's easy to see why Sitges has been coined a 'mini Ibiza'.
Take a look along the coastline and you'd find it hard to miss the cruise ship-inspired exterior of hotel ME Sitges Terramar. The newest addition to the ME by Meliá collection, ME Sitges reinvents the idea of luxury by combining a distinctly Mediterranean feel with contemporary styling.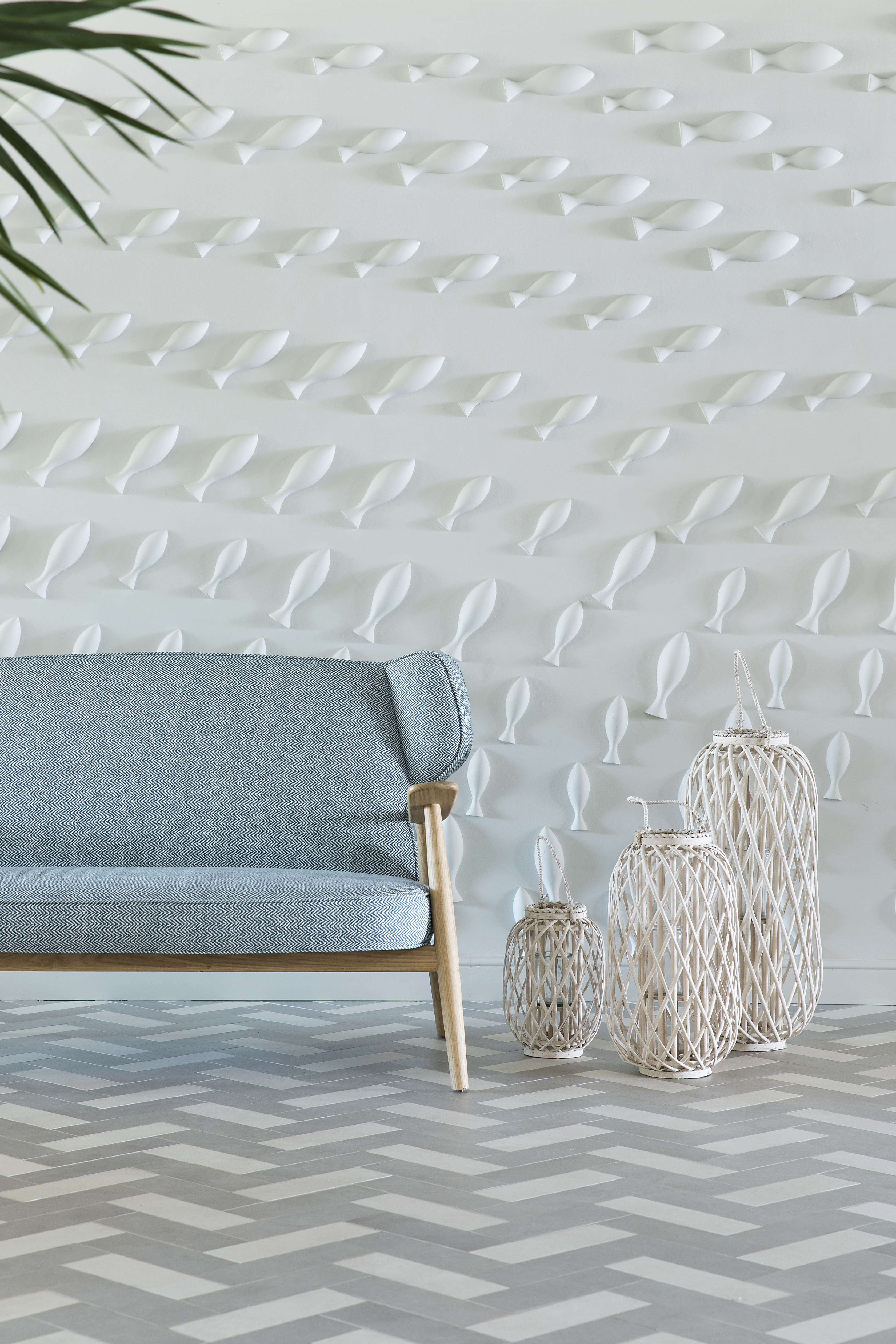 Walking through the hotel, the space feels light and airy thanks to the minimalistic interiors and neutral tones. Minimalistic though it may seem, there is no lack of attention to detail; the decor cleverly marries local materials with striking architectural features to create a laid-back feel that is echoed throughout the hotel.
Each room at ME Sitges has been designed to suit your particular lifestyle. Swapping over-fussy interiors for contemporary decor that truly captures the spirit of the Mediterranean, you can't help but feel any tension simply drift away.
I would be staying in one of the serene Chic Suites; a truly unforgettable space that had been created with complete relaxation in mind. As I walked through the door, I was stuck immediately by how much natural light there was. The room was bathed in the Spanish sunshine as I made my way through my temporary residence.
A freestanding bath tub and waterfall shower appeared in the corner of my eye, set opposite a beautiful wooden unit which held two individual sinks beneath two back-lit mirrors. An abundance of heavenly Apivita organic toiletries had been included to make sure that all of my pamper needs were met, and surpassed.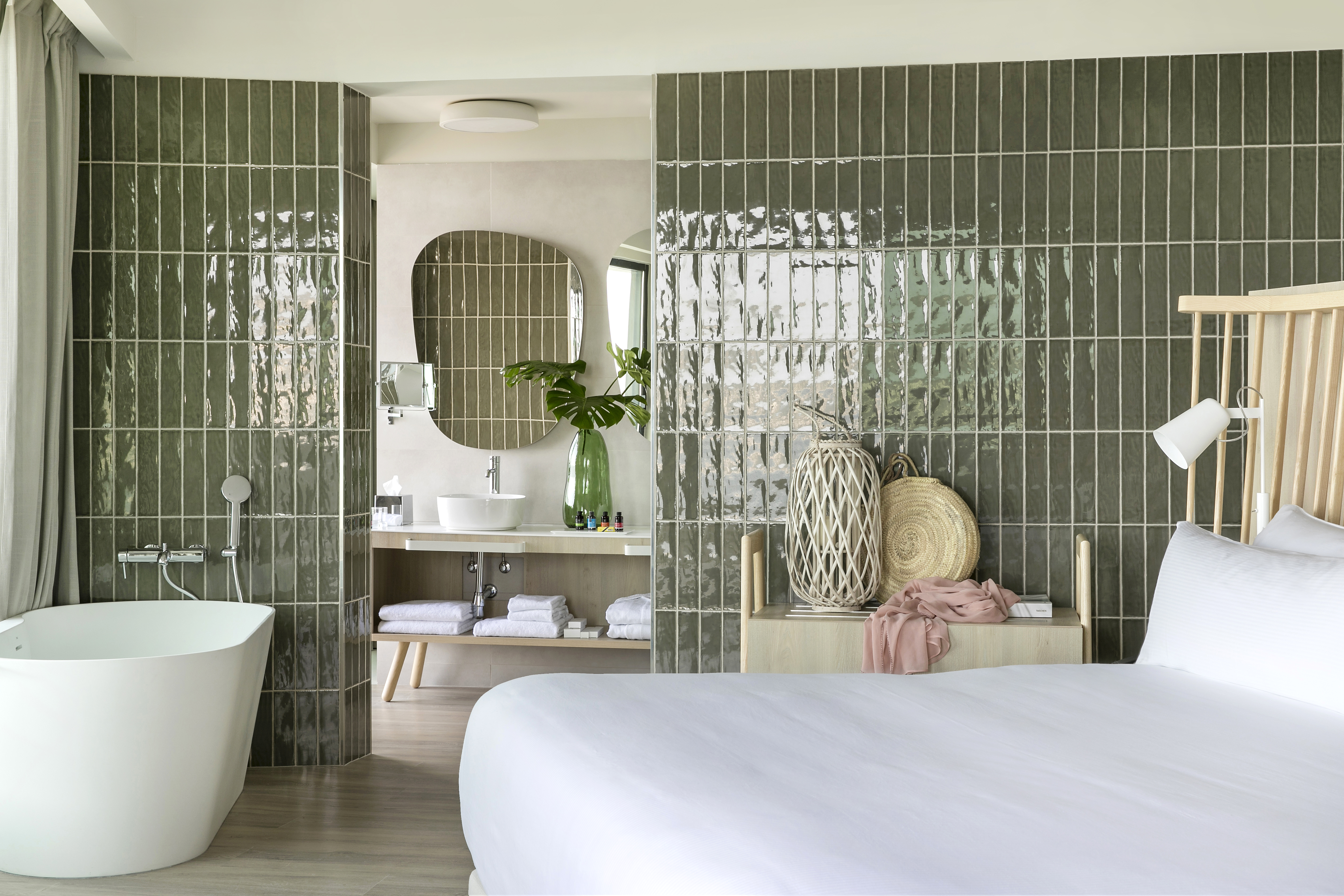 The minimalistic interiors, neutral tones and open-plan design seen throughout the hotel were continued into the suite, all contributing to its dream-like allure. Up ahead, a lounging area complete with maxi-bar, Nespresso machine, a selection of reading material and complimentary mini desserts awaited me.
Some music was playing quietly from somewhere in my suite, and as I made my way to where the king-size bed was, it became apparent that someone had thoughtfully set up the state-of-the-art 47-inch TV to be playing some scene-setting music for my arrival.
The pièce de résistance of the room had to be the breath-taking panoramic sea view that could be enjoyed from the impressive private terrace. I grabbed my glass of bubbly, turned up the music and stood to overlook the idyllic beaches below for a while, the warm sun beating down on my face.
Lunch was served on the terrace of Beso Sitges, the hotel's own restaurant which focuses on producing culinary delights with an emphasis on local produce and iconic Spanish dishes. There we were joined by General Manager, Rene Hoeltschl, and Director of Sales and Marketing, Javier Bisbal.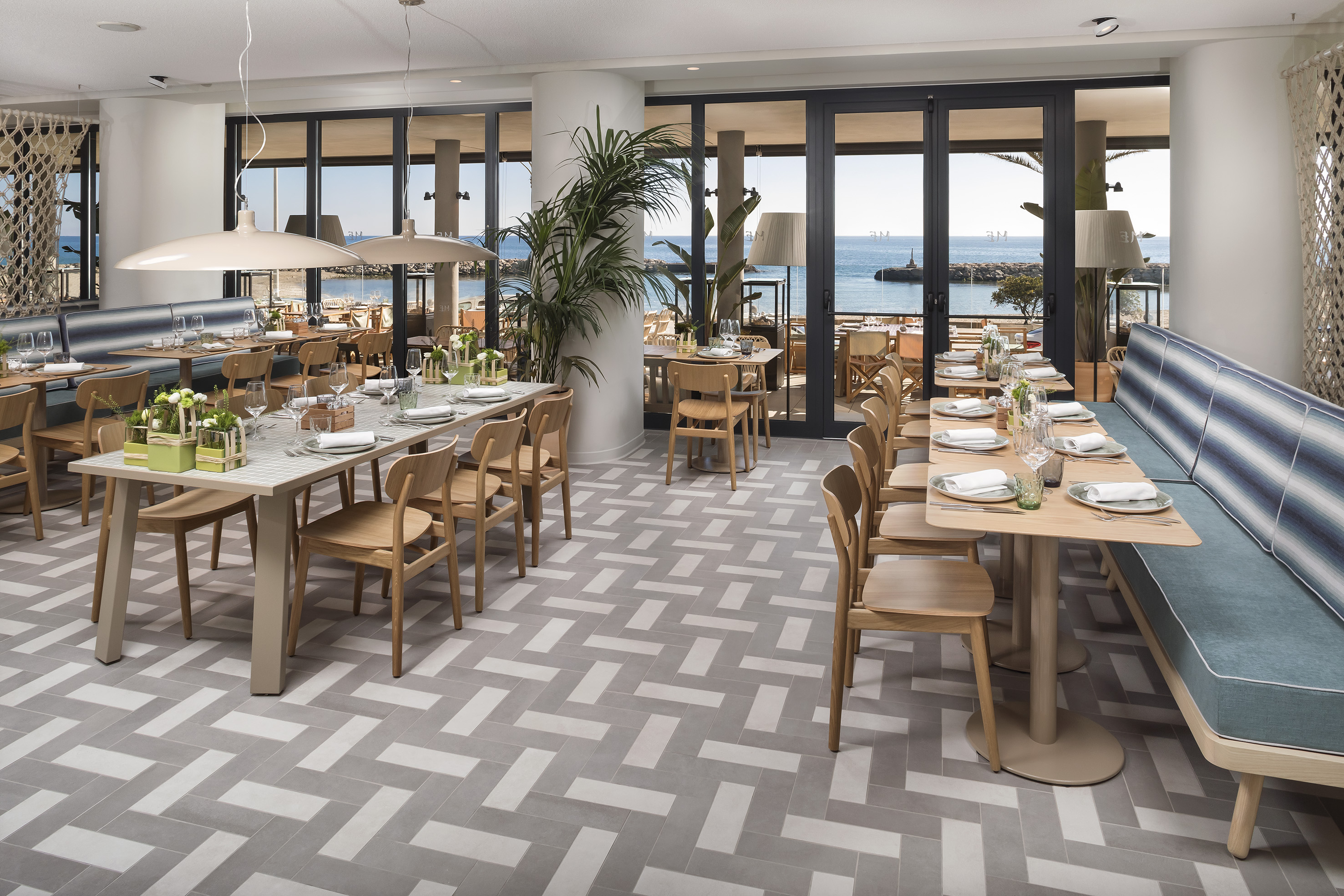 A fresh salad was brought to the table for us all to share, followed by a delicious vegetable paella and a bottle of locally sourced wine. Both Rene and Javier were extremely knowledgeable about the town of Sitges and the Catalonia region.
After spending some time in my suite reading a book on the terrace and admiring the views, it was time to meet for pre-dinner drinks at the Radio Rooftop Bar. If I thought the views from my terrace were good, I was about to be blown away by the 360° panorama that the rooftop presented.
Up on the 8th floor, the laid-back vibe was set by the contemporary design, mellow music and impressive cocktails. After an espresso martini (or two), we made our way to the front of the hotel to be whisked away to Alfresco Restaurante.
Sat beneath a canopy of beautiful trees and foliage, our candle-lit table awaited us. This stylish yet unpretentious restaurant had a romantic courtyard feel to it, serving delectable Spanish food and offering extremely attentive service – a must-visit when in Sitges.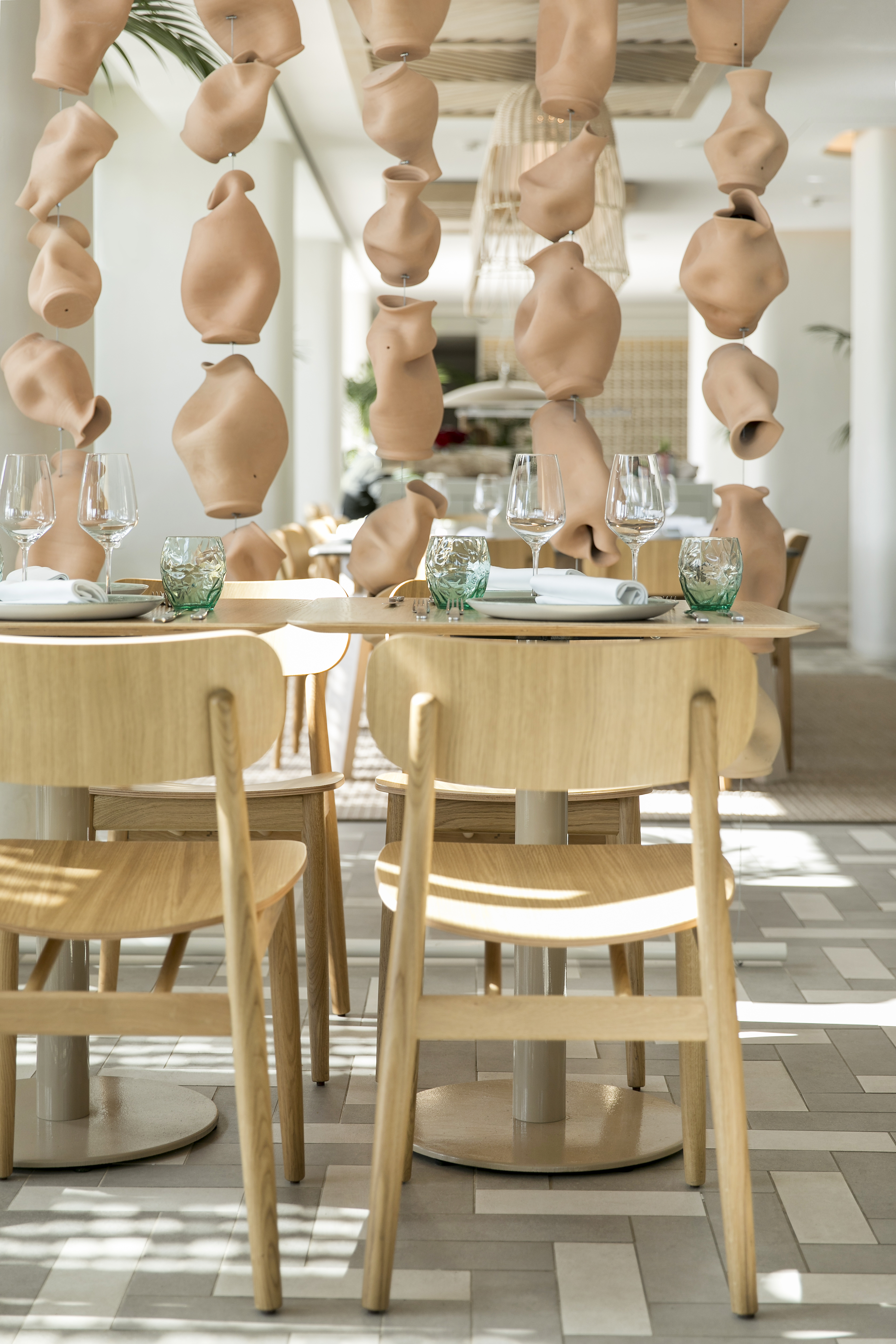 After a day full of delicious food, beautiful weather and great conversation, I couldn't wait to get back to my room, catch the last of the sunset, and jump into my king-size bed for some much-needed rest.
The next two days were filled with more fantastic activities and treats. A long walk across the beach-front to the Old Town was a real highlight. The quaint cobbled streets and charming little shops found in this part of Sitges are picturesque to say the least.
Museu Maricel and Palau Maricel are perfect if a dose of culture is what you're looking for. What was once the home of Spanish artist and painter Santiago Rusiñol, has now become a much-visited museum that houses his extensive collection of modernist art, including early pieces from Picasso himself.
Palau Maricel was like something out of a dream. The Terraces and cloisters overlooking the Mediterranean Sea were simply breath-taking, with vibrant coloured tiles, stunning architecture and the sun pouring in from all directions. It was difficult to leave.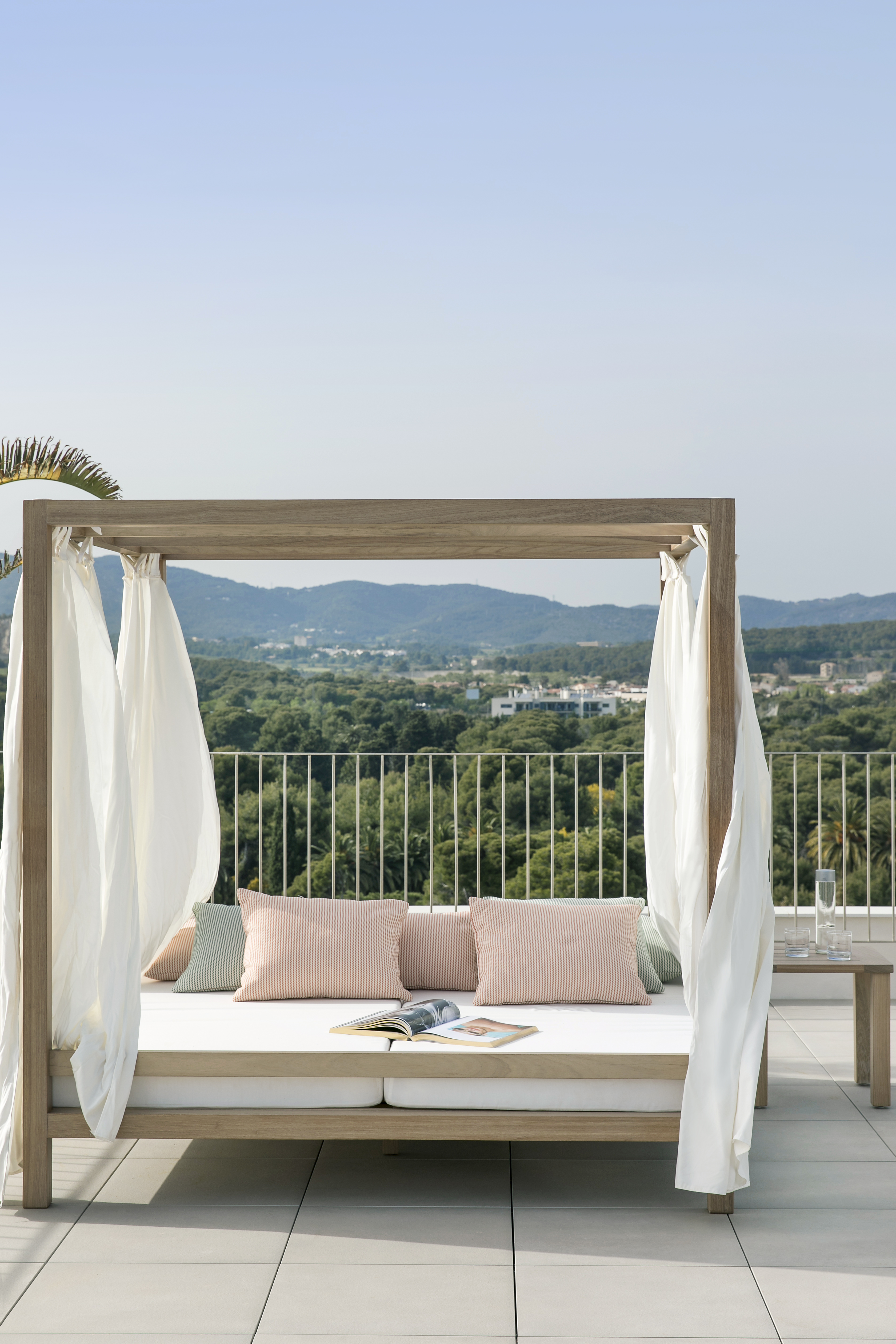 Dinner at Restaurante Can Laury offered the finest and freshest seafood around, as well as boasting a beautiful setting that overlooked the marina and all of its impressive boats. After-dinner drinks were enjoyed at the lively See You Chill Out beach club which also sat alongside the marina and offered a great selection of fruity cocktails.
As if the hotel couldn't make its visitors feel any more relaxed, ME Sitges also has a tranquil therapy and wellbeing centre, offering everything from body scrubs and aromatherapy massages, to sunset yoga classes and meditation. I was delighted to discover that I would be treated to a full body massage here. This tension-banishing treatment sent me into a state of relaxation that prompted my therapist to have to eventually wake me up.
Besito beach club is set directly in front of the hotel and is the ideal location for guests to kick back and enjoy a few drinks along with a delicious choice of Basque favourites made with local ingredients. We enjoyed a few small plates here whilst savouring the magnificent view and the warm sand between toes.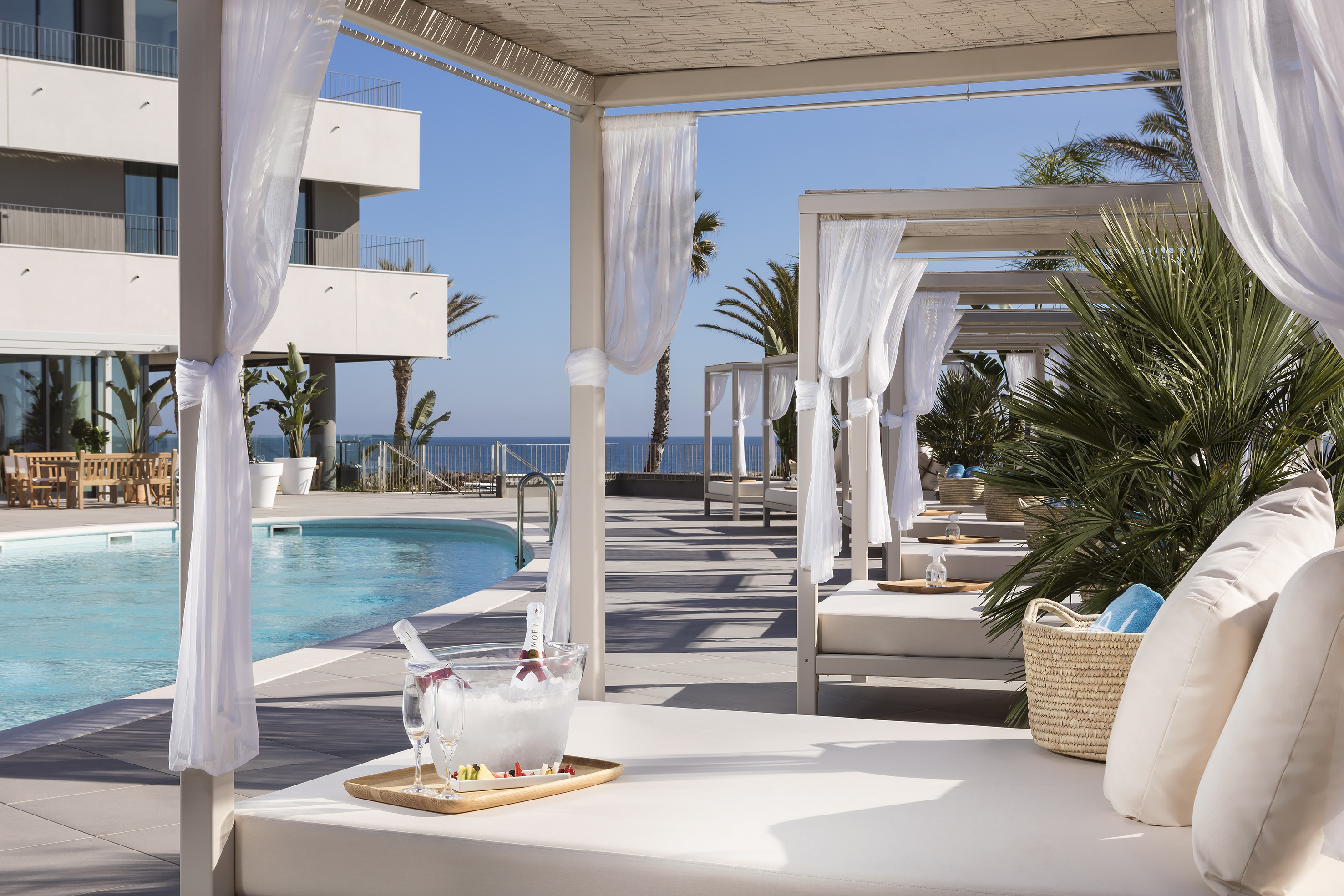 An alternative to beach-side bathing is the serene pool at ME Sitges. Surrounded by Bali-style beds, the pool is the perfect place to unwind and cool-off from the Spanish heat, as is the pool-side bar which services thirsty guests looking for much-needed refreshment.
Our last day was brought to a close at La Incidencia Del Factor Vi; a restaurant situated within the Old Town which boasted fantastic cocktails and a great sharing menu, ideal for small or large groups looking for a social meal.
As we arrived back at the hotel and I made my way back to the suite, I made sure to take in every last aspect of the town and the hotel. I sat for one last time on the terrace, the floor still warm from the day's sunshine, enjoying the sounds of the waves lashing the beach. ME Sitges had provided me with relaxation beyond measure through its laid-back attitude, attentive hospitality and beautiful surroundings. A true gem of the Spanish coastline, I recommend visiting before everyone else catches on.
mebymelia.com/hotels/me-sitges/
Paseo Marítimo, 80 08870 Sitges, Barcelona