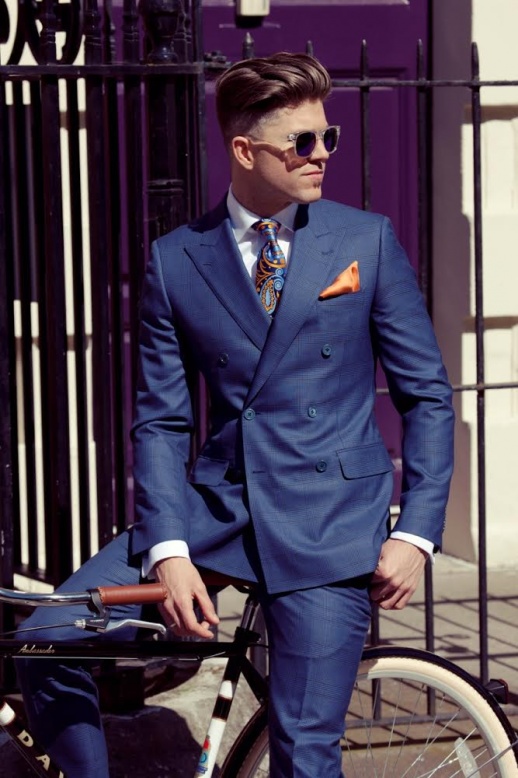 Darren Kennedy is a man of many talents. He ventured into presenting and hosted a style segment on 'This Morning', one of the most popular breakfast shows in the country. Darren is also a style writer and has contributed to The Daily Telegraph as well as regularly gracing the pages of GQ as a style icon. Darren ventured into menswear design and is about to launch his third collection in collaboration with Ireland's most dapper tailor Louis Copeland. Darren gave me an insight into his hectic yet undeniably stylish life.
Darren's smiling face popped up on my MacBook screen and as we said hello, a shrill barking erupted on Darren's end. A warm smile of adoration spread across his face, he said: "I've got to show you this, it is just too sweet."
He swivelled the camera round to show Harry, his adorable teacup Yorkie who was sat at Darren's feet. He had his black glassy eyes on a small ball that he was encouraging Darren to throw for him. Darren picked up the ball and threw it out of view and I could hear the scuffling of Harry's tiny feet as he scampered across the living room floor to claim his prize.
Darren's foray into fashion wasn't straightforward. He admitted that although he has always been interested in fashion, he actually chose to study Business and French at university. He recalled: "I chose that course because I absolutely love languages, especially French. No matter what career you want to pursue, it is always great to have a broad background of knowledge. Having other qualifications can enrich your career in surprising ways."
After completing his degree, Darren sought work in television, both backstage in researching as well as on screen. Darren always had an eye for fashion though. One of his earliest memories was accompanying his mother whilst she shopped. He said nostalgically: "When I was a small child, I loved going shopping with my mother and unbeknownst to me at the time, I would soon become her personal stylist."
He added gratefully: "Fashion is something that I am genuinely passionate about and to be able to combine that with television work is a dream."
Darren's hard work and determination paid off as he was offered a style segment on This Morning. He recalled the audition process he went through last year to secure his segment. He recalled: "I had to do an audition and then a screen test. To be honest, your success depends on knowing your stuff and being able to deliver it in a digestible way. However, chemistry with the audience and the other presenters is probably the most crucial."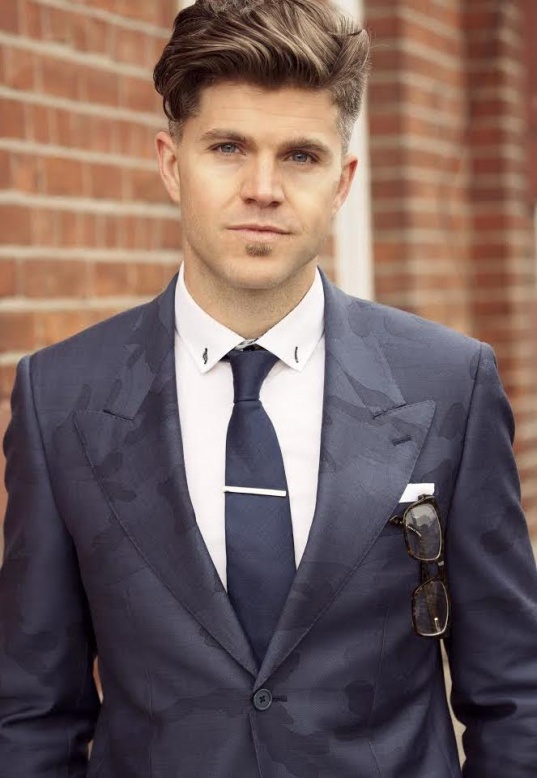 Last summer, Darren received a call from one of This Mornings' producers, who offered him one of the most exciting opportunities of his career thus far. A small smile crept across Darren's face as he remembered the moment. He said: "I remember being in a restaurant and wanting to scream so loudly but I couldn't as I was in a public place!"
In the past, Darren's television work has been predominantly broadcasted live. I wondered whether after all his experience; he still got butterflies before going on air. He said confidently: "To be honest, live TV doesn't really affect me any differently as my background is very much live. The first thing you learn about presenting live is that it is do or die."
Darren revealed that during one of his very first presenting jobs, he endured a presenters worst nightmare. Darren had been live for around 2 minutes when the entire set fell behind him. As Darren animatedly recalled the incident, we both fell about laughing although at the time it was fundamental that Darren remained completely professional.
Through peals of laughter, he said: "When the entire set crumbled on air, I cracked up laughing because I thought it was just hilarious. After that I just carried on doing my job. That is the thing with live TV, anything can happen. It is not for everyone but I think it is beautiful, I love the instantaneous of it."
Darren is a style icon for many but many also aspire to follow in his footsteps into presenting. I was keen to discover what advice he would offer. He said thoughtfully: "It is important to remain focused and always know your shit before you go on air. I cannot stress that enough! Own whatever it is you're doing so if something unexpected happens it won't throw you too much."
Darren is currently working a new fashion series called Trending that is due to air at the end of October. The show is a passion project and Darren's eyes lit up with excitement as he explained the concept. He said: "It is about everything that is happening right here, right now in fashion. It touches upon the way fashion has changed over the last few years. It is no longer just about what happens on the catwalks of Gucci and then trickling down to the high-street."
He added: "It is about what's happening on the street and in your bedroom. It is about what you and people all over the country are choosing to wear. In many ways inspiration is trickling up from the streets back up to the catwalk in many respects these days. The show is reflecting that. It is definitely something new, fresh and very feisty."
Darren revealed that one of the personal highlights of his career has been designing and launching his menswear collection in collaboration with celebrated tailor Louis Copeland. Darren's eyes glittered with passion and pride as he described his collection, he said: "I get a buzz out of everything I do but the collection feeds that creative element in me, which is so important. It has been a massive learning curve because I am not a designer by trade. It has been very exciting!"
Darren's transition into menswear design was an interesting one. He told me: "The transition was very interesting as I wanted to be involved in every step of the process. I always said when foraying into design that it has to be something I know how it feels to wear."
He added: "I've always loved suiting. I know how I want a suit to fit, exactly where I want it to touch, how I want the fabric to feel, how I want the silhouette to look. I know all of those details so it was really marrying that with the craftsmanship that goes into building a suit."
Darren stressed that the details were especially important to him, so he worked closely with the tailors every step of the way. They started their process by storyboarding and making sure that there was uniformity. Everything from the lapel size to the stitching and lining were carefully planned and executed. Darren didn't stop there, he is even involved in the window displays of the finished products.
The attention to detail and passion for the suits is instaneously noticeable. Darren has created masterpieces, which are of the highest quality and feature utterly timeless designs. They are classic pieces, made of the finest fabrics for the contemporary gentlemen.
After a phenomenally successful first and second collection, Darren is preparing to launch his third in a few weeks time. He revealed that he recently shot the campaign for his latest collection. He tried on the items and fell more in love with each piece.
He clapped his hands together and said mischievously: "Over the past few weeks, I have cleared out my closet to make room for the new pieces!"
Darren Kennedy's wardrobe is the envy of thousands. Men want to dress like Darren and women wish their men would. He revealed that he struggles to pick any favourite pieces from his wardrobe. He thought for a moment, then said: "Well, apart from my fabulous collection of suits, I am pretty obsessed with a brushed wool burgundy coat I have. There is also a recent addition, which is a black shearling bomber jacket from Whistles and my leopard print calf hair booties, they are delicious!"
Darren is constantly adding new strings to his bow. It is impossible to predict what Darren will do next, but what I do know for sure is that it is sure to be spectacular.
Follow Darren Kennedy on Twitter: @Darrenken
Follow Darren Kennedy on Instagram: @Darrenkennedyofficial
You can watch Trending at: www.rte.ie