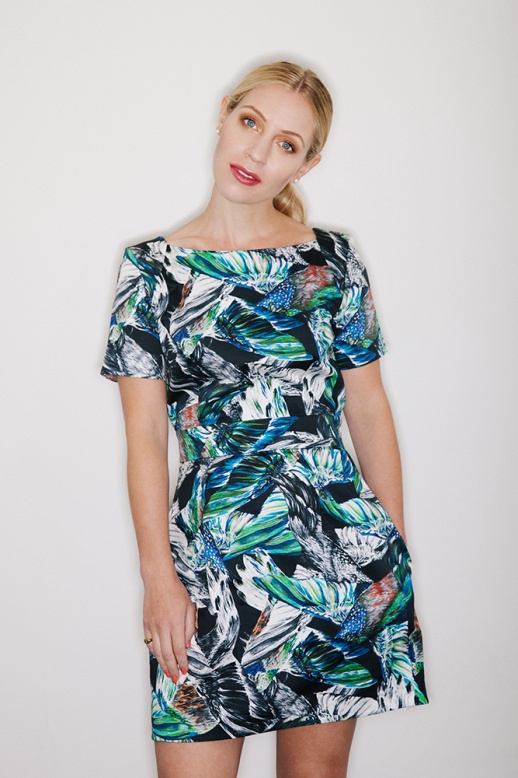 Dress: French Connection
Millie Clode is one of the most recognisable faces in sports news. She has built an astounding career as a television presenter and newsreader. She can often be seen on millions of television screens across the country, sat behind a desk wearing a dress that fits like a glove. She is the epitome of professionalism and glamour, with her perfectly tousled blonde curls falling past her shoulders and her eyes framed with long eyelashes. During the 8-years she has held her position, she has garnered a reputation as the golden girl of Sky Sports. I was intrigued to find out more about the girl on the TV screen.
I waited whilst the familiar FaceTime dial tone sounded. Suddenly, Millie answered and her smiling face filled the screen. She was the definition of natural beauty; her golden hair hung in loose waves that framed her face, she had barely any makeup on yet she glowed under sunlight, which streamed in from her conservatory.
We discussed Millie's undeniably impressive career but as I mentioned her many achievements, she blushed slightly and shook her head gently so that strands of blonde hair fell across her face. Ever self-effacing, Millie said in her cut-glass accent: "I think I was quite lucky; I was in the right place at the right time."
She added: "I knew that I wanted to work in television, so when I graduated I began applying for loads of production jobs."
Millie was walking down Oxford Street one day, nursing a particularly relentless hangover when she caught the eye of an agent that worked in the modelling and television industries.
Despite her obvious beauty, Millie shuddered at the word 'modelling'. She laughed softly as she recalled: "I am so short! So I immediately thought that their offer was really dodgy."
The agent assured Millie that he would help her find a job in television and she took a leap of faith. Luckily she did so as that chance meeting led to Millie's first job.
Millie admitted that her first furore into television was merely a stepping-stone. She said: "The great thing about TV is that people can see you and if they like you, you essentially get the opportunity to be headhunted. So after my first job I went and did one other job. From there I was spotted by the people at Sky."
Most people would throw caution to the wind and immediately accept an offer from one of the leading news broadcasters in the world but not Millie.
She revealed: "They kindly asked me if I knew anything about sport and I was honest and said 'a little but please train me up first'".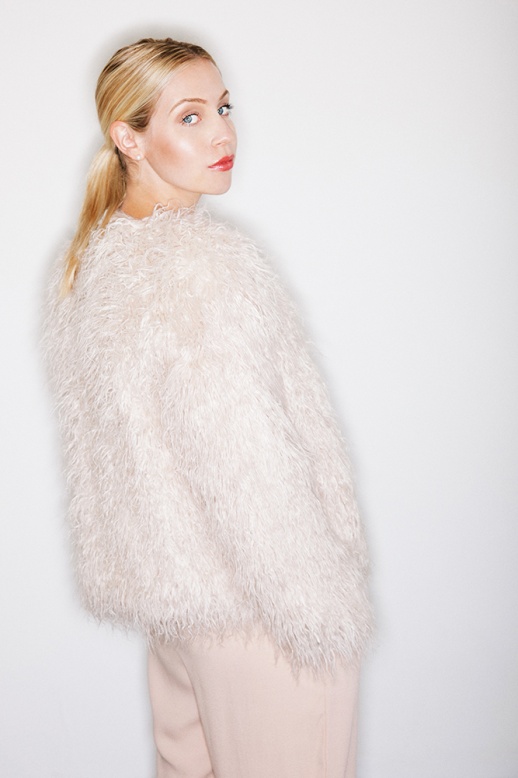 Jacket and Jumpsuit : Zara
Millie admitted that her days of knowing little about sport are well and truly behind her. She laughed softly and said: "My knowledge on sports is pretty good these days; I'm always surprising myself with the things I come out with."
She added: "People who don't know what I do are often surprised by my sports knowledge. I work pretty hard to learn things when I'm there and be on the ball and know what's going on. When I started it wasn't something I knew absolutely everything about so I worked hard to know who all the key people are."
Millie spent a while working on the production team, then when she felt ready, she got behind that famous desk, under the spotlights of the studio and tried her hand at presenting.
Speaking of the transition, she told me: "It was a real whirlwind! I didn't know whether I wanted to do really serious news but then once I was there I knew it was a fantastic environment to be in."
She added passionately: "I love working in sports, especially on a 24 hour rolling news channel because there's always something new and exciting. Every single day is different."
Millie predominantly broadcasts live and I wondered if she still got butterflies beforehand. She assured me that nervousness was a thing of the past.
She said: "Because it's a day-to-day job you don't really get nervous before you go on. In fact you kind of forget and if something goes wrong you have just got to remember to concentrate. I mean it is inevitable, stuff happens, things go wrong."
During Millie's career, she has covered a vast array of news stories; from the Olympics to the Boston Marathon bombing. She admitted that she was incredibly proud of the way her team had handled the tragic event.
She said solemnly: "That was a very intense time. We were having to get all our information from American news sites and Twitter feeds from the Boston police."
She added: "It wasn't obviously a highlight but I was really proud of how the whole team handled it and came together to report it in the most sensitive, factual and efficient way we could."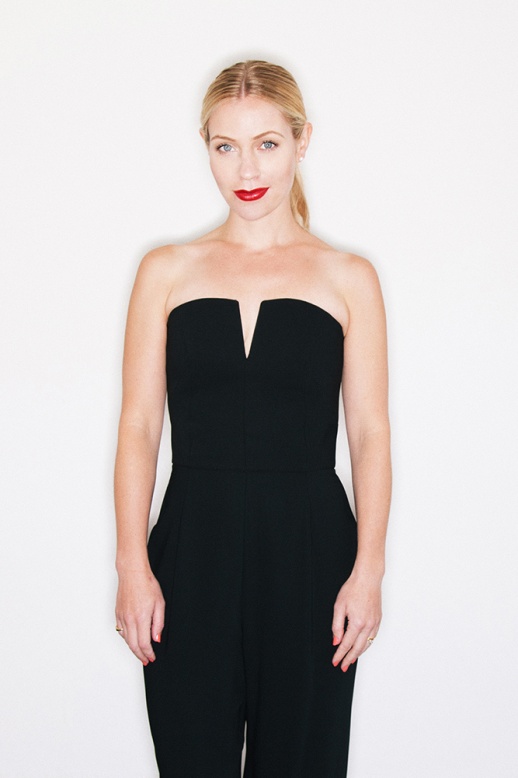 Jumpsuit: Topshop
Millie has also interviewed some of the biggest sports stars in the world.
She said excitedly: "They work so hard for what they do, so it's pretty impressive to be in a room with someone that has achieved so much. You don't quite realize how much goes into it, they put their whole lives into it and I am pretty in awe of that dedication."
Millie is also known as one of the most beautiful women onscreen. She has been crowned 'Top TV Sports Babe' by The Sun and shortlisted for FHM's 'Sexiest Women of the Year'.
When I mentioned these accolades, a rose pink glow crept across Millie's cheeks. Her eyes lit up and she bit her lip softly. Then she said: "Oh gosh, really? Wow, that's nice. I am flattered but honestly I haven't ever really thought much about them."
Peals of laughter escaped her lips, she added: "It's nice to know that people don't think I am going to crack the camera!"
When you Google Millie's name there are a lot of posts and videos from fans supporting Millie. However I did stumble upon a few videos that featured footage of Millie's presenting and claimed that she was having a 'blonde moment' or falsely accusing Millie of being drunk on-air.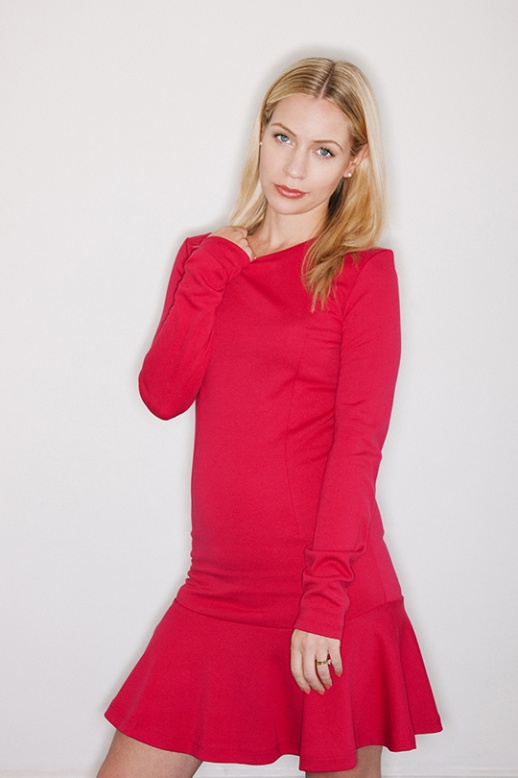 Dress: French Connection
Millie looked serious for a moment, then she cupped her face in her hands and said thoughtfully: "You know, I am really lucky because most of the fans of the show are a pretty lovely bunch. I don't tend to be bothered by people saying negative things unless I can learn from it. If you put yourself on TV you have to be aware that you will be judged on your appearance and personality."
She added: "I just get on with it, if I feel like it is an opinion that matters I will consider it and move forward. I'm just not one of these people that don't take it to heart. I am just aware that I put myself out there, it is a choice and I deal with the consequences."
Millie recently gave birth to her beautiful daughter Araminta and is currently on maternity leave. She confessed that she has enjoyed spending time with her daughter and husband in their South London home. She is so proud of her daughter, who she has lovingly nicknamed 'Minty'. Her face beamed with pride as she showed me a photograph of her daughter that took price of place above her fireplace. She looked absolutely nothing like Millie, with a mass of dark hair but was equally as beautiful.
Millie is the epitome of beauty and intelligence and there are thousands that would love to follow in her footsteps. I was keen to discover what advice she would give to aspiring sports presenters. She thought for a moment, then said: "You must be prepared to start from the bottom. Work experience is essential and I know that at Sky they are big on having decent journalism credentials. I had to do a course so that I was aware of all the legal terminology."
She added: "Be aware of what's going on at all times, knowledge in any field is key. Most importantly, and I know this sounds like a cliché but work hard and if someone knocks you back, its not the end, just keep at it, you'll get there."
Ten Questions We Ask Everyone
1. What did you want to be when you were younger? 
I really wanted to be a pop star when I was younger. The part that appealed most was being on television. I have stayed true to that dream, well the part about being on television so I am pretty lucky in that respect.
2. If you could offer advice to your twelve-year-old self, what would it be? 
Say yes! When I was younger, I was always so cautious about everything. It is important to try new things, you never know, you might experience something unexpected or meet someone extraordinary.
3. You have 24 hours with no travel restrictions, how would you spend it? 
I would wake up in a villa in the Maldives that overlooks the water. I would swim all morning then head to Italy for an amazing lunch. After that I would go to Blue Marlin in Ibiza and then back to my own house to sleep in my bed. There is nowhere quite like sleeping in your own bed.
4. What is the most exciting thing that has happened to you this year? 
Having a baby, that was pretty life changing!
5. The film you can watch over and over yet never tire of? 
Grease
6. The song that always makes you emotional?
Queen – Don't Stop Me Now. Classic!
7. If you could spend an entire day with anyone uninterrupted, who would it be? 
I would have a day on my own in a spa! It would be a real treat not to be interrupted for a whole day and enjoy my own company.
8. It is Friday night at midnight, where are you most likely to be? 
I am probably at home being a hostess with the mostest! We love having people over.
9. What is your biggest vice? 
Salted caramel
10. How would you like to be remembered? 
I would like to be remembered as somebody that's positive and friendly.
Follow Millie Clode on Twitter: @Millieonair
Photographer
Styling
Make Up Artist
Louise Hall using Inglot Cosmetics
Styling Assistant
Misty Griffiths
With special thanks to Suzan Masters