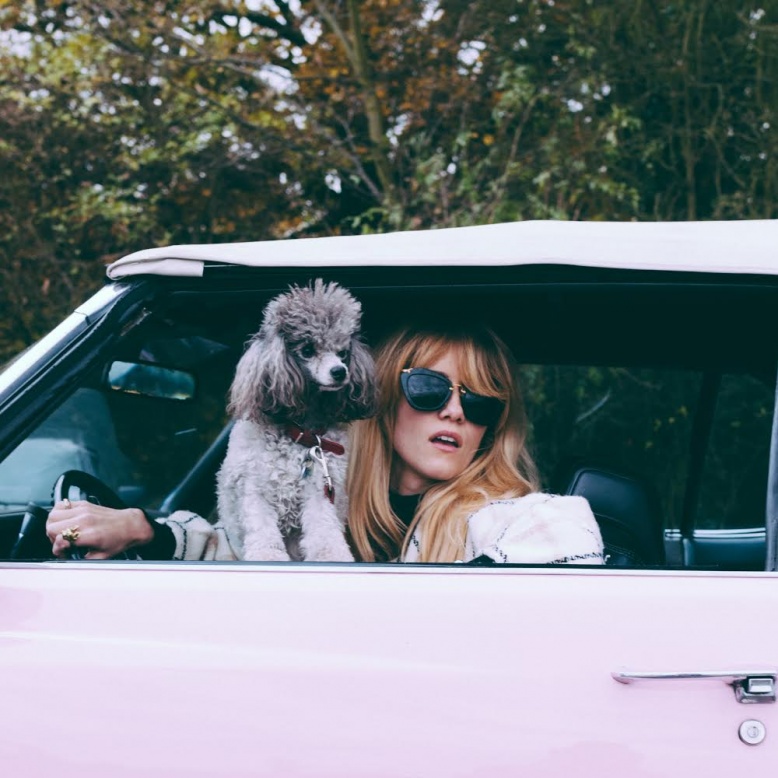 Interview Location: Maison d'être, Islington, London
As I approached Maison d'être in Islington one sunny morning, I saw a tall girl sitting outside of the café. She was smoking a cigarette but most of her face was obscured by a mass of golden waves. White smoke funneled out of the tip of the cigarette and floated up towards the impossibly blue sky.
This girl could have been anyone, however one quick glance at her footwear gave the game away. The girl was wearing thigh-high black leather boots teamed with a matching black leather jacket and a short black dress that skimmed the tops of her bare thighs. She looked as though she had walked straight off of the cobbled streets of Paris. There was only girl who could be brave enough to sport that look on a weekday morning on Highbury & Islington roundabout, it could only be Whinnie Williams.
The minute Whinnie opened her mouth, I was dumbfounded by the sound it emitted. Her booming voice certainly did not match her petite and demure appearance. The shock must have been pretty obvious; I didn't hesitate to tell Whinnie of my surprise. She responded by cackling infectiously, she said: "I've always seen myself as the little love child of Bridget Bardot and Delboy!"
To my sheer delight and astonishment, we had managed to find a table in the intimate café. We settled there in a cozy corner and ordered two pots of tea. We immediately began discussing a subject that Whinnie knows well, singing.
She admitted modestly: "I love singing but I wouldn't say I'm great at it, I just really enjoy it. When I was younger I used to write little poems, for years I was terrified of singing in public though."
When Whinnie was 17-years-old her mother tried an unorthodox method to improve her daughter's confidence, she took her to a hypnotist. Whinnie was doubtful that it would work but miraculously it did.
She added: "It was crazy, I just thought 'shit, this could really be something'. So I pursued it and never really looked back."
At first listen, Whinnie's music seems whimsical but when you listen to the lyrics, they are often darker and really enable you an insight into her soul. We discussed her unique musical style, she pondered: "It's hard because I like to look at things visually through pictures or film. My music definitely has a 60's vibe but it also has elements of hip-hop. It's romantic, ditsy, girly and often very French. To be honest, it is a big fat romantic French disaster."
She looked at me through her large eyes, which are framed with thick decadent lashes. She said: "You've really got me thinking about my style now. It is sickly sweet but at the same time its pretty fucked up and dark. It's a contrast and I like that. I feel like everyone wants to be living in a glamorous movie but the reality is, I maybe walking down the road in a Chanel suit but I'll be picking up dogs shit on the way."
Whinnie is famous for her eclectic style. She often looks as though she was walked off a 60's film set. She counts Dot Cotton and the girls from Absolutely Fabulous as her idols. She told me: "I have this outfit that was bought by my friend for me, I am in love with it. It's a baby blue Versace double-breasted suit."
She added excitedly: "You can only really wear a suit like that once, so I wore it in one video then hung it on my wall like a piece of art."
Anyone who is familiar with Whinnie is sure to know her faithful sidekick Bryan. Wherever Whinnie goes, Bryan is quite literally at her heels. As Whinnie tells me numerous hilarious anecdotes about Bryan, her eyes light up with adoration. She drummed her slim fingers on the table and exclaimed: "Damn, I should've brought him today. I wasn't sure if the café would allow him to come in."
Her voice was laced with love as she revealed that her passion for dogs has led to her becoming involved in a charity called K9 Angels. She said: "I went to Romania I few months ago and visited this shelter which is run by this incredible lady. She literally saves the dogs of Romania from public shelters."
Whinnie added: "She has got over 500 dogs in her house. K9 Angels aim is to rehome as many of the dogs in Europe as they can. There are lots of pictures of the dogs on their website, if you want one they can have it  with you in only three weeks."
Whilst Whinnie was in Romania, she fell in love with one of the dogs. She told me: "There was this little grey dog in a cage with about 50 other dogs. I couldn't leave her so I paid for her to come over and now I have this little Romanian dog called Martha."
Whinnie Williams' life is far from ordinary, when she isn't rescuing dogs in Romania, she is attending a private brunch hosted by none other than Hip-Hop royalty Jay-Z in Los Angeles. She described the decadent affair, which was attended by many of the music industries elite, including; Rihanna. She said: "It is amazing how down to earth and relaxed these super famous people are. Everyone was just really kind and welcoming."
When it comes to both her music and real-life, Whinnie's philosophy is that youth is a beautiful disaster. She elaborated: "I am going to write an album for young girls. The message behind it will be that everyone fucks up when they are young. We all do stupid shit, fall in love and become a beautiful disaster."
However for now, her focus is solely on her EP, which is due out soon. She told me as she drained the last few drops from her teacup, she said: "I just want to keep making beautiful things. Anything is possible, who knows where I will be in a months time, life can be fun like that."
Ten Questions We Ask Everyone
1. What did you want to be when you were younger? 
I wanted to be a vet.
2. If you could offer advice to your twelve-year-old self, what would it be? 
Trust your gut, everything is going to be okay. Even in your darkest times, it is always for a reason and so much good will come out of it.
3. You have 24 hours with no travel restrictions, how would you spend it? 
Hastings is my favourite place, the seaside makes me feel so at home. So I would go to my dads caravan there for a while. Then I would pop to my nans for a cup of tea, then meet up with my boyfriend and have pie and mash.
4. What is the most exciting thing that has happened to you this year? 
Definitely attending Jay-Z's brunch in Los Angeles in February.
5. The film you can watch over and over yet never tire of? 
Moonrise Kingdom.
6. The song that always makes you emotional?
My Girl – The Temptations. I want that song to be played as a walk down the aisle on my wedding day.
7. If you could spend an entire day with anyone uninterrupted, who would it be? 
Elvis!
8. It is Friday night at midnight, where are you most likely to be? 
I only really go out properly on weeknights, on weekends I am usually in bed with a dog under each arm.
9. What is your biggest vice? 
I have the most disgusting sweet tooth.
10. How would you like to be remembered? 
A beautiful disaster! Not aesthetically, I am just a really ditzy person that enjoys all the beautiful things that life throws at me.
Follow Whinnie Williams on Twitter: @WhinnieWilliams
Follow Whinnie Williams on Instagram: @WhinnieWilliams