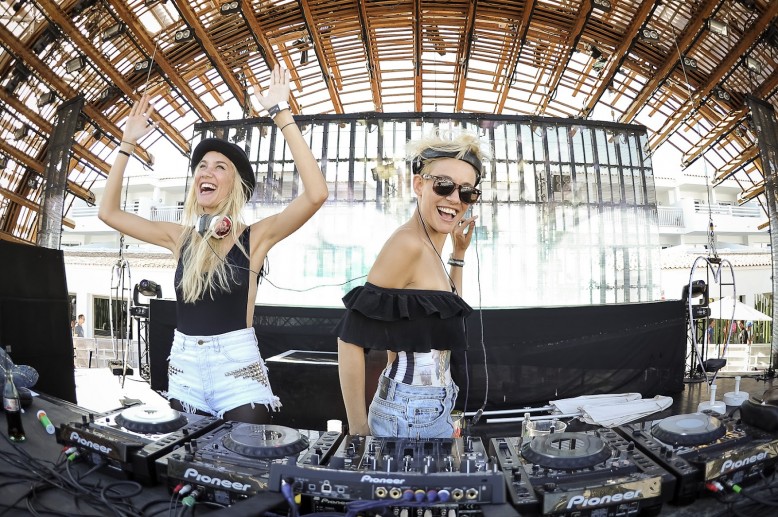 We first caught wind of Miriam Nervo and Olivia Nervo, better known as dynamic dance duo NERVO in 2009; when they co-wrote Grammy award winning single 'When Love Takes Over' for Kelly Rowland and David Guetta.
The track subsequently went platinum in nine countries and was entered into the Top 100 British Downloads of all time. Speaking of the phenomenal success of the song, the girls humbly told me: "We couldn't quite believe it, we still can't believe it. It's a dream come true!"
They exclaimed: "we never expected it to be as big as it was, but we were SUPER chuffed."
Since the success of 'When Love Takes Over', the Australian sisters have gone onto cement their reputations as great songwriters. They have written for pop phenomenons; Kesha, Armin van Buuren and Kylie Minogue to name a few.
Miriam and Olivia, known as 'Mim and Liv to their friends' have co-written many songs for international artists from a range of genres. They revealed that their personal favourites were "Drowning for Armin Van Buuren and VIP for Kesha".
Speaking about their songwriting process, they said: "Inspiration comes from everywhere. It also depends on what we're working on. If we're focusing on top line then lyrics are always drawn from real life. If we're focusing on sonic's/ track then we often start building ideas from a sequence of chords or a bass line/ riff."
They added: "We find the initial idea comes quite quickly. We wrote 'When Love Takes Over' in about 5 minutes. However, it does take a lot longer to record and produce a record – sometimes weeks and weeks."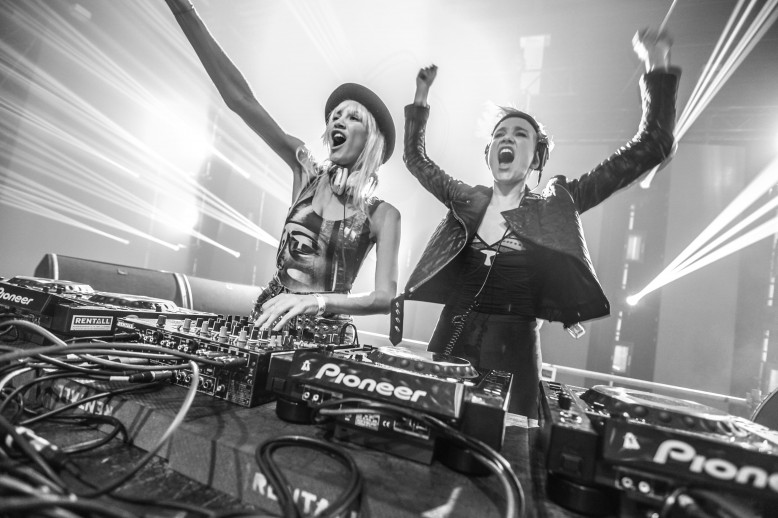 I'm sure we all do it; sat on a train in rush hour en route to work, our headphones jammed into our ears, an escape from the outside world. I have often listened to a particular track and it is so brilliant that I wish I had written it myself. While on this train of thought, I was curious whether there was a song that NERVO wished that they too had written.
Without hesitation, NERVO responded: "Apologize by Ryan Tedder; the melody and the spacing of the rhythms are so beautiful. The lyrics are super poetic too, yet somehow it's perfectly commercial. It has to be one of the best pop songs of our generation."
NERVO are constantly evolving as artists; from songwriting to DJing, to producing and performing. They really can do it all and do it well.
Their success has been stratospheric, topping charts such as the Beatport and Billboard with ease.
Last month, NERVO released 'Inspired', their highly anticipated new compilation. Set across 2 CDs, listeners are offered the chance to explore a compelling collection of inspirations from past to present. This is so much more than a compilation, it is an insight into what has contributed to their journey as artists.
Speaking of the compilation, the girls excitedly told me, "House music has evolved a lot over the past 10 years, so it was great to be able to take a trip down memory lane and show our fans what music inspired us and probably a lot of our peers. It was a unique concept and also a lot of fun to put together.
They added: "Some people will be surprised at the diversity in the music. Maybe people didn't realise we were inspired by soulful house. Who knows? Either way, we hope people enjoy the different mixes."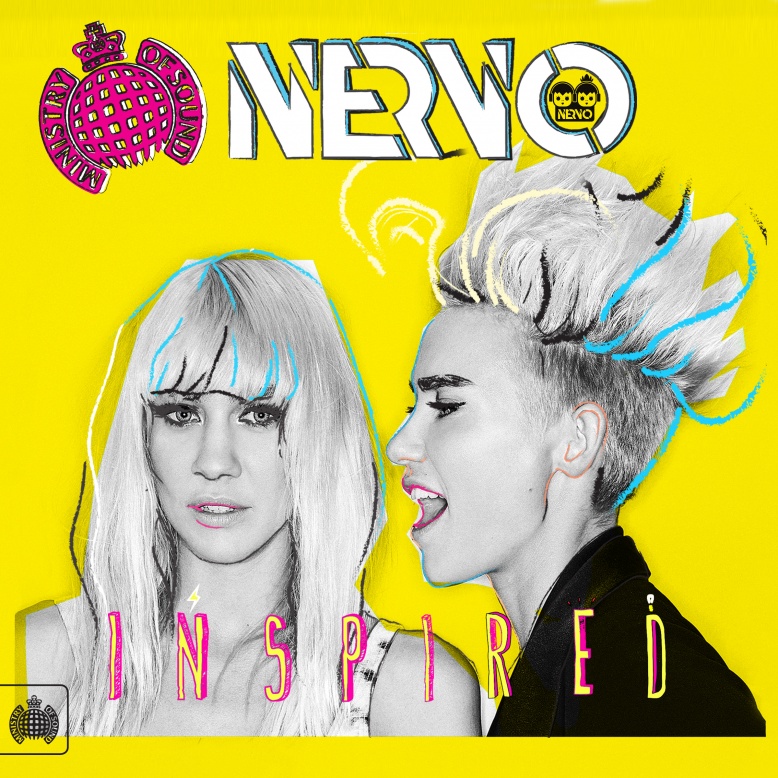 NERVO have collaborated with some of the music industries biggest names. Their resume features the likes of Steve Aoki, Afrojack and Skrillex. They have also shared a stage with Nicki Minaj and Britney Spears, when they were selected to open for her Femme Fatale tour.
Although their past is undeniably impressive, NERVO are firmly looking to the future.
They said: "We would love to collaborate with Eminem and London Grammar. Ah, there are so many people we would love to collab with!"
NERVO are just as famous for their eclectic and rebellious personal style. Speaking of their style, they said: "We love to dress up.  I guess you could say our style is bold and free with a splash of fun.  Style inspirations are everyone from Kate Moss to Gwen Stefani to Vivienne Westwood."
Creating award-winning music isn't easy, I was curious to know if Liv and Mim's sisterly bond has resulted in a more harmonious process when it comes to creating music.
They said: "We have a similar flow in the studio and also when we DJ, so I think that definitely helps. I mean, we have our differences as well but all in all, we tend to like similar sounds, tracks and ideas. We can fight quite a lot in the studio when we're having creative disagreements but then, when we leave the studio it's forgotten. It's great to be able to make music with your sister."
With their careers going from strength-to-strength, NERVO revealed that they could not be happier.
They said: "Music was the only thing that we enjoyed doing and it was the only thing that came naturally. We always dreamed of making music as a career so, now that we're here, we're super thrilled."
I think it's fair to say NERVO have made it, their influence is contributing to changing the landscape within an industry that is still dominated predominantly by men. Ranked 16th in DJ Magazines highly coveted 2013 top 100 DJs, NERVO are the undisputed leading ladies, up 30 places from the previous year to represent the only female DJs in the top 40 poll.
With a huge summer full of exciting global shows ahead, Liv and Mim are undoubtedly ones to watch, and if you haven't already, check out 'Inspired', you certainly won't be disappointed.
Ten Questions We Ask Everyone
 1. What did you want to be when you were younger? 
Something to do with music.
2. If you could offer advice to your twelve-year-old self, what would it be? 
Be nicer to your brother.
 3. You have 24 hours with no travel restrictions, how would you spend it? 
Spend it on a beach with our best friends, a good sound system, cocktails on tap and lots of yummy fresh food.
 4. What is the most exciting thing that has happened to you this year? 
Going to the VMAs was pretty fun.
5. The film you can watch over and over yet never tire of? 
Can we say Games Of Thrones? We're totally into it at the moment.
6.  The song that always makes you emotional?
Radiohead: Talk Show Host
7. If you could spend an entire day with anyone uninterrupted, who would it be? 
Our mum
8. It is Friday night at midnight, where are you most likely to be? 
At a club about to play.
9. What is your biggest vice? 
Pizza for Liv and for Mim, it's losing days on end to Box Sets. She is obsessed with Suits and Game Of Thrones.
10. How would you like to be remembered? 
As fun, fair and respected.
Buy 'Inspired' here.
Visit NERVO's official website: www.nervomusic.com
Follow NERVO on Twitter: @NERVOMUSIC