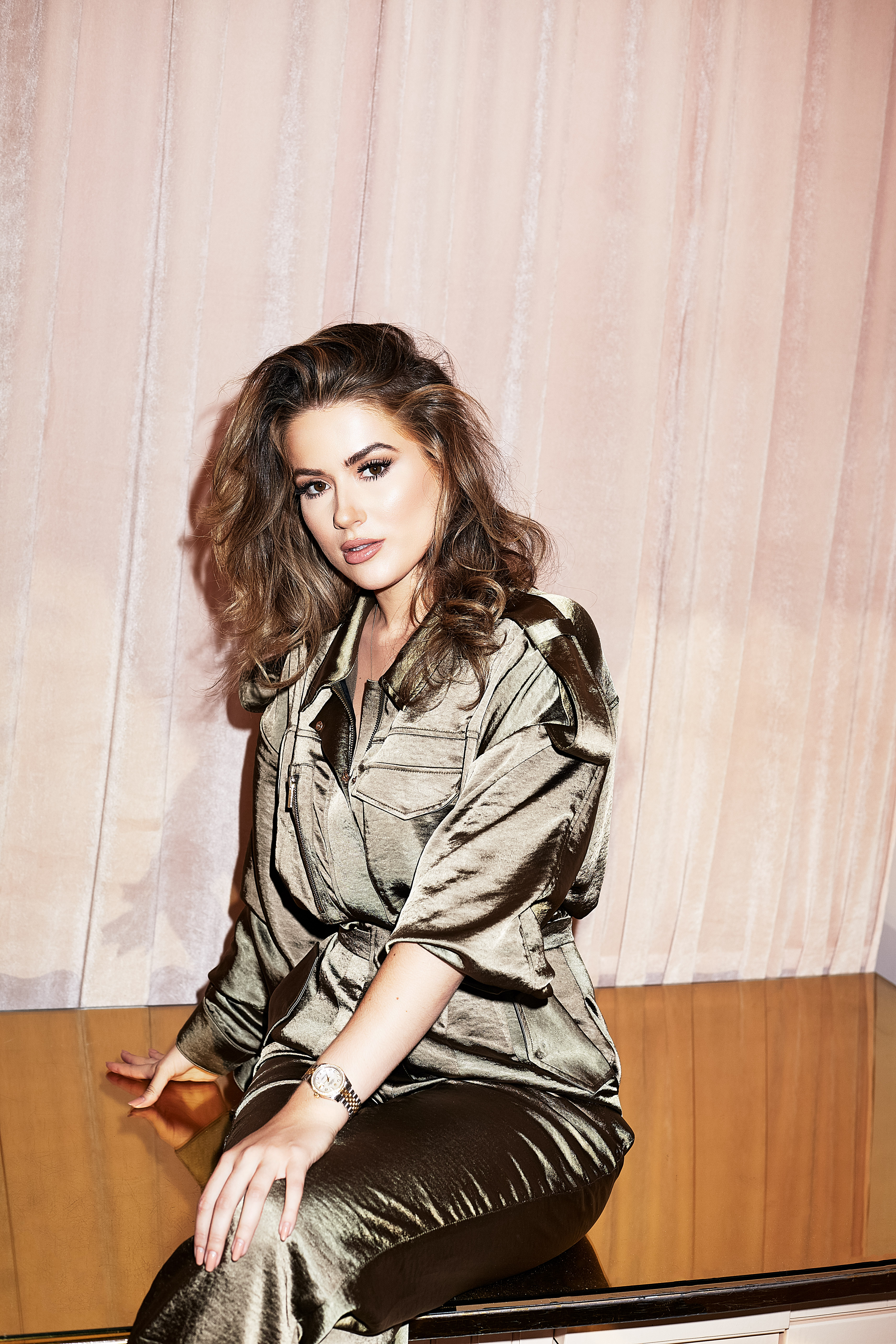 There are very few people who can say they left school at 16-years-old and have a clothing empire worn by the biggest names in the entertainment industry such as Kim Kardashian, Beyoncé and Jennifer Lopez, at 25-years-old, yet Conna Walker has done just that.

It was a grey day in London, but as I approached the House of CB flagship store in Westfield, Stratford my day seemed to pick up. The glass shop front towered above me and a display of lights beamed out of the store inviting me in. I slipped through a hidden door towards the back of the store and was taken upstairs behind the scenes to where all the magic happens, and to where I was about to meet Conna Walker.

In person, Conna is young and beautiful and the perfect embodiment of the House of CB customer. She was wearing a khaki satin jumpsuit with tan suede heel, pointed boots and small gold hoop earrings that were only just visible beneath her thick luscious locks, all House of CB.

Formerly known as Celeb Boutique, House of CB has grown strength to strength. Conna Walker was just a 16-year-old school girl when she first started selling wholesale items under the name of Celeb Boutique on eBay.

She smiled reminiscently and said, "I had a Blackberry at the time – I'd spend all day at school on eBay answering customer questions, and then I'd rush back home, pack up all the orders, send them out, and then list more products. But it only took me so far. There were looks that I knew I wanted, and that I knew my customer wanted, but we couldn't get them. They didn't exist – so I went out and got them."

It is undoubtedly Conna's go-getter spirit that has gotten Conna to where she is today. She explained, "It was a natural progression to move on from selling wholesale items to designing the items that both myself and my customers wanted. To begin with, I designed the pieces, but that's a very loose term."

She paused, burst out laughing and continued, "When I say I designed them I mean that I drew lavish sketches and spent hours in factories explaining to the manufacturer what I wanted, which is pretty difficult when you can't speak Chinese."

It really is incredible to think about what Conna has achieved at such a young age, especially as she has absolutely no fashion background or relevant education. She merely left school when she was 16 and pursued Celeb Boutique.

She stated, "When I started Celeb Boutique I just wanted to make money. I never thought to myself that I wanted to create a huge brand or have celebrities wear my designs. It was simply a case of needing to make some money, finding products that I liked, and selling them. It happened progressively and just escalated. After a little while, I definitely began to get more of a vision and direction of where I wanted to take the brand and what I wanted it to be."

So how did Conna take Celeb Boutique from eBay and turn it into a worldwide success?

She looked at me with a mischievous glint in her eye, laughed and said, "When you shop on eBay you're automatically giving the seller your email address, so I saved all the customer's email addresses – which is completely against eBay rules but whatever. I then built my own website and emailed all the customers telling them that all the products were 10% cheaper on the website so that they would stop buying on eBay. And from there we just took off."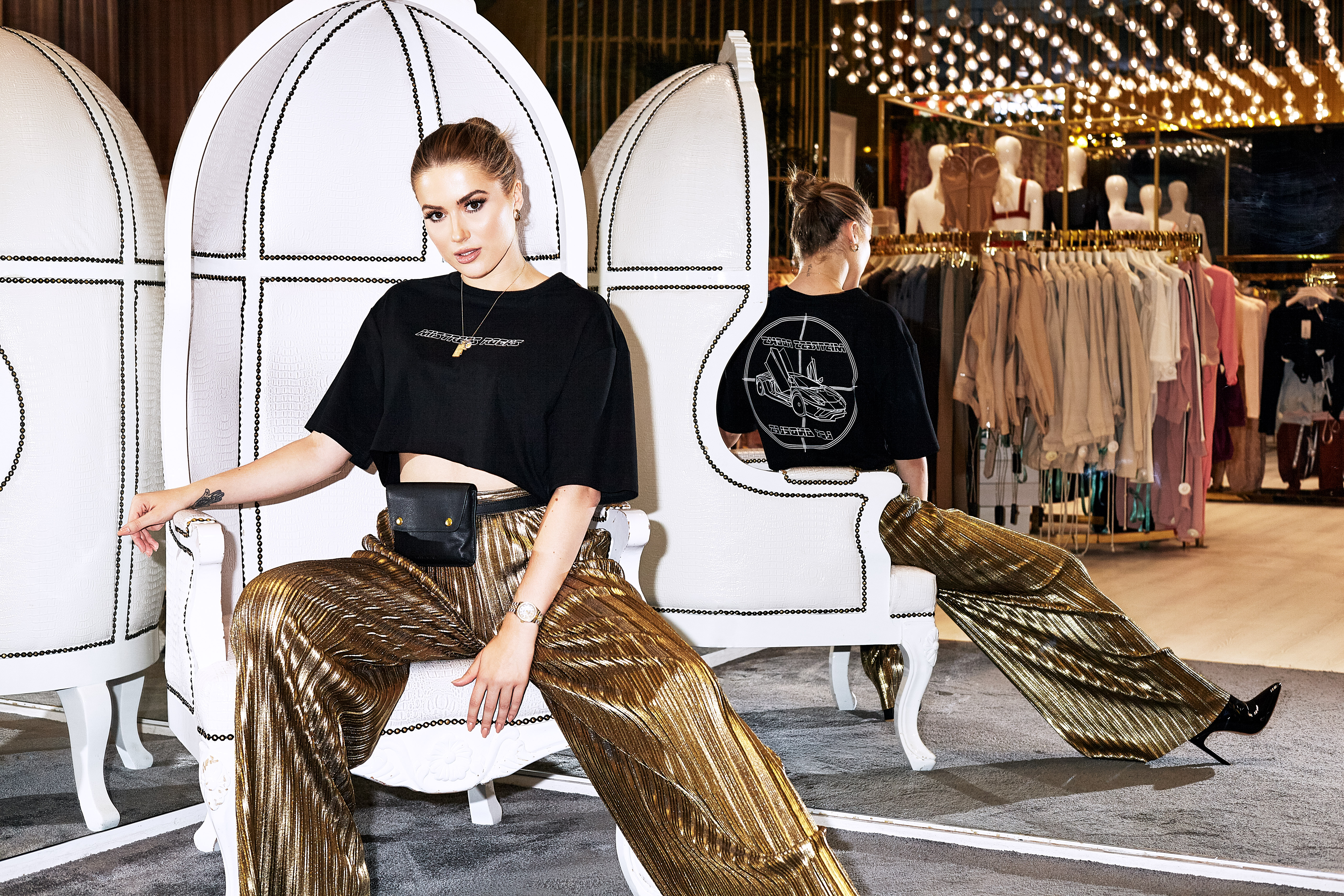 The brand has over 1.6 million followers on Instagram which wasn't even around when Conna Walker first started Celeb Boutique. She explained, "We took the brand to Instagram pretty quickly when Instagram became a thing which I think definitely helped establish us on there."

She continued, "We're a brand that's been built off social media. It's amazing because it's free and you have access to millions of people around the world, but Instagram is really saturated now, so it's like a double-edged sword. You can reach so many people, it's completely free, and it's immediate. It's not like putting an advert in the newspaper and waiting for a response. You can see the response and track the traffic immediately, but it's very saturated, so it really is survival of the fittest. Who creates the best content and who is selling the best product? Who brands themselves in the best way?"

I asked Conna whether she felt having no fashion background or relevant qualifications has ever hindered her, and she didn't even have to think about her reply.

She stated, "I haven't found that it's necessarily hindered me, but I've definitely found that people sometimes don't respect me. As a woman, and as a young woman, and a woman that is sometimes considered uneducated because I left school when I was 16 as soon as I had completed compulsory education, I found that people didn't really respect me, to begin with. And it was, of course, difficult to find staff because I was only eighteen at the time, so anybody that was older than me had the attitude 'well, I'm not listening to this little girl'" she laughed, adding, "So that was definitely difficult."

She continued, "I think for entrepreneurial type careers it's not entirely necessary to pursue higher education because you're sort of making the rules up yourself. But I still think there is definitely something to gain from education, but the way I did things has worked well for me. Everybody is different."

Conna may have faced challenges and difficulties in her time, but nothing has stopped this girl. House of CB stores exist in the UK, the US, and Australia, and Conna has hopes to open more stores in the US and even a store in Dubai in the near future. Conna also has plans to move the London flagship store to a space that is three times the size. And if that wasn't already enough, celebrities the likes of Kim Kardashian, Beyoncé and J-lo are introducing House of CB to the red carpet.

"The brand was initially based on the idea of dressing like celebrities and getting their looks for less, but Celeb Boutique quickly became its own brand and what you see Kim and J-lo wearing are our actual pieces. They're not looks for less. So, this is when we decided to rebrand ourselves and call ourselves House of CB. Everything is designed in-house in our London flagship store, and celebrities really are wearing our items, so we felt we needed to rebrand and reflect that."

Starting a business on eBay at just 16-years of age in a bedroom is one thing, but having a successful worldwide brand at the age of only 25 is another. I asked Conna if she sometimes has to pinch herself, and she answered beaming with pride, "Absolutely! Every day feels surreal. I will never get over the fact that celebrities choose to wear a £120 House of CB dress over one that's £3000 that they've been given for free."

She continued excitedly, "I love that they choose to wear House of CB over high-end designers. Every time it is a surprise, so I still get really excited when I hear that celebs have been spotted in our designs." She laughed and exclaimed, I'm "like OH YES! WE DID IT!"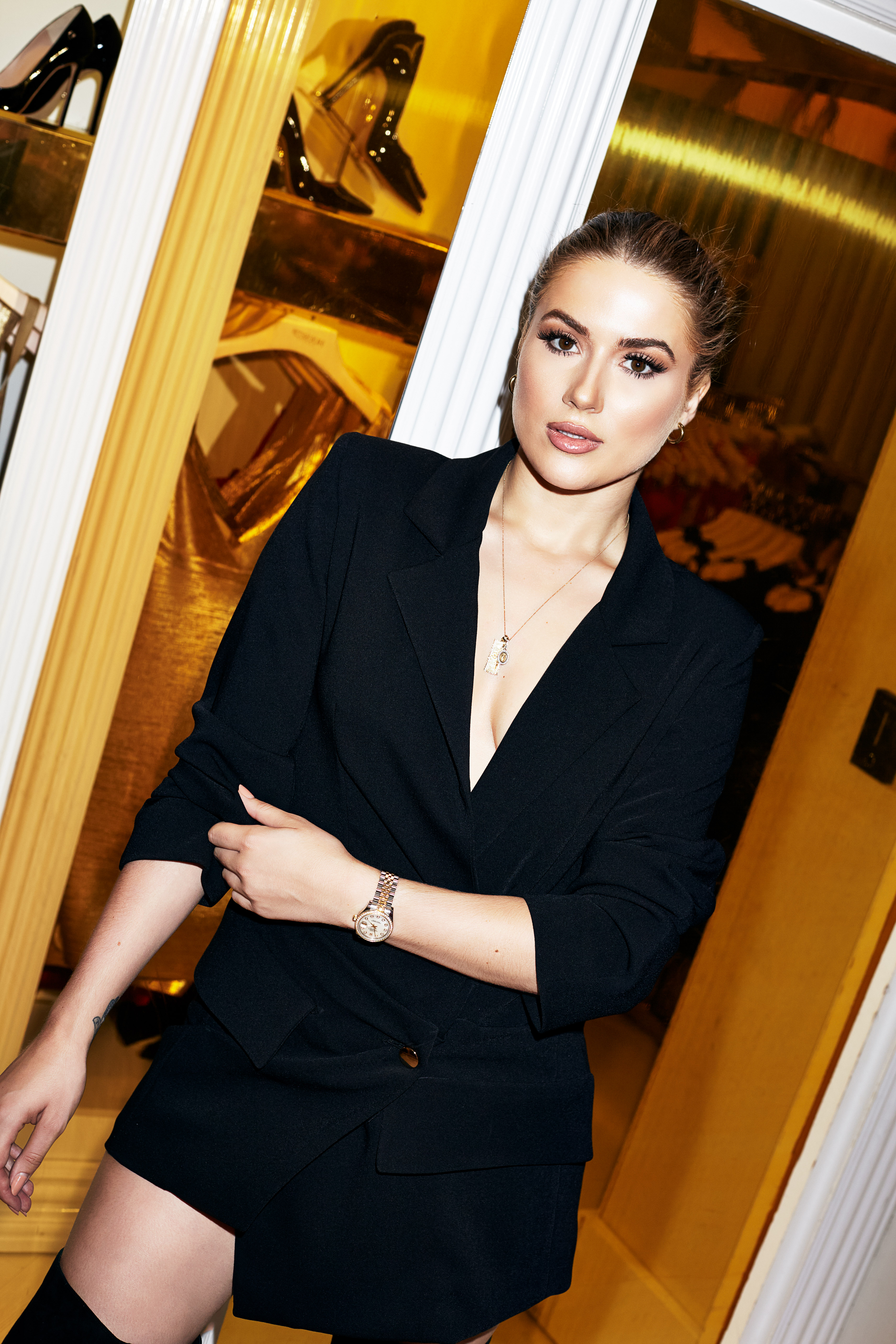 Conna certainly has 'done it', and continues to do so. I asked whether Conna has ever found that being a self-employed woman in business has made it particularly harder for her to make her mark.

She replied, "At the start, definitely. It was so difficult. I think that in the last year or so it's definitely started to change and women are all supporting each other. I think it's a great thing to be a woman in business right now because there's so much press surrounding it and you can really make it work in your favour."

Conna smiled and continued, "I feel like I've had to do so much more than a man would to prove my point and have my seat at the table, as such. Whereas I think a guy has to do far less to get that kind of respect. But you know, we're getting there, so it's okay."

What is the highlight of Conna's career so far? She stated, "The first store that I opened was a real milestone for me because up until that point it hadn't felt totally real. It just felt different. It's amazing to see a real-life reaction from people as they walk into your store and I love listening to people's conversations as they walk around. I love having something to walk into and think 'this is mine'."

All of a sudden, Conna burst out laughing and shrieked, "The first store was hot pink and horrendous! I look back all the time and think what was I thinking?! My tastes have evolved with my brand, but I definitely sometimes question what I was thinking. Or, actually, what were we ALL thinking!"

Conna continued, "We've all grown up together, and I think that's why we have such a strong connection with our customers. What I wanted when I was 18 is different to what I want now at 25, and because I've been those ages, I know what those girls want." Conna smiled fondly as she spoke about the beginnings of House of CB and reflected on the success of the brand, "I'm accumulating knowledge as I grow" she added. "And I hope to grow for years to come," she said modestly.

We have absolutely no doubts that both Conna Walker and her brand, House of CB, will continue to expand and grow into a worldwide phenomenon.

Photographer
Maximilian Hetherington

Make Up Artist
Katie Daley using Benefit

Hair Stylist
Carly Campbell using Ouai Haircare