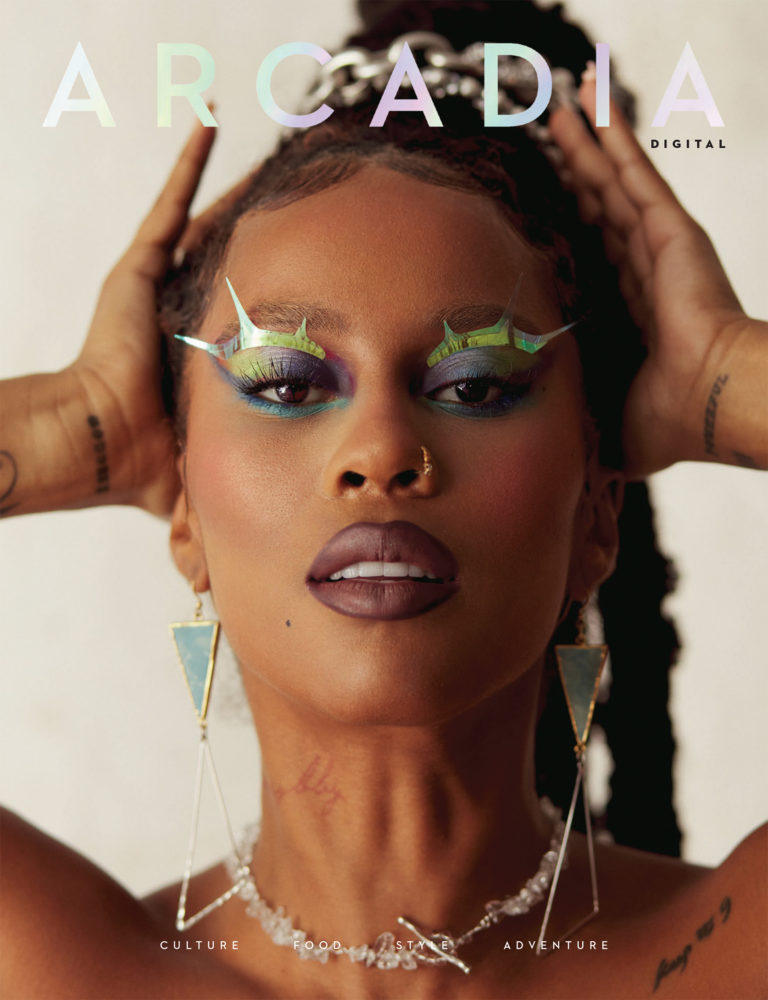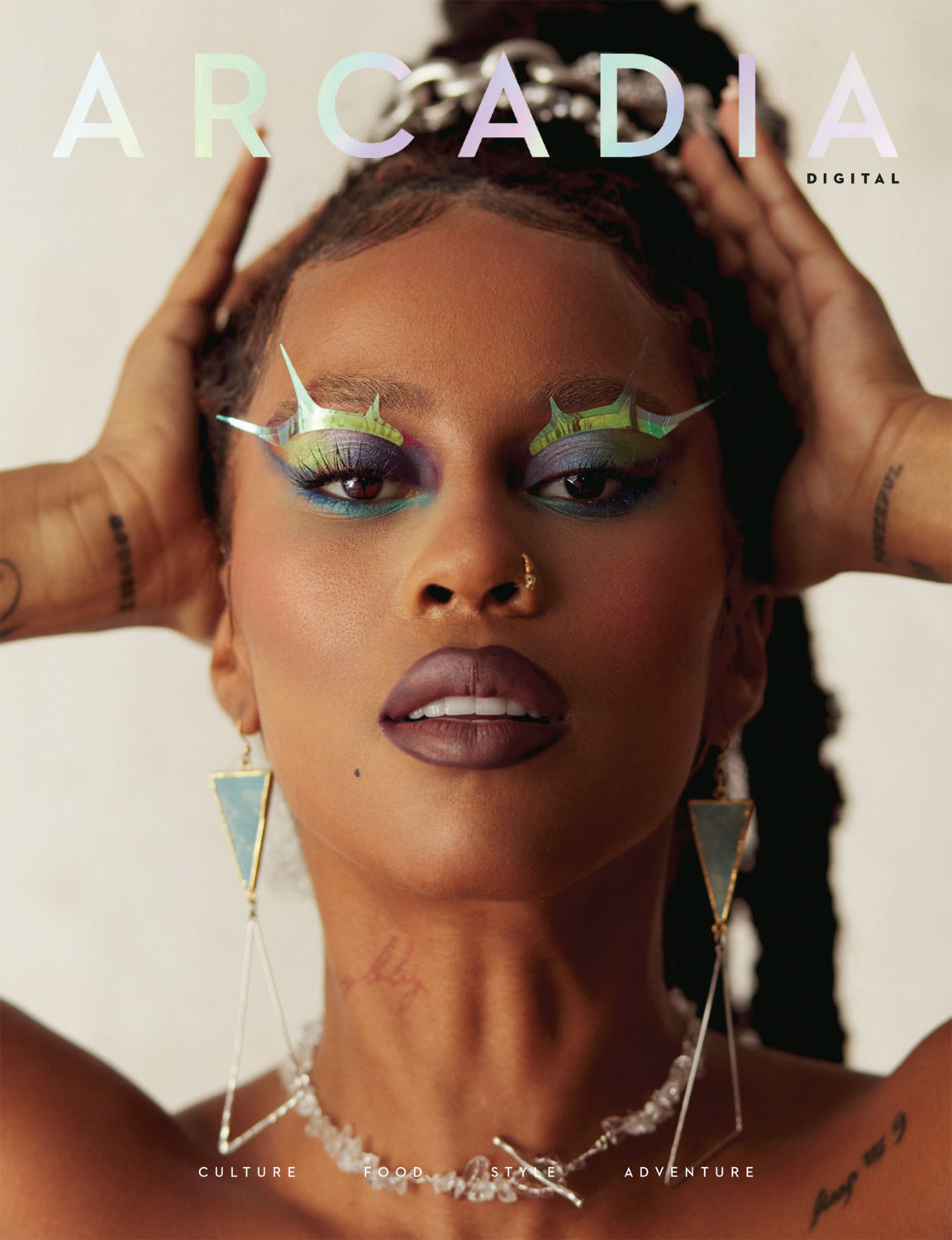 A female rapper from Manchester, UK, of Angolan, Portuguese, Saudi Arabian and Cape Verdian heritage whose not only using her way of creating art to redefine a male-dominated industry, but also to redefine her own being. Using her journey as a musician to inspire her music, while simultaneously inspiring other women to sit in the driver's seat of their own ambitious paths, Diana De Brito, aka, IAMDDB, is the epitome of female empowerment — acting as her own muse, using self-reflection to grow and encouraging other women to radiate and succeed wit her.
Admiring her throughout the shoot, colours splashed through every shot, her energy filling the room so much that it felt, in the most magical way possible, that my back was against the wall, I knew IAMDDB was a whole other ballgame. She's powerful, brave, ambitious, and knows herself in a way that I only wish I could know myself. Speaking to one another though, I soon realised that the synergy she feels with herself did not come overnight.
"This shoot is super meaningful as it's the first time I have had full control on all aspects of how I am presenting myself to the world – for the first time, I feel like a shoot is going to be realest reflection of who I truly am," she said, almost giddily. With her best mates-turned-team in town, the whole shoot felt relaxed, fun and as if we were shooting extra-as-hell pre-game content. "This feeling of celebration of being a black woman, and being celebrated by beautiful talented women, is something else," she said, grinning ear-to-ear.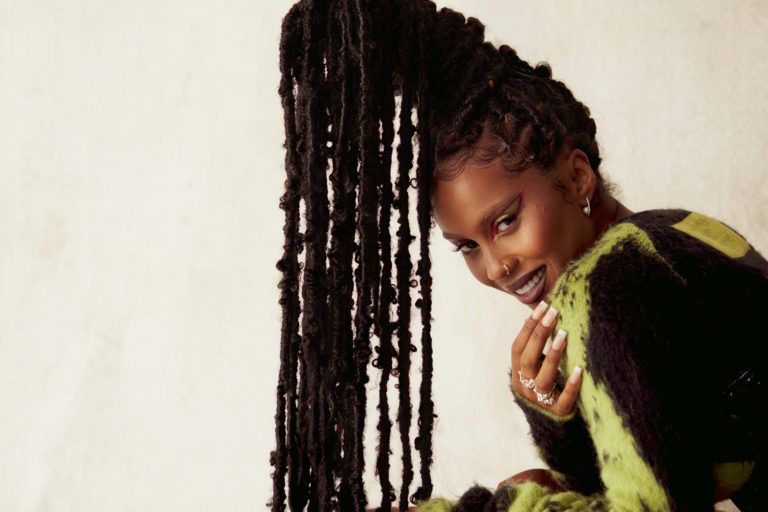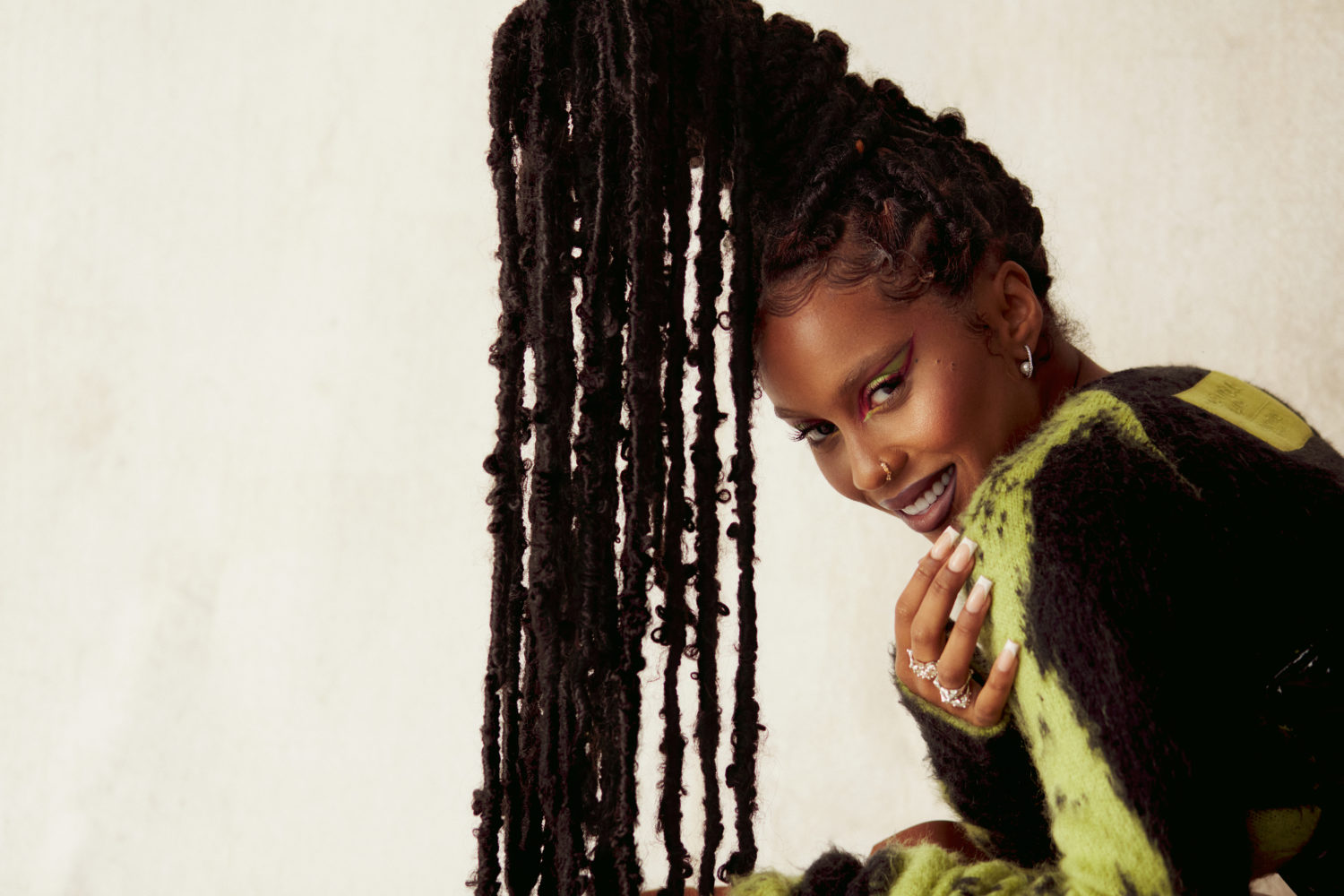 Having started her musical journey 5 years prior, Diana recounts how it has been the most intense, fulfilling and eye-opening journey of her life, but worth it, of course. "I mustn't ever forget where my roots are. I am here to honour my ancestors and create a shift be it in peoples mind, heart and lives through my vibration and frequency," she says with determination, "I truly believe I was put on earth to heal a lot of people, and be the true mirror of reflection of truth for them and for myself."
Growing up in Manchester, with an African family who put celebration at the core of everything, was surely a raucous affair — one I could definitely relate to having grown up in a huge Irish family. "I want to bring this element of celebration to my music, to every show, every single time," Diana says, "I've always been surrounded by musicians and instruments, it was part of my life, so I knew this was the only path for me."
Her heritage, in all its kaleidoscopic glory, leads Diana in her personal and music life, a piece of each taking the reins in in its own individual way at different stages of her life.
"It has definitely helped me with evolving into the beautiful goddess I am," she says confidently, as hot pink eyeliner is applied to her eyelids in a timely fashion, "it's helped me embrace and accept my feminine energy and has helped me to be fearless in standing in my power." Her new unreleased music promises a closer embrace of Diana's heritage, particularly with singles like 'JGL'.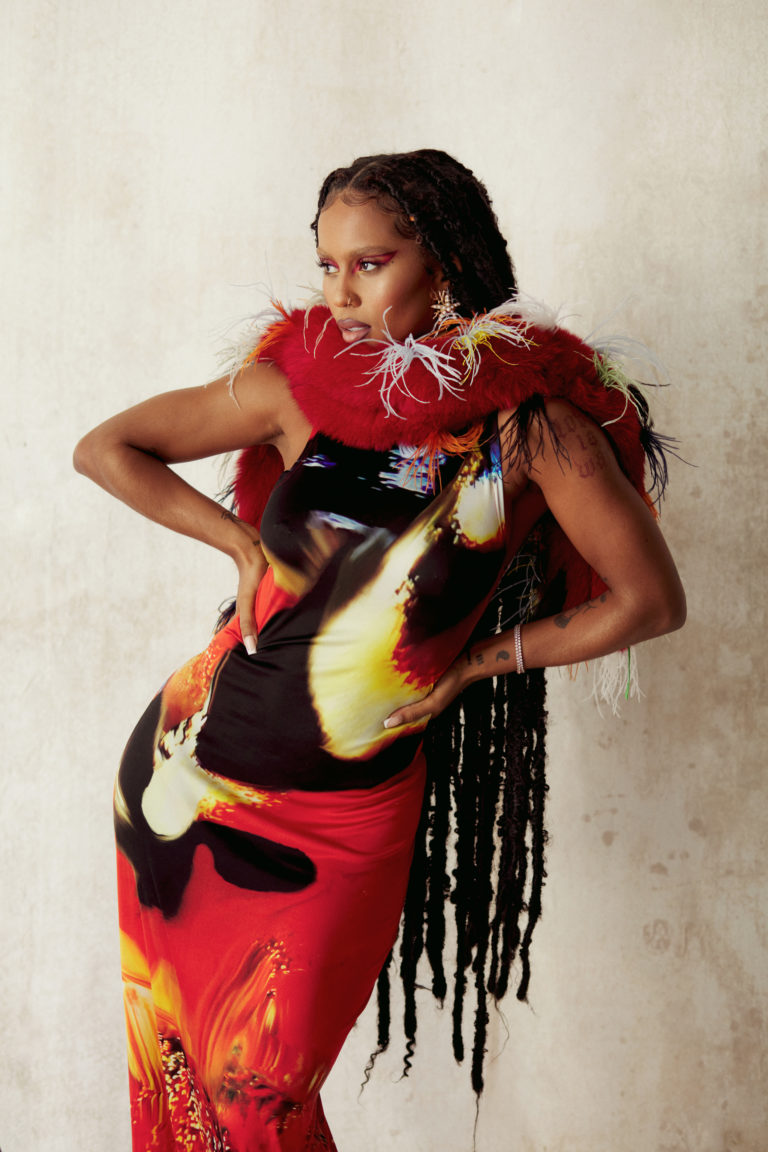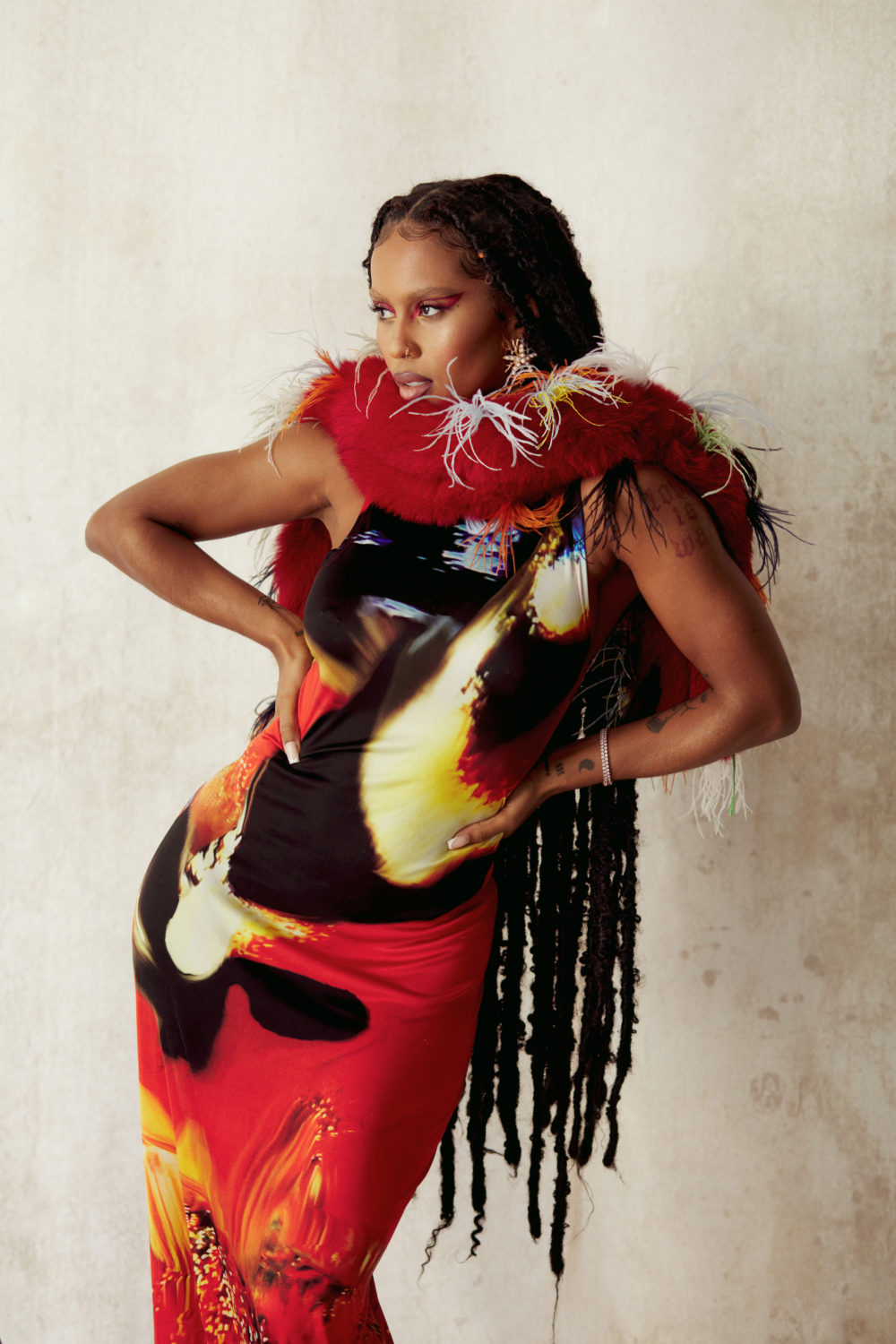 What I found most standout about Diana was that she made music not for praise or fame, but for the people. "My biggest inspiration will always and forever be Bob Marley because of how his music would make people feel, think and behave," she told me, "I want to have the same impact on people, so they always know when listening to IAMDDB they are free to be who they truly are."
Unafraid of stepping into the unknown and playing other roles that peers, fans and her community may need of her, for Diana, IAMDDB is not just about music, it's about stepping into a role as a leader, a black woman of power, and a role model.
Upon asking her if there was a defining moment in her career that set the wheels in motion she replied, without hesitation, "No, it's a constant journey of defining who I am, what I stand for and what I am trying to create and build for my legacy."
Despite the power stance she pulls in front of the lens, there's an admirable humility about Diana that we don't often see in the music industry. This synergy between her journey as a musician and her personal growth is key to her art.
"For me to make great art I have to be willing to be vulnerable," she says, "Vulnerability to me means accepting the whole truth, even the dark and ugly and working with it instead of against it." A powerful line that, I'll be honest, knocked me back a little, having thought about my journey this year and how I struggled to recognise the truth in self.
Before I could mentally return to the room, she continued her prophecy, "Its transforming the negative into positives, allowing the toxic to inspire you to do better, be better. Vulnerability is allowing yourself the freedom to feel and express without limiting it because of how other people will respond or interpret you."
She continued to tell me that she knew she wouldn't always be understood as an artist because her music is self-reflection, so people either relate or they don't, she's not out here to reel out meaningless chart toppers. "If the music doesn't reflect the truth in my life, it won't be authentic to me so I like to keep it G, at all times," she said, with a side eye smirk to close.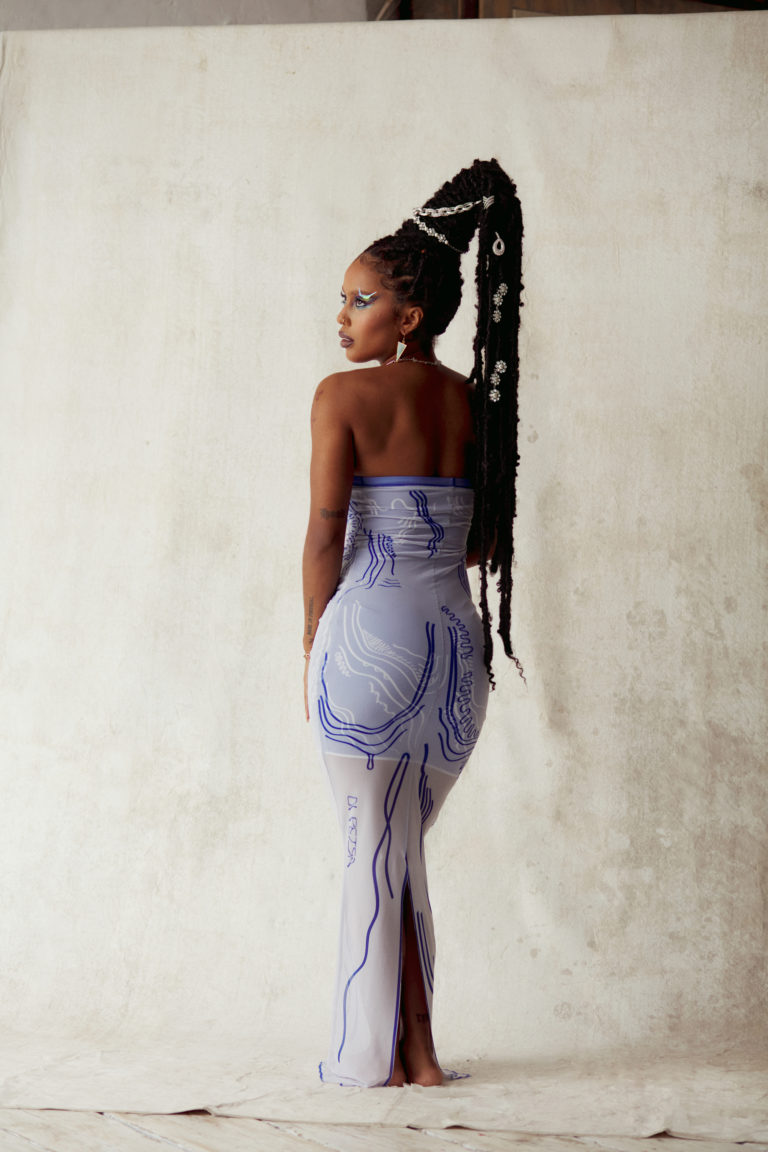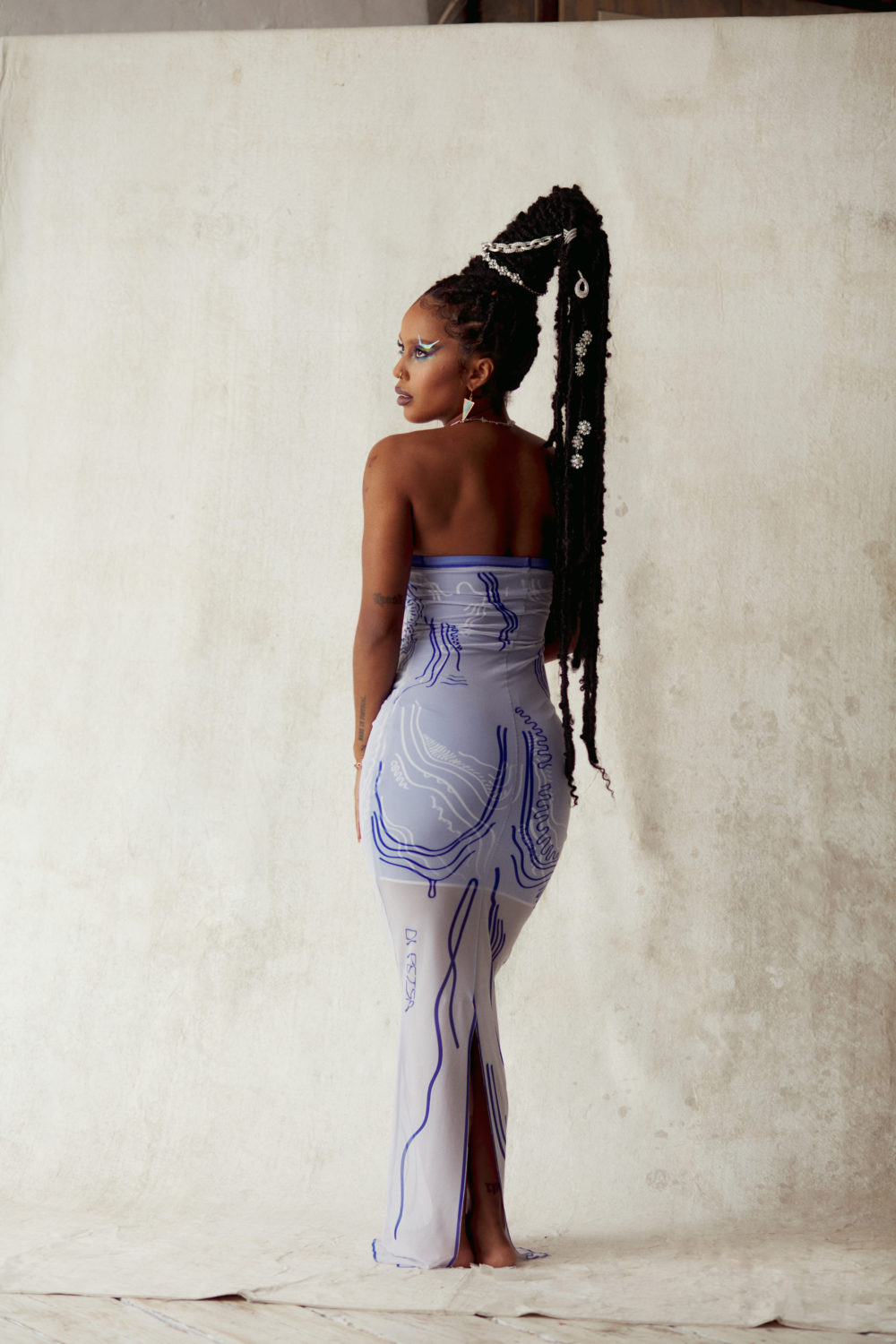 I'm personally trying to board this train of thought that Diana so beautifully preaches, where I take the positives and negatives of life and blend them together into something within my control. I tell her I'm not quite there yet, to which she replies, "Life is an inspiration — everyday there is a new demon to slay and a new opportunity to manifest. The more you accept things as they are, the more you realise how bitter sweet life can be at times."
I felt like I was in my therapy sessions as I hung on her every word, transcribing it seemed for a personal journey, rather than this interview. "Sometimes you have to lose exactly what you thought you wanted to unlock different parts of yourself. Silver Lines for me is a reminder that true joy is when you unlock and learn about the madness within yourself." Queue my most played song on Spotify in 2021 being 'Silver Lines'.
'Silver Lines' positions women at the centre of all being to encourage women listening to connect with their feminine energy. Not to be confused with another song that falls into the 'girl boss' trend that has hung around for years, for Diana, encouraging female empowerment is a lifestyle, not a mission. Less about showing the world our acts of female empowerment and instead just living it.
"We live and breathe this everyday. We empower one another to be great every day. We nurture and share wisdom with one another for our evolution every day," Diana says, "it's always a woman behind a great man because feminine energy is the essence of success and real power."
Diana's recognition of self — in strength, love, vulnerability, fear, and feminine energy — is exhilarating. Her regaining of power in a patriarchal society and industry, pitted against the black woman, is a warrior stance. The energy pours from every fibre in her being, ready to be absorbed by those women crowded around her. And, in her own words, she "always keeps it G!"
Photographer
Kyle Galvin
Stylists
Jennifer McKing
Jasmine Mcking
Make-Up Artist
Sarah Hill using Laura Mercier
Hair Stylist
Kris Barnes using GHD Hair
Photographers Assistant
Sam Hern
Stylist Assistant
Tyanna Wintz