The Gucci Bloom garden of dreams launched with the original Gucci Bloom Eau de Parfum, which brought along a new vision of femininity and relentless authenticity. Blended by Master Perfumer Alberto Morillas the fragrance weaves the floral signature of Jasmine Bud extract and Tuberose into an embodied essence. The scent naturally expands into its full vital expression, blooming like the individual who wears it.
Bloom your most intense inner light from the mystery of the night with Gucci Bloom Eau de Parfum Intense, the entrancing new scent to join the Gucci Bloom spirit. Inspired by the magnetic forces of moonlight, this potent fragrance is a catalyst for the creative spirit, encouraging all to bloom into their truest selves.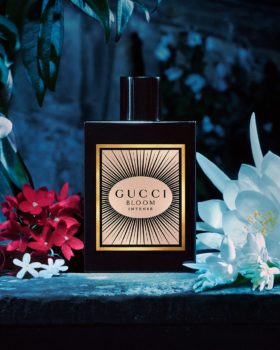 The new Gucci Bloom Eau de Parfum Intense bottles the feminine force of creativity, revealing the most entrancing distillation in the Gucci Bloom garden yet. Its inspired fragrance intensifies the Gucci Bloom white floral blend with added sensuality. A radiant top note of Orange Blossom Absolute opens the incantation while its floral heart of Jasmine Sambac and Tuberose unfurls with Lady of the Night–a night-blooming flower that heightens the heady bouquet. Grounded in a base of Patchouli Essence and Crystal Moss Accord, its essence invokes deep perception and echoes with a sensuous sillage.
Lacquered with the black intensity of a full moon eclipse, the cosmic motif of the new Gucci Bloom Eau de Parfum Intense seals its distinctive square silhouette with the radiance of creative power. Inked with a red Toile de Jouy Herbarium Gucci printemblematic of the scent's night-blooming garden, the outer packaging unfurls with crimson cherry branches, flowers, and leaves against a blush background framed in black. An outer golden frame adorns the print, echoing the bold luminosity of the bottle within.
Gucci Bloom Eau de Parfum Intense is available for £130 (100ml) via Selfridges.com