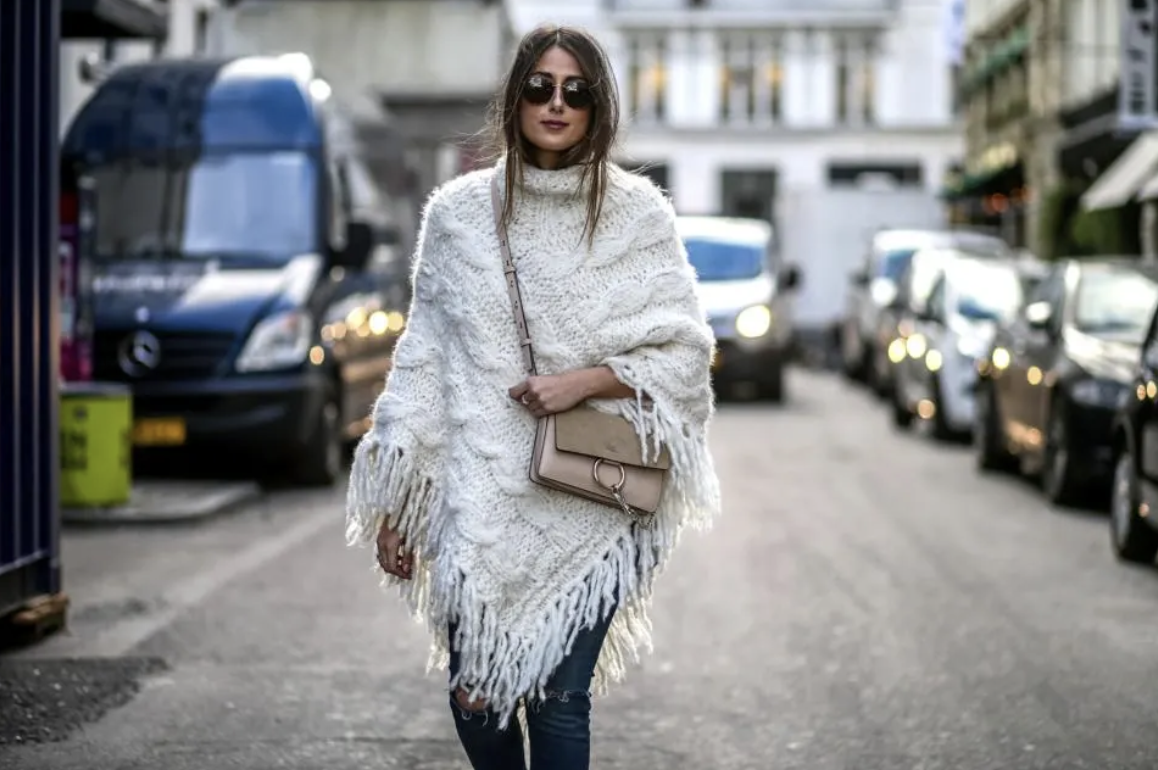 Irish ponchos are a perfect layering piece for this fall: not only are they incredibly versatile, but they can also be styled in many different ways to achieve unique looks. Whether you want to go casual chic with a dress and poncho combo or edgy urban with leather leggings and cropped top, there is no limit when it comes to styling these pieces. With the right combinations of accessories, fabrics, and silhouettes, you'll be sure to find the perfect autumn look that's both stylish and comfortable!
Casual Chic 
Irish ponchos are a great alternative to the basic jacket, and they add an extra layer of style and warmth to any casual outfit. A dress paired with such a poncho is the perfect casual chic look for autumn. You can choose from different fabrics such as wool or cotton which offer various levels of comfort and warmth depending on your preference: if you're looking to stay warm even during the coldest days, a wool knit Irish poncho as the ones you can find on Gaelsong is the way to go, while one made of cotton can be perfect for the sunnier September days. This combination will create an effortless yet stylish ensemble that will keep you warm and looking fashionable all season long.
Urban Style 
Pairing a short cropped top with skinny jeans and adding a poncho on top is another great option when looking for ways to dress up your outfit. This combination creates an edgy urban vibe that's perfect for those warm fall days spent out on the town. Opt for dark wash denim or leather leggings depending on how bold you want your overall ensemble to be then add a tight-fitting top underneath along with a cotton Irish poncho on top. Finish your outfit by adding some ankle boots and statement jewelry pieces such as hoop earrings or layered necklaces and you're good to go!
Formal Outfit 
A knit Irish poncho can be a wonderful replacement not only for a jacket, but a blazer as well, as it offers a sophisticated and unique twist on traditional attire for women. The poncho, with its flowing silhouette and luxurious fabric, adds an element of elegance and versatility to any of your work outfits. Choose a garment in a rich, neutral tone, such as deep navy or classic black and create a refined and timeless look by combining it with a white crisp button-up and a midi-length skirt. To complete the outfit, opt for minimalistic yet elegant accessories, such as a statement necklace or a pair of dangling earrings.
Classy and Cozy 
For the cold and gloomy days, an outfit featuring a poncho layered over a cozy turtleneck sweater is the epitome of comfort and style. The combination of these two pieces creates a warm and chic ensemble that embraces the season's spirit and lets you enjoy it without freezing. A pair of denim jeans and a chunky turtleneck sweater in a soft, neutral color like cream or gray will make the perfect base for the outfit. Drape a beautifully patterned or textured poncho over the sweater to make the outfit not only warmer, but also more visually appealing.  Finally, slip into your favorite pair of knee-high boots, add a belt and your favorite tote bag and you're ready to conquer the world.