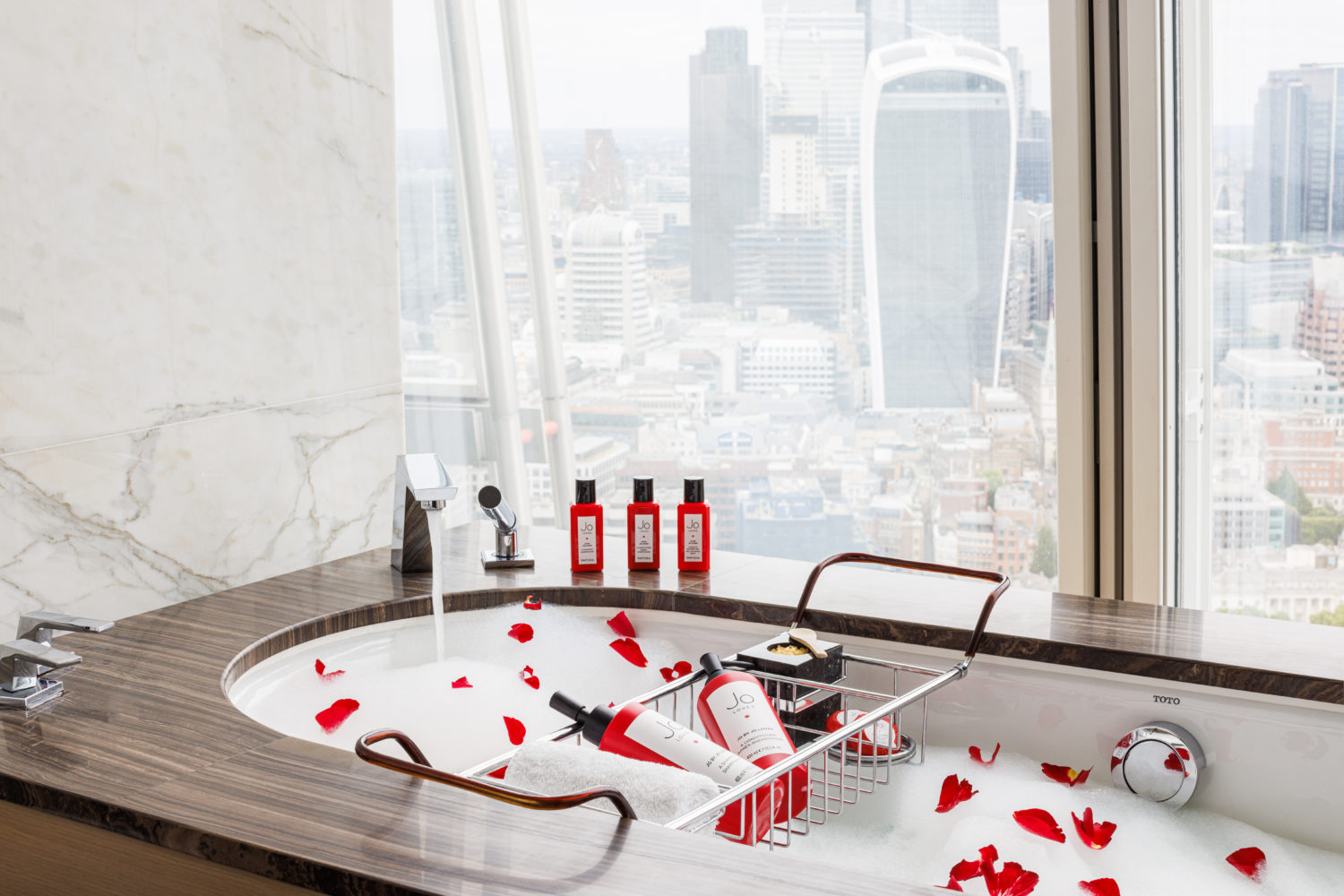 This summer, Shangri-La The Shard, London welcomes an exclusive new amenity line with luxury fragrance brand Jo Loves by Jo Malone CBE. This makes the leading Forbes Five Star hotel the first in the world to offer a full range of the Jo By Jo Loves collection of guest cosmetics by global hotel amenity provider VANITY GROUP. The new amenity line debuting in July will introduce refillable bottles to the hotel, eliminating the use of more than three tonnes of plastic a year.
Adding a further scent of fragrance to its brand of luxury hospitality, Shangri-La The Shard, London will celebrate the new partnership with a multi-sensory cocktail inspired by the perfume notes within Jo By Jo Loves, a red chocolate replica perfume bottle welcome amenity and a scent-based overnight stay with exclusive Jo Loves gifts and a visit to its flagship Pimlico store for a fragrance tapas experience.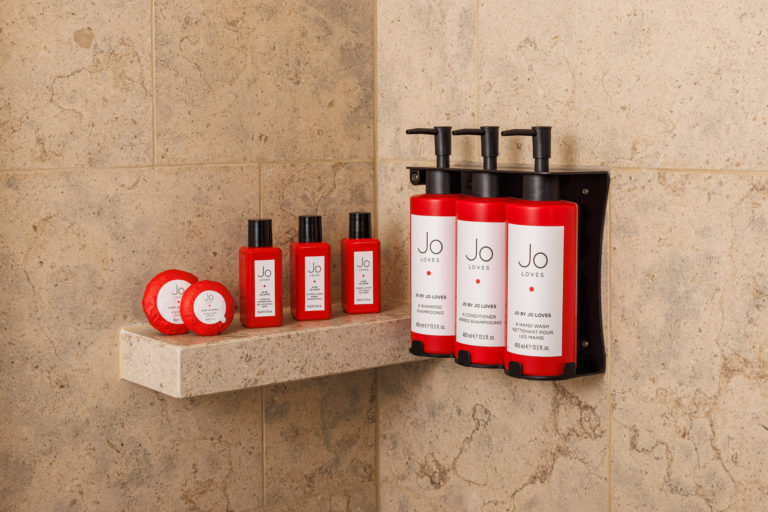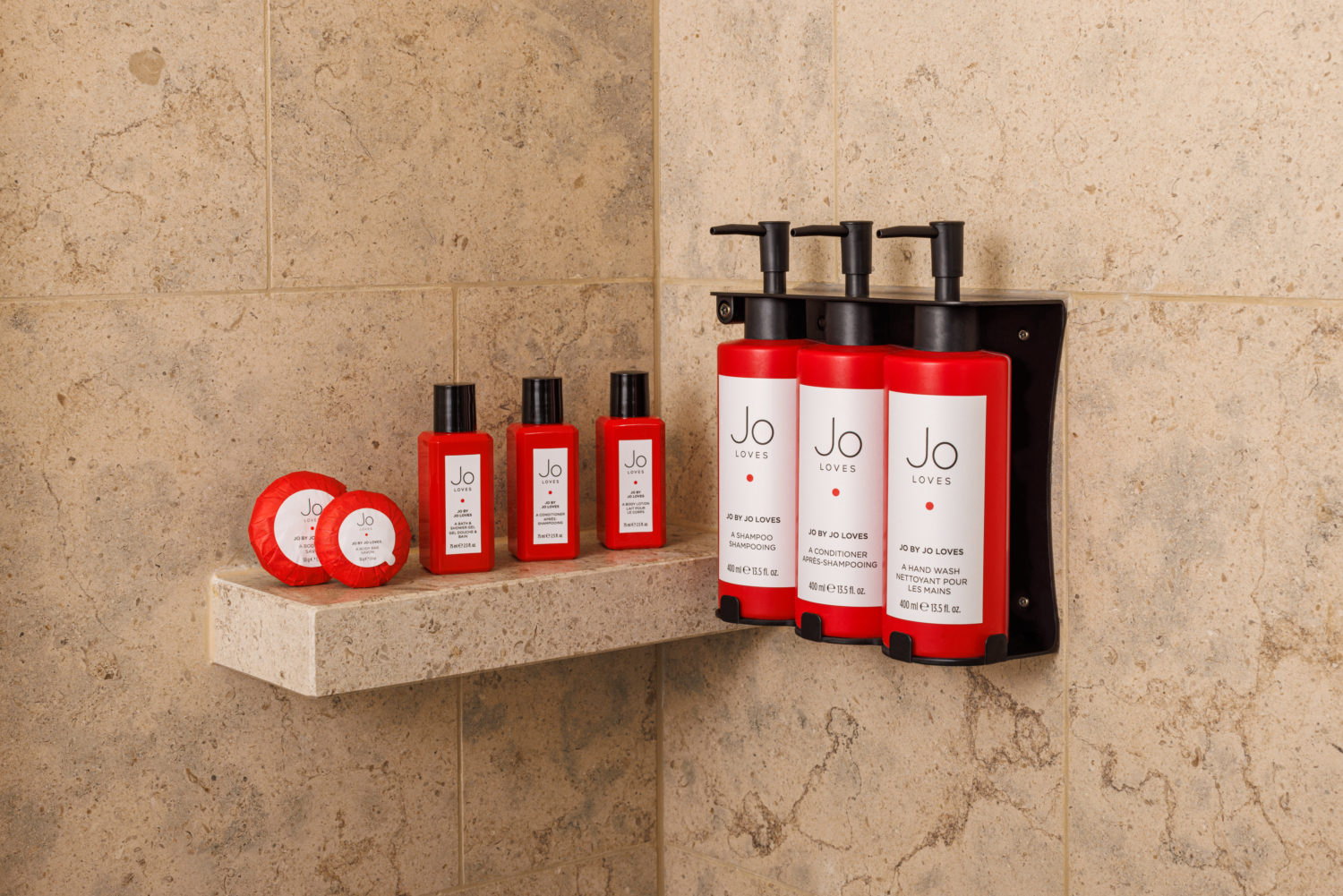 From 1st July 2023, bathrooms throughout the hotel's 202 rooms and suites will be stocked with a range of sustainable, vegan and cruelty-free products in the Jo By Jo Loves fragrance, showcased in the brand's recognisable scarlet coloured bottles. Featuring notes of Grapefruit, Lime, Black Pepper and Cedarwood, the fragrance is inspired by Jo's enduring love of grapefruit notes. To celebrate memories past, present and future; Jo By Jo Loves is the perfect scent for guests creating special memories with a stay at Western Europe's highest hotel.
While the hotel's bathrooms will be installed with 400ml refillable bottles of shampoo, conditioner and bath & shower gel, smaller bottles of hand and body lotion and soap will be available for guests to enjoy and take home. Aside from eliminating more than three tonnes of single use plastic per year, the recyclable bottles will be comprised entirely of OceanBound Material, which is made from plastic waste collected in high-risk areas within a 200km distance of coastlines or waterways that often lead into oceans. By upcycling this waste, both companies can help protect oceans and waterways from plastic pollution.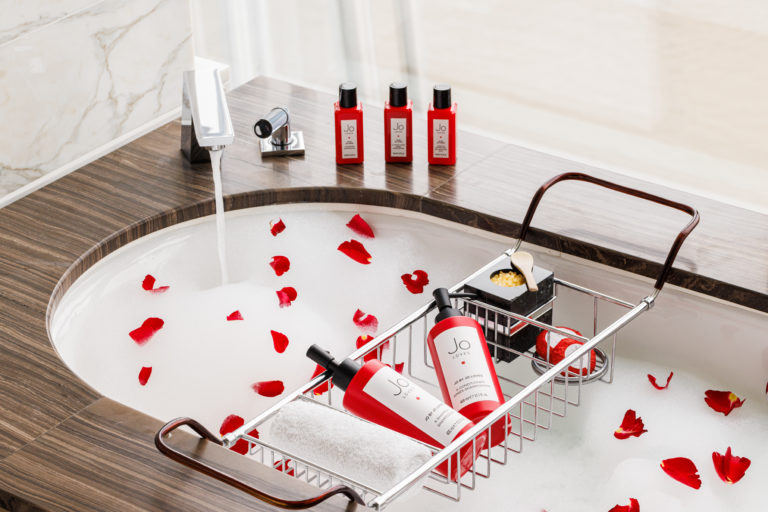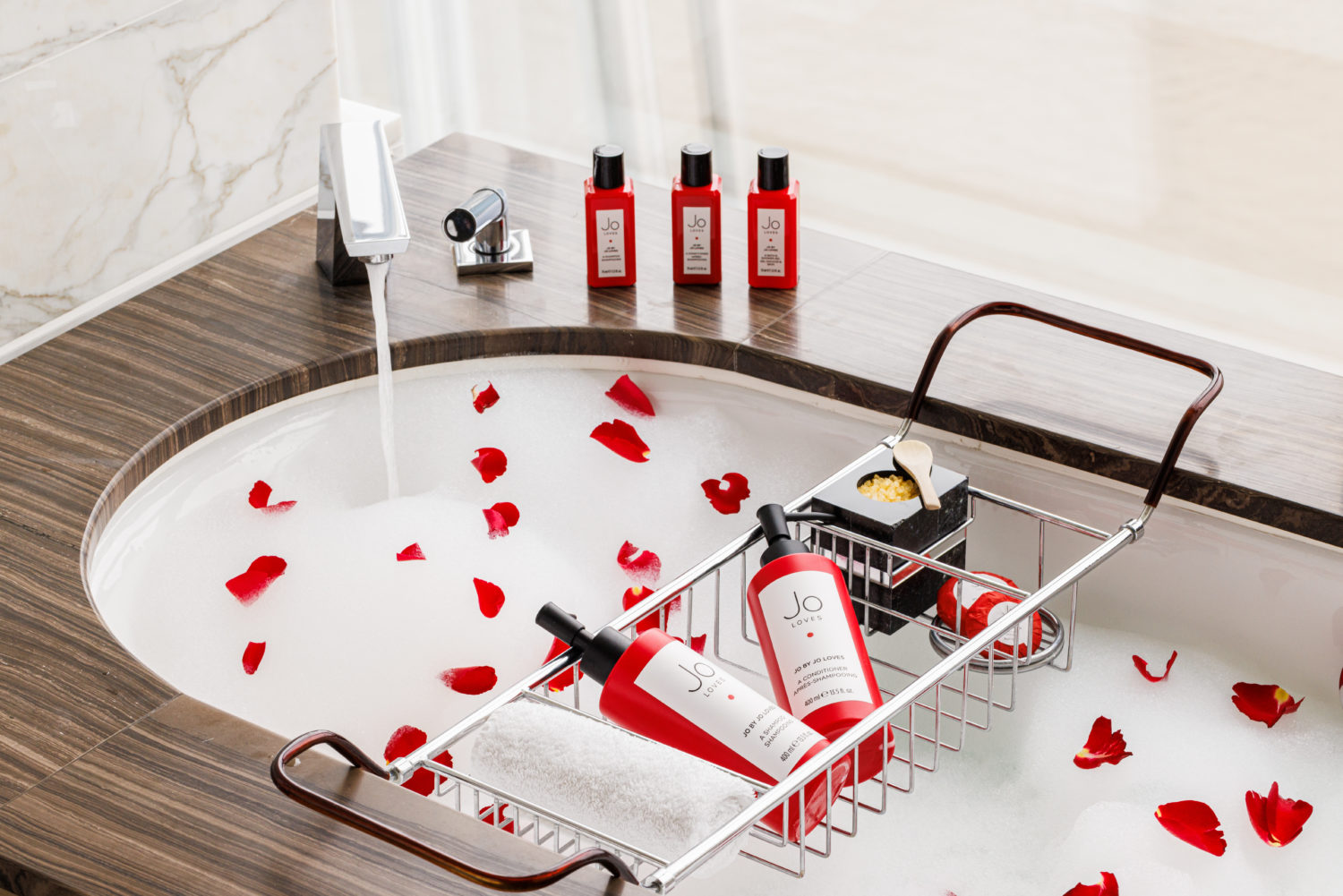 Celebrating this pioneering new amenity line, Jo Malone CBE, Founder of Jo Loves, said:
"Jo Loves and Shangri-La The Shard, London are both about inspiring memorable moments. I couldn't be more thrilled that guests staying at Shangri-La The Shard, London will be able to scent their experience with my eponymous fragrance, Jo By Jo Loves.
It's a fragrance I created for myself and never intended to share, but the world loved it so much I couldn't keep it to myself. A combination of all the things I love, it's a mezze of grapefruit sitting on a bed of powerful guaiac wood. It's as though I'm there with you through the power of fragrance."
Meanwhile, Kurt Macher, General Manager of Shangri-La The Shard, London, said:
"We are delighted to partner with Jo, a pioneer and legend in the fragrance industry thanks to her beautiful and unexpected fragrances and products. Through our sanctuary and embrace programmes and this partnership and in collaboration with VANITY Group, we are committed to reducing our use of plastic to help to protect our oceans, waterways and the environment worldwide.
We're looking forward to bringing in a new experience to create memorable moments for guests, allowing them to experience the enchanting world of fragrance while staying at Shangri-La The Shard, London."
VANITY GROUP CEO & Founder, Paul Tsalikis, said of the partnership:
"From the moment we introduced Jo Loves to the VANITY GROUP portfolio, we knew the Jo by Jo Loves hotel collection would be destined for Shangri-La The Shard, London. The partnership is a beautiful marriage of luxury hospitality with world-class fragrance by the scent maverick herself; Jo Malone.
It's a true honour to be facilitating a guest cosmetics program that has both sustainability and opulence at its core. We can't wait for guests to experience Jo Loves amongst the clouds at Shangri-La The Shard, London."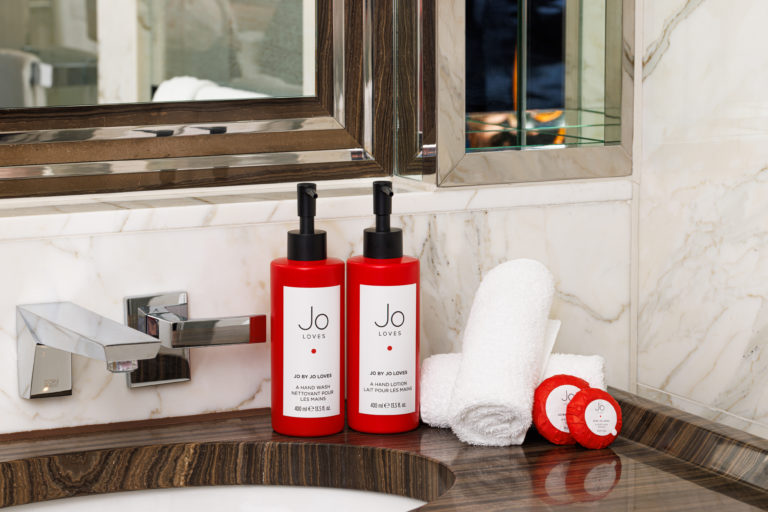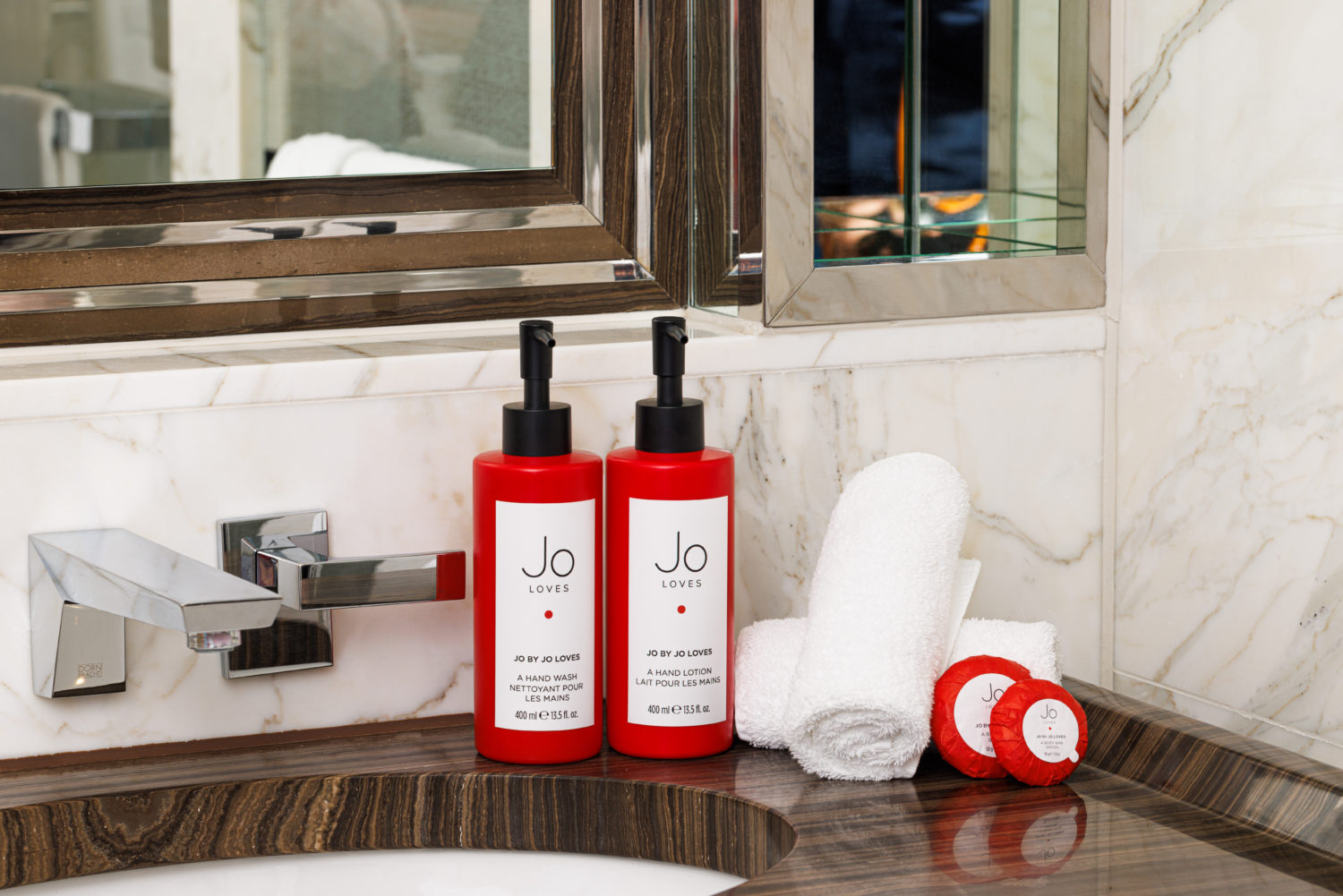 Multi-sensory Jo Loves cocktail at GŎNG Bar
To celebrate the launch of the partnership, Shangri-La The Shard, London is combining fragrance with flavour in a new Jo by Jo Loves cocktail, exclusively available at GŎNG Bar on Level 52 of the Shard. Translating perfume notes into a refreshing and fragrant summer drink, the Jo Loves cocktail re-creates the scent of grapefruit and black pepper with a taste of Herradura Plata tequila, Vetiver liqueur, tawny port, rue berry and grapefruit soda. While taking in the mesmerising views of London below, guests can also enjoy a 'spritz with a spritz', comparing scent with flavour as each drink is served with a 1ml glass tester bottle of Jo By Jo Loves.
The cocktail will be available from 1st July and is priced at £25. For further information and bookings, please visit gong-shangri-la.com.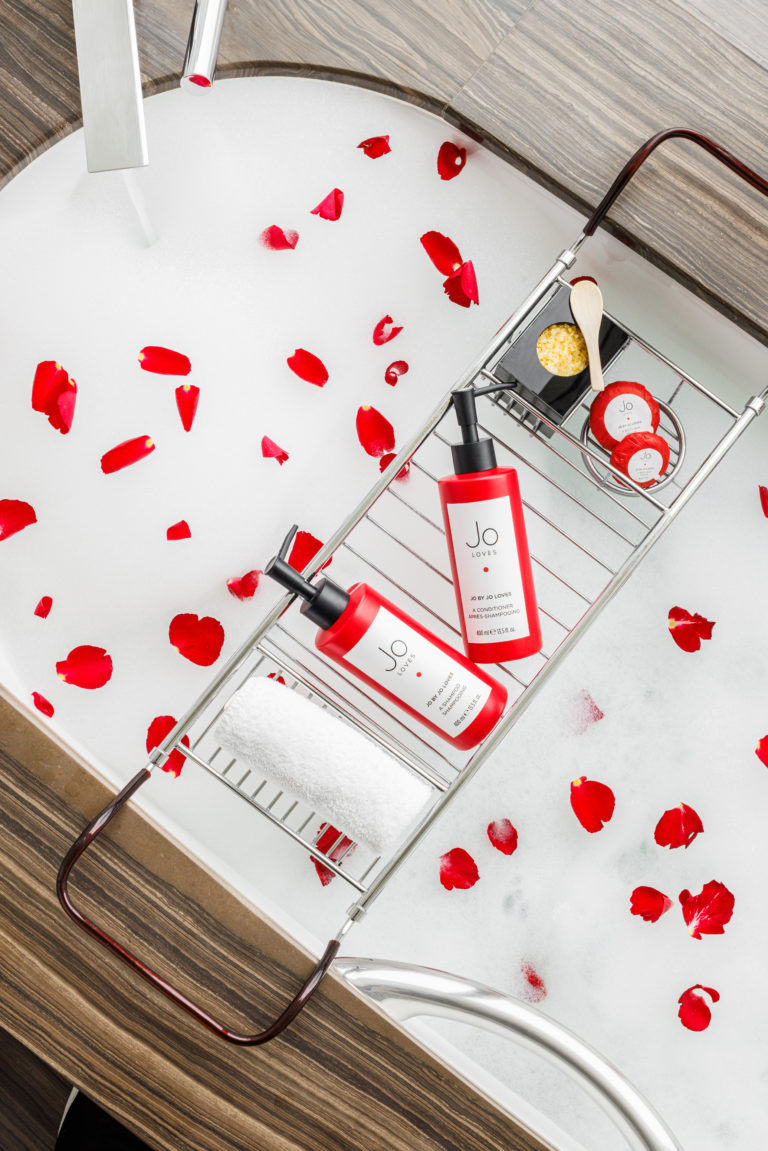 A new Jo Loves Scented Stay Experience
Guests staying at Shangri-La The Shard, London can further immerse themselves in the world of luxury fragrance with a new overnight stay experience. Upon arrival, guests will be welcomed with an exact chocolate replica of a bottle of Jo By Jo Loves fragrance filled with grapefruit sweets, meticulously crafted by the hotel's Head Pastry Chef Piero Sottile.
Meanwhile, a white gift bag with signature red ribbon and Jo Loves branding will be awaiting guests, filled with an exclusive selection of Jo Loves scented gifts, from a Citrus-inspired Fragrance Trio to a Jo By Jo Loves candle. A full-size set of the hotel's amenity line Bath & Shower Gel and Body Lotion in Jo By Jo Loves the perfect way to re-live memories of an unforgettable stay at Shangri-La The Shard, London after departing the hotel.
The overnight stay includes a chauffeur transfer through the heart of London in the hotel's house car to the Jo Loves Pimlico store in the heart of Belgravia. The private shopping experience reveals the first Fragrance Brasserie Bar, designed to amuse the senses and scent your skin. Guests are invited to discover all of the Fragrances that Jo created based on memories and moments that she has loved in her life so far. Bath Cologne is warmed within a tagine and released via a cloud of scented steam, Cleanser is shaken over ice and strained into a glass and Lotion is whipped and foamed before being swept gently onto the skin with a paintbrush. It's an experience not to be missed.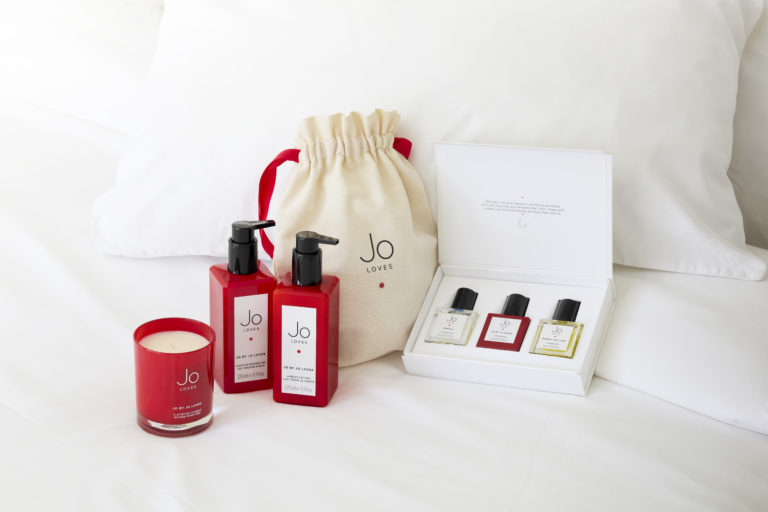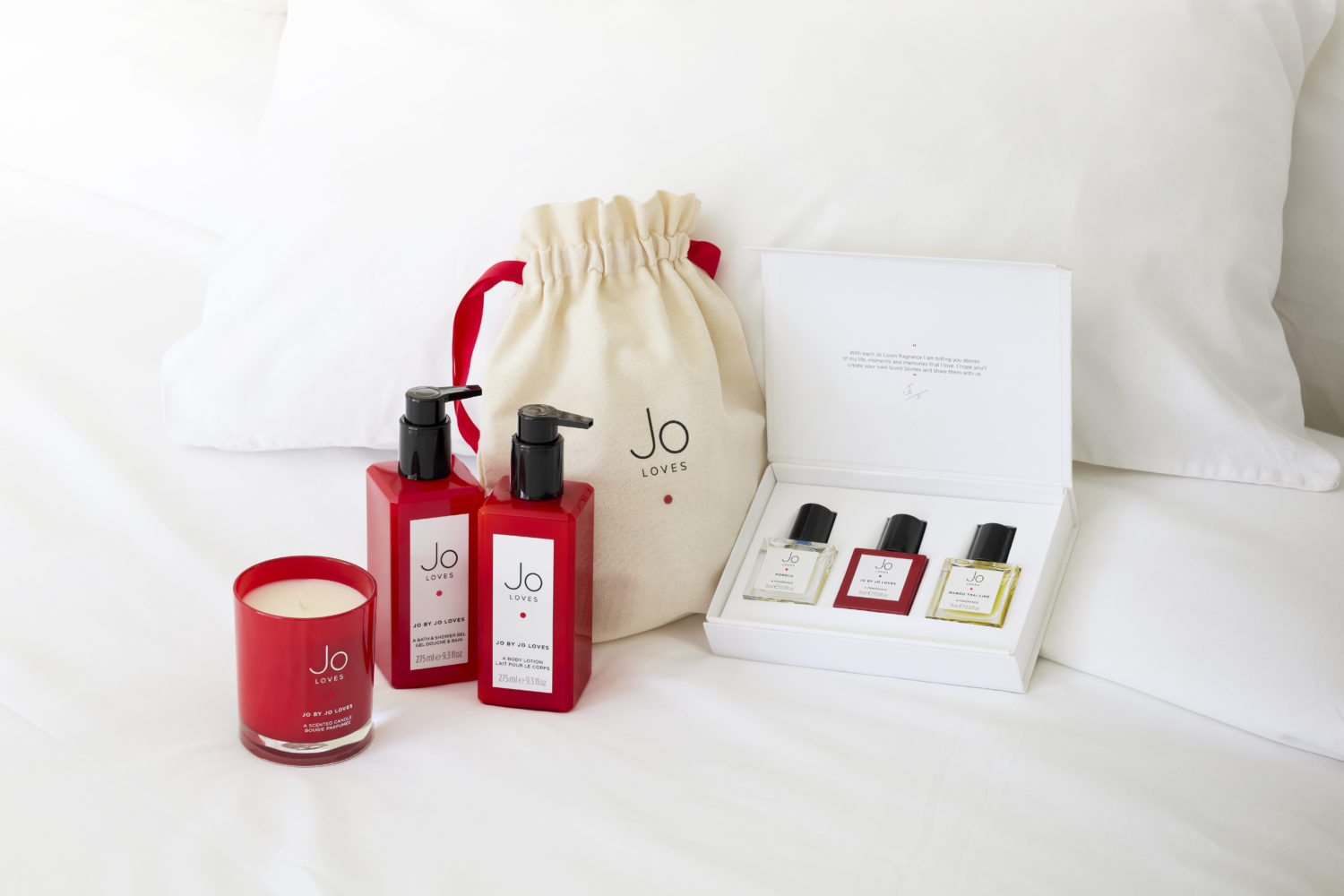 The overnight stay experience includes:
· A one-night stay in a Deluxe City View Room or higher category at Shangri-La The Shard, London
· Breakfast to be enjoyed at TĪNG Restaurant, or in-room
· One Jo Loves-inspired cocktail per person at GŎNG Bar
· A complimentary in-store Fragrance Tapas experience at Jo Loves flagship Pimlico boutique, with chauffeur transfers from the hotel
· Jo Loves exclusive gift bag to include:
o A Jo By Jo Loves Bath & Shower Gel and Body Lotion set (275ml)
o A Jo By Jo Loves Home Candle (185g)
o A Jo Loves Fragrance Collection – three luxury bottles of Jo's best-loved Citrus fragrances in Pomelo, Mango Thai Lime and Jo By Jo Loves (15ml each)
The Jo Loves Scented Stay overnight experience is available from 1st July and is priced at £1,200, based on two sharing a Deluxe City View Room.