In the heart of the Royal Borough of Kensington and Chelsea, nestled amongst bright Georgian townhouses and secluded streets of colourful 19th Century mews properties, is a hotel that encompasses the history of its setting, the global history of its guests, and all of the comfort and modern luxury expected from a prominent hotel. A former Victorian mansion, 100 Queen's Gate Hotel, part of the Curio Collection by Hilton, is the ideal base for continental visitors, as well as UK natives looking for a town break.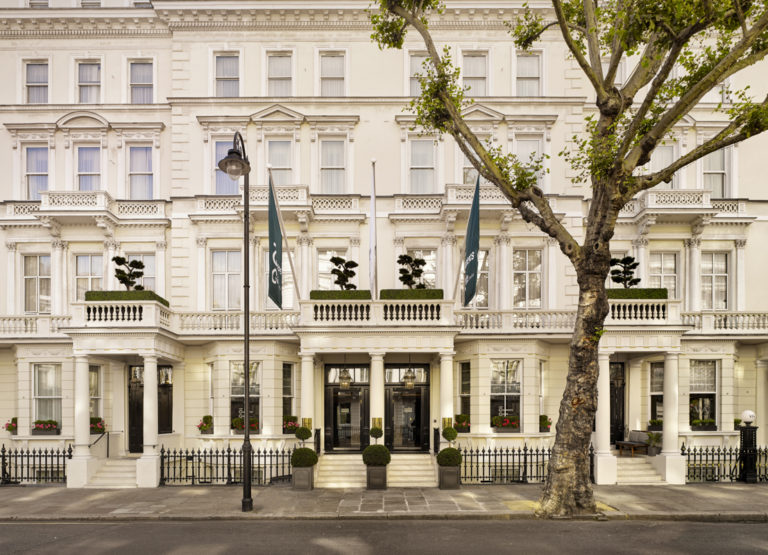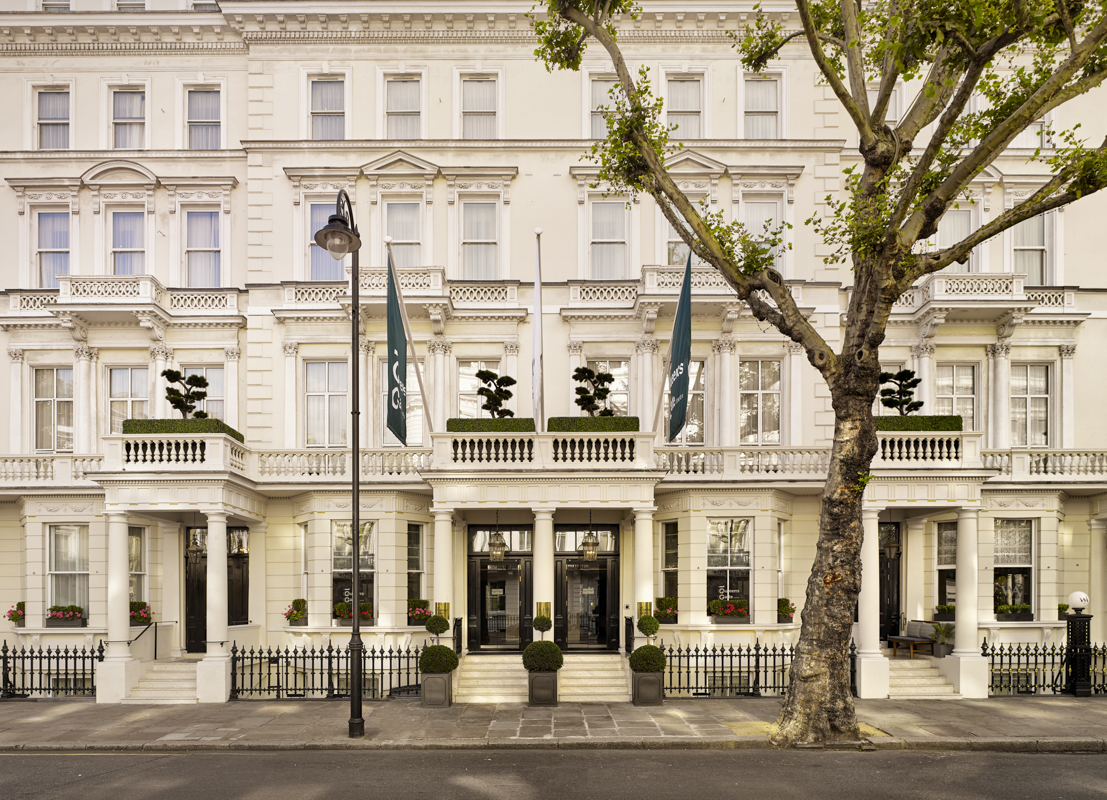 Ushering you in from the historic street outside, into a cool reception, gleaming with polished wood and stone, is a team of friendly staff. Despite the touches of glamour, the lobby feels like a home away from home, with its softly upholstered furnishings arranged around a fireplace. On site there's also a gym, exemplifying the hotel as a truly well rounded space with much to offer its guests.
But there's a trick at play – and it's one that only encourages delight, in both adults and children. Hilton's Curio Collection promises a catalogue of one-of-a-kind hotels, which explains the unique environments of 100 Queen's Gate. Once you are submerged in the disarming comfort, you look closer and notice the array of oddities that adorn each highly thought-out space. Frames of stamp collections, agate specimens, ancient measuring tools and a bust of Virginia Woolf occupy the hallways as you are transported, with each step, to something else to marvel at. In this hotel, there are collections of curiosities at every turn.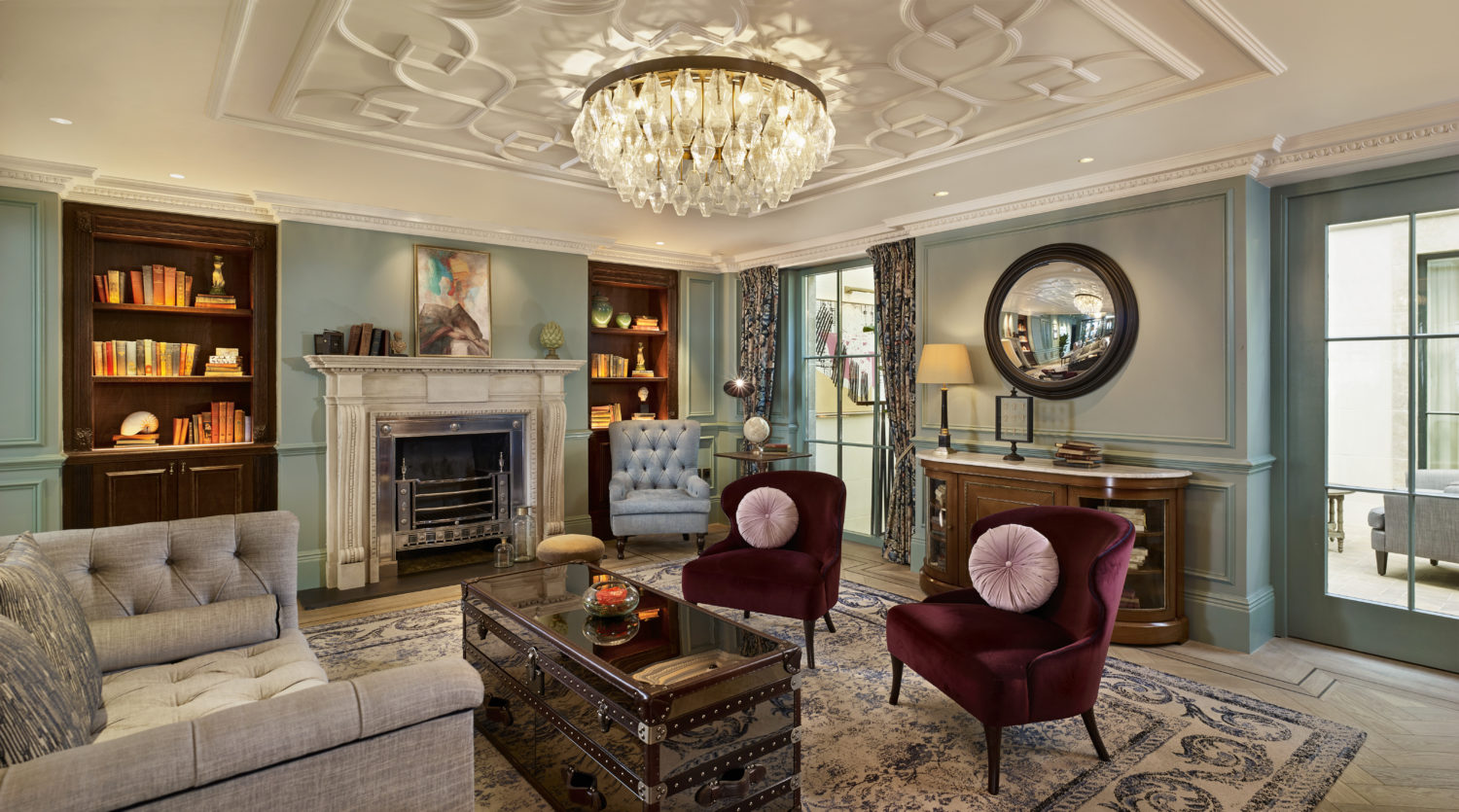 Hanging over the stairwell just beyond the lobby, as you descend to the ESQ Bar, is an installation of beautifully folded book pages, which give you the sense of encouragement, inspiring imagination as you delve below. The same array of eclectic styling fills the large, subterranean space: Chinese pottery and Roman busts fill cabinets, whilst a set of well-maintained plants act as a living contrast amidst the curated historic ornaments. A great playlist – both contemporary and classic music – seems to harmonise with the visuals, and accompany the varied all-day menu and selection of cocktails, imagined just as beautifully as the décor.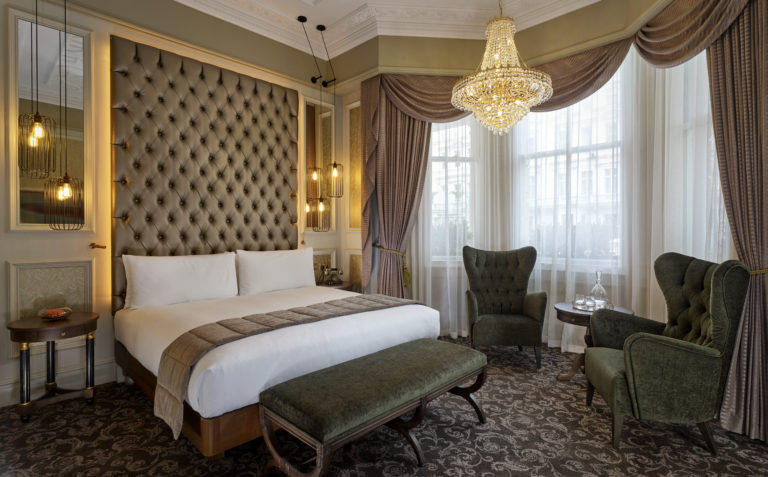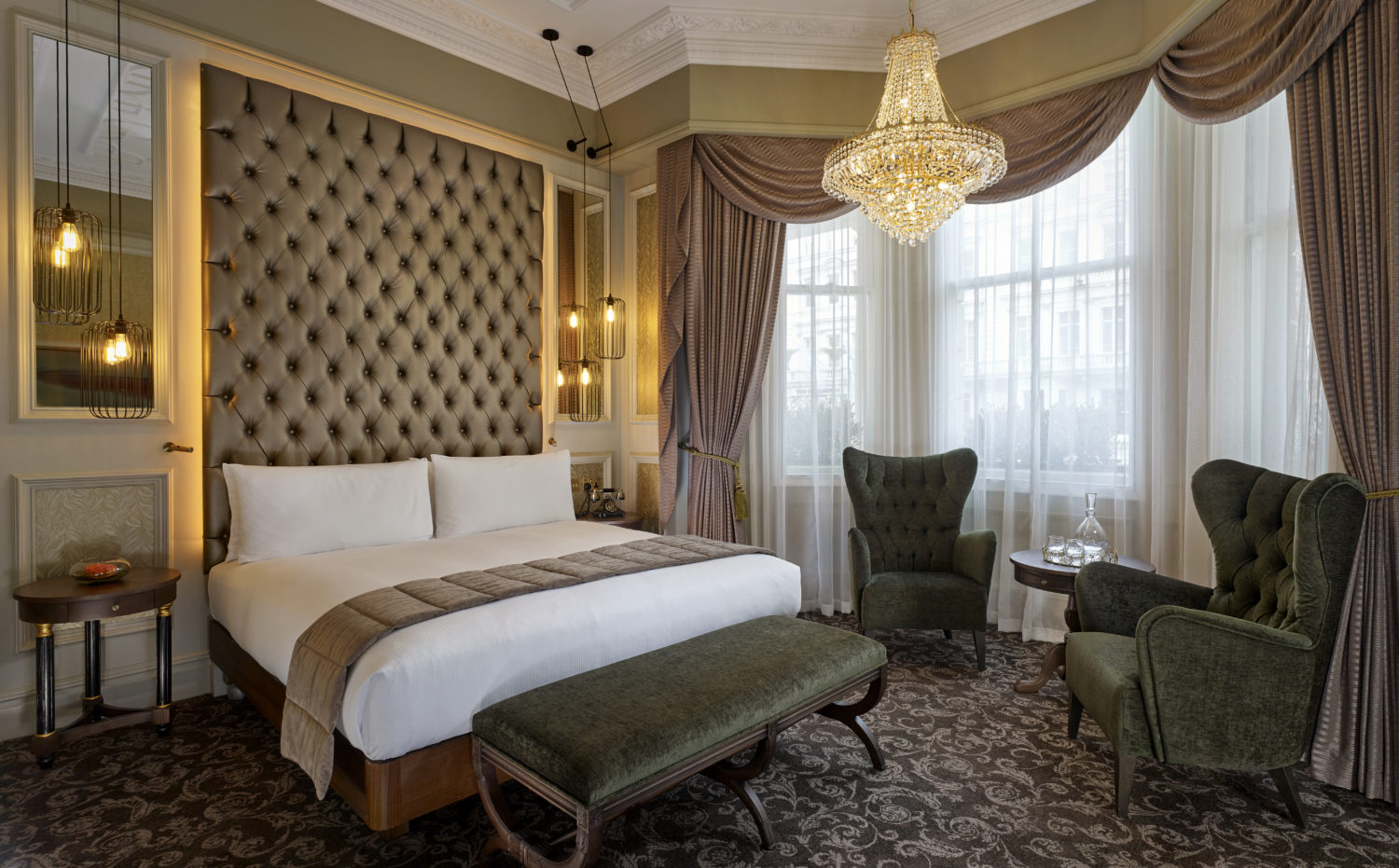 To reach your room, you navigate through more quirkily designed spaces, this time coloured pastel pinks and greens, which, paired with framed artwork of organised oddities like buttons and keys, bring to mind elusions of Wes Anderson. Emerging onto the room levels, you're propelled into yet another new environment, this time dark, gleaming and sultry. Walking along, you'll notice historic blue plaques framed beside the doors, indicating the unique design inspiration for the rooms beyond, influenced by the borough's famous residents, such as Dame Agatha Christie, Alfred Hitchcock and explorer Captain Robert Falcon Scott.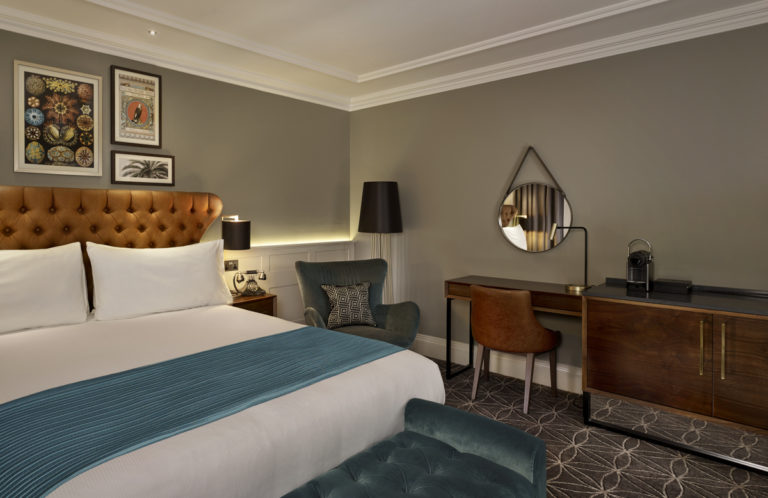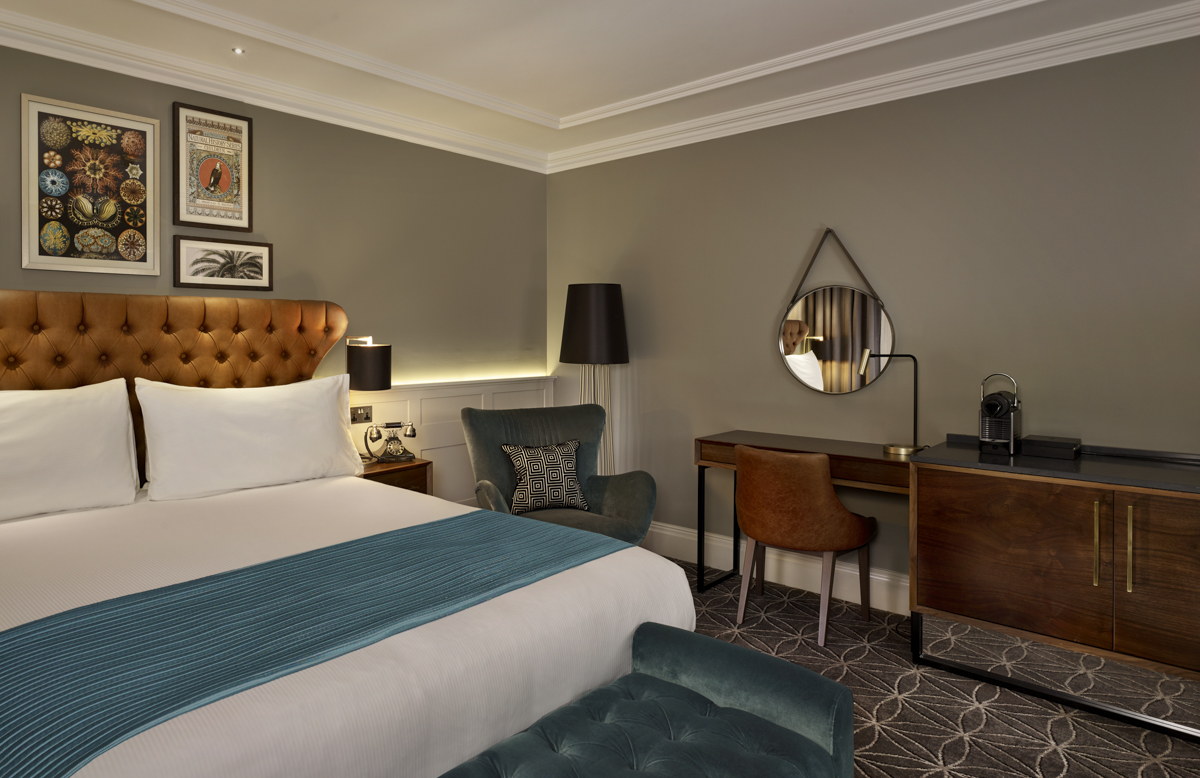 Inside, the rooms sing of the same cool tones of the lobby, but with flares of warming amber and dusky orange. Views of London and the Paris-esque rooftops of Kensington and Chelsea line the exterior like a sea in the sky. You're surrounded by every amenity and comfort of a modern British hotel, as well as artwork and decoration that reflect the historical themes. Your stay will likely be filled creatively with vintage books and sand timers, and perhaps fireplaces carved with Tudor roses, all surrounded by the comforts of a well-run hotel, including efficient room service. The accommodations on offer are dynamic and large, and the option to merge conjoining rooms is available too, making it an ideal stay for families or large groups.
For special occasions, or just as a treat, on site is an airy atrium named Botanica, where afternoon tea is served. The styling takes inspiration from a Victorian greenhouse, decorated with cherry blossoms and leafy greenery, which is illuminated under cascading natural light from the ceiling above. Offered is a selection of teas and sweet delights designed to suit every taste.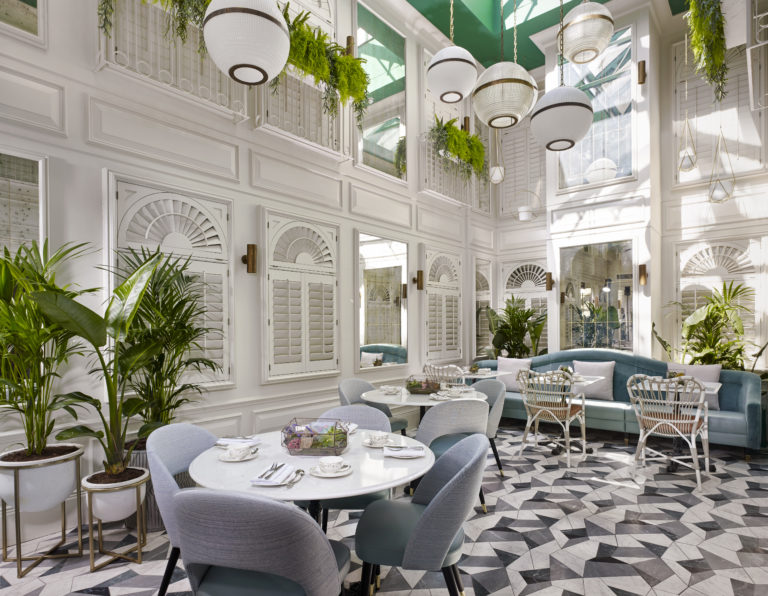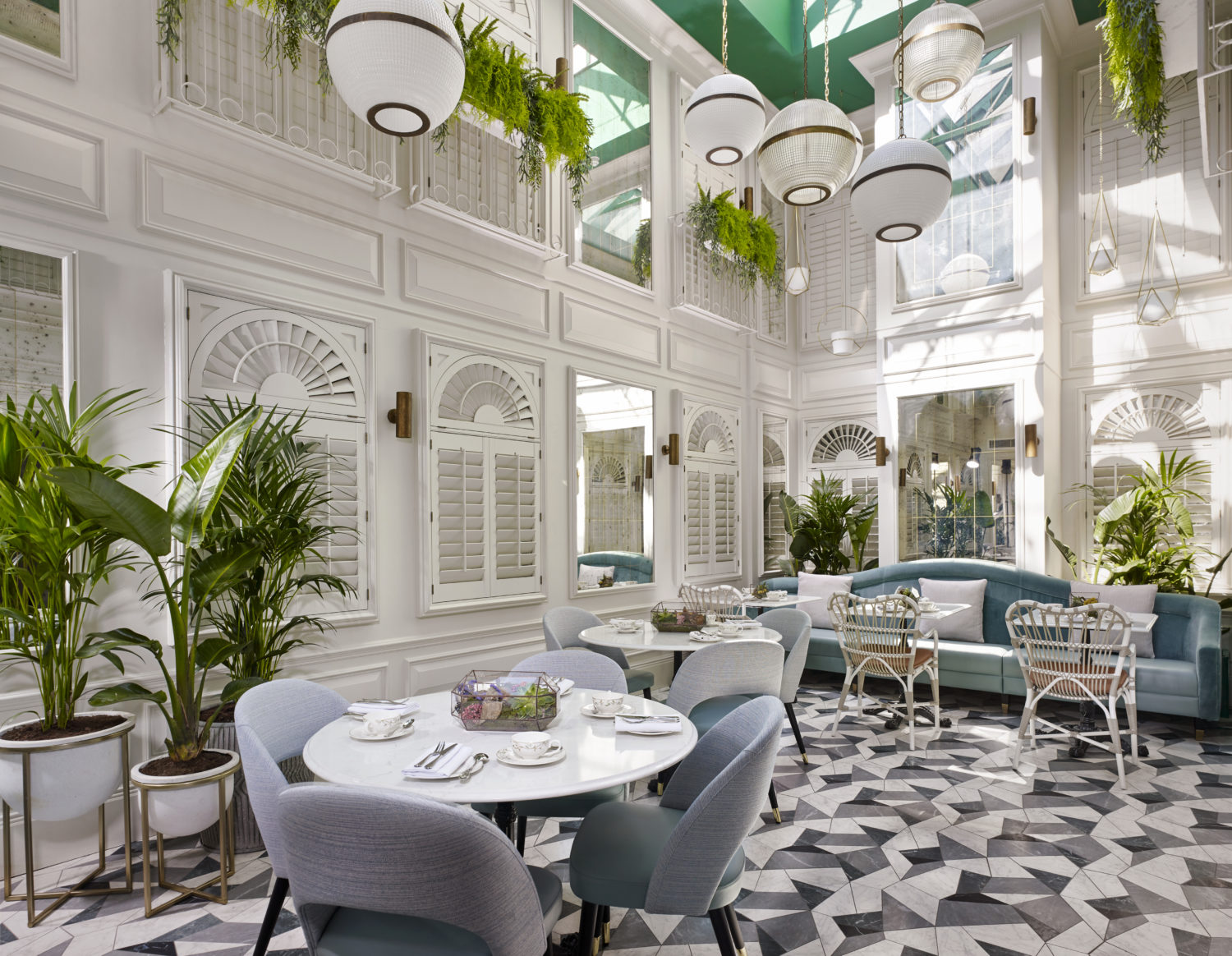 Across the hall from Botanica is the restaurant Cento. Each step into a new space is a step into a new eclectic nation. And stepping into Cento is like stepping into Italy. Recently reopened, the bright environment contains glimmers of the same cool tones and fiery flashes that 100 Queen's Gate champions. There are also familiar miniature cabinets of curiosities – full of crystals, eggs and ornaments. But the sense of Italy ultimately prevails. Italian classic music dances lightly. A wisteria installation hanging from the ceiling moves pleasantly. Marble table tops and leather and suede upholstery pertain to Italian craftsmanship. But the true testament of the restaurant comes from behind the scenes.
The Italian chefs. On the menu are delicate portrayals of Italian classics, all put together and greatly considered – all as light and appealing as the décor. Recommended is the calamari, the chicken Milanese, lobster ravioli, and to finish, the cornetto e gelato. Ask one of the many knowledgeable staff to suggest a drink pairing, too. But ultimately, whatever you choose will be authentically Italian.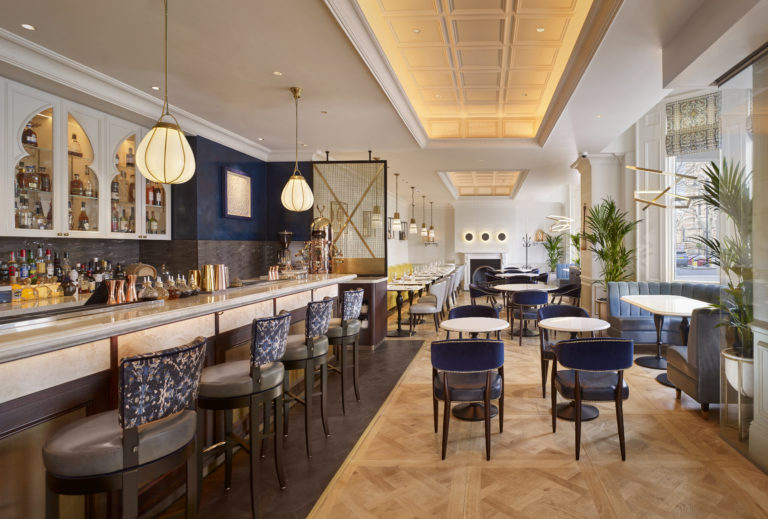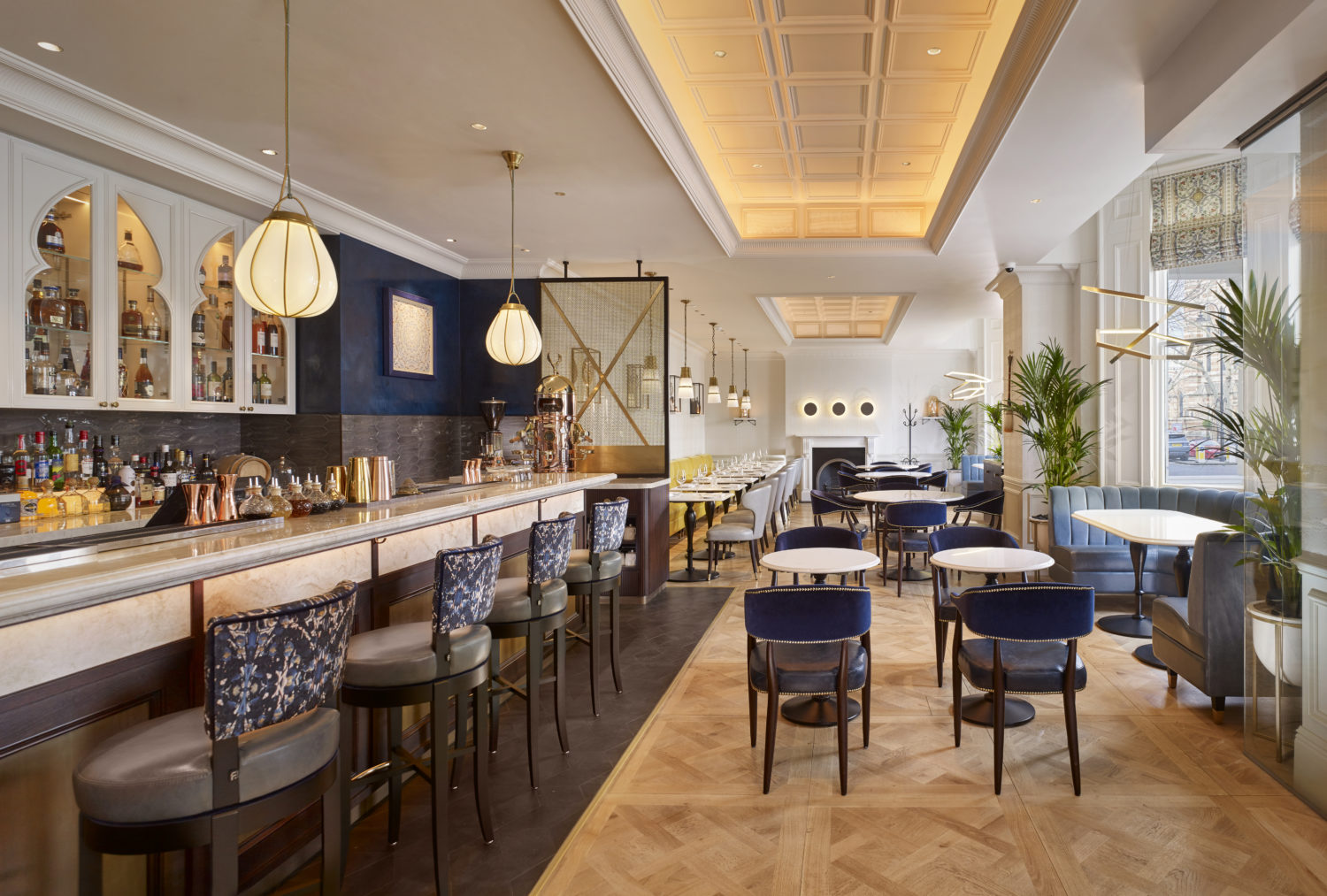 Breakfast is also set in the Cento. The atmosphere is warm and chatty, filled with genial contemporary guitar music and the smell of pastries and cooked breakfast permeating the air. A selection of fruit and cheeses, cereals and juices would suit any discerning guest, with something for everyone. The buffet is accompanied by vigilant and polished staff who cater to you alongside the relaxed setup. The Hilton's Curio has thought of every aspect of customer experience and caters to it with fine detail.
Beyond the hotel doors, the streets are lined with independent bistros, the odd chain restaurant and a collection of cafés, which, in the summertime, offer al fresco dining. The Science Museum, National History Museum and Victoria and Albert Museum are all within a short walking distance, with other iconic London attractions such as Harrods and the Saatchi gallery being just slightly further afield. 100 Queen's Gate is situated between the London Underground's South Kensington and Gloucester Road stations. The hotel's proximity to amenities makes it ideal for families. But the appeal reaches other travellers, too. The winding old streets, quaint and picturesque, give both distant visitors as well as those on satiation, a slice of classic London – the stuff of postcards – offering a charming and historic region to explore and enjoy for anyone who visits.
Staying at 100 Queen's Gate Hotel isn't just about being in an area that offers delights around every corner, but staying in a hotel that offers the same delights around every corner, too.
31-34 Queens Gate, SW7 5JA
London, UK.