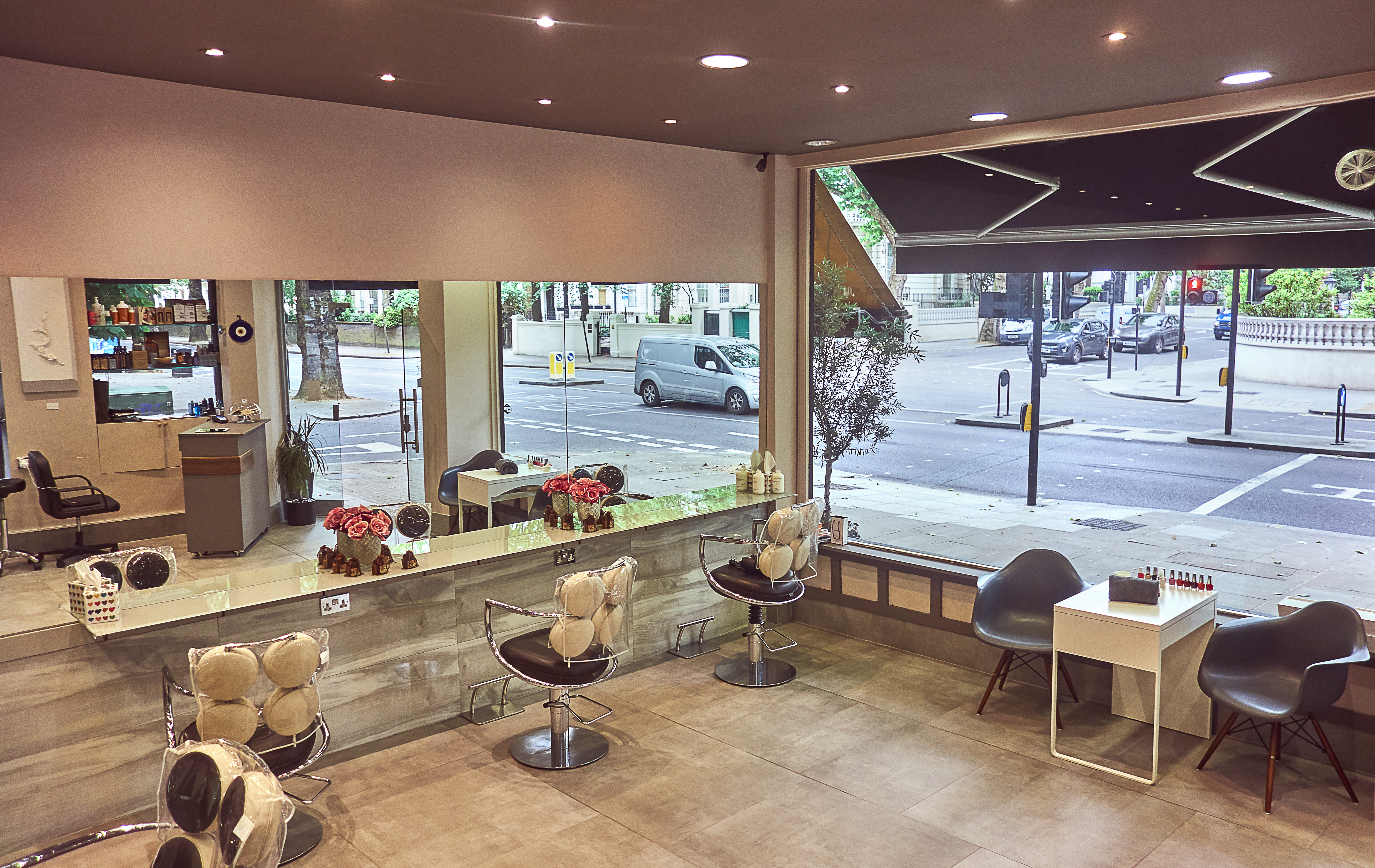 Nestled on the corner of Holland Park Avenue amongst the grand white stucco townhouses and beautiful cafes and boutiques, Kaplan Atelier is a chic avant-garde salon that boasts one of the finest blow dry's in town.
The interior of the salon is sleek monochrome with vases of deep pink roses dressing each table. The owner Tony greeted me with a warm welcome like an old friend and seated me between two of his regulars. One was an incredibly glamorous woman opting for her signature curly blow dry whilst the other was a delightful elderly woman that was settled in for her weekly perm, her dog sleeping obediently under her feet.
Tony examined my hair with the efficiency of a true professional, much to my surprise he informed me that was in very good condition and I would only need a little trimmed off and some layering. I have always had the same long bob hair cut and was a bit hesitant about layering due to having naturally frizzy hair, however I put my hair in the hands of Tony who assured me that it would offer some welcome bounce and body.
I settled in for a luxurious hair wash and deep conditioning treatment complete with a heavenly Indian head massage. Not only did my hair look instantly hydrated and smelt absolutely divine but I was completely at ease.
Tony began cutting away at my hair. As he did so, he recommended a bespoke hair care routine for me that included not only different products but also vitamins to promote hair growth.
The salon was absolutely buzzing, in the short time since I had arrived a stream of customers had walked through the door, all regulars that only trust Tony and his team with their hair. I watched with fascination as Tony gently layered my hair with a feather light touch but as he did so, he took time to explain exactly how much he would cut off and why he was doing it. There's nothing worse than asking for a trim and ending up sans many inches.
He passed me over to another stylist for a blow dry. I had never had such a great blow dry. My hair is naturally very curly and it is significantly different lengths at the front due to hair loss during my pregnancy but he was determined to smooth it all out. The final result was stunning, my hair had been carefully blow dried straight with a slight wave at the bottom. Tony and has team had created the dreamy effortless looking hair that I have stared at in magazines and wish I had.
As promised, the layering worked beautifully offering much needed body and bounce, for the first time my hair properly framed my face and fell effortlessly on my shoulders unlike the blunt and unforgiving cuts I have had previously.
I think I'm joining the clique of Tony's regulars at Kaplan Atelier.
Kaplan Atelier
150 Holland Park Avenue, London, W11 4UE