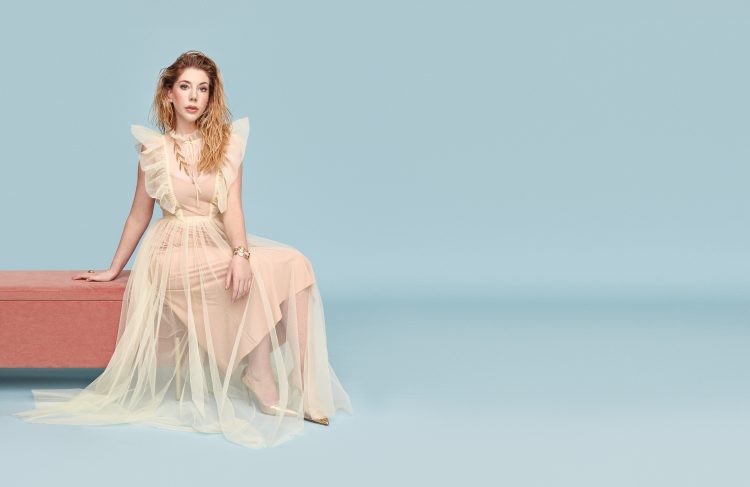 Behind all the laughs, Katherine Ryan is one of the strongest, most independent and captivating people I've ever met.
She revealed: "I have been disruptive all my life. Everyone I was around in Canada felt offended every time I opened my mouth, but in the UK it's different. Maybe it's because you all drink in the day time, I don't know."
She laughed, then continued: "Educated is a loose term for what happened to me in Canada. I found school easy, but at university, you have to be naturally talented and apply yourself, and that wasn't me. I didn't get paid to be at school, but I got paid to waitress at Hooters, and so I withdrew."
She added, "I now understand as a 35-year-old feminist that Hooters may not be the most aspirational place for a 19-year-old girl but I didn't know any better at the time."
Katherine discovered a comedy club right next door to the Hooters where she worked and thought if she did a couple of nights' stand-up there then she'd get the disruptiveness out of her system and she'd learn to be a "nice, quiet girl".
She rolled her eyes and exclaimed, "I wanted to be that way, but you just can't be anyone other than who you are. And I tried. Believe me, I tried. And then I moved to the UK and it turned out to be so fortuitous. It's the best place in the world for comedy."
She continued, "People value banter in a different way. I genuinely don't think I could have had this life if I hadn't have accidentally moved to London 10 years ago and decided to stay."
Comedy is something that Katherine had always loved as a young girl, but she never imagined being she would be a comedian.
She explained, "It wasn't cool for little girls to be funny. You were supposed to be good, quiet, gentle, and kind. You were supposed to be pretty. And God, did I want to be pretty."
She continued frankly, "For my whole life I thought that life would be easiest if you were thin and pretty, and I wasn't wrong. It is. But I'm so glad that I found out that your life is even better than that. I would have hated it so much if I had become someone's 19-year-old wife and learned to keep my mouth shut."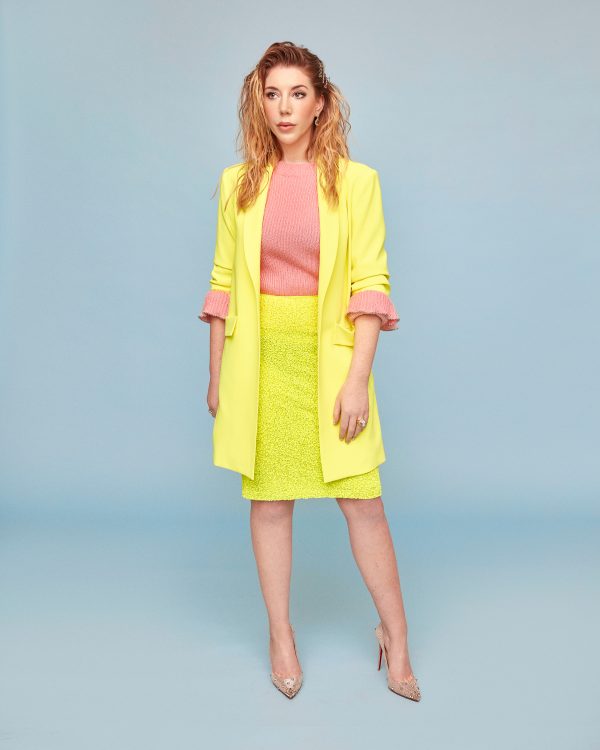 She added, "All I wanted when I was little was to stop having that voice and to stop offending people. It wasn't until I moved to London that I found that the tools I was born with were valued. It sounds so cliché, but you just have to be authentic. You can't do an impression of somebody else your entire life."
Despite proving to be incredibly successful in comedy, there is still room for improvement when it comes to equality.
She said, "Just because I've made it as a comedian, it would be pedestal feminism for me to say that it's equal. It's not equal. I'm often the only woman on comedy panel shows, so there is a discrepancy of gender for sure."
She rolled her eyes once more, then added, "It wasn't unusual to see an all-male panel show, but now if I see all men, I think 'oh they're doing an all-male special. I wonder what this is about? Testicular cancer, presumably? Oh no, it's just a regular show'."
Last year, Katherine sat in Jimmy Carr's seat to host an episode of 8 Out of 10 Cats Does Countdown featuring only female stars to celebrate 100 years of women's suffrage.
Katherine joked, "It is definitely what Emily Davidson threw herself under a horse for. It was for me to host 8 Out of 10 Cats Does Countdown. It's all been worth it, girls. All the letter bombs, all the marches and this is where we are."
Katherine admitted that there is definitely pressure to look a certain way when you are in the public eye.
She said frankly, "The catch 22 is that you need to look young, fresh and beautiful but you need to look that way naturally, and just roll out of bed like it without having made any effort. There is a level of shaming that goes on with botox, fillers and fake lashes. You're not supposed to have any cosmetic surgery, but you're supposed to achieve this unrealistic level of beauty that only exists on photo-shopped models on Instagram."
She continued solemnly, "When I was 19-years-old, I got filler in my lips in a dodgy Canadian amateur's basement for cash only and I'm so sad I did that because my lips have never been the same since. I think access to information, transparency and honesty can only be a good thing. Otherwise, young girls are going to go off to Istanbul for cheap cosmetic surgery and some of them won't return."
2019 is going to be a monumental year for Katherine, on camera and behind the scenes. She is the Executive Producer of The Duchess, a new Netflix sitcom.
She sighed theatrically, then with a twinkle of mischief in her eye, she said, "I was meant to be the Duchess but Harry met someone else. Meghan Markle took the only liable ginger cock off the market and ruined my life."
She revealed, "I've never seen myself represented on television. Moms are either acting like it is a drag or they're flawed because they're drunk or promiscuous. I love being a Mom. My daughter is literally my best friend."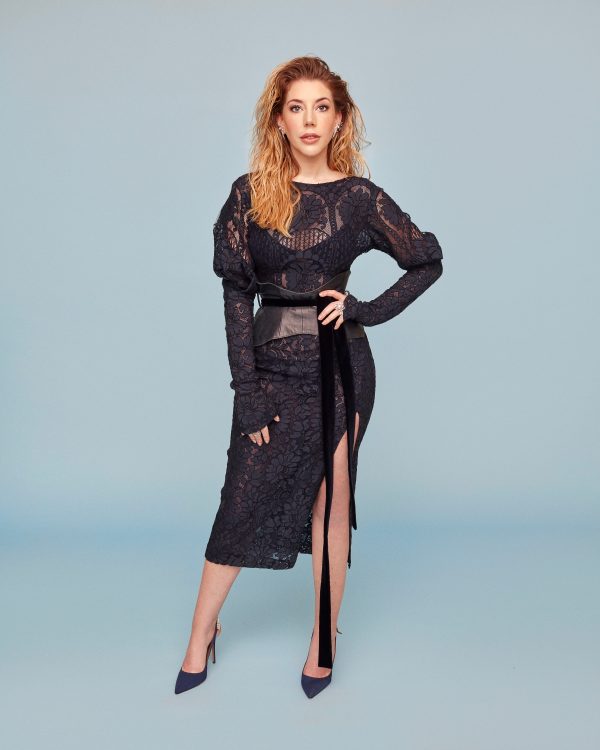 She continued, "I'm not a drunk and I'm not promiscuous, but I am flawed. I can be a real asshole. I'm a different shape of a family that I've ever seen before, and The Duchess draws reference from that. Think Sex and the City and Gossip Girl."
Katherine is full of wisecracks and wisdom, on advice she'd give to her younger self, she smiled and said, "Do not get your lips done by a Canadian amateur in a basement for cash and never fall in love with potential."
She concluded, "My therapist once said to me about a man that I was with at the time, 'you're sat at a slot machine putting quarters in, and you stay because you think it'll pay off, so you keep putting quarters in but there comes a time when you just need to stop and walk away. If you have a gambling problem, get out of the casino'."
Photographer
Sarah Brown
Stylist
Jennifer Michalski-Bray
Styling Assistant
Kayleigh Dennis
Make-Up Artist
Katrin Rees using Rodial Skincare and Charlotte Tilbury
Hair Stylist
Narad Kutowaroo using Unite Hair