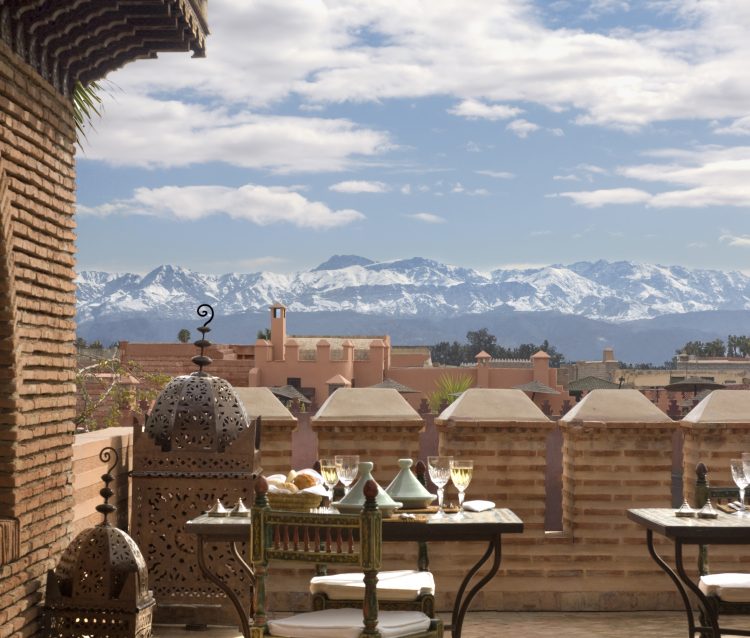 Do you have a coastal or city-state of mind? With La Sultana Marrakech and Oualidia hotels, you do not have to choose.
Balgha slippers and blazing coloured textiles from the market stall far-sighted whilst being whisked through the red city. Centred in the middle of the medina, La Sultana Marrakech awaited me. Customary dates and almond milk on arrival a pleasant and fulfilling welcome. For the height of opulence and a scenic stay La Sultana Marrakech starts from £289 per night, with suites fit for both a Queen and King. Set in traditional riad architecture surrounded by unique grand testimonial pieces of furniture.
All 28 rooms are exclusively designed and animal inspired. Pillared marble posts framed each side of the king sized bed whilst my camel centred table held all hospitable Moroccan sweet treats. Calacatta gold marble; a posted bath, boudoir and two large golden-framed mirrors – I have walked into my bathroom of dreams, giving me all the Moroccan goddess feels.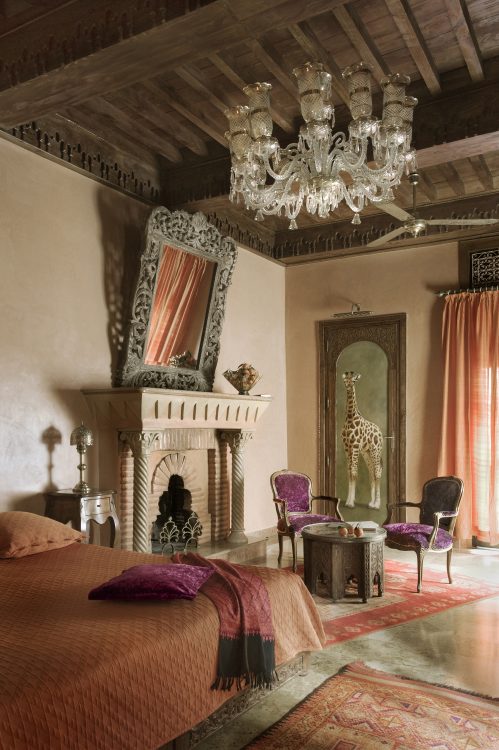 At the centre patio of all 28 bedrooms or suites is the pool surrounded by a botanical garden. Day beds at the ready with sun hats and towels for pinnacle relaxation.
A spa area well equipped with treatments to choose from to enhance your stay, body and mind. Opt for a sleek massage or a time-honoured hammam – a massage consisting of an authentic but thorough full body bath.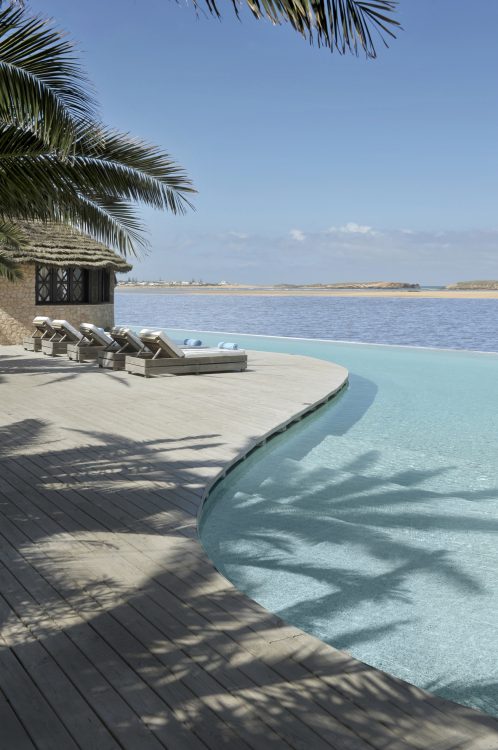 It is impossible to touch Marrakech soil without experiencing the fine cuisine that is traditional Moroccan food. With three choices of dining quarters I am led and introduced to The Odette Rooftop Bar and Mezze – an outdoor terrace where the sun vibrantly shines, overlooking the buoyant and bustling Medina. Moroccan salad to start – appetizing aubergine salad, smooth lentils and the sweet tang every salad needs, sliced pickled cucumber and many other delicious appetisers.
Finishing with aromatic warm bread combined with orange infused butter a duo of dreams and a perfect finish. Additionally to aid me in the warm sun – a cool lemonade. La Sultana Marrakech does not only provide an unforgettable dinging experience but allows you to be apart of it, offering traditional cooking lesson, delivering mysteries and techniques of the finest of Moroccan cuisines at the Odette Rooftop Bar and Mezze.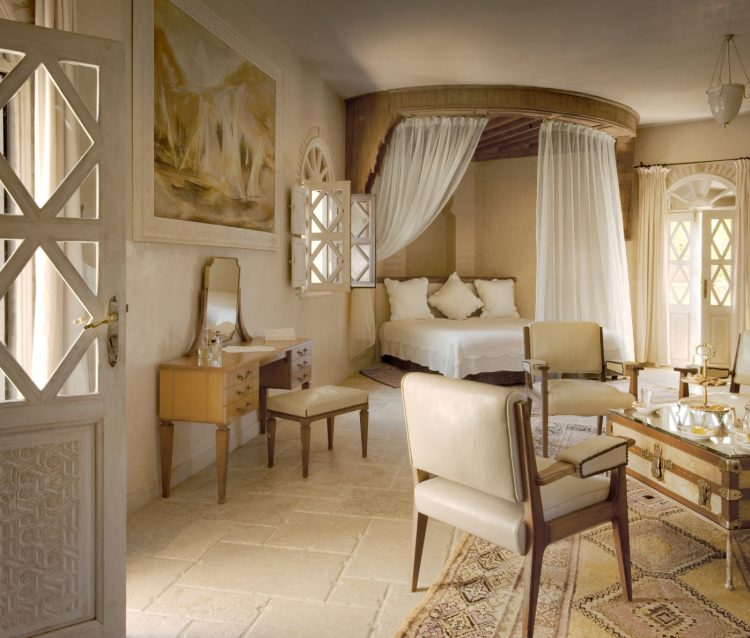 If total relaxation does not suit La Sultana Marrakech provides a tour guide to experience the cultural sites of Marrakech. Starting from 500MAD for half a day and 800MAD for a full day. Discovering the fascinating yet beauteous sites, ready to answer any and all questions. The oldest mosque, a stone throw away from the hotel – a sacred and intelligible sight, delving into the history and religion of Marrakech.
Taking my breath away– Bahai Palace, so brightly lit with the white and grey marble floors cascading light throughout the palace – a poignant masterpiece. Going further into the palace are many sacred rooms, ceilings made of sida wood and natural dye, pretty engravings on timeworn ceilings.
La Sultana Marrakech is a hotel that combines luxury and history in the heart of the energetic streets of the medina.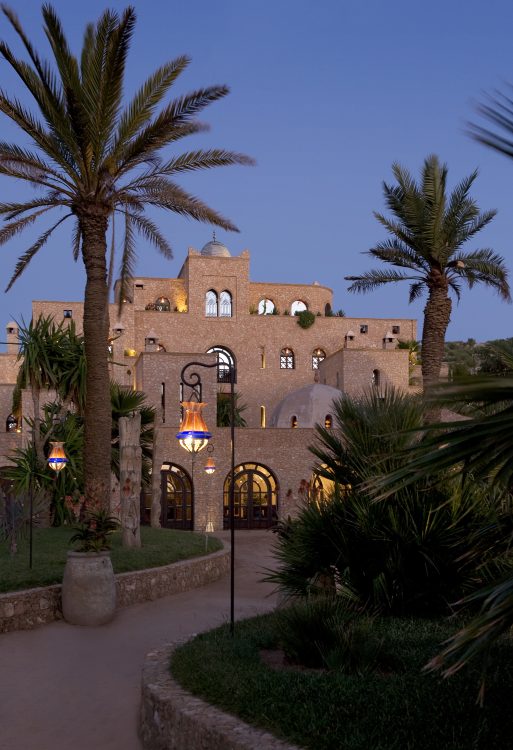 South of Casablanca a costal village known as the Oyster capital, views I thought were only imaginable La Sultana Oualidia presented me with the real thing. A pastel castle build and coloured stoned windows amongst a sanded entrance. Eleven rooms with one tree house over looking the idyllic lagoon, that rests on the perimeters of the coast.
On arrival we trekked along the beach, past the herb garden where I was met with a cushion to sit on and Morrocan tea demonstration to watch and later sip on. Through the dry chillies that hung from our seating area whilst the sun prepared to set – I knew, La Sultana Ouailida was a special place.
Beginning at 354GBP per night for a suite/guestroom that are architecturally designed to embody the natural environment that La Sultana Oualidia is surrounded by, combined with a contemporary elegant structure. More than just a costal splendour La Sultana Oualidia endowed me with a personal phone for any and all services around the clock. Their services do not stop there, activity options are endless, from spa treatments to bird watching, to surf therapy to horse riding along the beach – La Sultana ticks all boxes.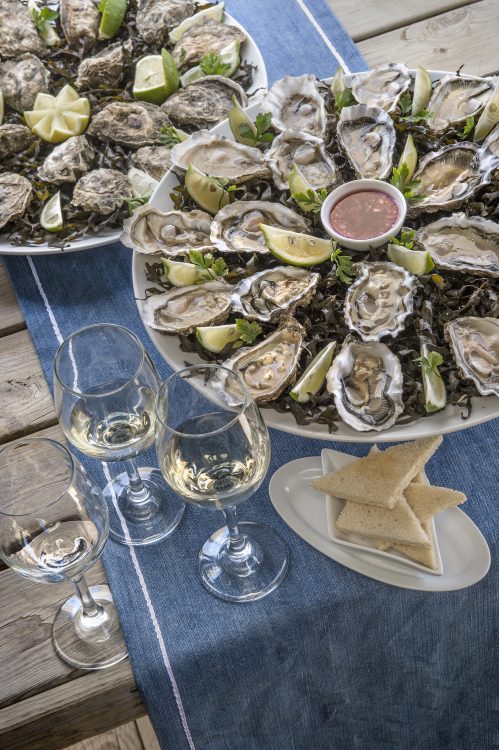 Are you an Oyster connoisseur, with a deep love for the finest and freshest fish? This is the place for you. A walking tour of the oyster farm whilst watching the fisherman sort and examine oysters just caught – showcasing La Sultana's sustainable sourcing of food. The lagoon a short distance away offers a tranquil boat ride, spotting the warming sites of men and women harvesting their fresh crops, luscious colours of green, red, and yellow vegetables – no sight purer – amidst the beautiful morning sun.
Spot the striking birds of Oualidia whilst bird watching – flamingos, white stork, great egret and many more to see. A morning at sea checked off and now a mid-afternoon in the dessert. With the sun at its highest – fat biking along the lagoons peninsula with a tented lunch can fulfil your sanded costal fantasy.
Waiting, a tented lunch dining area on the golden sand – fresh salad, for starters, lightly seasoned grilled fish for mains and garden-fresh fruit for dessert. Adrenalin and hunger quenched within an afternoon whilst witnessing the stunning Oualidia, what more could you ask for?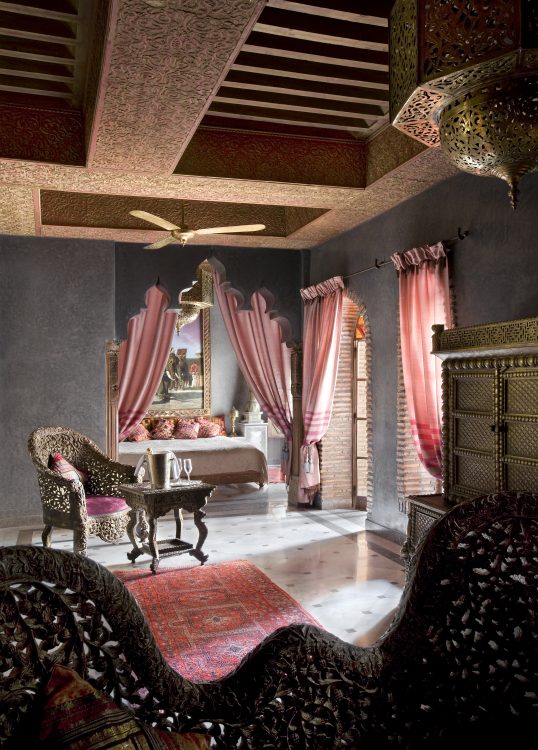 Darkest of skies, a now sparkling lagoon, with white and orange flickers from the fire that rests lit. A kind La Sultana employee layers my shoulders with a soft blanket. A tranquil berber tent dinner on the sand truly unforgettable and with squid cooked to tender perfection, how could I forget? A dessert devotee – my choice of baked Alaska went down a pleasure. Meringue, smooth vanilla ice cream that soften the alcoholic kick, my plate was soon clear and I was ready to head back to my opulent suite.
In need of a city or relaxation get away – La Sultana Marrakech and Oualidia has you covered. With exceptional, kind and heart-warming service discover mesmerising North Africa with La Sultana.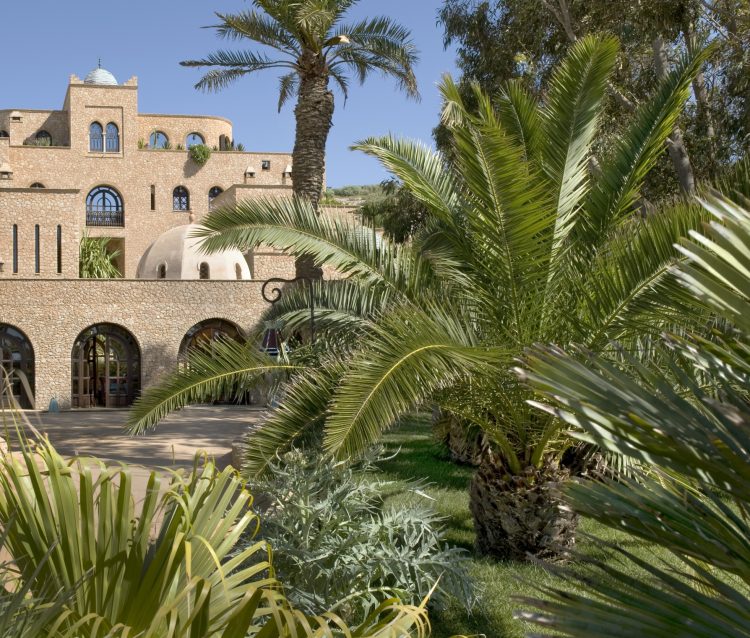 La Sultana
403 Rue de La Kasbah, Marrakesh 40000, Morocco
Oualidia
Parc à Huîtres 3, Bled Gaïlla, Oualidia, Morocco