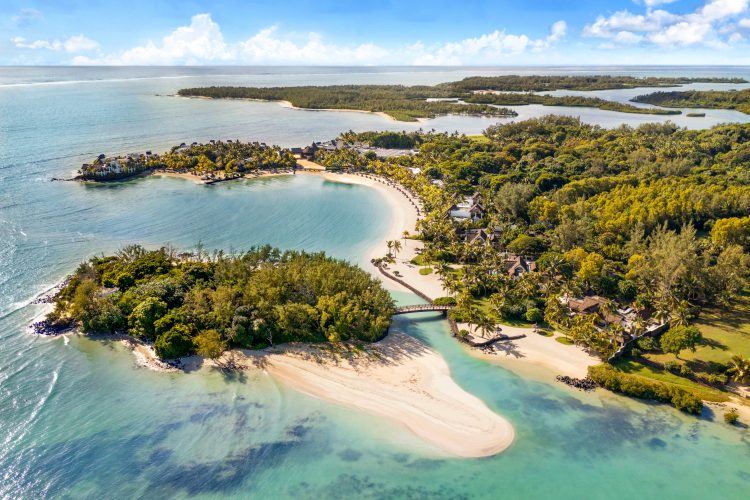 It's 8am and a dozen kittens are weaving through a downward-facing dog. This is no feline versus hound contretemps however – I am in a group yoga by the beach in the lush grass at Shangri-La's Le Touessrok Resort & Spa in Mauritius. It's the second morning of a whistle-stop tour to re-discover the five-star resort that three years ago underwent an extensive refurbishment to the tune of £20 million.
On arrival the previous morning after a seamless 12-hour flight,  – direct on Air Mauritius from London – we are greeted with a very lively traditional Mauritian Sega dance to enthuse the senses.   It's an idyllic welcome to the 445 acres of beachfront that boasts five beaches, 200 rooms and suites including three off the scale Beach Villas, more of which later.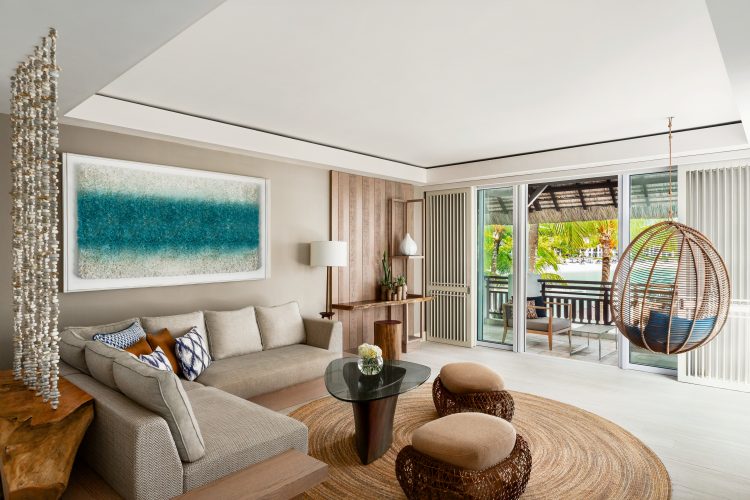 From our very generously proportioned junior suite we gaze out from the balcony which boasts an uninterrupted view over the azure Indian Ocean.  A huge marble bathroom with separate wardrobe and sink space for each partner is a recipe for a happy holiday while the minibar is stocked with water glass bottles – plastic is being phased out – soft drinks and beers plus chocolate bars, all included, plus a kettle, teabags as well as fresh milk and an espresso machine.
It's time lunch at Republik Beach Club & Grill and a starter of heart of palm tartare with balsamic mayonnaise and mesclun mix – heart of palm is known as millionaires salad in Mauritius as it takes seven years to grow – tastes like a million bucks. We follow with a signature dish of the freshest prawns flambéed with Pastis, garlic, parsley and cherry tomatoes with Creole rice and for the very hungry, baba au rum and fruit including local bananas, lychee and sugar apple.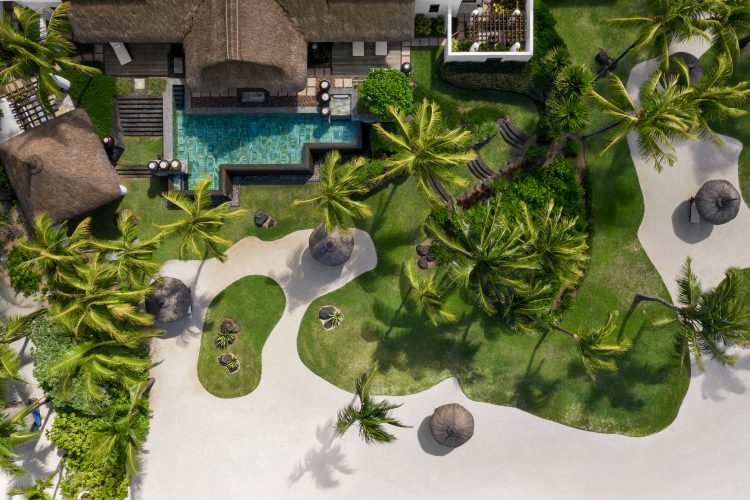 My sore post-flight muscles beckon and it's to the Chi spa for a Sense of Place massage, so called because the treatment is based on oils made from ingredients of the spa's own organic garden. Sugar cane, one of the islands key crops, is rolled over muscles to release tension. Oof! It hurts at first, but it irons out all the knots.
Downtime with a book, and a snooze, followed by happy hour on the beach with rum punch cocktails served in sunken seating replete with fire pits as the sun sets.  Dinner at Kushi, the resort's Japanese restaurant, replete with an onsite sushi master; highlights include local red grouper in truffle soya sauce served with assorted Japanese mushrooms as well as Kobe and Wagyu beef and a extensive sake menu.  Back in the villa, time to delete that sleep app; leaving the shutters open the sound of the waves sends us into a deep, nurturing sleep.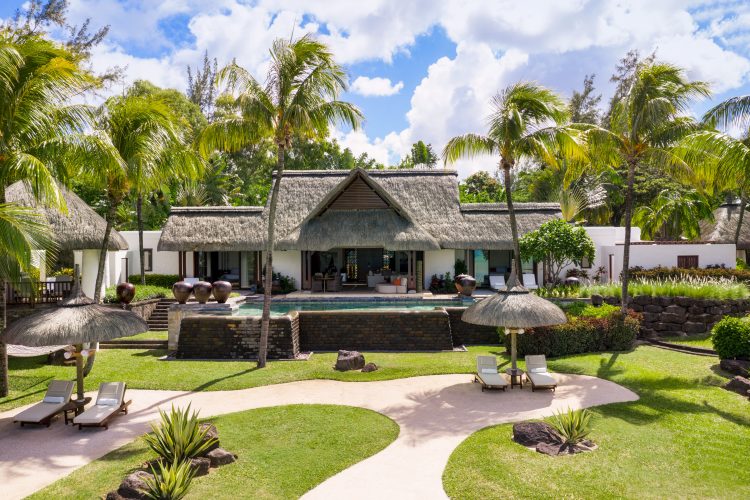 Woken gently by the rising sun, a cup of tea on the balcony is the perfect start to the day – followed by kitten yoga. Breakfast at Republik – the freshest sea urchin with scrambled eggs – and a 10 minute boat ride to the Ilot Mangernie island, half of which is private for guests, the other open to Mauritians.
We loll in cabanas and our dedicated butler caters for every need – including cleaning our sunglasses. We settle down with books and rose before venturing into the warm Indian Ocean, clear and blue fish weave through our feet.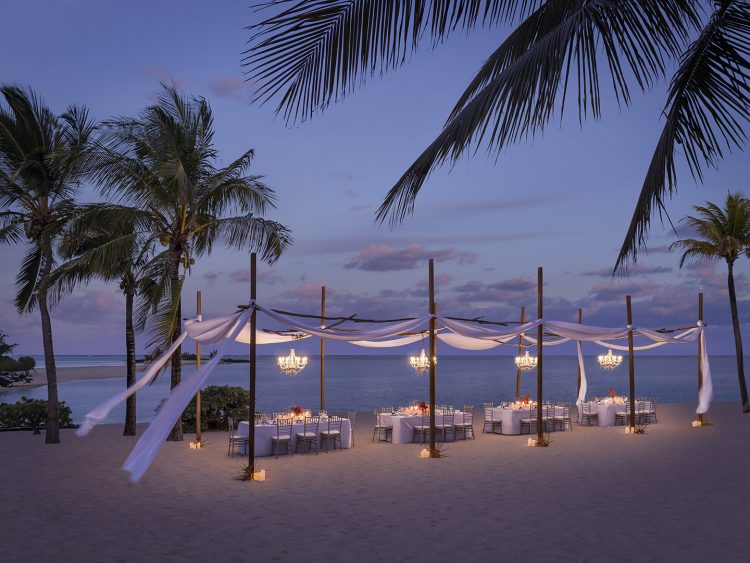 A barbeque lunch on the beach with a plethora of salads and back to base for more sunbathing and a tour around the organic herb garden with Ramshe Budin, the head chef of Safran, the Indian and Mauritian restaurant we will eat that night. Once a week, he tells us, all the fresh herbs and spices are roasted and ground for the next seven days use in the kitchens. We also visit two decades old resident tortoises, who and we will never know why, suddenly get very amorous in our presence. Much laughter ensues.
At Safran, we dine on pungent and rich tandoori salmon, Bombay duck, ghee roasted lamb and the signature Kolhapuri lamb chops with puddings of carrot halva with Safran and cardamom kulfi. And than a burst of loud music as ladies with yellow skirts energetically dance on the outdoor stage below with the interesting footwear of rubber boots… or have we overdone the rum?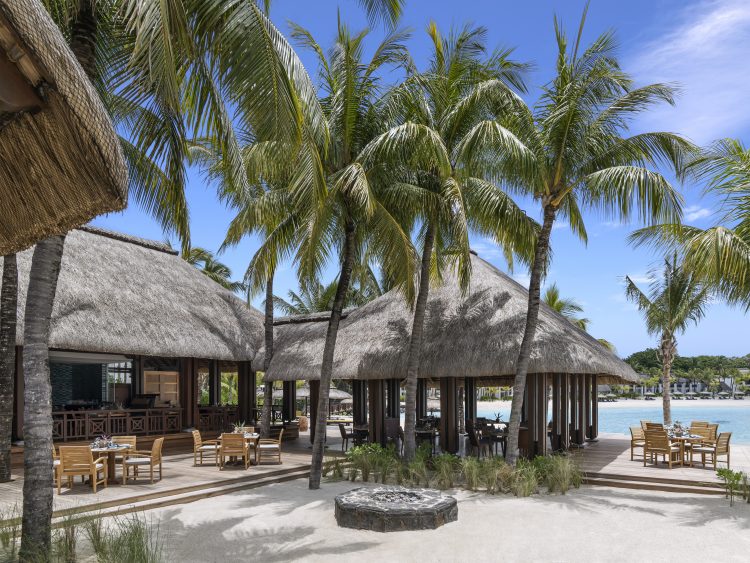 Breakfast the next day is with a difference – a buggy collects us and takes us to one of the three Beach Villas, more of a home from very luxury home at 423 sqm /4,538 sqf with three en-suite bedrooms, a Kardashian sized dressing room as well as huge living spaces – not to mention a 24 hour a day butler. It has a separate entrance to the hotel for privacy and is perfect for families plus there is a kids club on the main resort too.
The private pool is set up for our arrival with a floating breakfast of fruit, yogurt and pastries on a large tray for two, fun but somewhat precarious. Our butler rustles us an exquisite omelette and tells us about the island – Mauritius has citizens of four religions living peacefully side by side, Hindi, Catholicism, Islam and Buddhism which came with Chinese immigrants more than 160 years ago – indeed one favourite day out for Mauritians is a day at the races followed by Chinese dumplings.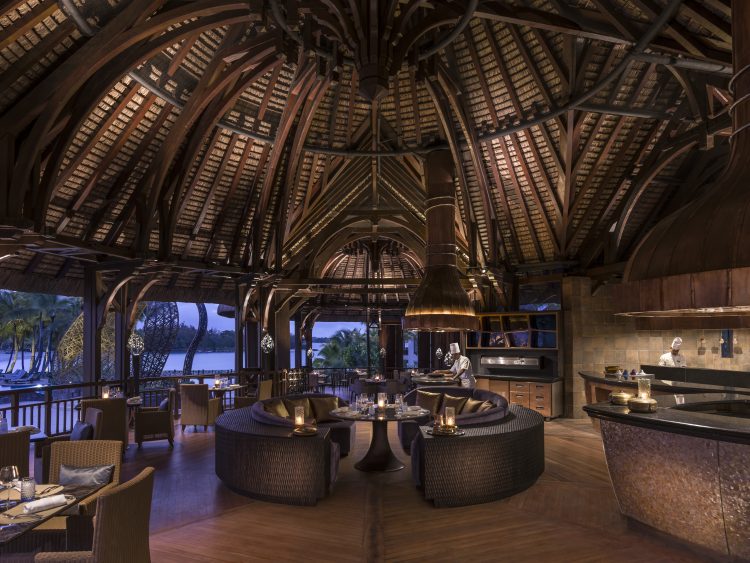 Time to burn off those eggs and visit the market on electric bikes – these take getting used to and at times it takes off Bradley Wiggins style, or so it feels, it's actually 25mph.  Cars overtake gently, people by the side of the road wave and we pass fields full of tall green sugarcane.  An hour later, we reach the bustling market and drink from the freshest coconut. Despite breakfast, we dive in for a samosa with strong chilli sauce while the aromas of cooked foods compete with the pungent smell of pineapples stacked up high. 
We cycle back a different route with views towards the lush mountains and are rewarded with a glass of wine on the beach during happy hour where guests are served complimentary cocktails from 6pm.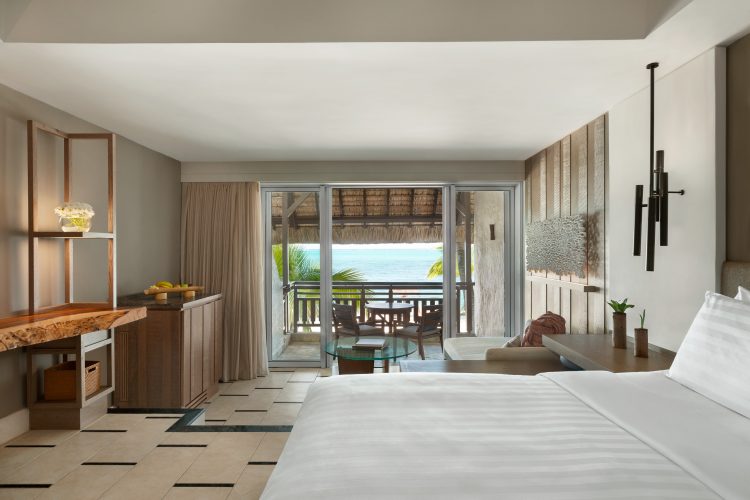 On the last day and after a lobster omelette for breakfast on the beach we take a boat to the Ile aux Cerfs Golf Club, the 18-hole championship golf course exclusive to Shangri-la guests. Set on a sparkling blue lagoon it was awarded Top 20 of the world's "Must-Play" Golf Courses by Golf World in 2018 hence very popular spots must be booked when booking the resort.
We drive to Le Loisir a l'ile Maurice centre with quad bikes and horses to ride and seven zip lines, the highest 750 feet for the non-vertiginous. Risk averse, I lie in the sun with my book but am told the views are stunning from on high.
A last goodbye to the amazing staff and while this flying visit has refreshed and revitalised me, the level of service has been perfection. And with nearly a dozen new Shangri-la properties opened or launching in the next few years a level of luxury that I will continue to explore.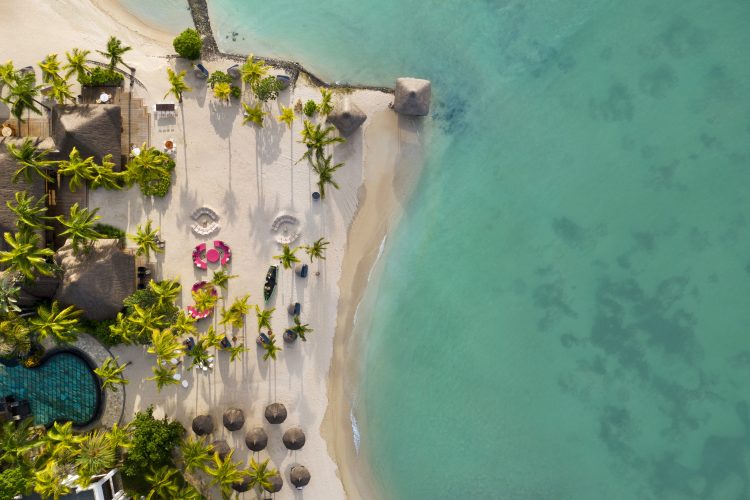 Mauritius Shangri-La's Le Touessrok
Coastal Road, Trou d' Eau Douce, Mauritius.
Fly with Air Mauritius