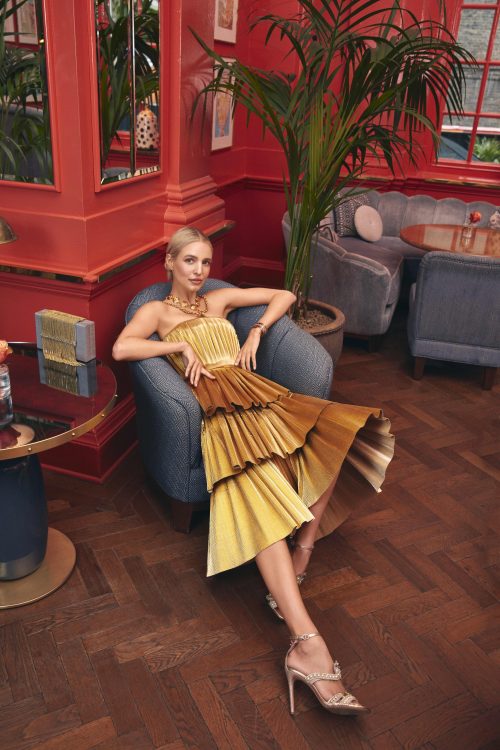 The first thing I noticed about Leonie Hanne is her unmistakable swanlike grace, she moves as though she is dancing through water. Her features are delicate, they look hand painted like a china-dolls and she speaks in a singsong tone but don't let that fool you. In the past people have made the mistake of underestimating Leonie due to her unfaltering upbeat demeanor and that signature sunshine smile that illuminates her entire face whenever she bestows it. Underneath the glossy veneer is a powerful entrepreneur and influencer, a woman who is utterly fearless and wears her heart on your sleeve, as you will soon discover.
I was sat in the opulent The Coral Room, an elegant 1920s style bar in Bloomsbury, London with Leonie who had just wrapped this 8-hour cover story shoot although you would never know it by her unwavering enthusiasm. The creative team had already texted me, offering lashings of praise about her infectious energy, kindness and professionalism. You see, Leonie's reputation tends to precede her, when her name is mentioned in social circles or in meetings, peoples faces light up and nothing but kind words are said.
I shared the praise with her, she looked taken aback for a moment, then said, "I put a lot of pressure on myself to meet my own standards. Take this cover shoot for example, I love the magazine and I love the vision so of course I'm going to prepare myself so that I can be my very best on the day and give it my everything."
She continued, "On a good shoot it is important that everyone feels appreciated, not only you in front of the camera but also the hardworking hair and make-up artists. I'm curious about people."
She confessed, "In the beginning of my career, people would mock me for being too nice, too shy, maybe they thought that made me weak. That's why I laughed when you said people are positive when you mention me, it wasn't always that way."
She smiled suddenly, turning to her partner in business and in life, Alexander Galievsky who was typing away mere metres from us.
Without taking her eyes from Alexander, she confessed, "My boyfriend would never let me become a diva, I've experienced many divas, maybe it is because of all the amazing trips and clothes, it turns them into a princess. For me, everything is normal, my closest friends are all from school and I'm so close to my family which is really important."
She continued, "I wear a lot of different hats, I am very emotional but I'm very analytical too. When I first started blogging, I only focused on creating pretty pictures and was unable to show my personality. It felt like I was forcing myself into a square picture of what people wanted me to be. There are so many people that take nice pictures but there are so few people that brands and magazines will trust to share their voice and I find it humbling."
She laughed suddenly, and said, "We can all go to the same cute place, in a cute dress and take a cute picture, that is not special, it's who we are inside."
She continued, "I have a voice and I want to talk about things that are interesting to me, I don't just want to take a nice picture. I'd rather be controversial but of course not everyone likes that which I've learnt along the way."
A scathing article in a German newspaper showed Leonie the darker side to her rising profile. She confessed, "It was my biggest personal growth. I was so shy and on red carpets for example I would freeze up and not know what to do."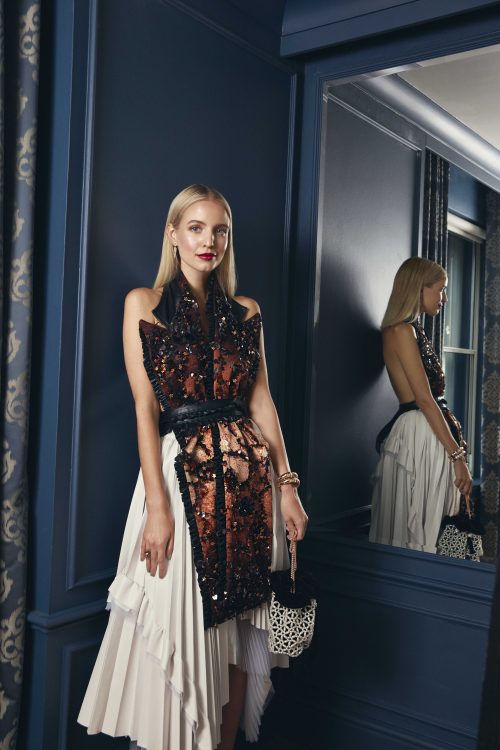 Leonie grew more confident in her own skin and the newspaper then wrote a destructive article that completely assassinated her character.
She revealed, " I had become more confident and experienced since the first time I worked with the newspaper, then they wrote another mean story accusing me of faking my shyness. People always have something cruel to say, they accuse me of having had surgery on my face, it is ridiculous. It made me so sad because I haven't changed my face at all, not my nose or my lips, they just don't realise that the only change came from within. How you feel inside changes everything."
She continued, "People would give me a hard time because I never smiled in pictures but over time I stopped caring, maybe I will lose some people along the way but I need to grow up and be free."
Leonie was born and raised in Hamburg, Germany and she credits her upbringing there for her business acumen. She confessed, "I'm really grateful, because I feel like the educational system and my background really instilled ethics in me and taught me how to be a great businesswoman."
She later left Germany and found a new home in London, where she fell head-over-heels for the city. She said excitedly, "I never knew I could love a city so much, so even now when we travel to the most amazing places for work, I always have to check the weather back in London and if it is sunny then I am devastated to have missed it."
She continued, "No matter which amazing country I am in, after two days I miss London. It's so cosmopolitan and the British politeness is really inspiring. My job can be quite superficial but when I work with people in London they're usually so nice and interesting, it's a good feeling."
In 2014, Leonie turned her love for shopping into a passion project and launched her fashion and lifestyle blog Ohh Couture, it was a stratospheric success and enabled Leonie to walk away from her corporate career as a strategy consultant.
She revealed nostalgically, "I worked in fashion strategy for Germany's biggest online retailer. I was doing supply chain management in Hong Kong, working on a lot of online strategy. Even now, I feel like a lot of people underestimate how many decisions I make everyday which affect my branding and positioning. Online is changing so fast, so even though I love it and think it's an amazing challenge, you need to stay so focused to keep up."
Leonie is keen to shatter the illusion that being an influencer is just about taking a pretty picture. She said thoughtfully, "It is so interesting, when I had a corporate career people were absolutely fine with that, but since stepping out of what's normal and having a more creative job, I've seen people treat me differently."
She said frankly, "It's disappointing when people look down on my career. I still have my degree, I still have my business background, I am doing something that is entrepreneurial and very fulfilling. However, because I am not in that socially accepted corporate role anymore suddenly it is a problem. That is what I love about London, people are so open and things are so diverse. You can be from anywhere in the world, believe in anything and find a home here."
Leonie believes that the secret to success lies within respecting the brands you work with and recognising how powerful good collaboration can be.
She said, "I am going to Venice with Dior in two days and will be taking over the official Instagram. I need to know what Dior want, it's not just all about me, it's about the brand and how they communicate as well as how I do, it's merging the two and finding the best of both worlds. To do this well you need to have a deep understanding of the brand you work with and make sure to keep them happy whilst also staying true to your vision."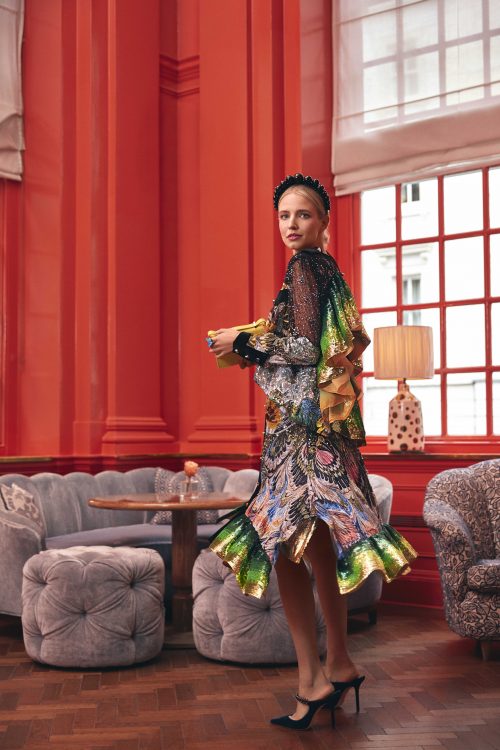 Staying true to your vision can be a real challenge in the fast-changing world of social media where everyone's a critic. With over 2 million followers on Instagram alone, Leonie is under fire more than most but luckily Leonie has her family as her strong moral compass.
She said nostalgically, "Before I post I show my mum and two sisters, just because they know me really well and they will tell me their honest opinion. I always try to make sure my followers are on this journey with me. It's no fun if it's all 'look at me' and people can't relate. I want people on my side, I never want to be a person that blocks people out."
Leonie now works as a blogger, stylist, model and social media consultant and has collaborated with iconic fashion and beauty powerhouses such as Cartier, Bulgari and Dior Beauty. For Leonie, although she adores working with luxury houses, it is fundamental that she still works with brands that are inclusive and accessible.
Her eyes shone with pride, she said, "I'll never forget when I began working with Dior Beauty. When they asked to meet with me I couldn't believe it because I didn't feel like I was worthy of such a special brand yet. However, they believed in me from the start which was really special, I will never forget that faith."
She continued, "Someone might say that their proudest moment is getting their first magazine cover, hitting 1 million followers or being the global face of Pandora but it doesn't matter how big or small it seems, if you worked really hard to get something, you can't feel prouder."
Being high-profile on the internet is a double-edged sword and virtual and reality privacy can both easily be jeopardised.
Leonie revealed, "Last week I was having dinner at home and talking to my boyfriend when I received this message saying 'I just saw you having dinner'. It was crazy!"
After a disappointing run-in with a celebrity she admired, Leonie vowed that no matter what she would always make an effort when meeting people.
She recalled, "I was at an event and there was someone there I really admired, so I asked for a picture with her and she just said "no". I was so disappointed, she was really young and I thought she would be cool and bubbly like she always appeared to be. It was then I thought, I don't ever want to be like her and disappoint people when I meet them."
Leonie is as gracious as she is humble, which separates her from the competition. She sighed deeply and said, "A lot of people who start from the beginning act too cool for school and aren't as interactive with their followers. I've noticed a lot of people are nice when work is going well but didn't want to know you before you were established."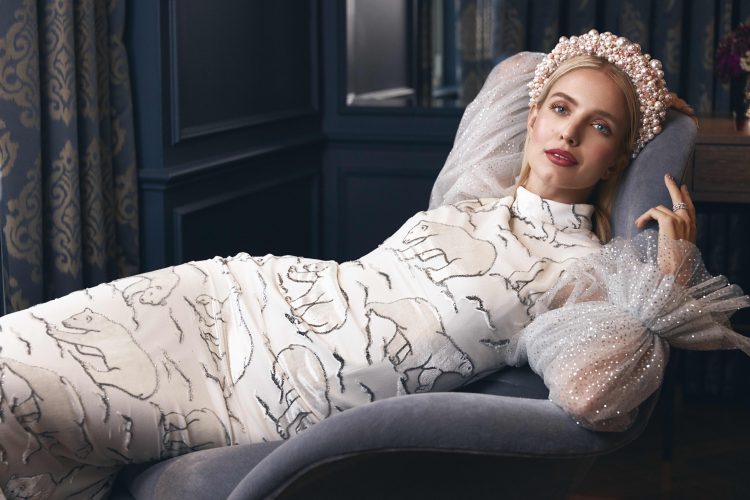 She said solemnly, "I'm an emotional person, I've never broken a friendship, over time I've learnt that I've had friends who stuck around for their own reasons. In this business you need to focus on yourself but I'm making it my aim to be more supportive of women due to the experiences I've had, that's why when I see other women doing an amazing job, I'll always encourage them and make sure for myself to bring other women with me rather than making it difficult for them, because this was hardest for me."
She continued, "Unfortunately, even if I feel that I'm getting a hard time from a woman, I try to win her over instead of being afraid and shying away. This for me was my biggest fear as well as my biggest lesson for my own personal growth, knowing that if you have great success you have to learn there's only a few people that'll be happy for you but you can still set a good example for them."
She smiled softly, then said, "I come from not a lot, I know where I came from and how hard I had to work to get here and that makes me really proud."
@leoniehanne
Photographer
Catherine Harbour
Photographers Assistant
Jenna Smith
Stylist
Jennifer Michalski-Bray
Styling Assistant
Kayleigh Dennis
MakeUp Artist
Louise Hall using Rouge Dior Ultra Care and Capture Youth Skincare
Nails Artist
Yasmine Elwakil using Dior Manicure Collection and Capture Totale Nurturing Hand Repair Cream
Hair Stylist
Kris Barnes using Larry King Haircare
Location
The Bloomsbury Hotel
16-22 Great Russell Street, London, WC1B 3NN