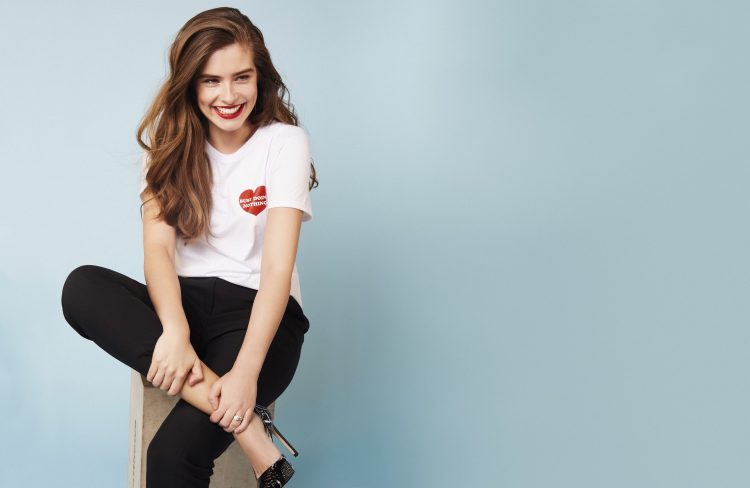 Rachel Shenton is our favourite queen of the small screen, she has gone from Channel 4's iconic soap, Hollyoaks to ABC's Switched at Birth, before writing and starring in The Silent Child that would lead to a string of accolades, including the much coveted Oscar for Live Action Short Film.
The Silent Child is an ode to the deaf community and to Rachel's late father who lost his hearing when she was just 12-years-old, a subject matter that Rachel holds very close to her today and is the ambassador for the National Deaf Children's Society.
We caught up with Rachel to find out about her life in isolation…
Where do you live? What does isolation look like for you there? How has your local community been affected?
We live in Central London but we managed to escape to Staffordshire before the the madness and we've stayed here, so we're thankfully in the countryside. I'm certainly very grateful to be near such lovely scenery. I'm involved in the deaf community in Staffordshire. Lockdown is particularly tough for the older generation, who rely on face to face communication and don't have access to facetime/zoom etc.

Can you talk us through your daily routine in isolation?

I get up and do some kind of workout (most days anyway) Usually Joe Wicks or a run, then we take our dog for a walk. After breakfast I'll do some writing and try and get some jobs done around the house (the house has never been cleaner). We usually end the day watching a film or Netflix. We're hooked on Ozark at the moment.

How has your life changed since being in isolation?

Well I'm a little reclusive anyway. It's slowed down for sure because almost all work and meetings have stopped, so it's a steadier pace and I prefer it.
What has been the biggest lesson you've learnt during this time?
That it's ok not to be busy all the time. I've enjoyed reading, writing and listening to myself and what I need a bit more.

What are your self-care tips at home?

Food and exercise are the main tools I use to feel good. Getting up and moving my body never fails – some mornings I really don't feel like it but i'm always thankful afterwards. I recently had an online Reiki session by Lunar Chi (@lunar__chi) and was so surprised by how it affected me, I've already booked in again.

What advice would you give to others that may be struggling?

Be kinder to yourself. It's ok to feel like you can't be bothered or to be unmotivated and emotional – it's not just ok it's entirely normal. So, make a cup of tea and let yourself off.
White Gold Season 2 on Netflix now.
Photographer
Saskia Lawson
Stylist
Donna McCulloch
Makeup Artist
Louise Hall using Too Faced
Hair Stylist
Betty Bee using Tabitha James Kraan
Location
Smashbox Studios
Fitzroy 1A One, 6 Mortimer St, London, W1T 3JJ