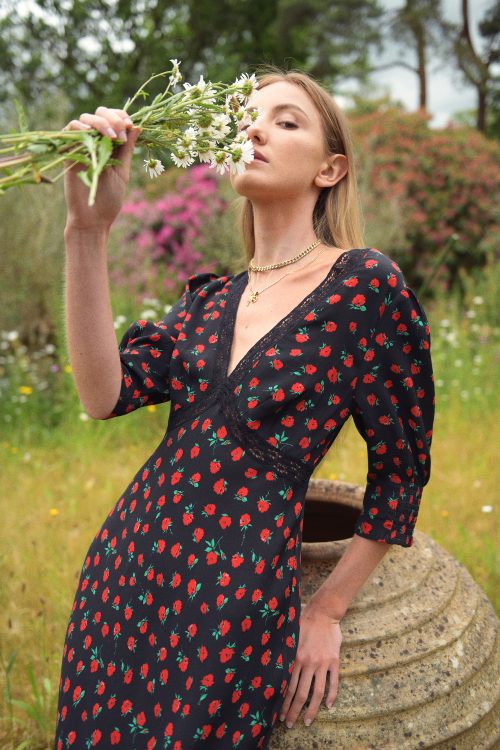 Weaving both fashion and music into a seamless form of expression came easily to London based fashion designers Henrietta Rix and Orlagh McCloskey from Rixo. With a huge intersection between fashion and music, each inspiring the other in its own way, the idea of collaborating on a project with Beats by Dr Dre seemed like a natural part of the creative process.
Henrietta Rix explains, "When Beats got in touch with us to collaborate it was a no brainer. As mutual fans we felt the collaboration was a perfect idea to merge our music and fashion worlds together."
When developing their latest resort collection, there was an emphasis on the American music scene. Orlagh McCloskey reveals that "Our current collection is completely inspired by Joni Mitchel and Woodstock music festival of the late 60s & early 70s."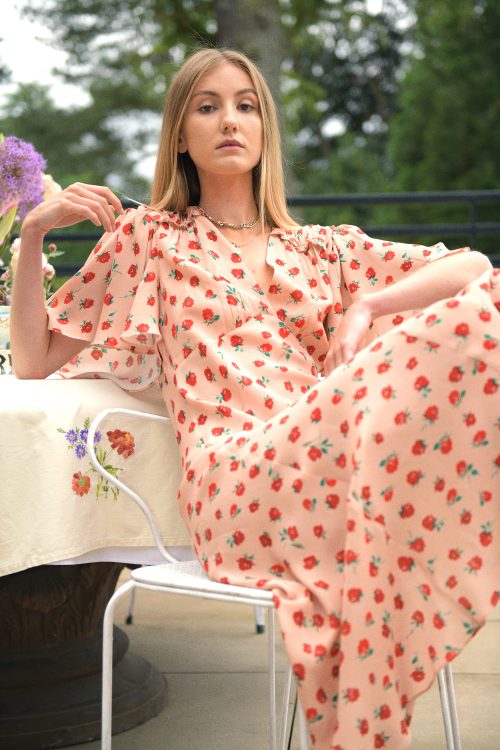 It is clear that music is at the core of Rixo's collections from the prints and designs that it inspires, down to the mood at their LFW presentations. Some of the key pieces were unveiled and transported back in time in a recreation of a mini Woodstock music festival at the SS20 London Fashion Week presentation.
Keeping an eclectic music taste has enabled the British designers to experiment with colour, texture and design of the times, anything from 60s influence to current trending music.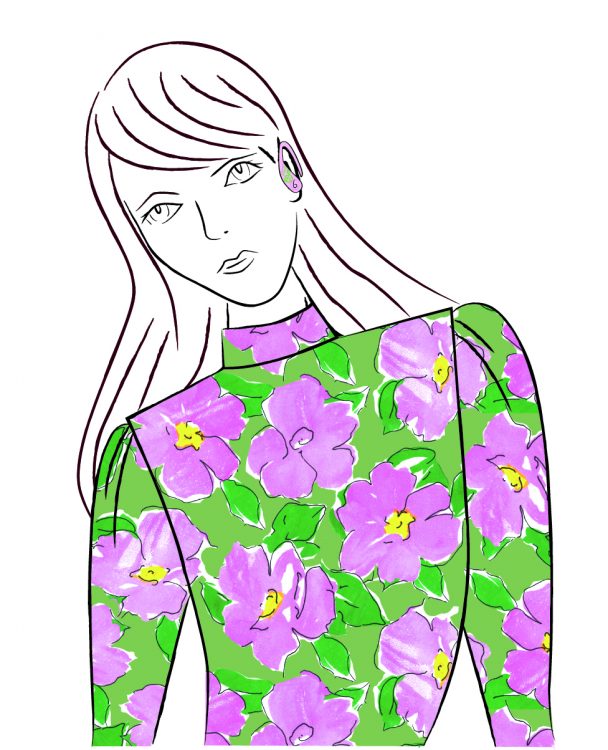 Weighing up her top choice, Henrietta says, "If we had to pick one genre – we love disco! We put a playlist together for Beats of some of our top disco and dance songs, so everyone can listen along to the songs that we love the most. These songs always keep us and our whole team positive and motivated, especially while designing and even at the most important and stressful moments such as preparing for our London Fashion Week presentations. They remind us of all the great times we have come together as a team, achieved our dreams and then celebrated together."
Whilst they typically design their own collections, taking the opportunity to work on a range with the Powerbeats Pro as their muse, Orlagh reveals what inspired their choice of colours, "We feel like each one has a really different personality, much like our RIXO dresses. We created some special illustrations featuring our new RS21 prints and matched each look with a different earphone colour, to show the personality of each woman reflected in her choice of Beats and RIXO dress."
Also picking a song from their exclusive Apple Music playlist, Orlagh highlights the songs that they feel represents each woman:
Pink: He's the Greatest Dancer – Sister Sledge, Red: Disco Inferno – The Trammps, Blue: Gypsy Woman – Crystal Waters, Yellow: I Want Your Soul – Armand Van Helden.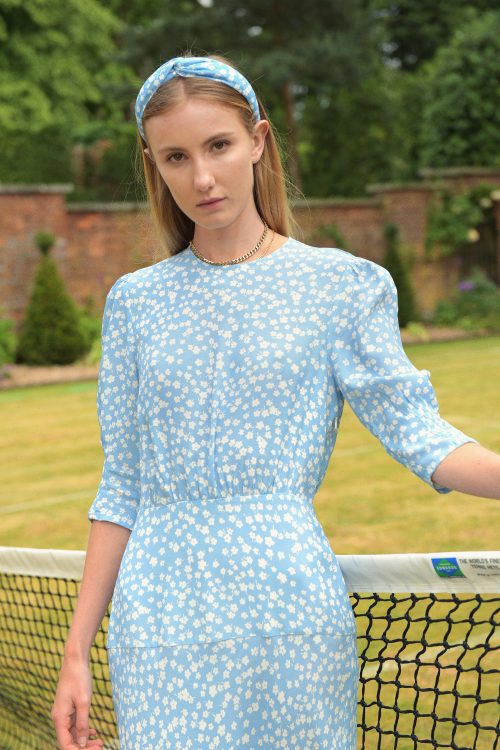 In the midst of lockdown, the creative process had to continue despite Henrietta and Orlagh isolating themselves in different areas of the country. Henrietta adds that the experience was tough and was the first time they've been apart since launching RIXO in 2015.
Orlagh spent her time in lockdown at her London home, whilst Henrietta chose to use her family home in the countryside just outside of Manchester. Disclosing how her designs were impacted by the Coronavirus pandemic, Henrietta emphasises how lucky she is to have a space with a garden. "I try to keep a routine of Monday to Friday working and at the weekends spend as much time as I can outside to get some fresh air while we are all in lockdown, reading books that have been on my list for ages. I'm also doing a lot more cooking and baking, which I really enjoy."
She continues, "The positive is that this time has allowed us some real head space to look back on the past and also forward to the future to re-assess, re-strategise and focus. We want to ensure we stay true to why we founded RIXO – our consumer is key, so we are really thinking about the value we can add to them."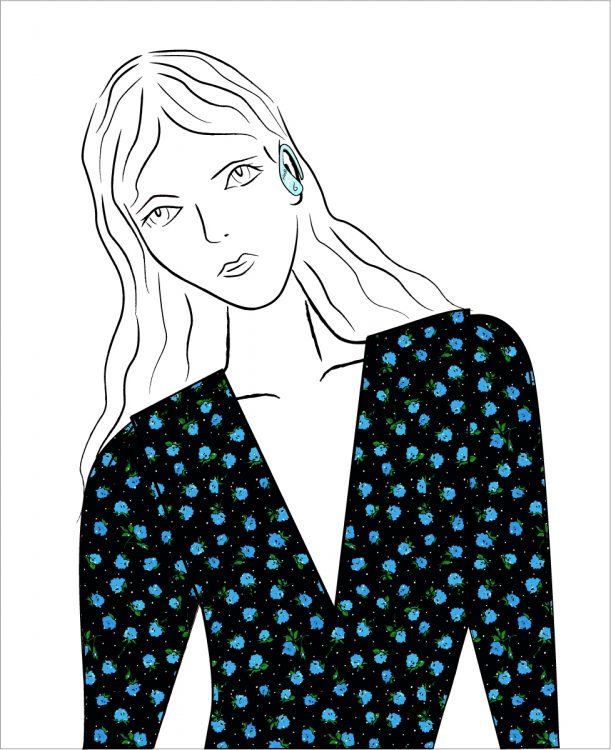 With a lot of initial uncertainty about the severity of the situation, the designers were unsure of the impact the pandemic would have on the small self-funded start-up business. Orlagh discloses that, "As time has gone on we've realised the only thing we can do is to stay positive and take it day by day. It's the first real challenge we've faced in five years of owning a brand."
She adds, "I've found that making healthy meals and smoothies, riding my bike, reading and meditating are good ways to stay positive and switch off during the uncertainty of the current situation. I've also been doing a lot of reading and research while at home in lockdown to get inspiration for upcoming collections. We get our inspiration from so many places – music, art, cultures, books, anything around us. Our eyes are always open."
Lockdown enabled the pair to get creative and think more outside the box. Hentrietta discloses, "We did our Resort 21 lookbook shoot with social distancing, for example. It's been great to have time to really step back and solely focus on our shape designs and fits to perfect them."
She continues to relay the impact the flowers had on her day to day designing, "My mum has always had an amazing garden full of different flowers which definitely fuelled my affinity for florals. Each day during lockdown my mum has been posting flowers from her garden through my letterbox to keep me feeling inspired, happy and positive."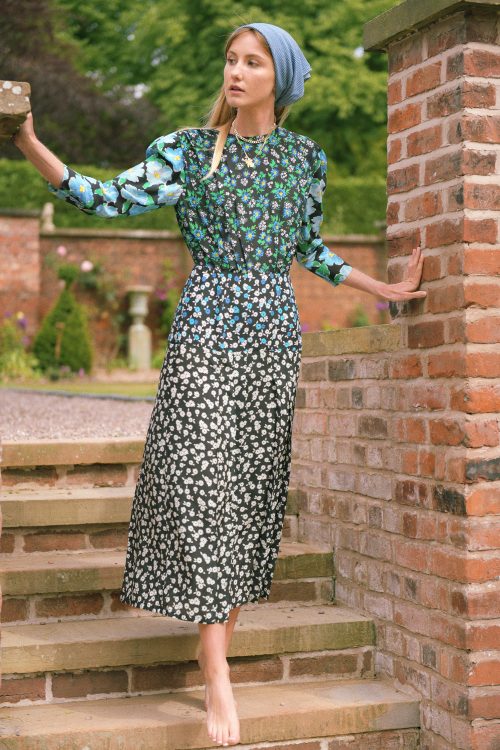 As the Resort 21 collection draws from the gardinial influences, the designs were able to bloom. From an array of florals stemming from bright maxi watercolour to demure ditsy prints, the pieces were able to reflect the different elements of a garden. Henrietta details, "During our Resort 21 lookbook shoot we were thankful to have our Powerbeats Pro earphones to provide the music while we shot the collection outside in my garden. Our model Bee danced along to our Beats playlist in the middle of her takes to keep her shots and the atmosphere fun and energetic."
The Powerbeats Pro earphones have been playfully customised, so when worn, reveal a RIXO twist. In line with their Resort collection the earphones are painted with a maxi floral and swirling RIXO motif.
As more people spend time at home and enjoy their green spaces, the collection nods to the ease of life.
Orlagh describes the shapes as easy-to-wear, so you can dress in them once a week comfortably or everyday if you like. "Whether floating around the house, popping to the shops or finally being able to head for dinner or drinks, it's always about the piece fitting into the woman's lifestyle and not the other way around."
When discussing the inspiration behind the prints used, she states reassuringly, "Florals are a really versatile and perhaps more simple print to start with for even the more cautious dresser, who is less used to wearing a lot of print or colour."
With the pandemic impacting the way people have been able to shop, the Rixo founders look to the future of their brand and the fashion industry as a whole.
Henrietta states, "Neither of us follow trends when we shop or when we design. We want RIXO pieces to be timeless – to endure for our customers whether they wear now or in ten years or even pass down through generations. We've always encouraged our customers not to follow trends, to invest in pieces they truly love and not impulse buy. I think people will be consuming and shopping fashion a lot more consciously and considered following the pandemic."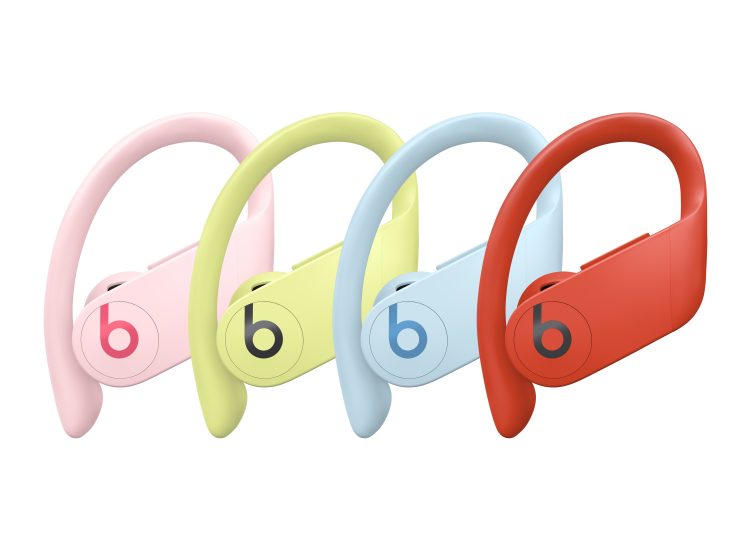 Beats by Dr. Dre's Powerbeats Pro are available in four new illuminating colours: Spring Yellow, Cloud Pink, Lava Red and Glacier Blue for £219.95 via beatsbydre.com.