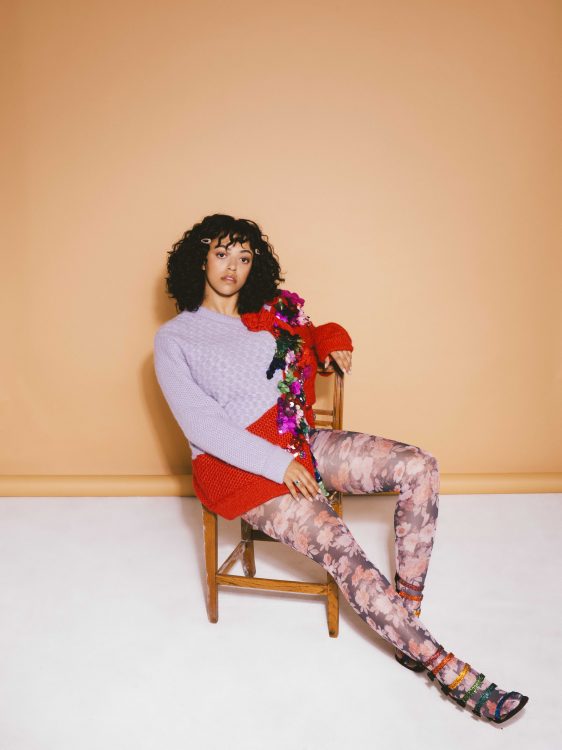 At 21 years old, you'd be forgiven for assuming that singer-songwriter Mahalia had only just started to break into the music industry. In fact, the Leicester-born alt-R&B/soul artist has been writing her signature emotion-fuelled songs since the tender age of eight, and signed with her first record label when she was just 13. Now with over 3 million monthly listeners on Spotify, a Brit Award nomination and a huge international tour on the horizon, Mahalia is set for world domination.
We find ourselves in the midst of the UK's hottest summer on record when we start our interview – "If I was at home this would be putting me in the most amazing mood, but in London it just makes me wanna scream!" Mahalia is, of course, referring to her East Midlands hometown of Leicester where she grew up and where she first embarked upon her journey into music. "I mean it was strange really because I always knew that I enjoyed singing, but I never knew that I could possibly be a songwriter," she reveals, "and then I started learning the guitar when I was about 11."
"I had this really big crush on a guy; I was always into poetry and my dad was like 'why don't you try writing a song?', and so I wrote this one song about a boy and then I kind of never stopped!", she laughs. The over-arching theme lacing a lot of Mahalia's music is love and heartbreak, a topic that seems so mature for such a young girl, "Yeah it was nuts. I mean I signed to Atlantic Records at 13. God, when I think about it now I'm like…wow…I don't even remember what my brain was like then!" she says in amazement, "But it's funny actually because there were times when I was younger that I regretted it, you know, I kind of regretted it for all the wrong reasons because I was a kid and I wanted to go out and just hang with my mates – now that I'm older, I'm super grateful for it because doing that so early just built me into the person that I am now."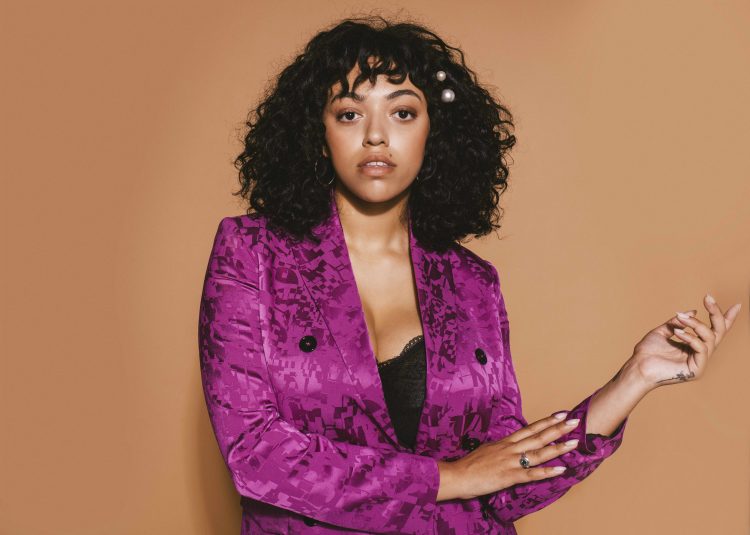 There have been many artists that have influenced Mahalia throughout her life, "Erika Badu, Lauryn Hill and India Arie were kind of like my three main inspirations when I was about seven or eight, I used to play their albums around the house when I was young and dance around the house." She tells me that her mum then introduced her to the music of Angie Stone and Jill Scott, before she discovered the rock indie scene that consisted of bands such as Arctic Monkeys, The Kooks and Bombay Bicycle Club – "I guess that's kind of why I started playing the guitar – I wanted to be like those boys on stage and be a bit of a rocker." she says. It was only after this that she really got into the world of hip-hop, admiring artists like Jay-Z and Kanye.
But there's one artist in particular that made a very sizable impression on a young Mahalia, "So it all started when I was a kid and my mum asked 'what do you want this year?' I said that I wanted to meet Ed Sheeran and to my surprise she just said '…okay, let's do it!'" We both laugh at the absurdity of this request, but it's also representative of her ambitious nature. "So we went to two of his shows, then we went to Bestival with some friends. Our tent happened to be directly behind the stage that Ed was playing that night. A security guard showed us a shortcut so that we didn't have to walk all the way round to get into the crowd and, in doing this, we managed to sneak in and go backstage."
"The next thing we knew, someone came over and said 'you're not supposed to be here' and put my arms behind my back. As you can imagine, my mum absolutely kicked off! But by them kicking us out, they somehow pushed us into the front of the queue, so we then got into the gig. Both of us were looking at each other wide-eyed like 'how the fuck did we just manage that?'", she exclaims. As it turns out, Mahalia did get to meet Ed later on after a mutual friend introduced them. She explains "Although I totally put getting signed and everything down to Ed, I have to be honest and say that on the journey to meet him I met so many people who were also massive parts of that beginning. It was definitely a joint effort and it totally takes a village to raise a child. And I was a baby."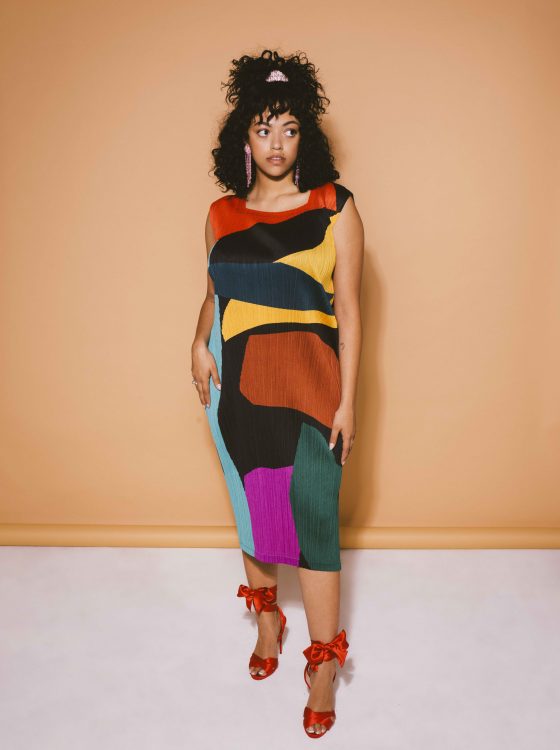 Although still very young, Mahalia has racked up an impressive three million monthly listeners on Spotify. When I tell her this, I expect for it to be common knowledge, but her reaction tells me otherwise, "Wait really? Oh shit, that's amazing. Oh my god! I'm gonna have a glass of wine for that." We also speak about her Colors Show video on YouTube where she sings 'Sober' (a song about drunk-texting a love interest), which has reached 33 million views – the fourth most-watched video from the entire Colors collection – "Me and my mates used to watch it. We used to sit in my mate's room and all watch it together. I'd always said that I wanted to do it but I never thought that I would, and now I'm just like…what in the world? This isn't supposed to happen!"
But her continuing popularity has been no accident and, as if that needed any confirmation, her nomination for the Critic's Choice Award (alongside Lewis Capaldi and Sam Fender) at the Brits this year was a pretty good indicator of how her music was being received. "You just can't guess that that's ever gonna happen and so when I found out, I think I cried. I think for me it was the moment in my career where I really felt like I was being recognised, which I think for anyone is a massive deal. For so long I just felt…not ignored within the industry, but I definitely felt like I wasn't connecting, and so it was just a point for me where I suddenly felt like people were really listening to what I was saying."
As if this year hadn't been crazy enough, Mahalia also played two sets at Glastonbury – "So my first show at Glastonbury was on the Friday and that was amazing. I played the John Peel stage, and that for me was nuts. It was like six-thousand people and it was just like the craziest experience of my life," she says, "but the next day was super sweet. The BBC Introducing stage at Glastonbury is actually quite small, but it's really sweet because it's like this tiny little tent, so I guess it feels pretty exclusive. I really enjoyed it."
As with every artist that gains popularity, the issue of how you present yourself to the outside world and your followers on social media becomes increasingly important. Aware that her music will attract a young female audience, Mahalia is conscious of how vital it is to show a true representation of yourself in an age of flawless filters. She recently took part in a shoot for Swim Society, an inclusive swimwear brand founded by Love Island's Montana Brown. "Just before I got there I was really scared." she reveals, "I was like 'do I actually want to put my body on the internet?' But being totally honest, the second I walked out of the fitting room and onto the shoot, all the girls were going to each other 'you look amazing!'…and I actually felt amazing! It's really beautiful when you have eight girls who are all completely different body shapes and can all wear the same thing. I think that's really difficult to find, particularly in swimwear."
Empowering people through her image aligns well with the empowering statements made through her music. Her new album 'Love and Compromise' is released in September, "It started from this clip of Eartha Kitt talking about love and compromise," she explains, "and it's basically her talking about all the reasons why she would never compromise in a relationship. I think in my music I've always tried to inspire and show how you can be strong in a relationship. I feel like with this album I wanted to show all the different elements of love, whether that be falling in love or falling out of love, getting my heart broken or even breaking a few hearts."
"It's kind of a look into my diary, that's what it feels like. It feels like people are gonna get to understand all the weird wonders of my love-brain." she laughs.
What strikes me most about Mahalia is how unapolagetically 'herself' she is. She writes her songs with a rawness that cuts right through, she sings each song as if it's the first rendition, her look is real and unfiltered, and her personality is warm and familiar. One thing's for sure, Mahalia is doing her thing, her way…and long may it continue.
@mahalia