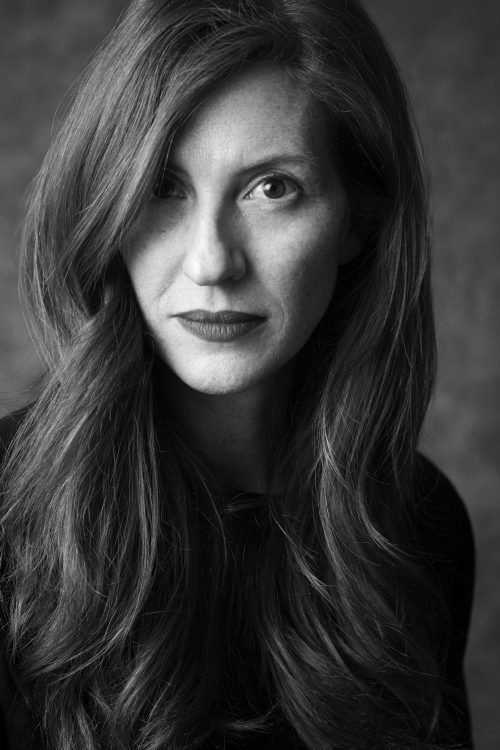 The first time Violet Grey was brought to ARCADIA's attention was when Editor-in-Chief, Monicha, was overheard telling a friend in LA that she needed a new red lipstick. Immediately, a girl came up to her and said, "You must go to Violet Grey; they will take care of you." Intrigued, Monicha made her way to the prestigious Melrose Place flagship store where neighbours include Isabel Marant, Chloé and The Row. She entered through the red doors of the foliage covered building and left a customer for life.
When this story was retold to April, she instantly clapped and exclaimed, "That makes me so happy!" However, she wasn't surprised. When April joined the company in 2015, she understood the brand power that Cassandra had already built and is one of the key factors that attracted April to the role."
She explained, "The hardest part is building a brand, and she's done such an incredible job with the team prior around the voice and how we set the standard, it's identifiable. There's a California Hollywood piece of it, but it's also the interview magazine kind of format around content. They're pushing the envelope out a little bit, a little bit naughty, a little bit sexy and super sophisticated. It has a voice."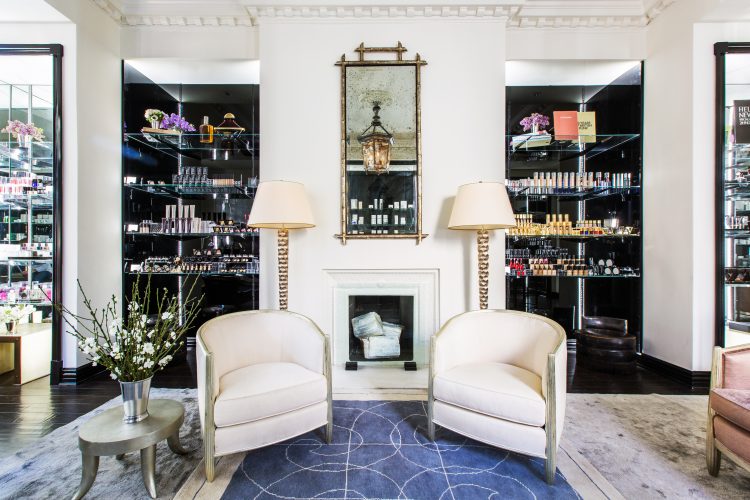 April refers to the super slick Violet Grey website that is a dangerous rabbit hole for beauty and glamour before you know it hours have passed reading up on all The Violet Files including reviews, lessons, Violet TV featuring beauty tutorials. There are interviews with Hollywood's elite, including Emily Blunt, Reese Witherspoon and Emma Stone, as well as inspirational female entrepreneurs changing the beauty industry, such as Kylie Jenner, Jen Atkin and Bobbi Brown.
With a warm smile, April described, "Shortly after accepting the role, my daughter, who is a beauty-obsessed 12-year-old and knows more about beauty than I do, challenged me. She said 'Mum, no disrespect but why would anyone go to Violet Grey, if they can just go to Sephora?'
I said 'The hours I have in a day if I need a new mascara, the last thing I want to do is walk into a massive retailer where there are endless options. For you, it's like Disneyland; you want to touch and feel everything. What I really want is someone that I trust to just tell me what I need, whose done that work, navigated the market, is constantly looking at newness and re-evaluating and bringing in what they call the 'best' and that's not just on price, that's on our criteria across many, many things.' She's like 'that makes perfect sense.'"
For April, becoming CEO of a beauty retailer was never in the pipeline for her. The allure of the fashion world was strong, she recalled, "I'd met a friend that had just got back from San Francisco, New York and Vegas and it all sounded so glamorous, so I was like maybe I'll do that! Hauling garment bags at 10 am on a Sunday and doing three months straight of trade shows – not glamorous! I got into fashion that way and was in LA at the time, did the whole slow growth, pay your dues, from the receptionist, the assistant, etc., all the way through to my last big role at Diane Von Furstenburg."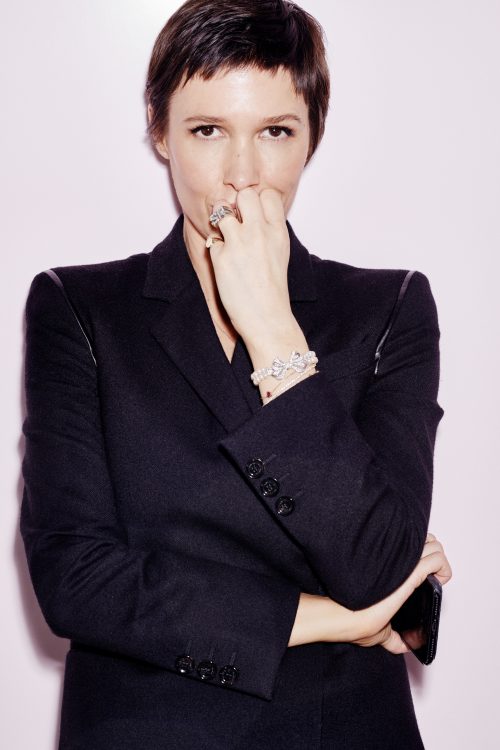 She continued, "I watched this evolution of pre-recession, post-recession and realised I didn't want to be that 50-year-old, garment in tow. It was a destroyed industry in terms of very broken aspects, from trade show models, to seasonality, to the fashion week shows, to the department store relationships. Watching those all merge and go out of business and watching the space get more and more competitive and crowded."
The fashion industry lost its sparkle, she said solemnly, "It just wasn't where my heart was at all. The impulse to just jump ship and go to the back of the bus to the start-up world. I think I saw it more than a lot of my peers and I saw it early. I just felt in my gut, this is a bus driving by, and I'm going to be grabbing onto the tailpipe if I don't jump on right now when the door is open."
April joined the heady world of tech start-ups, "I started a company called Spring, a start-up app. It was a pretty significant pivot, something that I knew was imperative for me to gain knowledge and still maintain that level of senior experience, and so bringing something that I had earned for many years to the table and at the same time learning a completely different language and way of working.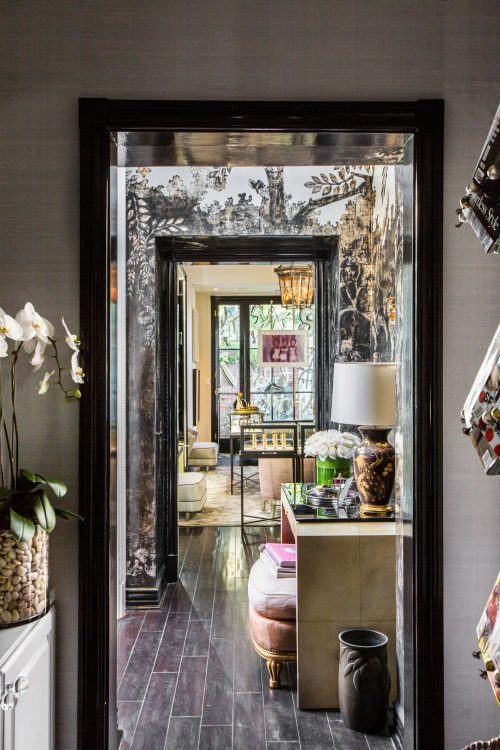 "It was fascinating, exhausting; it was like drinking through an air hose for a year. I literally ran around the city, and I was 20 years older than my employer, so that was a big ego step back. I realised that even with my years of experience in the industry, my opinion was not as important as the 24-year-old next to me who just lived on their phone differently, shopped differently and consumed content differently. It was incredibly eye-opening and at the same time exposed me to style, tech and beauty."
As well as being CEO, April is also a dedicated wife and mother of two. We had to ask, 'How do you do it all?'
She laughed and said, "Making sure you prioritise. When I moved from New York to LA, I prioritised settling my family; motherhood creates a shift in your lives. For me, trying to get myself to the front is a focus right now because I feel that's the part that's kind of breaking down – sleep and health. I start to feel that fatigue."
Shortly after, April reconnected with Cassandra. She recalled, "When I met with Cassandra, she was going through a lot. Personally, her husband had passed away, and she was really looking at 'what did she want for the company, and where is it going?' She just wanted to focus on the creative; she didn't want to be the CEO any more."
April mulled over the offer, she questioned herself, "'I don't know if I can do this. Can I do this?' In that sense of what do I bring to the table? What does it really mean for me to be CEO?
"What really got me was, I said to Cassandra, 'The most important thing to me is culture. If we're spending 50, 60, 80 hours a week away from our families and other things, that's got to be a significant piece'. I asked her about her culture, and she basically said, 'Build it.' And then she said, 'Here are the keys.' I started in September, and I've just had a year anniversary, which is crazy!"
At that moment, Claire Jessup, Violet Grey's PR Manager, added, "Cassandra did an interview this morning about you April, and she said 'Failing in areas taught me the hard way to hire people that are strong where I am weak. My greatest accomplishment at Violet Grey is by far the day I hired April, who is our CEO and my dream boss.'"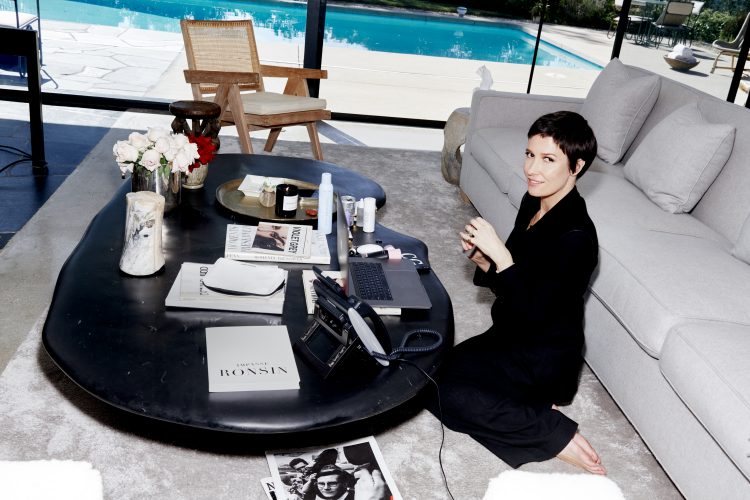 April plans to continue building on Cassandra's vision, she explained, "Education and our committee is something that has been foundational to the business, but has never been put out there to the consumer in a way that can have a significant impact. Just really understanding who's behind these approvals and their authority. It's less about the celebrity wearing the makeup, it's the person who's done the makeup or the person who treats them, that facialist or that dermatologist. That's the access that people want more to, to understand who they are.
"Putting a lot more effort so that becomes more of the Violet Grey story and that approval stamp becomes the thing you're looking for. The goal would be for you to see the Violet Coded stamp and be like 'it's been approved', the same way we look at an organic sticker. Focusing on that immediate recognition where it says 'approved' so it must be good."
Cassandra has created the holy grail for all things beauty, and with her creative vision and April's wide-ranging experience and awe-inspiring leadership skills, Violet Grey is an unstoppable force.

@violetgrey
8452 Melrose Pl, Los Angeles, CA 90069, USA