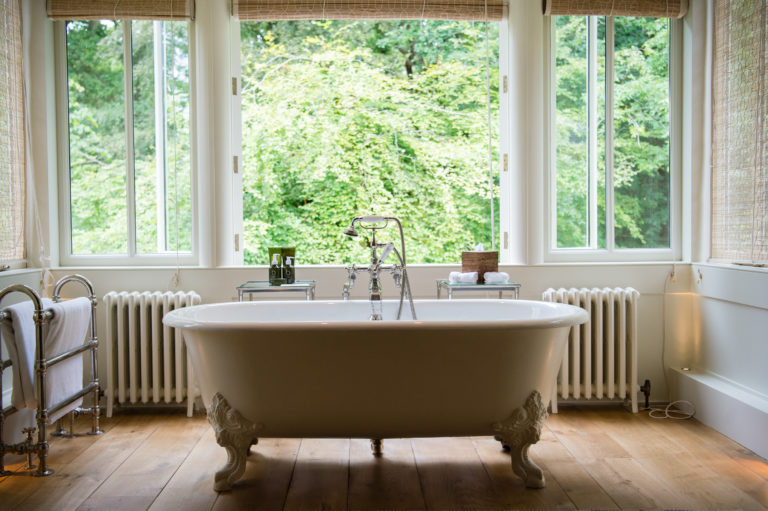 Tucked discreetly into the heart of the New Forest is the quintessential Georgian country house of Lime Wood. As you make your way up the sweeping driveway, the majestic wilderness of the forest gives way to perfectly manicured grounds and eventually reveals the glorious Regency facade of the honey-hued house.
At Lime Wood, period grandeur lives harmoniously alongside contemporary touches to create the perfect romantic country retreat. A rainbow of Hunter wellington boots adorn the boot room and there is an exquisite arcadian courtyard with classical columns and intricate mosaic tiling. The art collection is incredible, expect to see masterpieces by everyone from Tracey Emin to Jean Cocteau.
There are a variety of beautiful rooms to stay in but the secluded Pavilions are truly exceptional. There are three individually designed forest hideaways with soaring high domed ceilings, signature roll top baths and doors that open directly onto the beauty of the forest. Famed interior designer Susie Atkinson has recently given The Pavillions a makeover with sumptuous quirky fabrics, antique furniture and classical styling. Pavilion One is particularly enchanting, it has a soft pink ceiling, a vast bed draped in powder pink fabric and forest-themed walls which are an ode to its surroundings. Downstairs there is a luxurious lounge with a private terrace and a bar stocked with cocktail ingredients, bottles of wine and midnight snacks.
@limewoodhotel
limewoodhotel.co.uk
Beaulieu road, Lyndhurst, Hampshire, SO43 7FZ