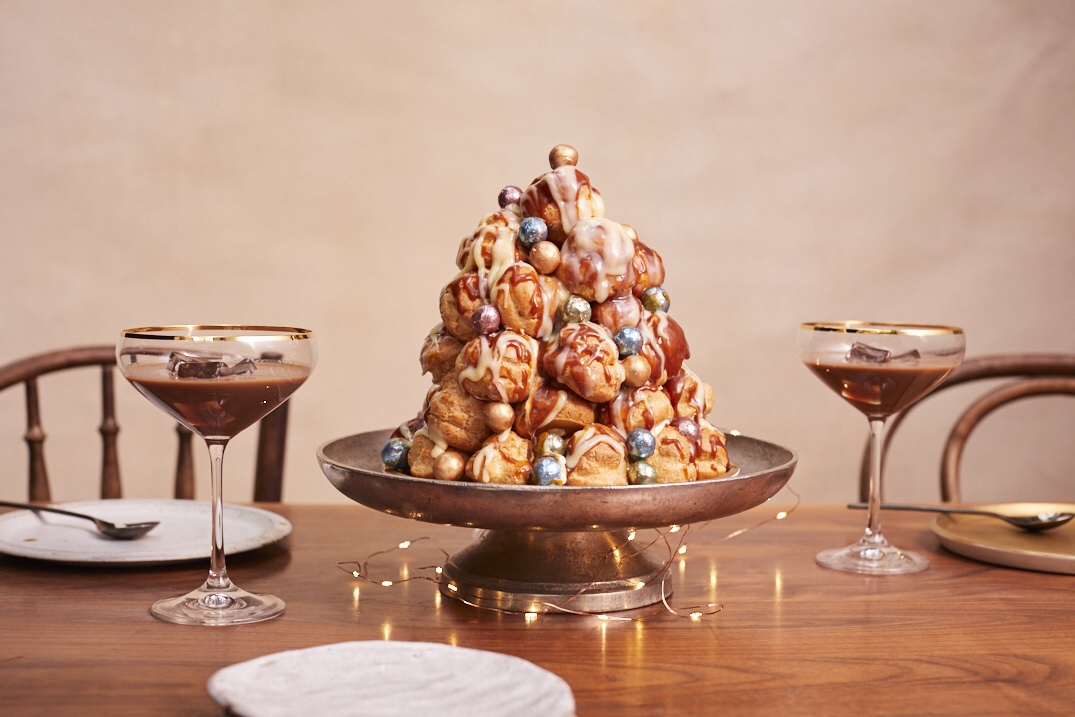 To celebrate the festive season, award-winning patissier and chocolatier, has created an indulgent profiterole tower.
Light-as-air choux pastry with a sumptuous creamy Baileys filling is drizzled with lashings of velvety white chocolate and indulgent salted caramel sauce, then sprinkled with malted chocolates for a surprise crunch – this towering delight is everything you need to see out Christmas.
Perfect for sharing and ultra-luxurious, this show-stopping dessert is great for making at home and entertaining your family and friends this Christmas. Simply follow Lucie Bennett's step-by-step recipe below.
Recipe:
Serves 12
Takes 3 hours plus chilling time
Ingredients
Choux Pastry
150g plain flour
125ml whole milk
125ml water
1 tbsp caster sugar
2 generous pinches of salt
110g unsalted butter, cut into small pieces 250g eggs beaten (5 medium eggs)
Baileys Filling
135ml whole milk
235ml Baileys Original [4 units] 85g caster sugar
90g egg yolk
30g corn flour
450ml double cream
White Chocolate Sauce
Double cream 150g
White chocolate 250g
Decoration
Bag of Maltesers
Pink, green and blue edible glitter or metallic lustre dust Spray oil
1 x jar salted caramel sauce
Method
For the pastry cream, place the egg yolks in a bowl with the sugar and corn flour whisking until combined. In a medium saucepan pour in the milk and Baileys and
bring to a simmer. Pour over the eggs and sugar stirring until combined, then pass through a fine sieve. Pour mixture into the pan and cook on a low heat for 3 – 5 minutes continuously whisk the pastry cream. Remove from heat and transfer to a bowl, directly place cling film on top of the pastry cream and chill in the fridge.
For the choux. Sift the flour. In a large pan put the water, milk, sugar, butter and salt. Bring to the simmer, lower the heat, add in the flour and beat it in with a wooden spoon until the mixture forms a smooth dough. Cook for a minute until the paste comes together and comes away from the pan. Allow to cool for 10 minutes. Beat in the eggs a little at a time, stir vigorously until completely combined, the dough should appear smooth, glossy and hold its form. Remember you may not need to use all of the egg so do the V test before adding the full 250g. The dough should drop reluctantly from the spoon in the shape of a V.
Preheat the oven to 200C/fan180C/gas 6. Spoon the choux pastry into a piping bag fitted with a 12mm round nozzle, line two baking trays with baking parchment sticking down with a small amount of dough in each corner. Pipe 36 – 15mm round balls, leaving a space between each one. Gently smooth down dough with a pastry brush dipped in a little water to get rid of the peaks. Place the tray or trays in the oven and bake for 25 minutes then reduce temperature to 160C/fan140C and dry out for a further 10 minutes. Place on a wire rack to cool.
For the sauce, break chocolate into small pieces. In a saucepan bring the cream to the simmer reduce to a low heat and then add the chocolate, stir until melted. Take off the heat and allow to cool.
Assemble the tower once the profiteroles have cooled downl. With a skewer poke holes in the bottom of each bun. Next, pour the double cream into a bowl and whisk to soft peaks with an electric mixer. Take the cool pastry cream from the fridge place in a bowl and stir until smooth. Fold through a third of the cream, once combined fold in the remaining cream. Place a smaller round piping nozzle in Spoon into a piping bag a cut a small hole in the bottom.
To assemble. Make a tower of profiteroles on a serving plate, drizzle the white chocolate sauced and the caramel sauce as you are building the tower. Chill the tower for 10 minutes. Place Maltesers in a bowl lightly coat with spray oil, in a separate bowl add some glitter and then evenly coat Maltesers. Next decorate the profiterole tower and then serve the dessert.
Instagram: @lucie_bennett