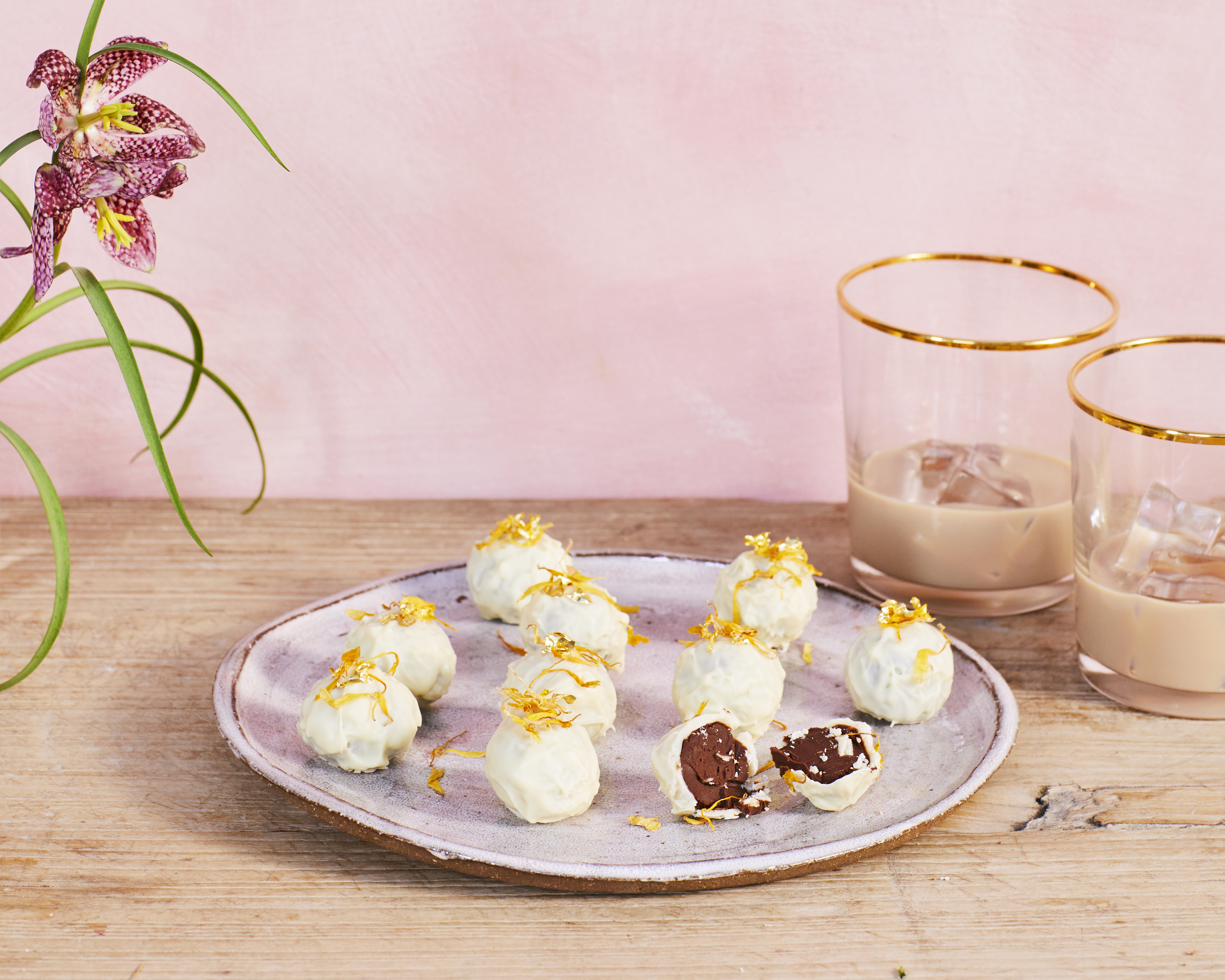 Award-winning Pâtissier & Chocolatier, Lucie Bennett has teamed up with Bailey's to create the most indulgent ganache truffles. Try your hand at making these delicious and delectable truffles with the recipe below.
Makes 30-35 truffles
1 hour + 3-4 hours setting time for ganache
Ingredients
200g Double cream
200g 70% Dark chocolate
25g Butter (room temperature)
65g Baileys Original [1 unit]
300g White chocolate
Edible flowers such as dried marigolds
Gold leaf or edible gold glitter
Method
Finely chop the dark chocolate with a serrated knife and place in a bowl.
In a saucepan, bring the cream to the boil, pour over the chocolate, add in the butter and stir until completely melted.
Once the ganache has cooled but is still liquid, stir in the Baileys Original.
Cover the bowl and allow to set in a cool place for 3 – 4 hours.
Line a baking tray with a piece of baking parchment.
With a teaspoon, scoop 30 – 35 equal pieces of ganache and place them on to the tray.
Between the palms of your hands roll each piece of ganache into a ball.
Refrigerate the truffles and allow to set for half an hour.
Finely chop the white chocolate.
In a medium stainless steel bowl melt two-thirds of the chocolate over a saucepan of barely simmering water.
Once the chocolate has melted take off the heat and add the remaining third.
Cover a baking tray with greaseproof paper.
Once the chocolate has melted start dipping the truffles.
Using a fork dip the truffle in the chocolate, tapping off the excess and place on the tray.
Dip a few truffles at a time, then decorate otherwise the gold and flower petals will not stick.
Before the chocolate sets using a cocktail stick place a piece of gold leaf or dust over a little edible gold glitter followed by a few petals.
Truffles can be kept for 7 days in an airtight container, stored in a cool dry place.
Top Tips – If the white chocolate gets too thick when dipping, warm a little so it becomes fluid again.
Instagram: @lucie_bennett