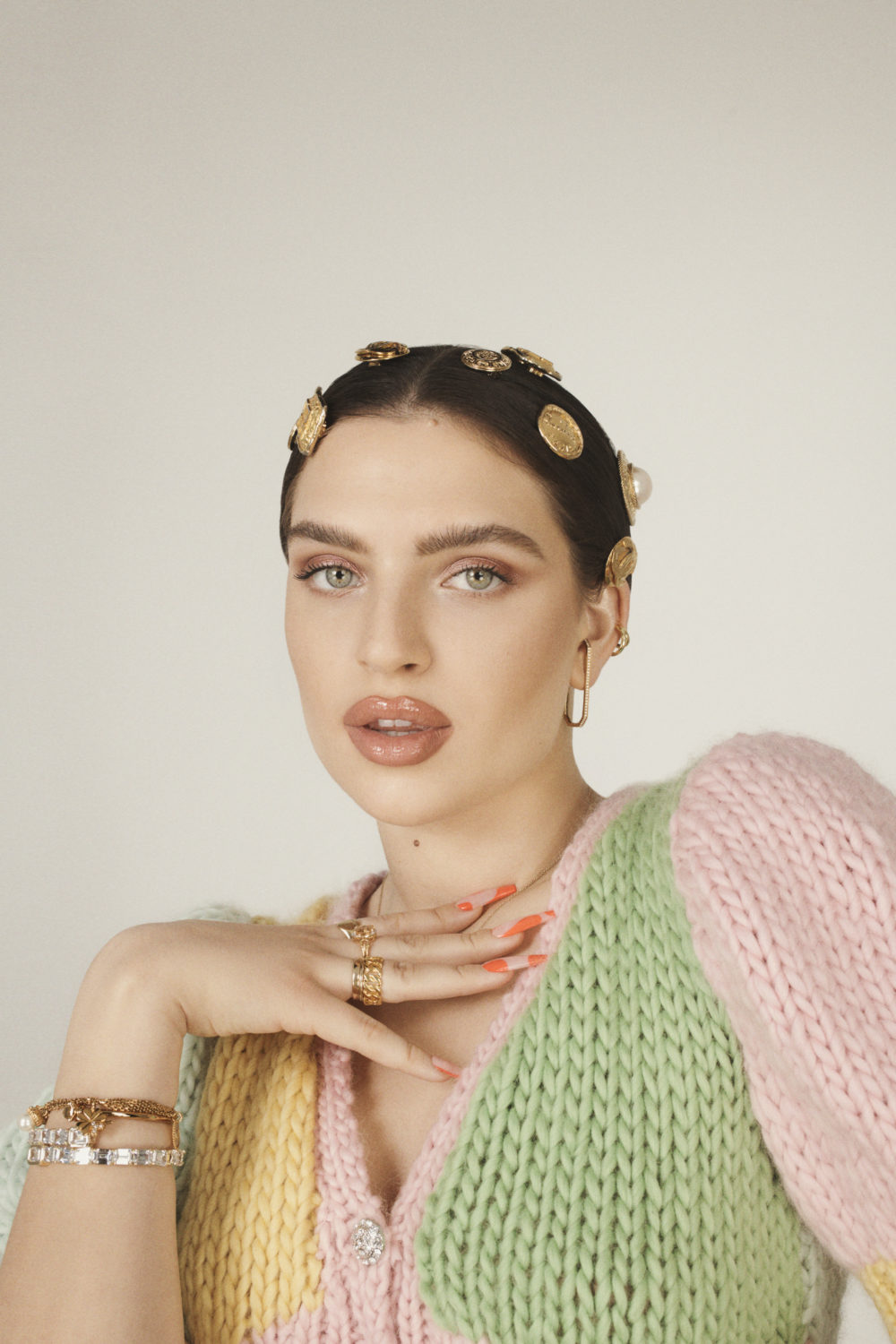 The past 12 months have been a blur of setbacks out of everyone's control, changing life as we knew it and impacting the music industry from the outset. Artists like Mae Muller have set their sights on bringing new music to their fans once again. Despite the pause on life, this London-born songstress has been paving her way, one powerhouse anthem at a time.
In case you hadn't noticed, Mae Muller is fast becoming a force to be reckoned with. From being fresh off supporting LM5: The Tour with Little Mix, Mae's popularity was set to soar before the pandemic hit.
Setting up to chat on Zoom, Mae stops to put her gold hoops in before we get talking. She exclaims: "Hang on, let me just mute all my group chats too." As we open up about adjusting to lockdown, Mae who has been working from home like many of us have, informs me that she has written a chorus for a new song. "It took us like five hours. Sometimes it doesn't just flow and that's completely fine. Usually I would try and at least get the verse and pre-chorus. If we have been there for the whole day, we will leave the second verse. I like to get a whole song. Whether that song is good or not, that's another story."
As lockdown made it almost impossible to work in the studio, Mae admitted, "I think now that although we all hate social media in a way, lockdown has shown us that without it, it would have been way more difficult to connect. So I try to communicate with my fanbase as much as I can on there. Just trying to keep the conversation going I guess."
She added: "I've also been getting used to Zoom sessions which I despised in the beginning. It's literally taken me this long, a year into it to be like, 'Do you know what, this is here to stay for a little bit.' You have to get over it and just do it."
Mae's determination to keep her creative juices flowing over video calls during lockdown led to adjusting her recording process. She explained: "We are not in the same room together, so it's really hard to be creative. Once you actually get into it, it can be done. Of course it's never going to be as good as being in the room. But as long as you're working with people that you like, it's always going to work out."
She continued, "Sometimes what I like to do is mute myself and get into a little zone and get some ideas going. Then I will come back and show the group what I have come up with and I will play around with lots of ideas. At the end of the session, I will get my phone out and just record a vocal on my phone and send that over to them so they have a vocal they can use. Even though it's very DIY, I will go and record on my mic here, which is not the most high tech."
She describes how picking up her Aunt's ukulele really helped her write new music as not playing an instrument and not being a producer made it hard to write her own music from home.
She said passionately, "It's been so great! It's been a really great release, if I have been feeling irritated or down. I just get my ukulele and try to get my feelings out."
Whilst Mae has been using her home set up to continue on the making of her album, she recalled her experience having to direct and film her very first music video from home last year. "I filmed I Don't Want Your Money on my phone. I got a call from my label and they said 'We are going to have to figure this out. You're going to have to shoot a video.' This was when the world was really locked down. Nowhere was open, nothing. I had a bit of a panic attack, I was like I can't do it!"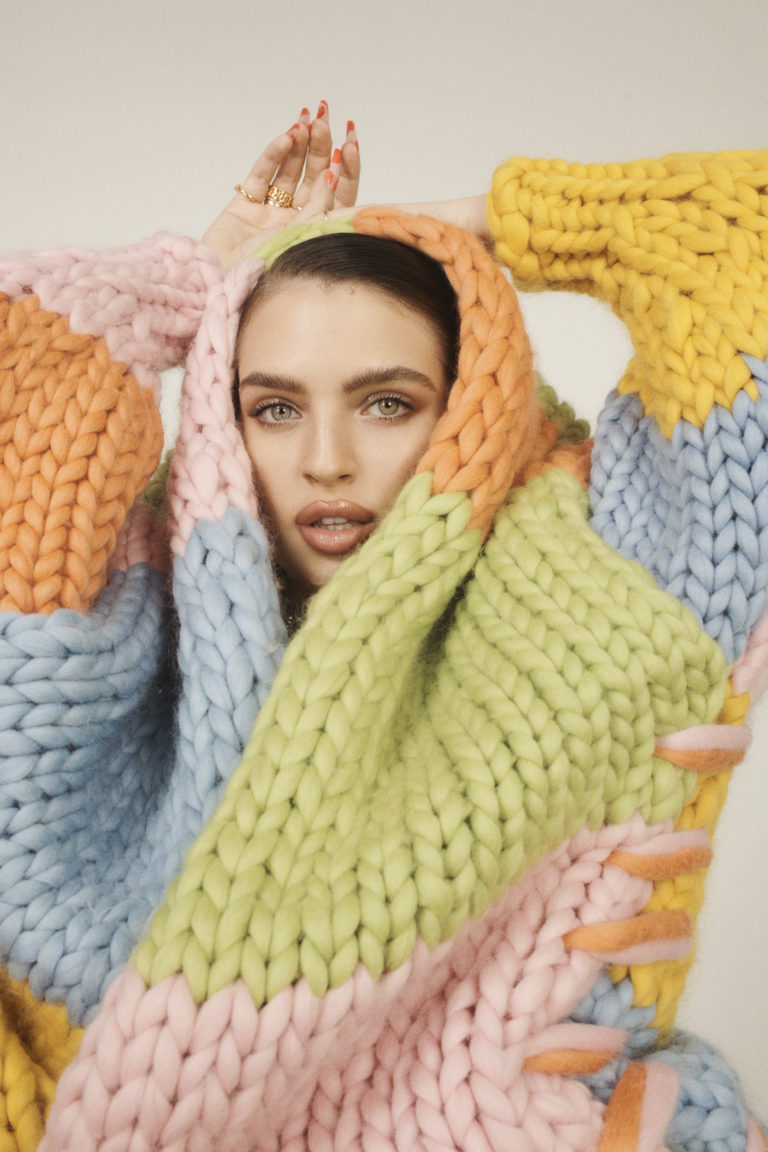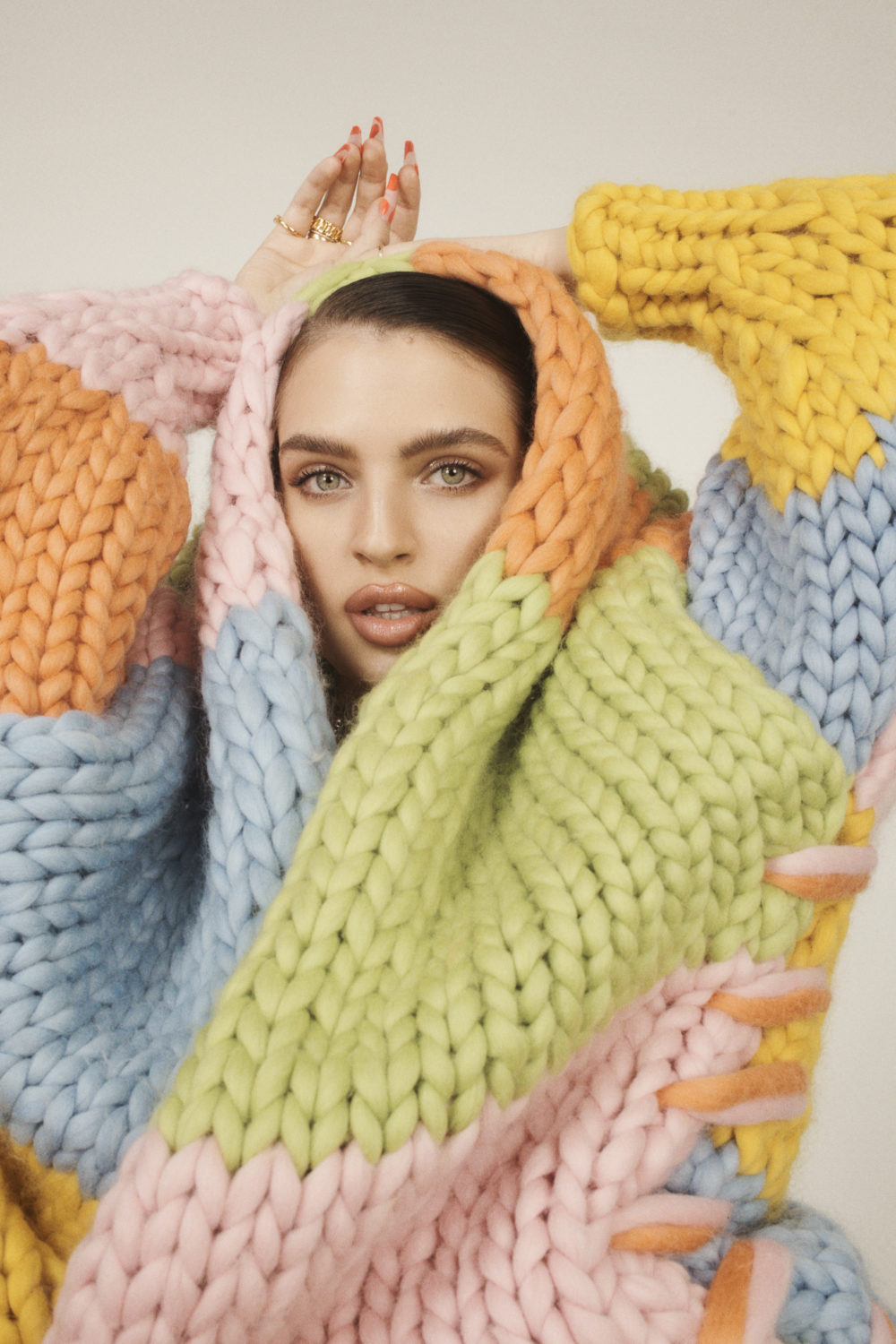 She added jokingly, "The thing about me, I am always going to have a breakdown. I am always going to be feeling like I can't do this. At that time, I had an iPhone 8 with a cracked screen and camera. I had this awful camera. I was thinking what am I going to do. So I just ordered a new phone and did it. Luckily the room that I was staying in at my Dad's, had this perfect green wall which was ideal for becoming a green screen. So we worked it out like that. It actually turned out really cute and it was fun to do. It is always the thought of something that is the worst bit. Once you do it you're like, 'Ahh OK that wasn't so bad'. I definitely didn't think I would be shooting my own video."
With the intention to write music to deal with her own experiences, Mae admitted that she initially set out to make music for herself. She explained candidly, "If I'm being honest, I wasn't thinking about anybody else. It's hard to think like that, when you haven't experienced it yet. So I was writing from the heart. The second that I heard stories where people were reaching out to me and telling me that my music helped them, or that they had been playing my music when they were going through a breakup, that's when it really clicked. This was not just about me, this was about so many more people."
She explained, "It wasn't even like I was going to make a decision that all my songs were going to be anthems for women. It just urged me more to write about what I was writing about and not be afraid of using my voice to do that. It does connect me with other people and it's now a big reason why I do it."
Mae's feisty and strong storytelling lyrics have brought together women dealing with all kinds of issues, from situationships to relationship breakups and heartache. With so many sassy songs in her growing discography, there was a certain level of intrigue as to who these songs could be about. Prodding her to reveal her sources of inspiration, she smiled knowingly, "Sometimes it's about one guy and I have realised they have actually really upset me. Instead of writing a sad song, I take that pain and turn it into something quite sassy. It makes me feel better. There are a few songs that are directed at one person and there are some songs where I take a situation and I generalise it a bit. It just depends. It's a mixture of both."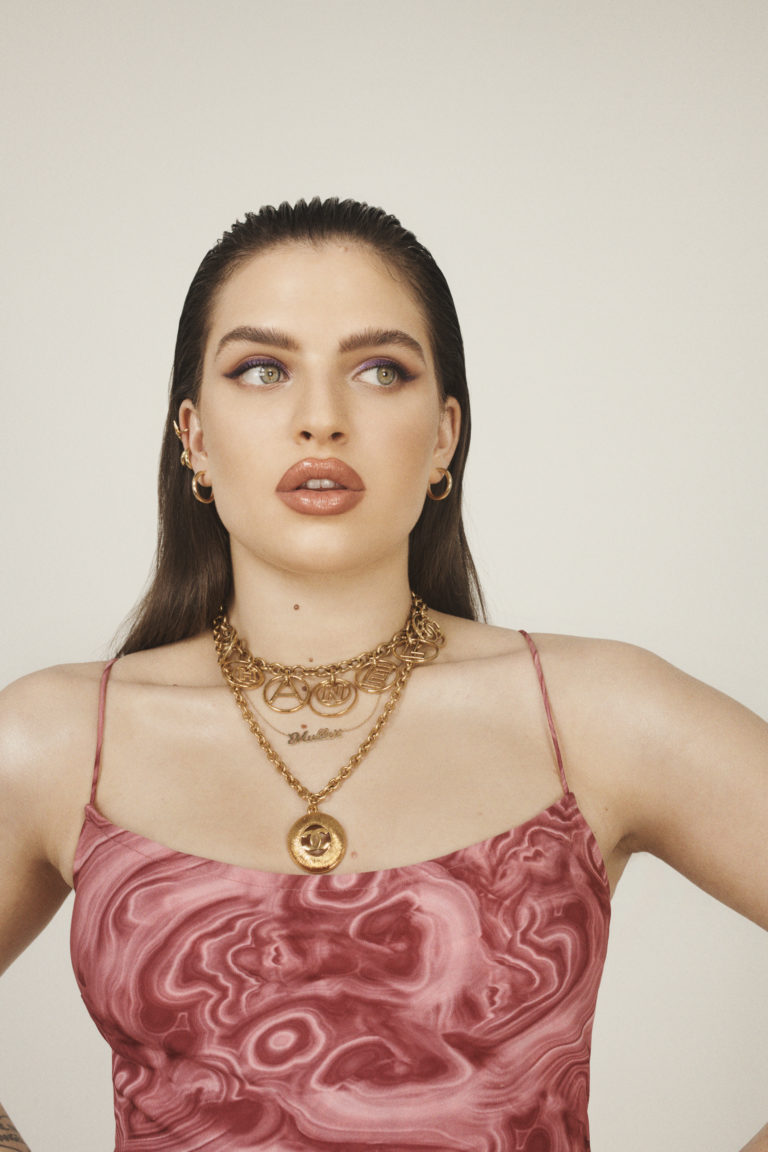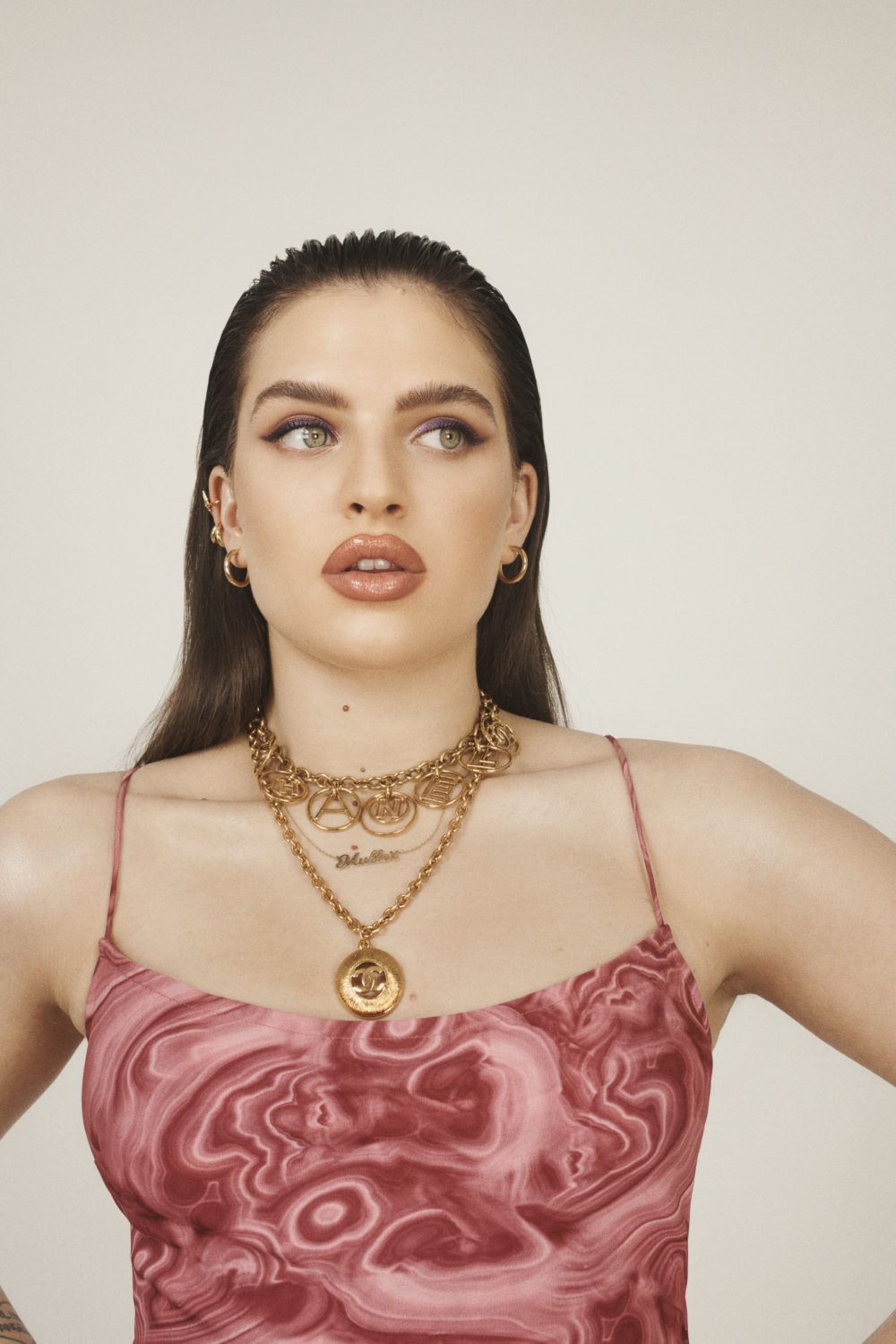 Jokingly admitting to requiring Mae's 2019 hit Dick as a song of choice to deal with my own boy dilemmas, she excitedly bursts, "I knew you were going to say that. I knew you were going to say Dick and I love that."
She continued, "It's so funny with that song, I wrote it with Jimmy Napes. It was just me and Jimmy in the room with this beat. It has an early 2000s vibe and he had a very basic idea about a melody. All he kept singing was "Now I'm done, done, done, done done." I was thinking that could be cool, so I sat and wrote the whole song. I said, Well Done is now Dick and he was like 'Wow OK'.
She recollected, "I don't know where it came from, but it was one of those things where I was noticing that all my friends were having the same horrific stories about what they're going through. At that time I was quite at peace with my life, which was quite funny. Obviously everyone has horror stories. But I kept thinking no this is rubbish for them. In that moment I just wanted to write and make this the anthem for when someone has actually done you so wrong and you can just be like that is your response to the situation. It's kind of funny performing it live as well, having a thousand people screaming the lyrics in your face."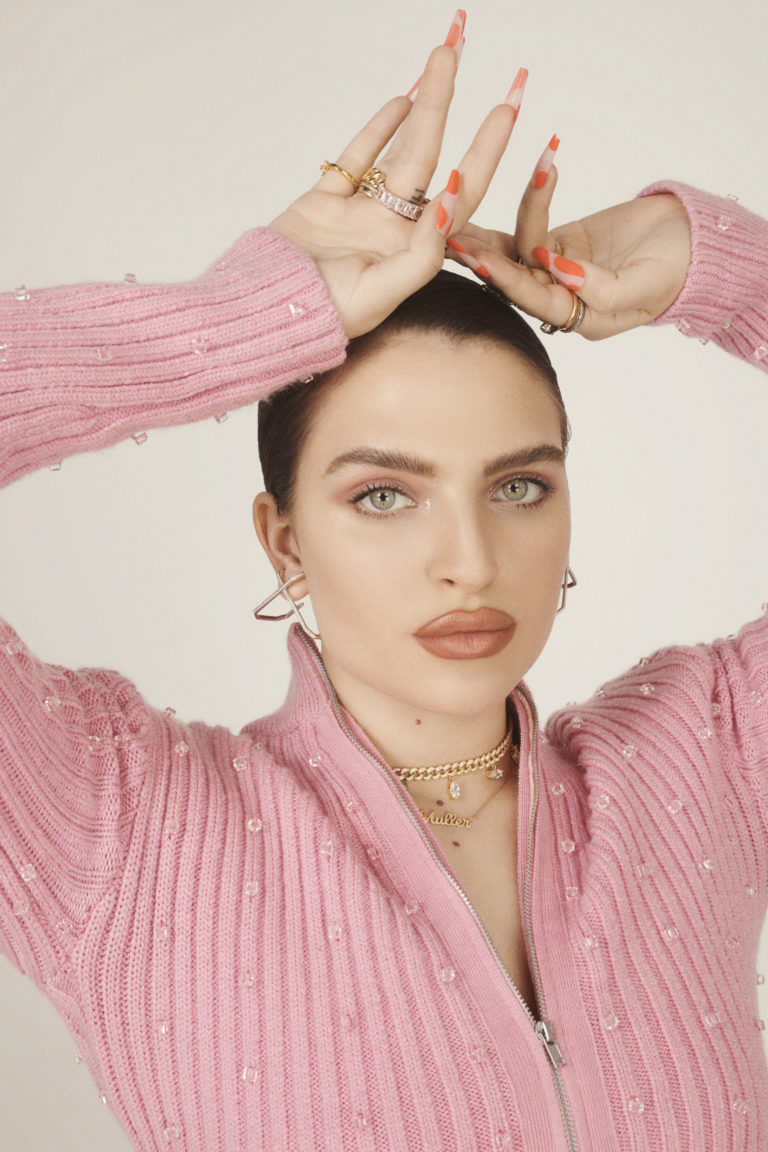 Whilst she won't go into detail about who she has lined up for features and collaborations, Mae reassures me that lots of new music is coming. "Well I have some very exciting features happening." She zips her mouth closed and winks, "But my lips are sealed baby!"
"I would also love to have another anthem with a girl, where we are responding to each other. I love the idea of collaborating with Doja Cat. I think she is so cool, so doing something with her would be sick. I also think Maisie Peters. I am putting that out into the world because I know Maisie and I know she is such an amazing songwriter. You can tell that is her core thing. That's what I really care about as well. I think we would write such a banger together. That could either go one of two ways, it could go really sad or really bad bitch. Maybe we could combine and make a really sad bad bitch banger."
Although touring may have to wait a little while longer, Mae reveals she is hoping to tour, but is currently deciding on when. "It will either be late this year or early 2022. But that is in the works. For now it's just more music, more having fun with it again and just getting creative."
"I have really missed performing and going to gigs. I was watching the Billie Eilish documentary. You need to watch it. I cried the whole way through. You see a lot of footage that is based around her performance. It just made me miss it so much. Just seeing clips from gigs, I think 'wow, what a privilege that was just to go and watch a gig.'"
You can stream Mae Muller's latest EP No One Else Not Even You now on Spotify and Apple Music.
Photographer
Arved Colin-Smith
Retoucher
Natalya Tran
Stylist
Jennifer Michalski-Bray
Stylist Assistant
Kayleigh Dennis
Make-Up Artist
Lan Nguyen-Grealis at Eighteen Management using Christian Loubilooks Collection and Les Yeux Noirs Lash Amplifying Lacquer.
Hair Stylist
Luke Benson using Loreal Professional