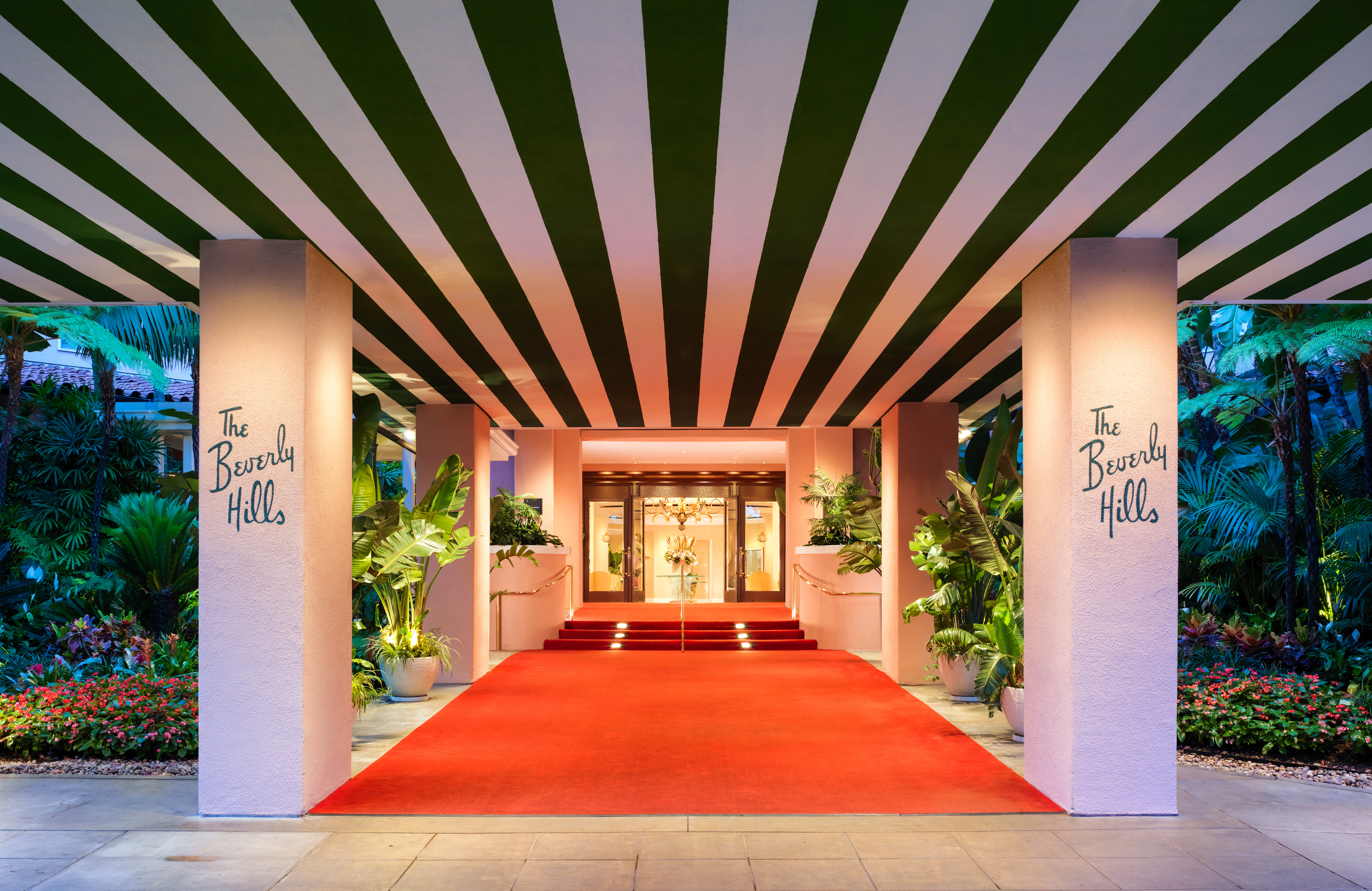 A hotel is only as good as its reputation; in that case, The Beverly Hills Hotel and Hotel Bel-Air are unrivalled. Each hotel has become a Los Angeles institution that has outshone and outlived its most elite guests over decades. We spent a night at each to see what it takes to achieve longevity in Los Angeles.
The Beverly Hills Hotel was opened on the 12th May 1912, long before there was a city called Beverly Hills. It was owned by developer Burton Green and he named it after Beverly Farms, his home in Massachusetts. By 1914, the surrounding area had attracted enough residents to incorporate it as a city and Beverly Hills was born. Over a century later,  it is still the place to see and be seen.
With its majestic turrets and candyfloss-coloured façade, the hotel is affectionately referred to as the 'Pink Palace'. The nickname also refers to its clientele, which are both actual and Hollywood royalty. From silver screen stars, including Audrey Hepburn, Charlie Chaplin and Marilyn Monroe to more recently, Rihanna, Angelina Jolie and Harry Styles.
If only these majestic pink walls could talk. The Beverly Hills Hotel's glittering history is the stuff of legends. Frank Sinatra, Dean Martin, Sammy Davis Jr. and the rest of the infamous Rat Pack could often be found indulging in debaucherous drinking sessions.
During his campaign to become president of the United States in 1960, John F. Kennedy entertained a number of pretty young things at the hotel without his wife Jackie Onassis' knowledge. John Lennon and Yoko Ono escaped from the prying eyes of the outside world, by spending an entire week in bed in one of the hotel's bungalows.
Elizabeth Taylor made it a tradition to bring her infamous husbands to the hotel, over the years she brought six of her eight husbands. In 1964, Elizabeth Taylor and Richard Burton honeymooned at The Beverly Hills Hotel. They were regular guests and always preferred to stay in bungalow no.5. It is said that during their honeymoon, they had a standing room-service order, which included two bottles of vodka with breakfast, and another two with lunch.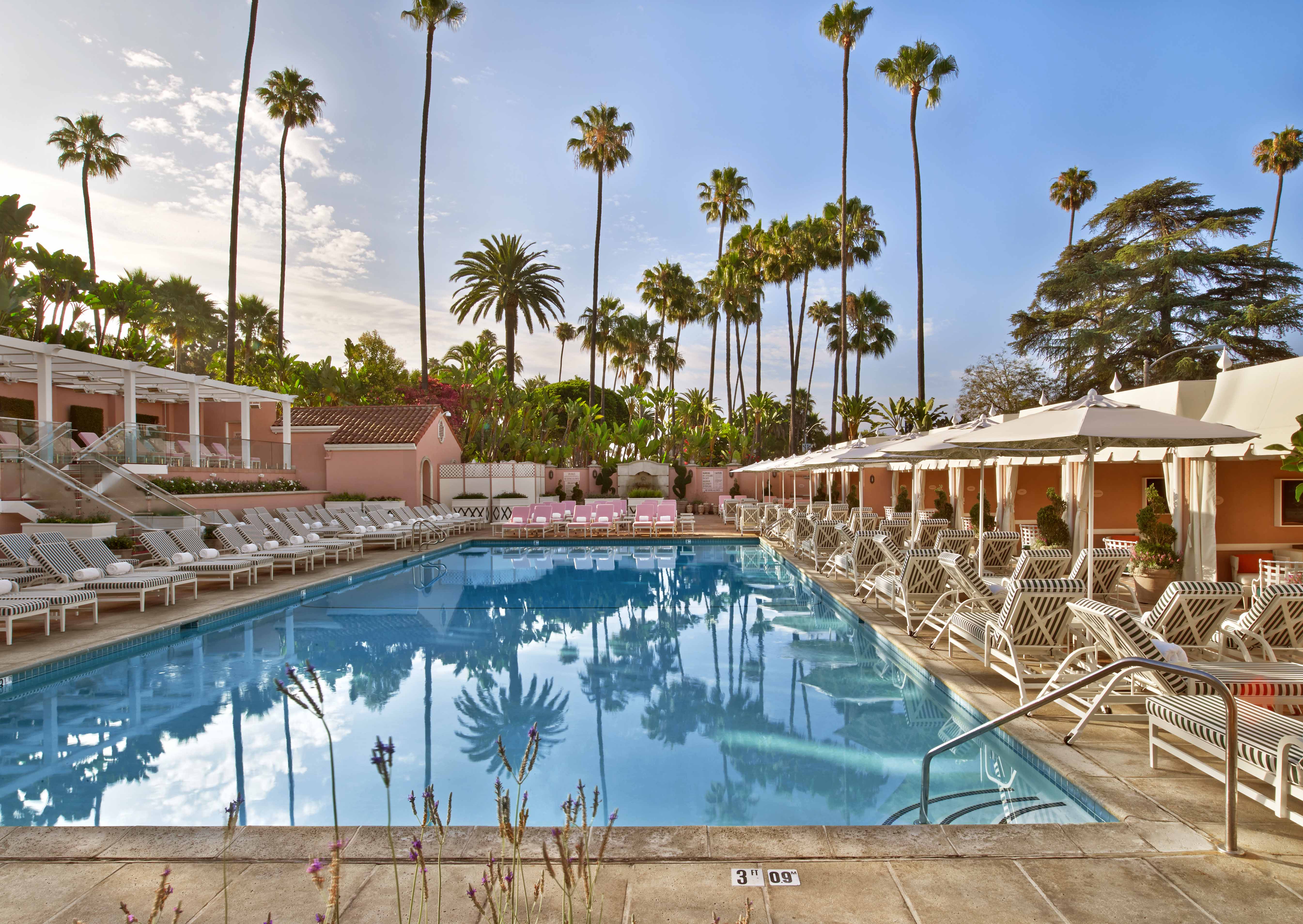 Palm trees, their leaves touching the pink-streaked evening sky, flanked the iconic winding drive. I pulled up at the foot of the hotel's red carpet and six valets in pink polo shirts surrounded the car. They welcomed me warmly to the hotel and discreetly whisked my luggage away.
The lobby was decorated in a palette of creams and a fireplace roared in the corner. The centrepiece was a vast vase of pink flowers, its mesmerising fragrance filling the air. A young couple were sat in the gilt framed powder pink armchairs, lost in conversation. On another armchair sat a lithe woman, a mobile phone pressed to her ear, her eyes hidden behind large black sunglasses, it was none other than Nicole Ritchie.
Check-in was swift and I was efficiently shown to my room. The room was located at the end of a long pink corridor; its walls decorated with the hotel's signature green banana leaf print.
As the door to my Premier Guestroom swung open, I couldn't help but sigh in awe. It was vast, offering almost 700 sq. ft. of luxury. It was decorated in a palette of predominantly caramel and pink. There were signature touches around the room, from the branded water bottles and freshly baked cookies on the bedside table, to the iconic hotel logo stitched elegantly on the duvet of the King-size bed.
The bathroom was a candyfloss dream, decorated in a whimsical pink and marble. It featured double vanity sinks, a decadent pink-tiled walk-in shower and a bathtub. There was also a television located discreetly in the gilt mirror and a separate toilet that greeted me by automatically raising its seat.
After a deep sleep, jet lag got the better of me, I woke at 5.55am. I rose from the mass of silky soft white sheets and padded across the luxurious caramel carpet towards the window. I pulled back the curtains and was met with the most spectacular sunrise.
The sky was a deep rose but parts were tinged with gold from the slowly rising sun. I caught a glimpse of the Los Angeles skyline standing proudly behind a sea of palm trees. What a way to start the day.
En route to the Polo Lounge for breakfast, I detoured and wandered through the hotels 12 acres of lush, tropical gardens. Exotic flowers lined the brick path in a rainbow of colours.
I paid the iconic palm-tree lined pool a visit. I sat on the edge of the swimming pool, which recently underwent a multi-million dollar makeover. This was the pool that Katharine Hepburn leapt in, fully clothed and Fred Astaire danced around. I slipped my toes into the cool azure waters that The Beatles would sneak into for midnight swims in the 1960s.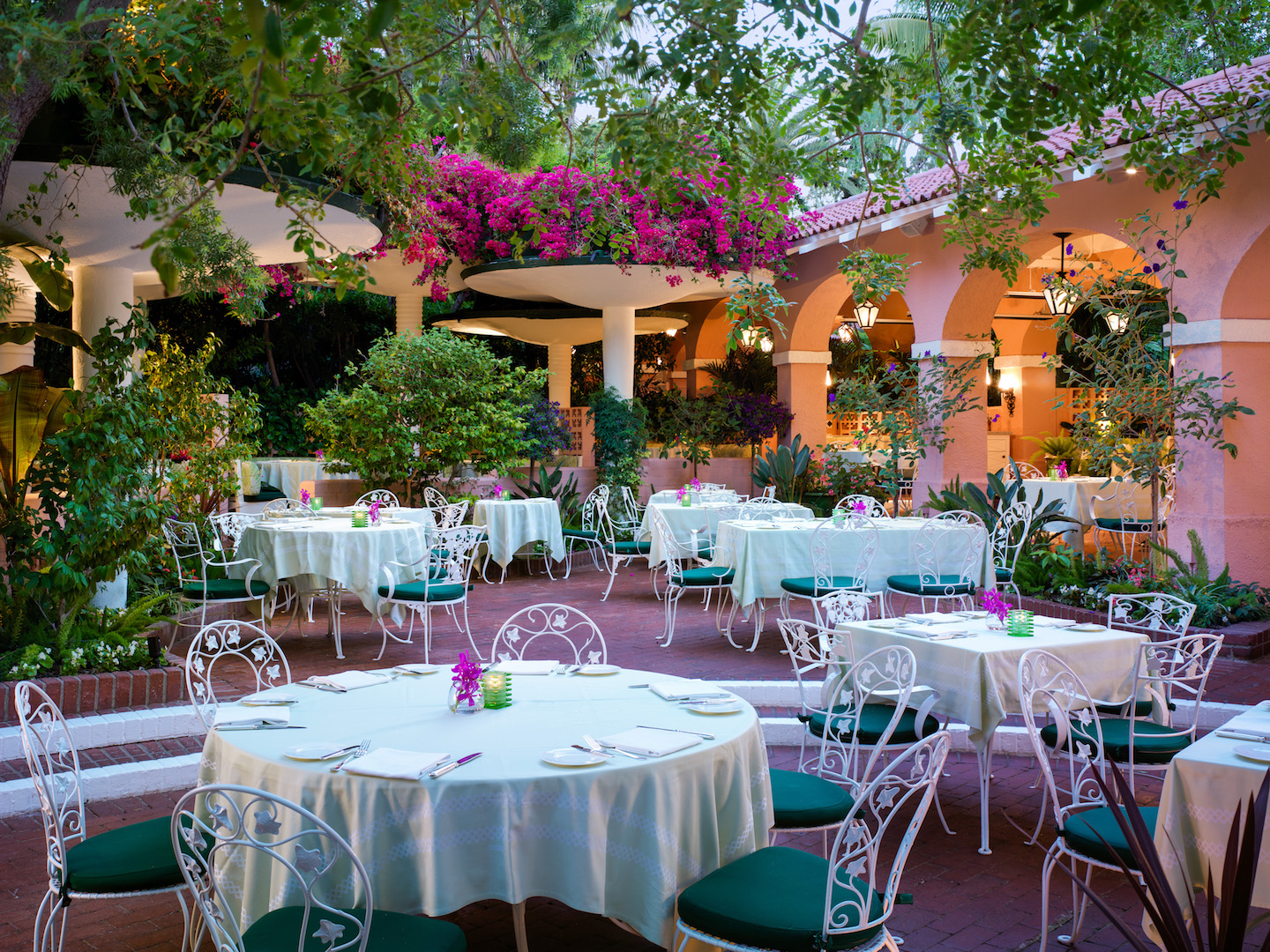 Nowhere in the world, does breakfast quite like The Polo Lounge. It is reminiscent of a scene from 'A Midsummer Nights Dream'. In this opulent secret garden, in the heart of Beverly Hills, there are dozens of intimate tables, draped in white cloths and white metal chairs with intricate detailing.
Every table is decorated with a centrepiece of exotic pink flowers and the enchanting tree that oversees all, twinkles with hundreds of golden fairy lights.
I was seated in a discreet booth and was immediately approached by two friendly waiters, dressed head-to-toe in white. I placed my order and looked around at my fellow diners. There was a man dressed in a china blue suit, laughing into his phone as he discussed a new film that had finally been given the green-light. Then there were two young blond ladies, sipping kale smoothies, their bronzed bare legs entwined with Chanel shopping bags.
My breakfast arrived quickly and as usual, it did not disappoint. There was freshly squeezed orange juice and a strawberry, banana and honey yoghurt smoothie. To eat, I had ordered the 'Deal Maker' breakfast, a decadent feast of three poached eggs, three silver dollar pancakes with vanilla butter and dark Vermont maple syrup, sausage and hash browns, accompanied by a mountain of fresh glistening berries.
Diane von Furstenberg once said of the best hotels, "You want it to be grand, functional and beautiful." The Beverly Hills Hotel is all of this and more. For over 100 years, it has encapsulated the breathtaking romance of its history and the undeniable elegance and glamour of its city. It is the Queen of Beverly Hills, long may she reign.
The Beverly Hills Hotel
9641 Sunset Blvd, Beverly Hills, CA 90210