We had an inkling that this may, in fact, be the dreamiest, swoon-worthy stay of our lives but until you arrive and are taken on a tour of the 16th Century Venetian palazzo, there is no comprehending quite how taken back you'll be.
Located in San Polo in amongst local markets and of course numerous churches is the sprawling 24 bedroom Aman Venice. Every element of this palatial property takes you right out of the twentieth century and into an era of utter opulence. The Coccina family of Bergamo originally commissioned architect Giacomo Di Grigi to build ChicagoBearsSite the palace back in the 16th Century. It was then later bought by the Papadopoli family who went on to acquire the adjoining buildings which also means the hotel has an incredible central garden facing out onto the Grand Canal which is one of the city's rarest and most vast private gardens.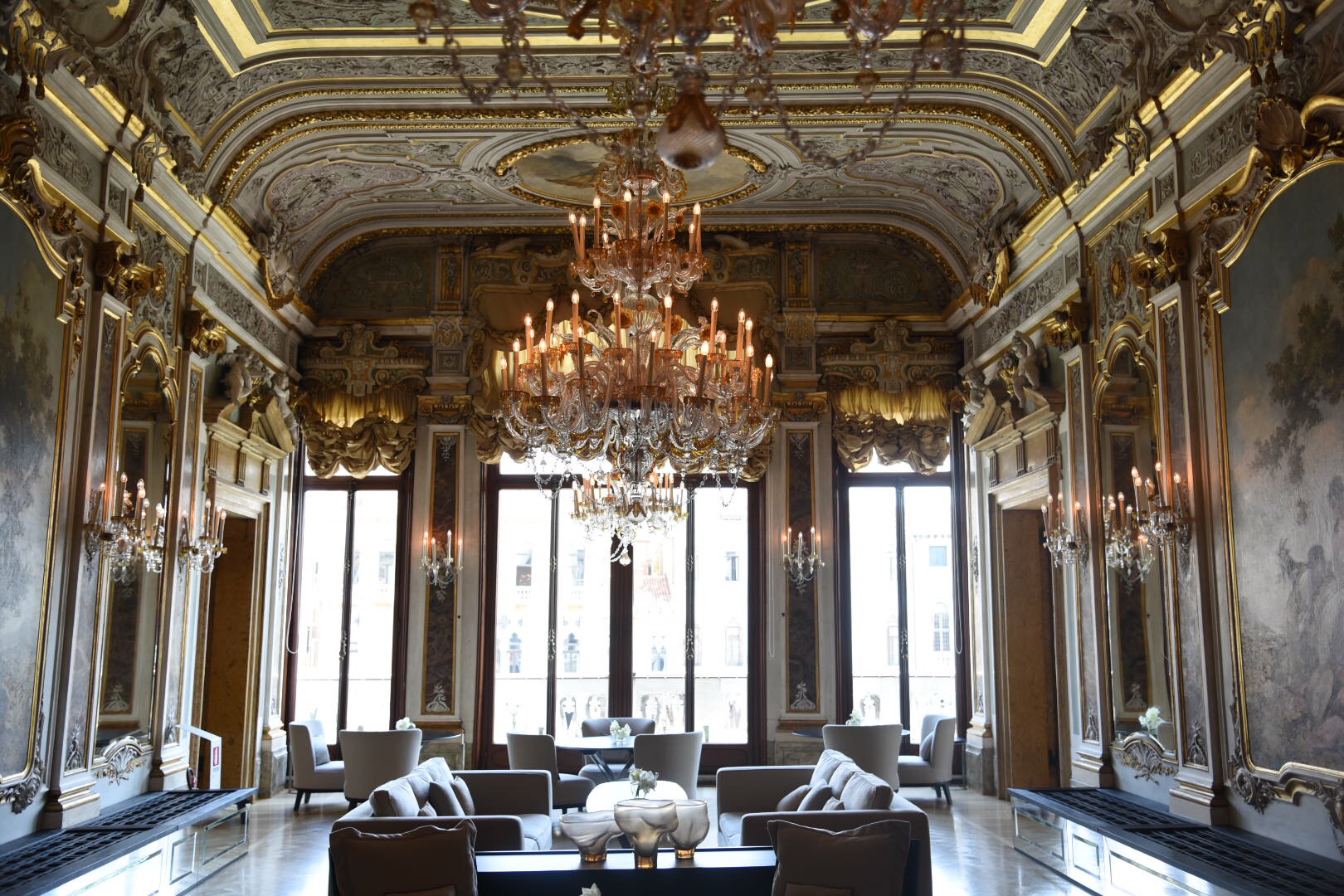 We happily also learnt that the previous owners still reside on the top floor of the palace, two generations of them in fact. The once a privately owned enormous residence now lends itself to boutique, luxurious living where you're encouraged to treat the palace as if it were your own. I for one wasn't going to pass on the opportunity to do this! Whilst staying you'll be greeted by every staff member by name. The hospitality, generosity and care taken by all staff amounted in what we can only describe as an utterly incredible experience and I haven't even got to the food yet! I should also note that despite so many original features this really only extends to the building itself.  The furnishings offer ultimate luxury via modern textiles and fittings. Minimalist and sleek in design with the focus very much on comfort and modernity. It makes for the ideal visual juxtaposition.
When it comes to dining at the Aman, there's a genuine possibility that you could find yourself private dining in one of the many places on offer to eat. We were ushered to the best seats in the house, a central spot that overlooks the Grand Canal via wall to ceiling windows whilst behind you sits the symmetry and grandeur of the original ballroom. The detailed landscapes of golds, blues and yellows are intercepted with large Merino glass chandeliers. This room is a sight to behold. Service here I should note is absolutely on point. Not too fussy, not overbearing, friendly, genuine and just kind in essence.
Our excitement to dine here was compounded on flicking through the Michelin-Star chef Davide Oldani's recipe book (strategically placed in our room), famous for his saffron risotto amongst a zillion other enticing dishes. He now mentors the Aman kitchen which Executive chef Akio Fujita now runs. As expected an assortment of freshly baked breads arrives alongside some the richest Balsamic straight out of Modena and olive oil that left unwatched you'd glug straight from the bottle.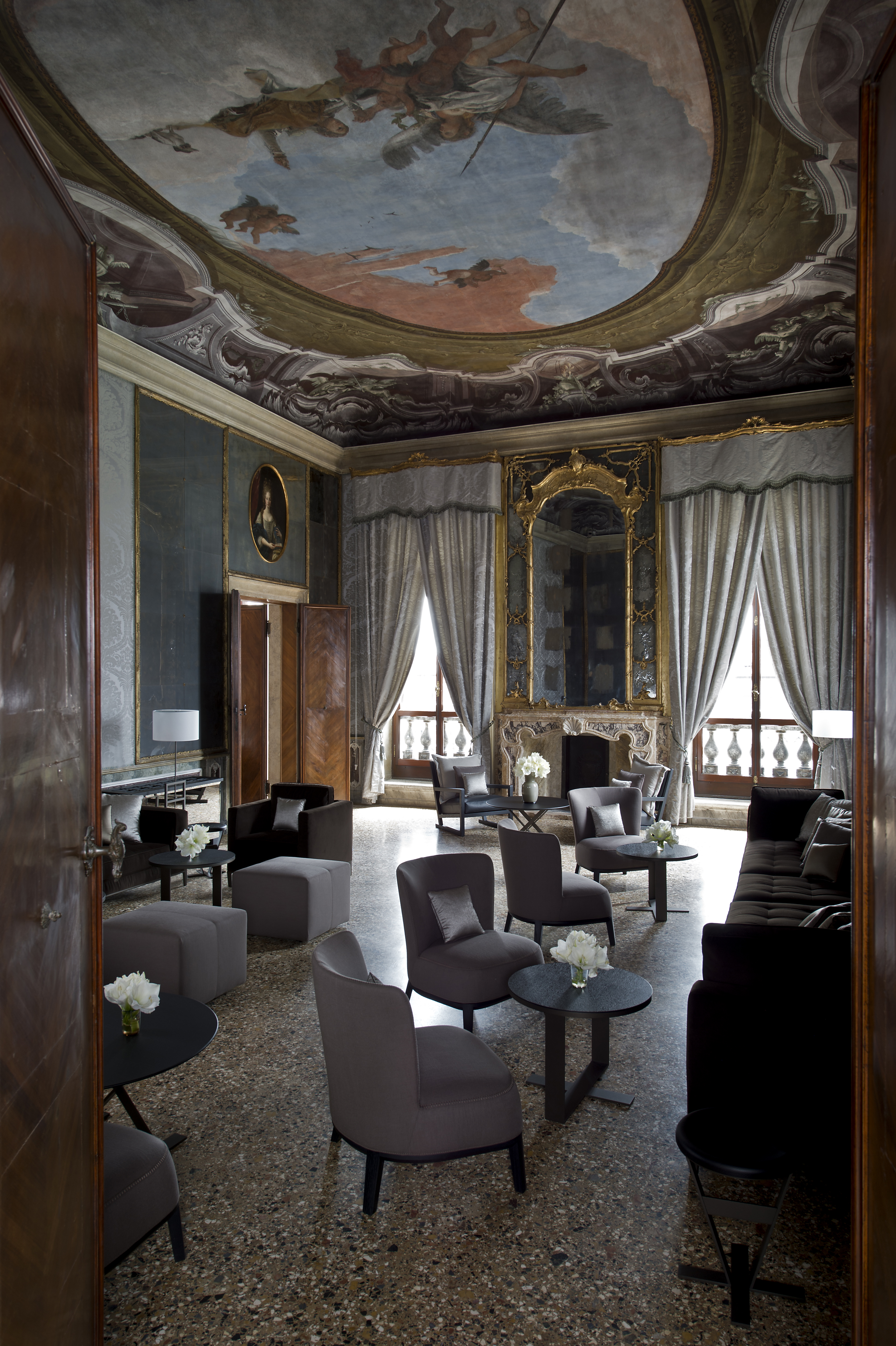 The waitress kindly pushed me towards ordering the Venetian cod; fish stuffed pumpkin flowers of which I had to order a second portion. The Vegetarian got stuck into an Antipasti of raw veg with whipped horseradish (which I got stuck into also). Next up we shared Grilled vegetables & Stracciatella which also came with a rocket sauce, simplistic but entirely delicious and we scraped the plate clean. Next up after a long enough break The Vegetarian opted for the infamous Zafferano e riso, the saffron risotto I'd previously spotted and true to form this was an elegantly constructed dish, combining savoury with a touch of sweet. Not ordinarily the hugest fan of risotto The Vegetarian finished off our bread basket mopping up every last bit. For me the decision was harder, torn between Spaghetti con vongole veraci e bottarga and the Gnocchi di patate, porcini e mazzancolle, I settled on the later, acknowledging my recent pasta overload. As expected the gnocchi was of course the smoothest, lightest I'd ever tasted. The prawns and mushrooms were the icing on the cake for this delicate, rich dish along with the fresh, floral oregano.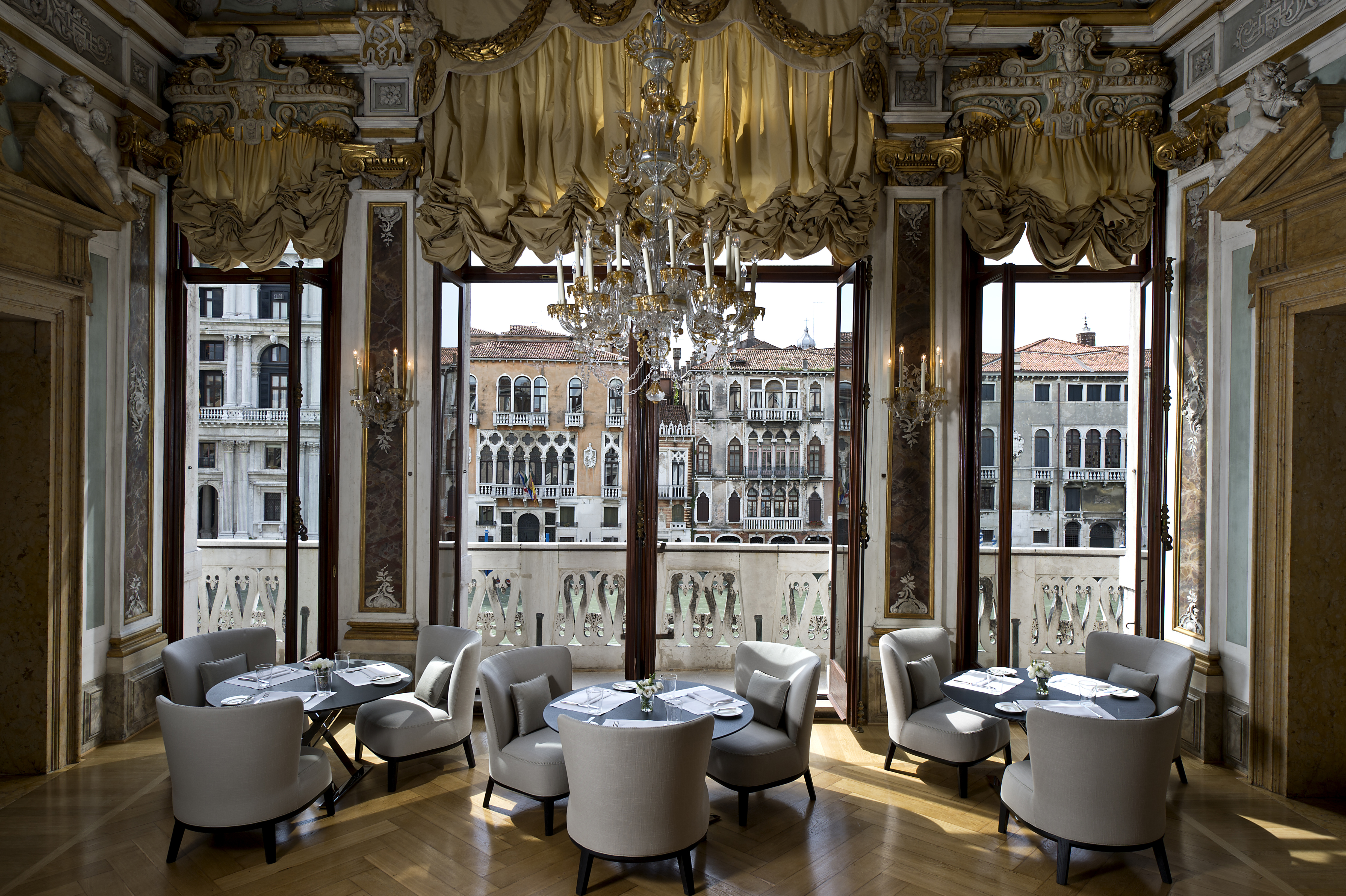 We weren't going to order dessert, (see details on bread basket), but after much persuasion (a small nudge) again from the staff we had no choice. Their renowned white tiramisu dish was as promised the ultimate option to finish on. Of course there was still espresso and petit fours but they don't count!
In short intervals we ventured out. One morning rising early to beat the crowds at the local fish market and another just to have an early breakfast in the garden ahead of meandering over to the Peggy Guggenheim museum. The Aman was the perfect retreat away from the hustle a bustle of Venice. I will say that if staying here is beyond your budget then splurge on afternoon tea, lunch, dinner or even just a glass of local Prosecco so not to miss out on wandering through the maze-like museum steeped in endless gilded architectural craftsmanship. The ceilings alone will leave you in awe. There is no room unworthy of exploring.
Overall I'd move in tomorrow as would The Vegetarian. We learn only after leaving that George Clooney got married here…and then it all made sense. Here's to holidaying like Clooney.
Follow Anna Barnett on Twitter: @AnnaBarnettCook
Follow Anna Barnett on Instagram:  @AnnaBarnettCooks
Aman
Calle Tiepolo, 1364, 30125 Sestiere San Polo, Venezia VE