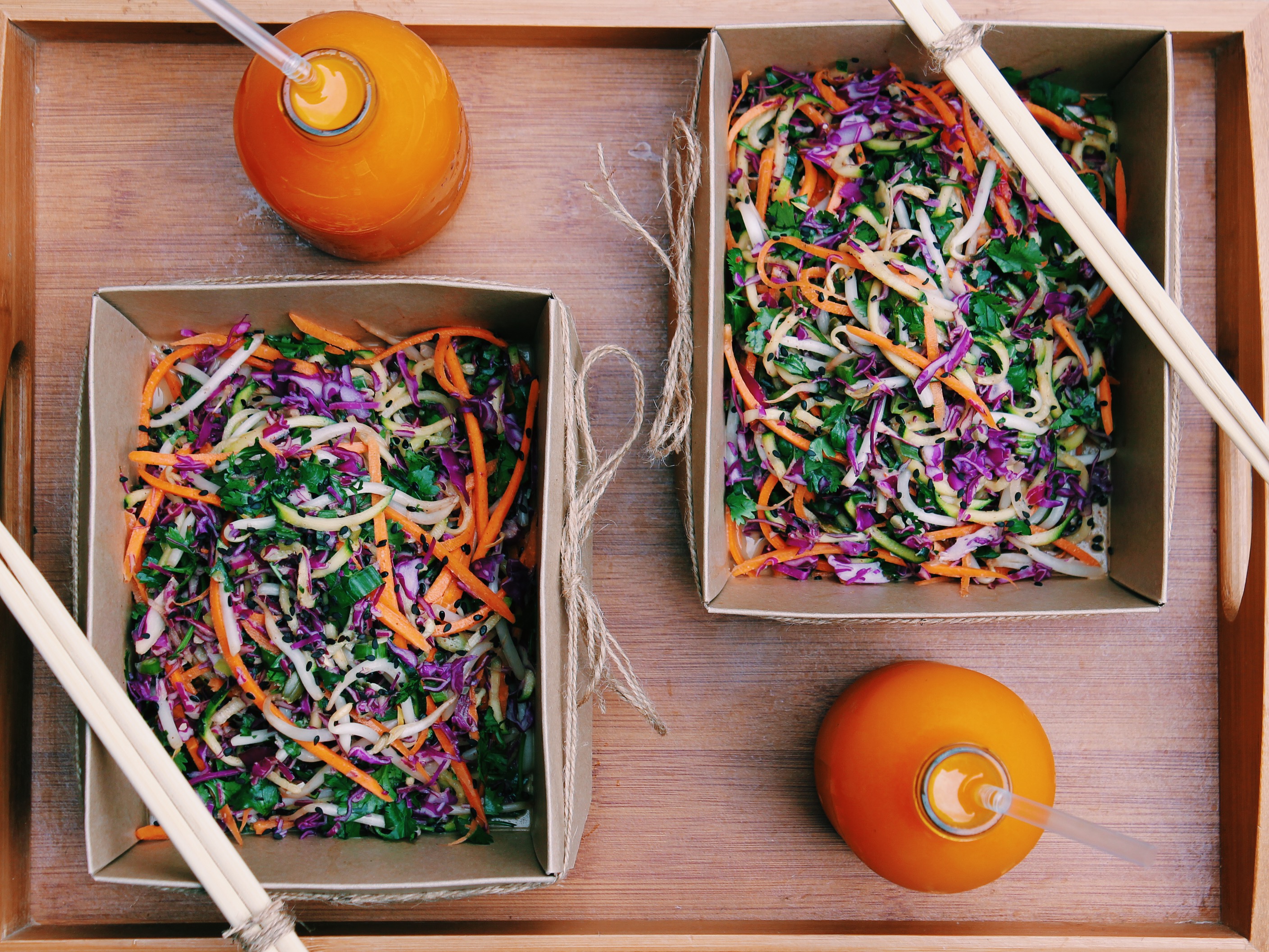 This article was originally featured in Issue 01 of Arcadia magazine. Buy the magazine here.
Mica Francis-Angel is Head Chef at Nectar Café in Camden, London. She is a pioneer of the raw food movement and is famed for her nutrient-rich meals, including; plant-rich foods, herbal extracts and bio-dynamically grown ingredients.
Lunch: Rainbow Pad Thai with Coconut Almond Butter 
A colourful, raw, vegan pad thai with a twist. A healthy lunch time treat that's deliciously creamy and nutty.
Ingredients:
(Serves 4)
5 – Carrots (medium)
3 – Zucchini (large)
200g – Beansprouts
½ – Red Cabbage (grated)
½ cup – Corriander (roughly chopped)
3tbsp – Black sesame seeds
4 – Green onions (finely sliced)
Coconut almond butter sauce:
½ cup – Almond Butter
4tbsp – Coconut Oil
2 – Limes (juice)
1tsp – Fresh ginger
2tbsp – Tamari
2tbsp – Toasted sesame oil
2tbsp – Mayple syrup
1/4 –  Red chilli pepper (medium)
Method:
1. Using a julienne peeler (or a mandoline, spiralizer or regular peeler), create noodles out of the zucchini and carrots.
2. In a large bowl, add your noodles to the grated red cabbage, beansprouts, sliced green onions, coriander and black sesame seeds
3. To make the coconut almond butter sauce, add all ingredients in to a blender and blend until smooth.
4. Add the sauce to your noodles and use your hands to carefully toss until all is evenly covered in dressing.
5. Serve with a sprinkle of sesames seeds, a couple slices of chilli and a wedge of lime.
Follow Mica Francis-Angel on Instagram: @Iwaspromiseddoughnuts