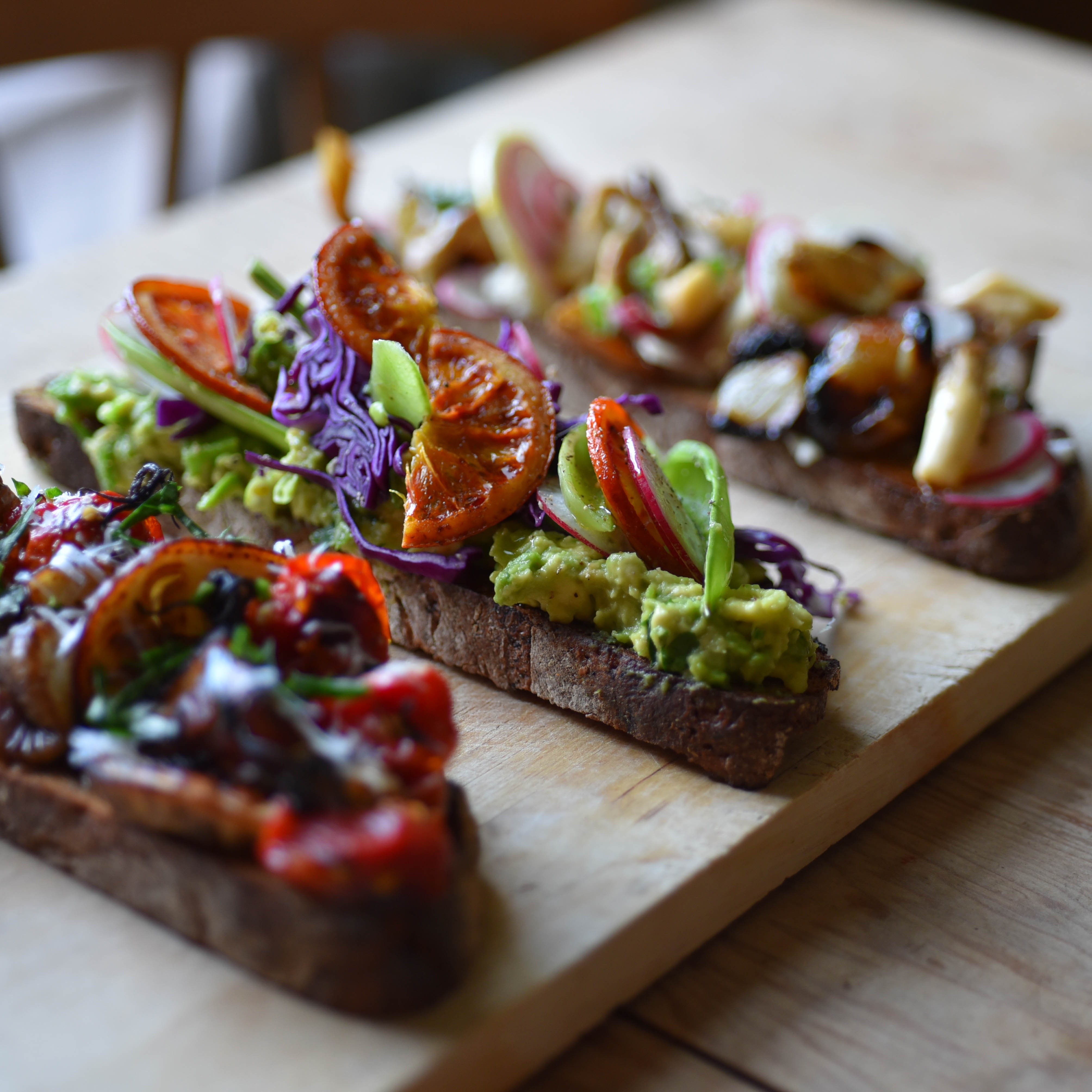 Whipping up a platter of homemade bruschetta is the perfect way to feed a crowd quickly and is an excellent way use up any bits of left over veg you have knocking around. Try slow roasting cherry tomatoes, aubergine and packing in a load of herbs or frying up some wild mushrooms and adding in some colour and crunch with fresh radishes and a generous layer of goats curd. The options really are endless! This is the perfect excuse to test out some new flavour combinations. My tip would be to always drizzle the sourdough with extra virgin olive oil and brush with fresh garlic to create the perfect base to any food combination.
For each recipe: 
Preparation Time 5 minutes
Cooking Time 20 – 25 minutes
Serves 4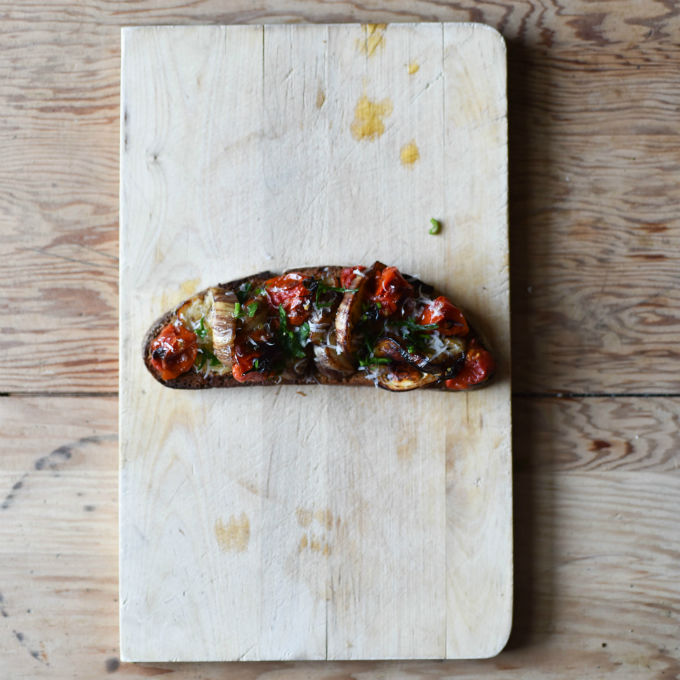 Slow Roasted On The Vine Cherry Tomatoes with Roasted Aubergine & Garlic
Ingredients:
Generous glug of olive oil
1 Large or two small aubergines – Sliced into 1cm pieces
2 Vines of cherry tomatoes (around 10-12 tomatoes per vine)
6 Cloves of garlic
Generous sprinkle of salt flakes
Several turns of freshly ground black pepper
Drizzle of extra virgin olive oil.
Sourdough – 2 Large slices or four small
Method:
Preheat the oven to 190 degrees Celsius. Place the prepared aubergine, tomatoes and whole garlic on a baking tray and generously drizzle with oil. Next add seasoning and roast until both the aubergine and tomatoes are soft and browning.
Toast or even better griddle your slices of sourdough so they're slightly charred at the corners, then drizzle with extra virgin olive oil and spread on your roasted garlic followed by a combination of the aubergine and cherry tomatoes. Add a little extra black pepper and you're good to serve.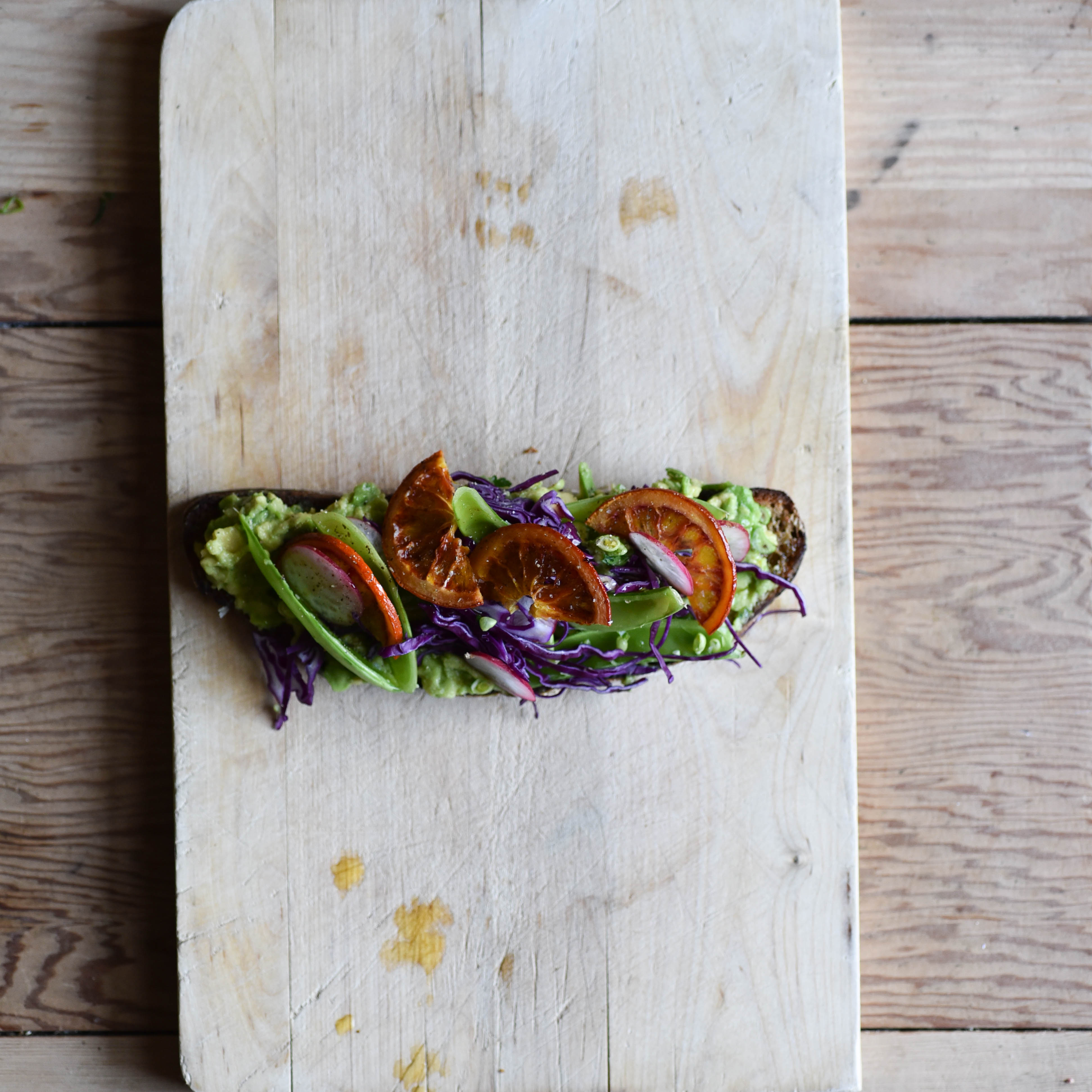 Sugar Snap Peas, Red Cabbage, Avocado, Radish & Blood Orange
Ingredients: 
2 Avocados – Mashed
1 Clove of garlic
Handful of parsley – Roughly chopped
Squeeze of lemon
Sprinkle of sea salt flakes
Freshly ground black pepper
¼ Small red cabbage – Finely shredded
Handful of sugar snap peas – Cut in half lengthways
1 Blood orange – Finely sliced
Drizzle of extra virgin olive oil
Sourdough
Method:
Begin by griddling or toasting your slices of sourdough.
Prepare all ingredients as noted then simply layer it up adding seasoning as you go. Begin by cutting the garlic clove in half then rubbing it across the toasted sourdough. Next drizzle a little extra virgin olive oil then add on the mashed avocado, followed by a squeeze of lemon juice, a sprinkle of parsley and salt and pepper. Next add some of the finely sliced red cabbage along with the sugar snap peas and half moons of fresh blood orange (you can also fry these up in a splash of olive oil if you prefer – although they do turn from sweet to bitter).
Finally drizzle with a little more extra virgin olive oil and serve.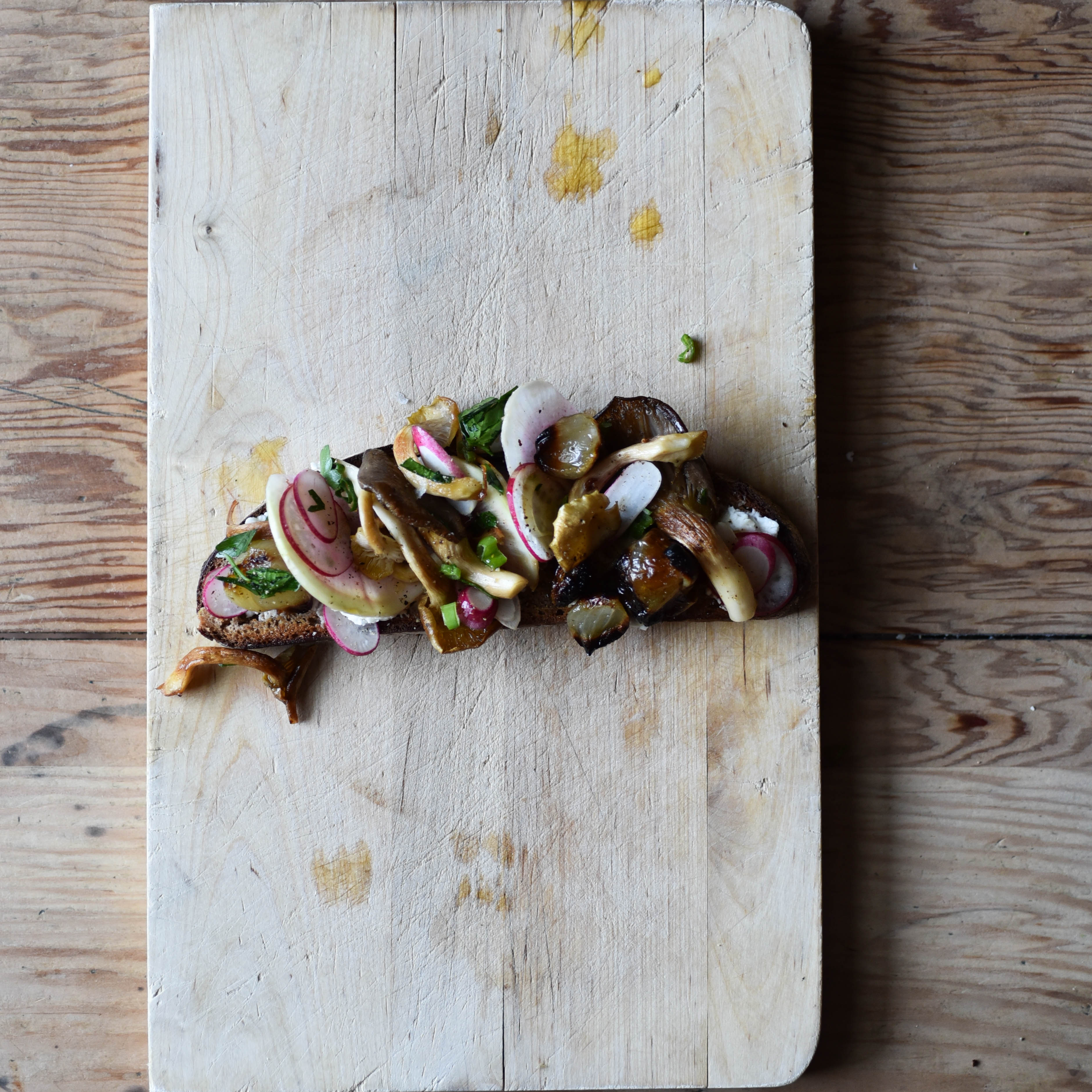 Goats Curd, Crispy Wild Mushrooms with Parsley & Radish
Ingredients:
Generous glug of olive oil
2 Handfuls of wild mushrooms (or Portobello/chestnut) – Left whole or sliced depending on size
2 Large cloves of garlic – Crushed and finely sliced
200g Goats curd (feta or goats cheese is a good substitute here)
Handful/5-6 radishes (I've used 1 grapefruit radish which are larger with pink flesh) – Finely sliced or sliced with a mandolin
1 Spring onion – Finely sliced
Small handful of parsley – Finely sliced
Sourdough – Sliced into 4
Sprinkle of sea salt flakes
Several turns of black pepper
Method: 
Begin by adding a generous glug of olive oil to a hot frying pan, allow to heat for a minute and then add in the mushrooms with a little seasoning allowing to brown before turning over. On turning the mushrooms you can add in the sliced garlic. Allow to golden a little but remove if it starts to overcook.
Next griddle or toast your sourdough and then add a generous spread of goats curd before adding on the crispy fried mushrooms and garlic. Next sprinkle over your prepared radishes and parsley. Add extra freshly ground black pepper and get stuck in.
Follow Anna Barnett on Twitter: @AnnaBarnettCook
Follow Anna Barnett on Instagram:  @AnnaBarnettCooks