To celebrate the holiday season, presenter and actress, Miquita Oliver has teamed up with Tanqueray Gin to create the perfect festive cocktails.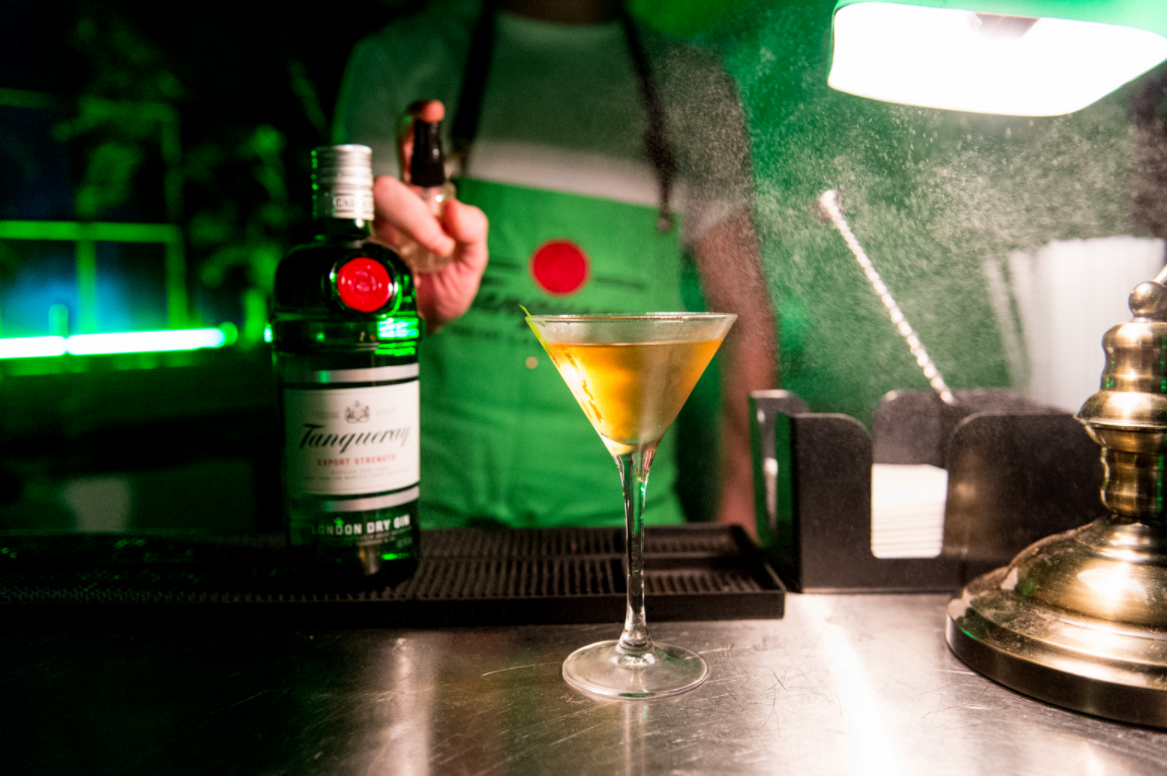 Tanqueray Martini with ginger, chilli & coriander
45ml Tanqueray London Dry Gin
10ml Chilli infused Cocchi Americano
10ml Chilli infused Dolin Dry
5ml Ancho Reyes Chili Liqueur
1 dash orange bitters
Atomised with coriander & ginger spray
Garnish: Coriander leaf
Stir all ingredients over ice and strain into a chilled martini or Nick & Nora glass. Garnish with spray and float a coriander leaf in the drink.
For the Chilli vermouth infusions:
Take 2-3 dried whole chillies and break their skin and put straight into the bottle and allow to infuse for 1.5 hours – taste after this time to check that the chilli has infused – depending on the strength of the chilli it may need a little longer but this should add a gentle heat to the vermouths – after this time strain and rebottle
For the coriander & ginger spay:
Infuse coriander and ginger for 1.5 hours. Strain. Transfer liquid to any plastic atomiser.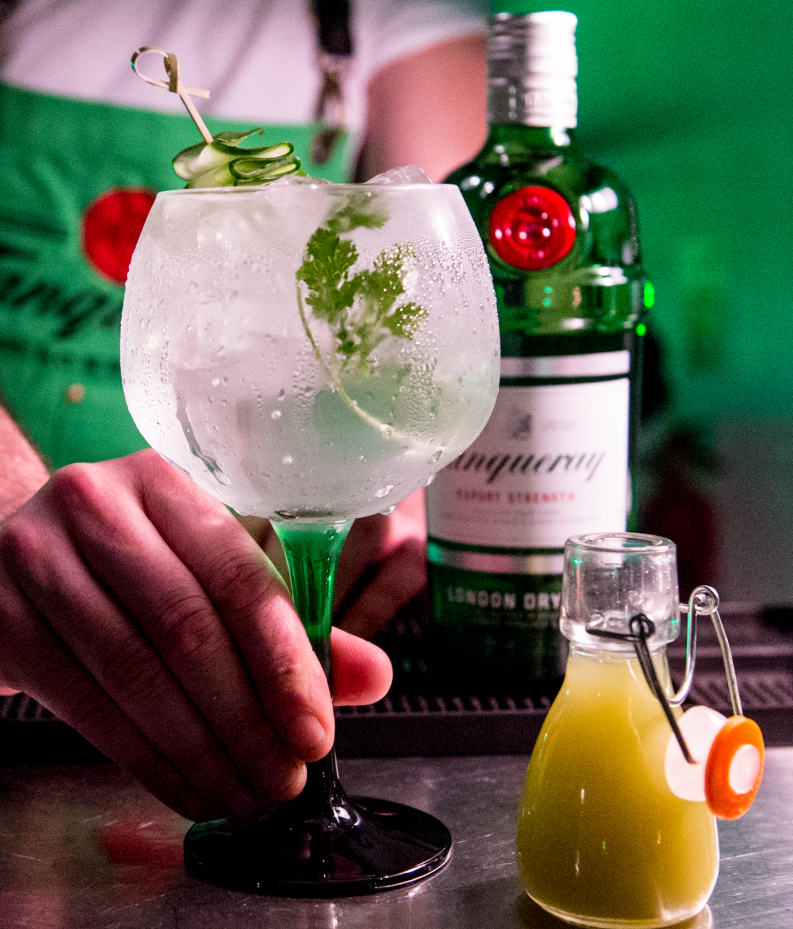 The Green Tanqueray & Tonic
For the Syrup:
500g Sugar
1.5 Litre Water
350g Cucumber
1.5 Granny
smith
apples (cored)
20ml Lime juice
Heat sugar & water up together and leave to cool to make sugar syrup
Blitz cucumber, apples and lime in a blender and strain. Add to the sugar syrup.
To serve:
40ml Cucumber and Apple syrup
25ml Tanqueray
topped with Fever tree tonic
Garnish:
Pleated cucumber peel (full length of cucumber) pierced by a cocktail stick and rested on top.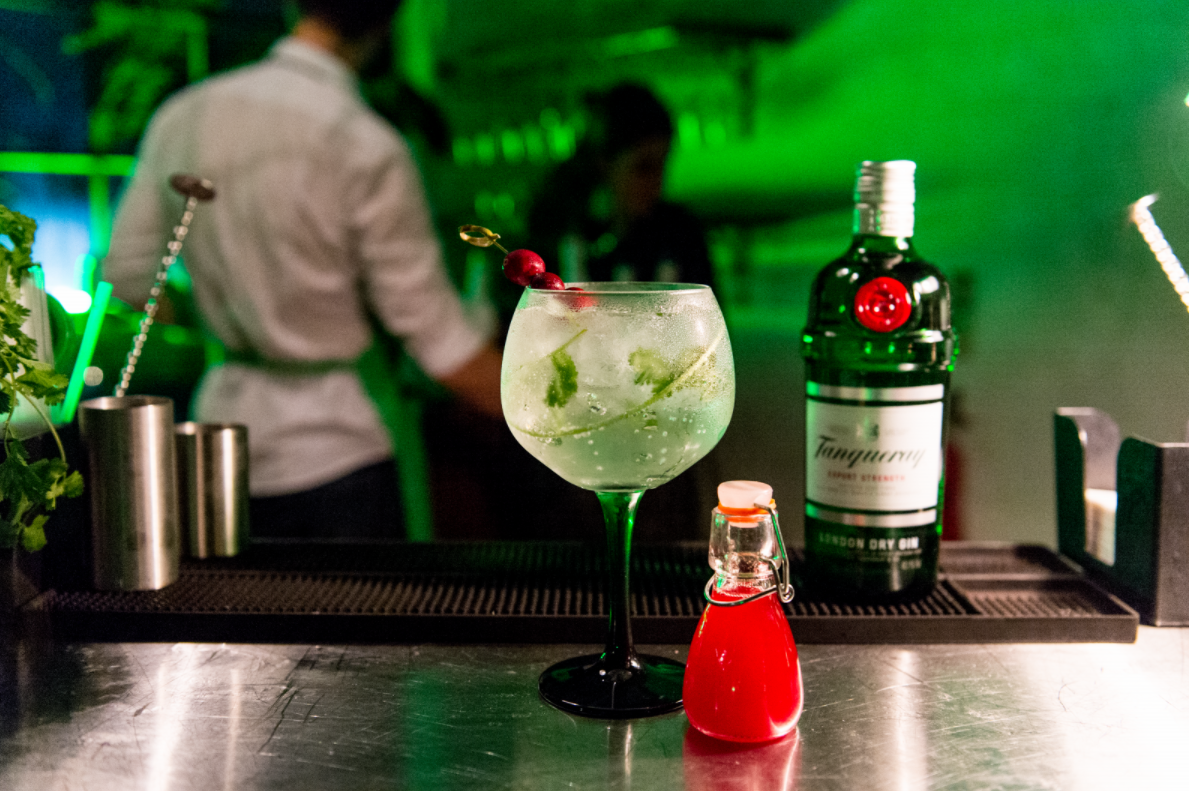 The Red Tanqueray & Tonic
For the Syrup:
500ml water
150g Sugar
100g Cranberrys
10g Cinnamon
10g Black Cardamon
All except sugar in a pan and  bring to the boil and simmer for 20 mins
Reduce to about half as much water and add the sugar. Simmer for another 4 mins on a low heat, remove the spice cinnamon & cardamon and blitz the rest. Strain.
Serve:
35ml red syrup
10ml Lemon juice
2 dash angostura bitters
top with fever tree tonic
Garnish:
3 cranberries on a cocktail stick