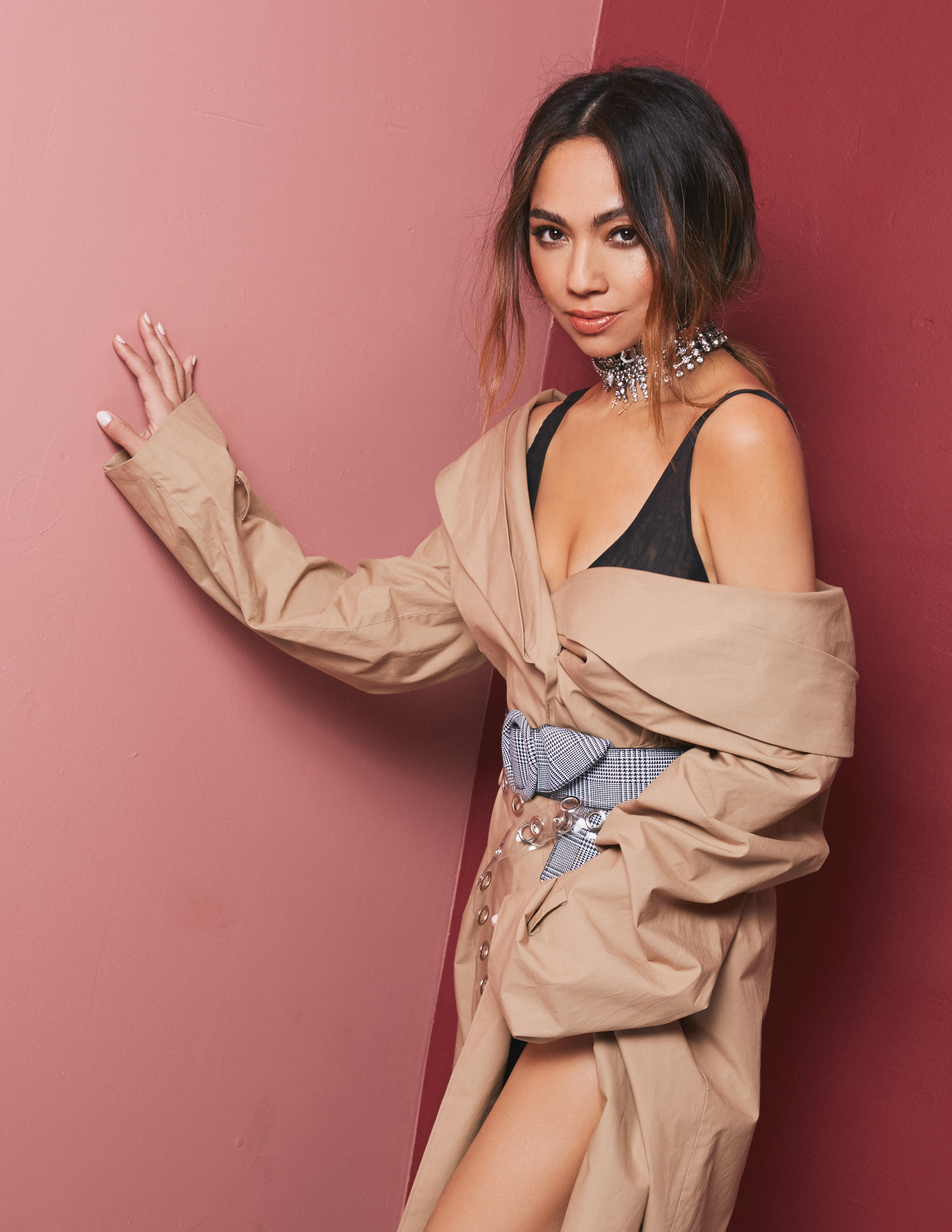 Trench Coat: Sea New York   Boots: Off-White   Bra: La Perla   Necklaces: Dylan Lex   Belt: Vintage
Monica Rose is one of the most prestigious and influential celebrity stylists of all time; dressing some of the biggest names in the industry. With a following of over 1.2 million on Instagram, juggling motherhood and clients like Chrissy Teigen, Shay Mitchell and Sofia Richie, the stylist is a force to be reckoned with.
Monica Rose is the LA-based stylist responsible for some of the red carpet's most enviable looks.
The mother-of-three started her career as a full-time stylist in the somewhat formidable city of Los Angeles with absolutely no contacts in the industry, yet she has made a name for herself as one of the leading talents in fashion.
Monica Rose hadn't always dreamt of being a stylist. In fact, she didn't even know that stylists existed until she moved to Los Angeles.
She revealed, "I started out by working at a retail store on Robertson Boulevard, but after working in retail for so many years I decided that I needed a change."
Monica continued, "I did everything that I possibly could, from working in management to opening stores to working with stylists in studio services and training sales associates. You name it, I did it. Eventually it was my love of styling and working one-on-one with clients that ultimately started my career."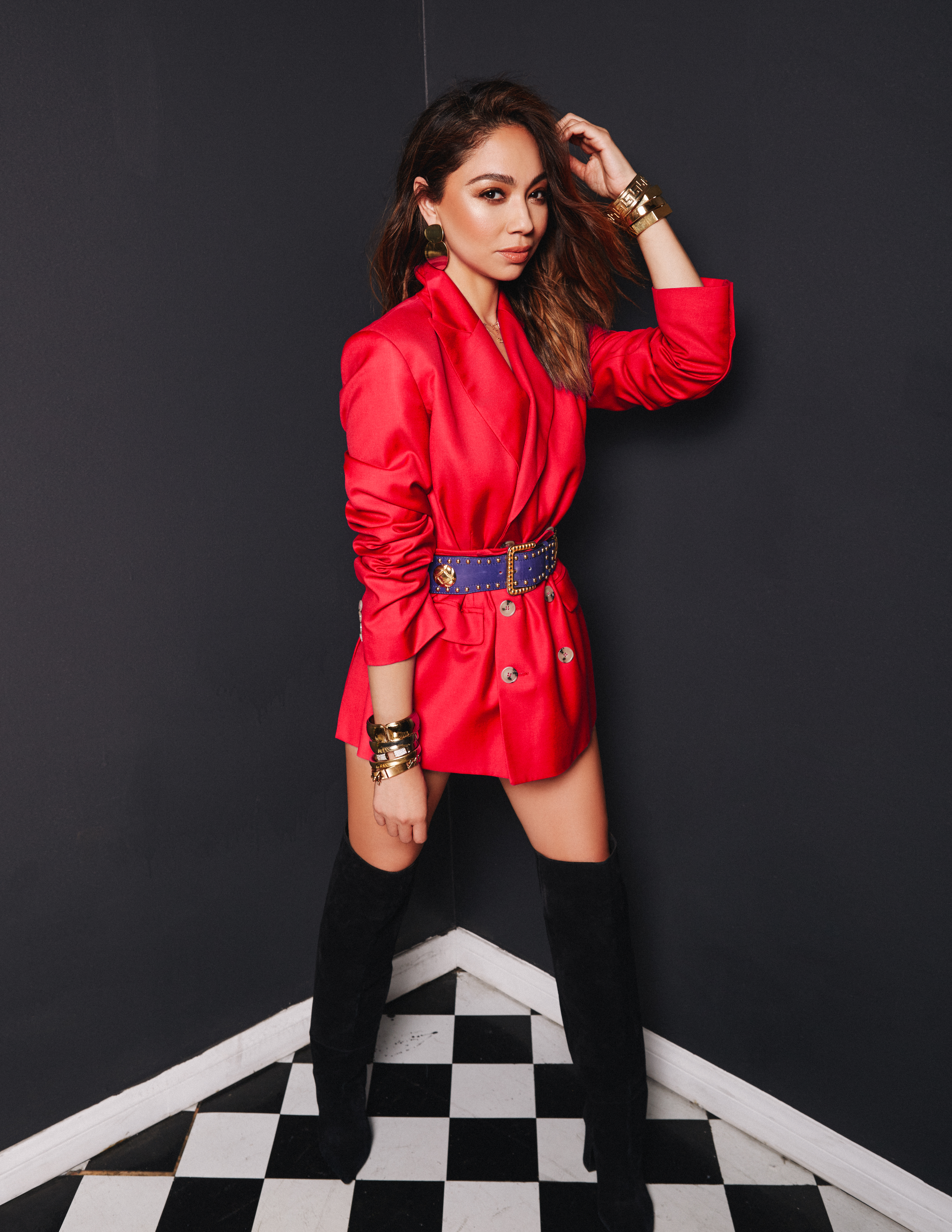 Jacket: Vintage     Boots: Barbara Bui     Belt: Vintage Escada     Earrings: BaubleBar
I asked Monica if she considers herself to be ambitious and a bit of a dream chaser.
She replied, "I would describe myself as extremely hard-working, determined and committed to pushing the boundaries for myself, to see what I'm capable of."
She continued, "Styling is much more than creating glam red carpet looks for celebrities; it takes a lot of hard work behind the scenes. And while I absolutely love what I do, I don't think people understand all of the hard work and time it takes to curate each look. There is so much preparation up until the final fitting."
Monica confessed that one of the biggest hurdles she faces is balancing her creativity, business and family.
She revealed, "I'm a creative being, so the challenge is to constantly come up with new ideas all while managing a business and a family. It's a lot and it can be very stressful at times but it's all so worth it."
She added, "It's so rewarding to see my clients get excited for looks that I create. It's such a blessing to be able to do what I love every day and work with clients that I adore and that inspire me. I truly value my clients' work ethic – it makes me want to go above and beyond. I love that I can make them feel good and confident enough to go in front of the camera and be beautiful."
Monica Rose's extensive client list consists of the fashion industries most formidable women, so Monica is responsible for their day-to-day styling as much as she is for creating their covetable red carpet looks. Looks created by Monica Rose are considered to be the most prestigious and imitated looks of all time.
Monica revealed, "Good style comes from within. It's about your state of mind, what you are trying to say without having to say anything, your attitude, your individuality and your personality."
So how does Monica go about creating a look which embodies a client's personal style whilst also incorporating the signature Monica Rose magic?
She said, "I meet with the client and we bounce ideas back and forth in terms of developing their signature aesthetic. I then do my research and start curating a selection of garments and accessories that meet their needs while incorporating my flair to the looks."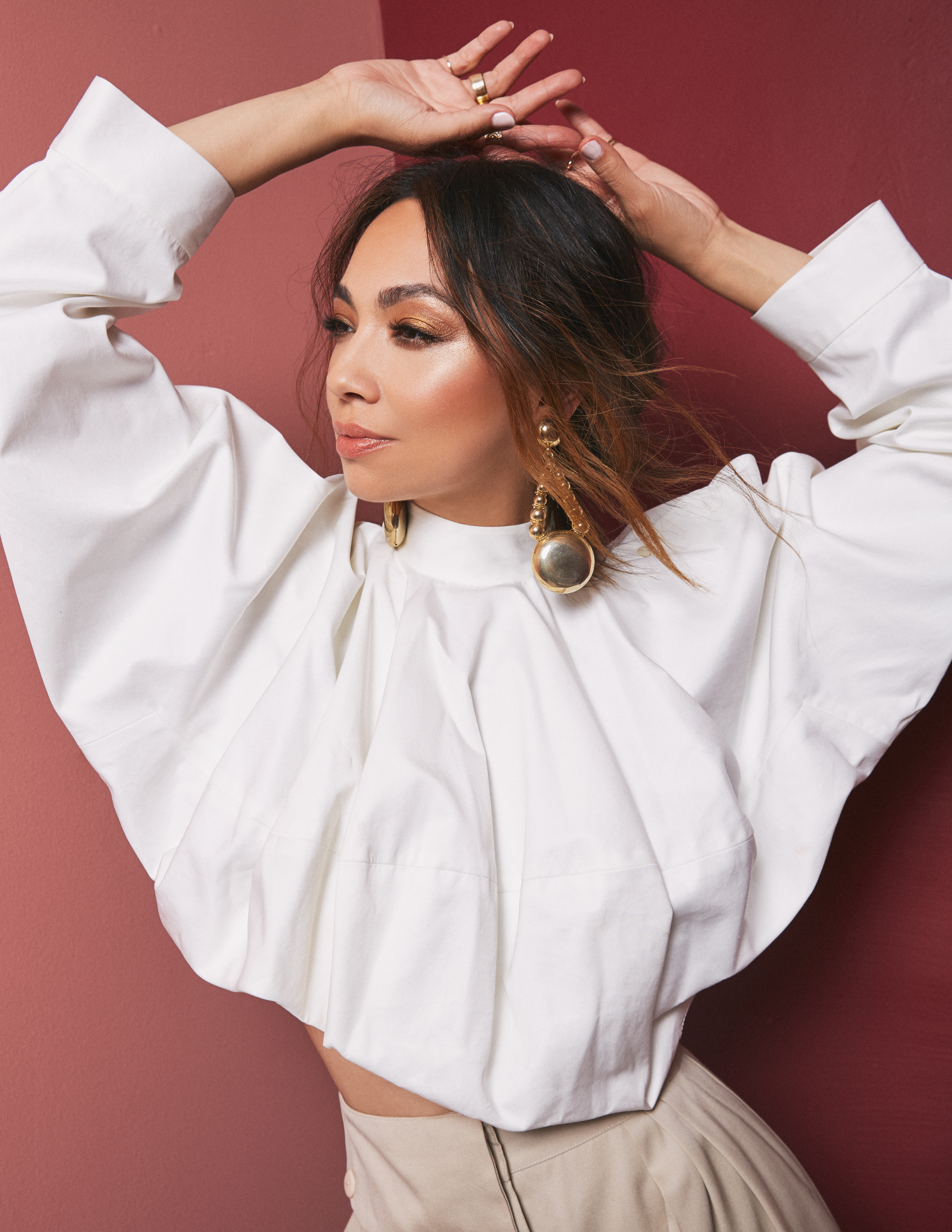 Top: JW Anderson     Earrings: Vintage    Rings: Melinda Marina, Effy Jewellery and Rachel Katz
When Monica Rose first launched her career as a stylist, Instagram didn't exist, but now it plays a fundamental role in most people's everyday lives. Social media has been a catalyst in Monica's success, she regularly shares her work with her following of over 1.2 million on Instagram alone.
Before the rise of Instagram, Monica had a blog which she updated daily and used as a platform to show her fans what she was currently working on and which designers she was using, and they were even able to shop the looks that she curated.
Monica exclaimed, "But then the rise of Twitter and Instagram came along and completely changed the fashion game."
You simply can't scroll through Instagram or anywhere online without seeing the works of Monica Rose. The stylist dresses some of the most photographed and influential women in the world so there's no escaping the popularity and success of Monica Rose.
She reflected, "The opportunities that have come my way through social media have been amazing and I love how I can connect with people from all over the world. Being a full-time working mother of three children has also allowed me to use social media as a positive platform to share my experiences and hopefully inspire others."
I asked the seemingly successful stylist-come-entrepreneur if being a self-employed woman in business has made it particularly harder for her to make her mark.
Without hesitation she answered, "No. I actually think it's the complete opposite because the sky's the limit and it gives me the flexibility to be an artist and create and explore opportunities that I might not have if I wasn't self-employed. I see it as a complete blessing."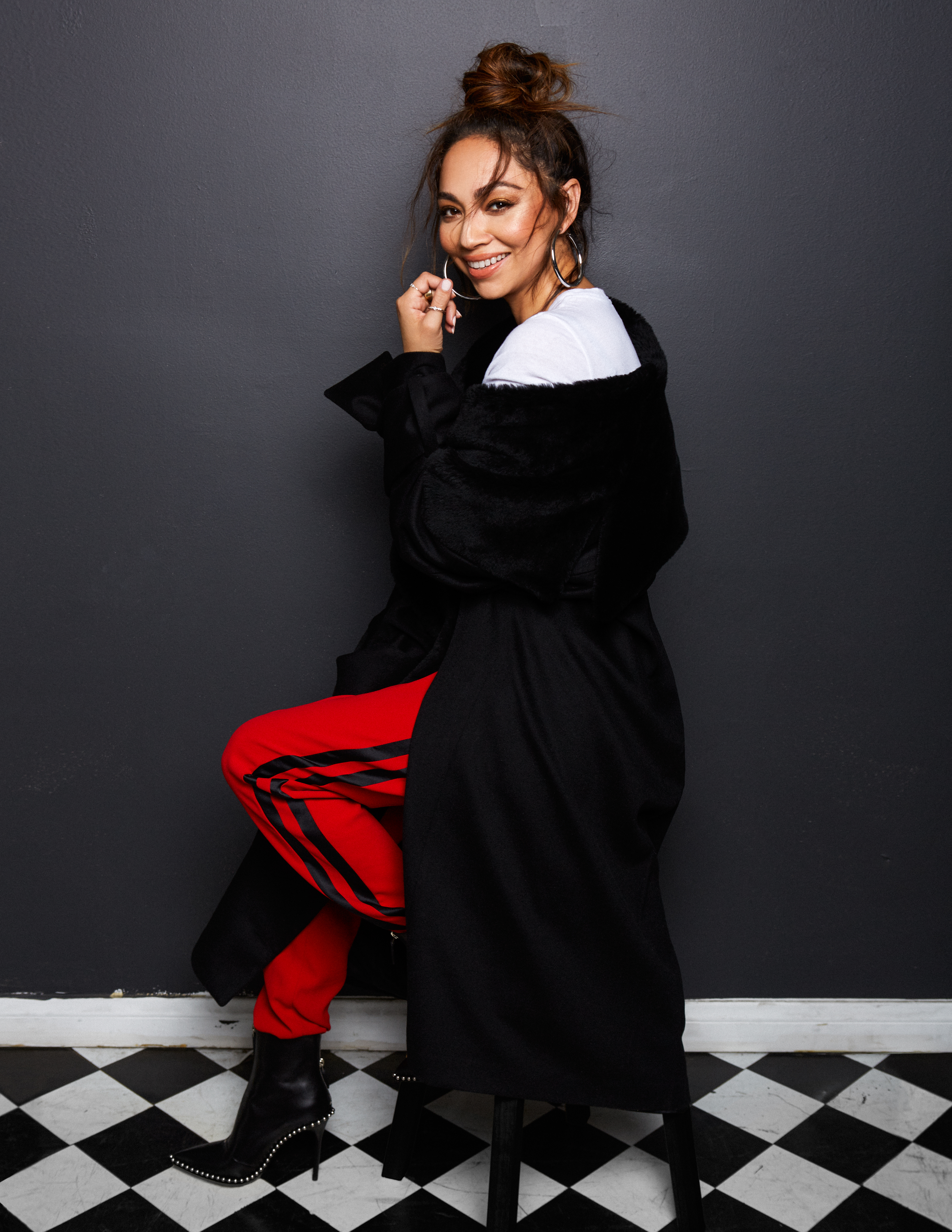 Trousers: Bec and Bridge    Bodysuit: Redone Tee    Jacket: Victoria Hayes
Boots: Alexander Wang   Earrings: Bauble Bar 
Looking back at her incredible career. I was keen to know if Monica could offer advice to her younger self, what it would be.
She said thoughtfully, "Know that you will be okay and know that your life is going to be incredibly fulfilling. Oh, and learn how to kindly say no, so that you don't get taken advantage of."
Over the years Monica has become an inspirational force to fellow creatives, her clients and aspiring stylists. I asked Monica what advice she would give to people considering a career in fashion.
Monica said, "I've worked very hard to get to where I am today, without cutting any corners and done it with absolute integrity. For somebody considering taking the leap and becoming a self-employed business man or woman, I'd say work hard, work with integrity and always be happy for others' success."
She continued, "Know that your time will come with hard work and patience. Always follow your intuition and if something is off, always trust your inner instincts. Be fearless – never let fear set you back, but most importantly, always believe in yourself and know that anything is possible."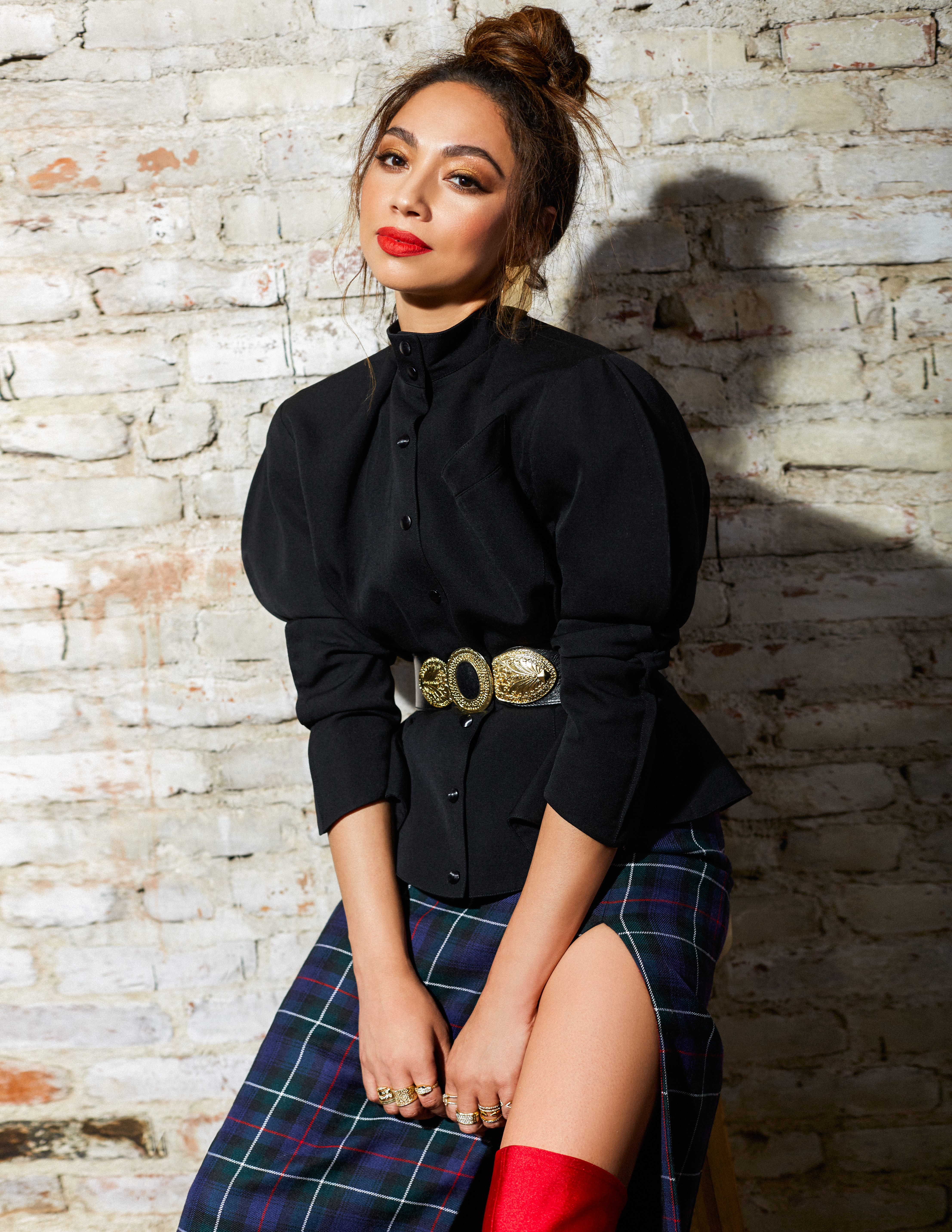 Boots: Balenciaga   Skirt: Victoria Hayes   Top: Vintage Theirry Mugler 
Belt: Vittoria    Earrings: BaubleBar 
Styled by Monica Rose
Photographer
Joyce Park
Make Up Artist
Jadene Munson
Hair Stylist
Ashlee Rose using Oribe  
Assistant
Katie Peare
Location
5 Points Studio
115 W Avenue, 26 Studio G, Los Angeles, CA. 90031