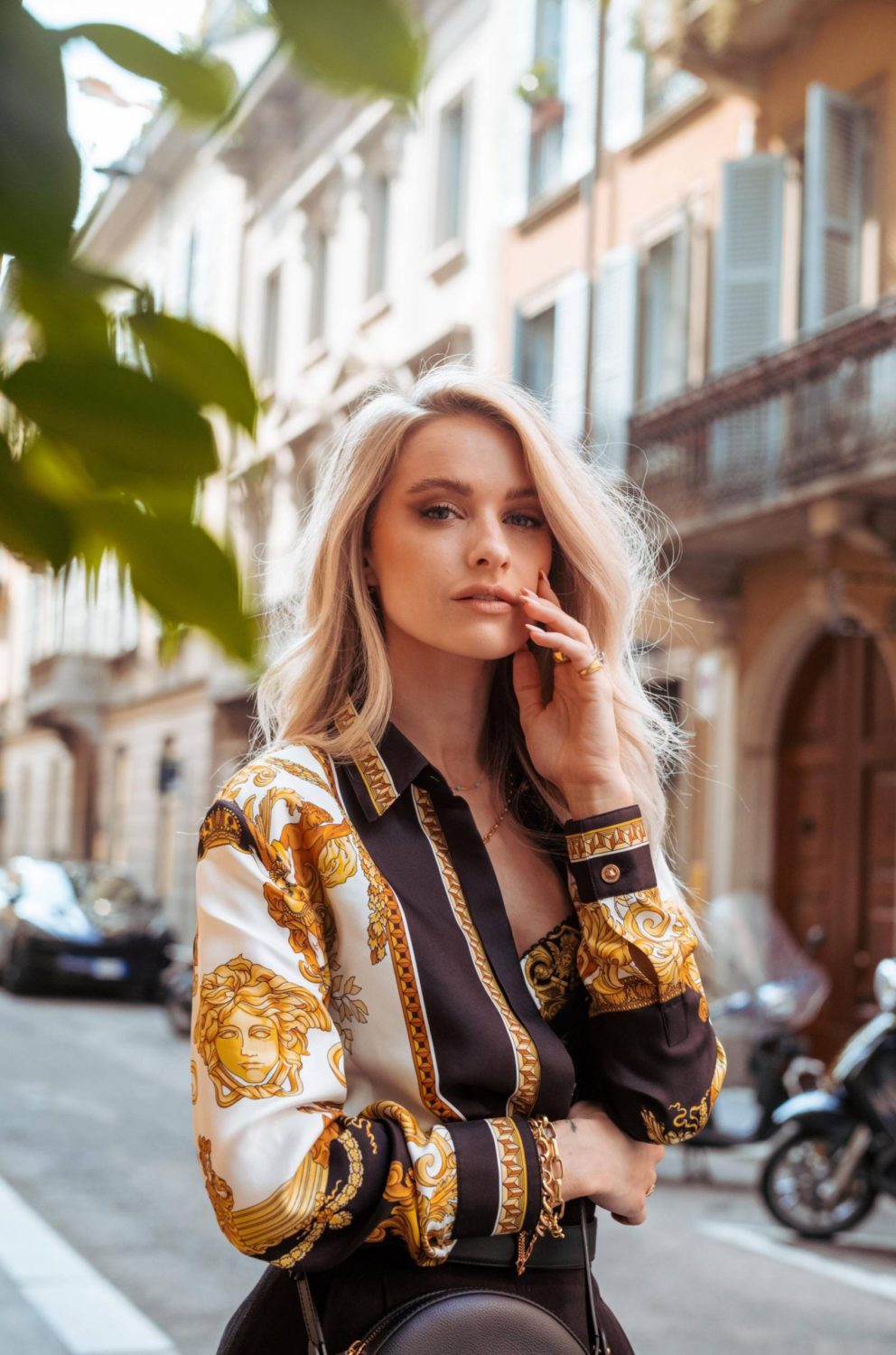 Victoria Magrath or Inthefrow as she is known to her over one million followers is a triple-threat, entrepreneur, best-selling author and super influencer, oh did we forget to mention that she also has a PHD? As well as being a powerhouse, Victoria is one of the kindest and hardest working women in the beauty and fashion industry.
Victoria spills her beauty secrets…
What is your morning skincare routine like?
Regardless of how busy my diary is, I never miss my morning skincare routine. It is my time to take a few moments to myself before the day rolls manically in.
I start by cleansing my face with the AlumierMD Purifing Gel Cleanser, followed by the AlumierMD Bright and Clear Solution (one of my holy grail skincare products). I am a sucker for a serum, anything that will make my skin glowing, radiant and hyrdrated before applying my makeup.
My current favourites are the Cle De Peau The Serum or the Lumene Artic Berry Oil Cocktail. One of my favourite parts of my morning skincare routine is the application of my La Mer Eye Concentrate. It comes with a silver applicator which is helps reduce any puffiness around the delicate eye area.
My top tip is to pop your applicator into the fridge prior to using it to massage the product into the skin, it is so soothing and will have you looking awake and ready for the day in a matter of minutes. Lastly, is my SPF, I never leave the house without a healthy dose of SPF 30. It's a rule I have stuck to and will stick to for many years to come.
Do you remember your first fragrance and why you chose it?
The original Viktor and Rolf Flowerbomb fragrance released in 2005, was my first step into more 'grown up' perfumes. Yes, I'd been gifted scents for birthdays and Christmas previously but it was the first time as a teenager I'd spent time deciding which perfume would be 'my' scent.
It was a natural progression from previous fragrances that were both fruity and floral, to Flowerbomb with its bright floral notes but with the added depth of sweet vanilla, something I had never worn before.
I have used it for the past 16 years and am now a proud Ambassador for the brand. It is a scent that sticks, one that is bound to draw multiple compliments throughout the day.
What is your signature fragrance now?
The fragrance I use largely depends on my mood or what it is in my diary for that given day. My holy grail fragrances are Viktor and Rolf's Flowerbomb for everyday wear, Valentino's Voce Viva for something a little more spicy and Emporio Armani's Si Passione for evenings in the city.
What was your first experience with makeup?
My first memorable experience with makeup was when I was at Manchester University. Blue eyeliner and a heavy pink blush was very popular at the time and I dove head first into the trend. Whilst I wouldn't create this is exact look in my day to day now, it is interesting to see how these trends have evolved into modern day makeup application.
Inspired by their makeup looks from their SS21 runway, Valentino makeup created a signature "Eye 2 Cheek" look in which they washed their EYE2CHEEK Blusher from the top of the cheekbone, over the eyelid and up to the browbone. The healthy flush of colour is incredibly flattering and a technique that I have adopted into my own routine.
What or who makes you feel beautiful?
My friends, my family and my husband, whether I am dolled up to the nines or unwinding with a bare face and sweats.
Do you have any beauty regrets?
I try to live my life without regret. My blue eyeliner phase is not a look that I would bring back but it made me feel happy and beautiful at the time. I also owe the look I created to support the launch of the Versace Dylan Turquoise fragrance to it, it was my inspiration!
What beauty products can you not live without?
There are a multitude of products that I cannot live without. At the top of my list sit the Dior Forever Glow Foundation, Carolina Herrra's The Highlighter, Charlotte Tilbury's KKW Hot Lips Lipstick, La Mer's Lip Balm and the Cle De Peau Radiant Cream Foundation.
As an Ambassador for Flannels Beauty, one of the perks of my job is that I get to try beauty products before they hit the shelves. It's a huge privilege and I hope one that can be helpful for my followers as they navigate the beauty industry and find their holy grail products.
What is your evening skincare routine like?
I have my evening skincare routine down to a fine art! I always cleanse using the AlumierMD Purifying Gel Cleanser, or the SensiCalm Cleanser, depending on whether I feel for a gel or cream consistency to wash the day away.
I follow with the AlumierMD Retinol Resurfacing Serum in either a 0.5 or 1 strength and then apply a serum such as the Lumene Nordic C Glow Night Serum, or the Lumene Ageless Night Elixir.
If I am feeling the need for additional moisture, I treat myself to a bubble bath and a face mask, my favourite is the utterly luxurious Cle De Peau Precious Gold Vitality mask.
What is one piece of beauty advice that you would pass down to the next generation?
Skincare, skincare, skincare. Do your research and find what works for you! Looking after your skin is the key to a flawless makeup look that will last. It is also a fab excuse to take a little time to yourself and indulge in a spot of pampering. Treat yourself! You deserve it.
How do you think social media has changed attitudes to beauty?
Social Media has a lot to answer for when it comes to the beauty industry. At its best it can inspire innovative and beautiful makeup trends, but at its worst it can deceive and promote unrealistic expectations of what it means to be beautiful.
Beauty as a whole is subjective, it is personal and individual. Some feel confident and happy in minimal to no makeup, and some feel they are not themselves without a bold eye look and high coverage. I hope that I have inspired my followers to love the skin that they are in, to play with beauty trends and try something new, but never be defined by it.
Shop In the Frow's collection with Flannels Beauty here.