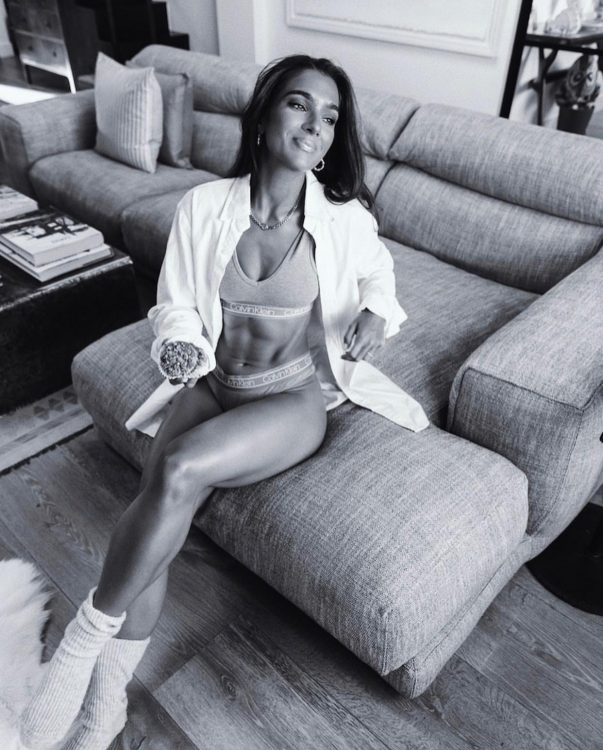 Stefanie Williams is one of the U.K's leading fitness and wellness experts, amassing over 1.3 million followers on Instagram alone. We caught up with the super influencer and entrepreneur to find out about her life in isolation…
Where do you live? What does isolation look like for you there? How has your local community been affected?
I live in West London with my partner. It's a beautiful, leafy green area that's always busy with people on the local high street or socialising on the common. It's my favourite part of London.
Today, most shops, businesses and restaurants have all shut. It's a lot quieter. We're all inside and for the right reasons.
When we do go outside, for exercise or essentials it's been important to us to support local businesses. There's a lovely sourdough place near us which is quite busy. It's a nice feeling to see people just wanting to go in and support the business by picking up their baked goods.
Can you talk us through your daily routine in isolation?
I wake up at around 6am. I've always loved an early start to the day! First thing I do is make my Matcha latte and get myself ready for the day. Next stop is my phone. I will go to my saved items and check out my fashion inspo, which is always fun to look at and also gives me inspiration for my content of the day.
I always like to engage with my followers (I call them Fitties) so I then go through my DM's and comments from my latest posts and reply to as many people as I can. I love that people are so engaged and always have so many questions to ask me whether it's fitness or beauty related.
Me and my partner step outside for our daily run or walk. Once we're back home we make some breakfast and then I get stuck into my work, which involves prepping what my Instagram live workout will look like and the additional videos which I'll post throughout the day.
My favourite part is my Instagram live workouts which I've loved doing, everyone is so enthusiastic about them. Then I get ready to film some more content and do a bit of Tik-Toking. After we eat we watch some kind of series if we can in the evening. We've recently started watching 'Killing Eve' and I'm already obsessed with her fashion and everything. It is a bit scary but we'll let that go.
Lets not forget at some point in the day I gotta get that whipped coffee in there too.
How has your life changed since being in isolation?
I'm extremely fortunate that my work prior to this has all been online and now that people are indoors they're also more active on social media. I'm a lot busier which I'm extremely grateful for, because I'm making double the content as people are eager to see live workouts and more uploads.
To help with the demand I'm also offering free recipes and workouts from my app Fit with Stef – I really want to help and encourage people to feel good with their mind and body during this time.
What has been the biggest lesson you've learnt during this time?
Appreciate the small things, don't take things for granted, appreciate family and friends as well as check in on those who mean the most to you.
What are your self-care tips at home?
Other than brushing my hair every morning, I go for my walks and I've even decided to try something new – pilates has been at the top of my list and it has so many benefits. Most importantly It's okay if you're having a bad day sometimes let yourself feel all those emotions.
The 'Fit with Stef' app, now includes the 'stay home' feature, loaded with new 'no equipment needed' workouts. With new routines added every two weeks. Try it out with a 14 day free trial. Download Fit with Stef here…