Monaco has been coined the yachting capital of the world and The Monaco Yacht Show has become one of the most iconic international superyacht events of the year. Luxury yacht builders, brokers, designers and superfans swarm like bees to honey to admire the latest and greatest yachts.
The Monaco Yacht Show is the only yacht show worldwide which is exclusively devoted to superyachts for sale of at least 25 meters in length. It is the largest floating luxury yacht display in Europe of super and megayachts. For over 30 years, visitors have descended on Monaco's picturesque Port Hercules for a rare treat of seeing the most innovative and prestigious new yachts that have launched that year.
Among the array of incredible releases of 2021 was the spectacular Moskito, a 55-metre superyacht by Heesen which made its debut in style at the Monaco Yacht Show. We were among a lucky few that were invited to board the Moskito and sail along the French Riviera, from Monaco to Cannes via Saint-Jean-Cap-Ferrat and Nice.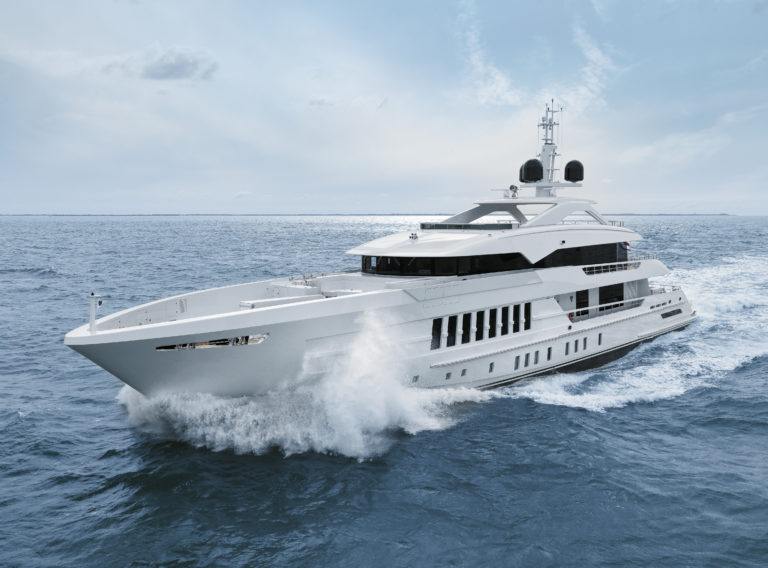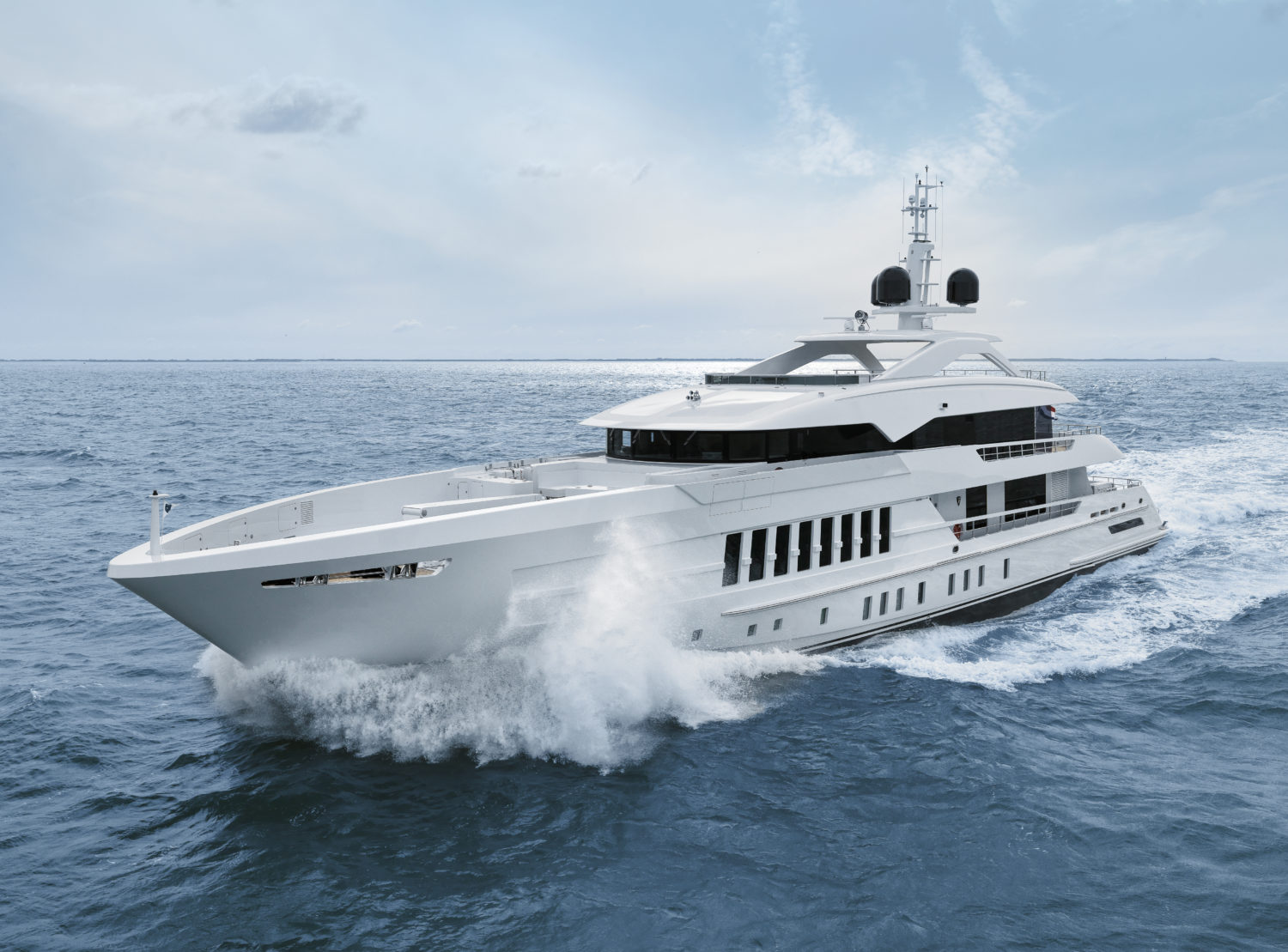 Moskito is a 55 metre spectacular superyacht which was built by famed Dutch shipyard Heesen. A world leader in aluminum and world class in steel, Heesen built Moskito in-house with a custom design and revered Dutch craftsmanship. Heesen is celebrated for its in-house approach for nearly everything, from the construction of its aluminum hulls to naval architecture, engineering and mechanics.
The restrictions of the pandemic certainly didn't affect the superyacht industry with many owners deciding to isolate onboard their yachts. In 2020 Heesen recorded its biggest annual revenue to date at 200 million euros, a staggering increase of 22% from the year before.
Moskito is a dream come to life, a marriage of sophistication, power and style. She has recorded a top speed of 15.5 knots and has a range of 4,500 nautical miles at 13 knots. She is sleek and efficient, a match made in heaven for those that value range and cruising speed alongside comfort.
A vision of great beauty, Moskito features exterior design by Omega Architects and an interior by Bannenberg & Rowell. The innovative use of glass throughout allows the yacht to be bathed in natural light and a choice of panoramic vista after panoramic vista. Floor-to-ceiling glass doors lead seamlessly to outdoor seating
Innovative use of glass throughout provides an abundance of natural light and choice of panoramic vista after panoramic vista. The full beam sky lounge and main saloon embody
this. Floor-to-ceiling glass doors lead to outdoor seating, dining and relaxation areas, delivering a seamless connection between indoor and outdoor.
She can accommodate a crew of 13 and 12 lucky guests across 6 luxurious rooms. There is an 82 square master suite located on the main deck with beautiful vast windows which allow the room to be bathed in natural light whilst blinds allow absolute privacy. Guests are also accommodated across five other stunning staterooms with en-suite bathrooms and ample storage.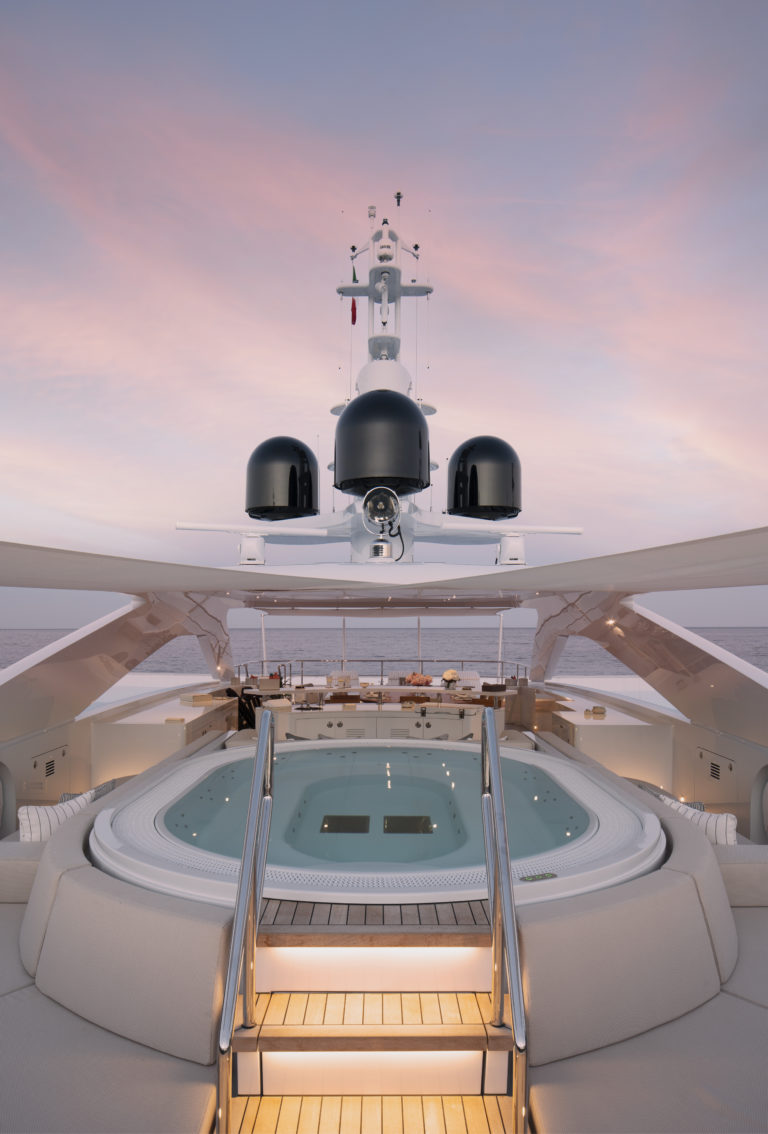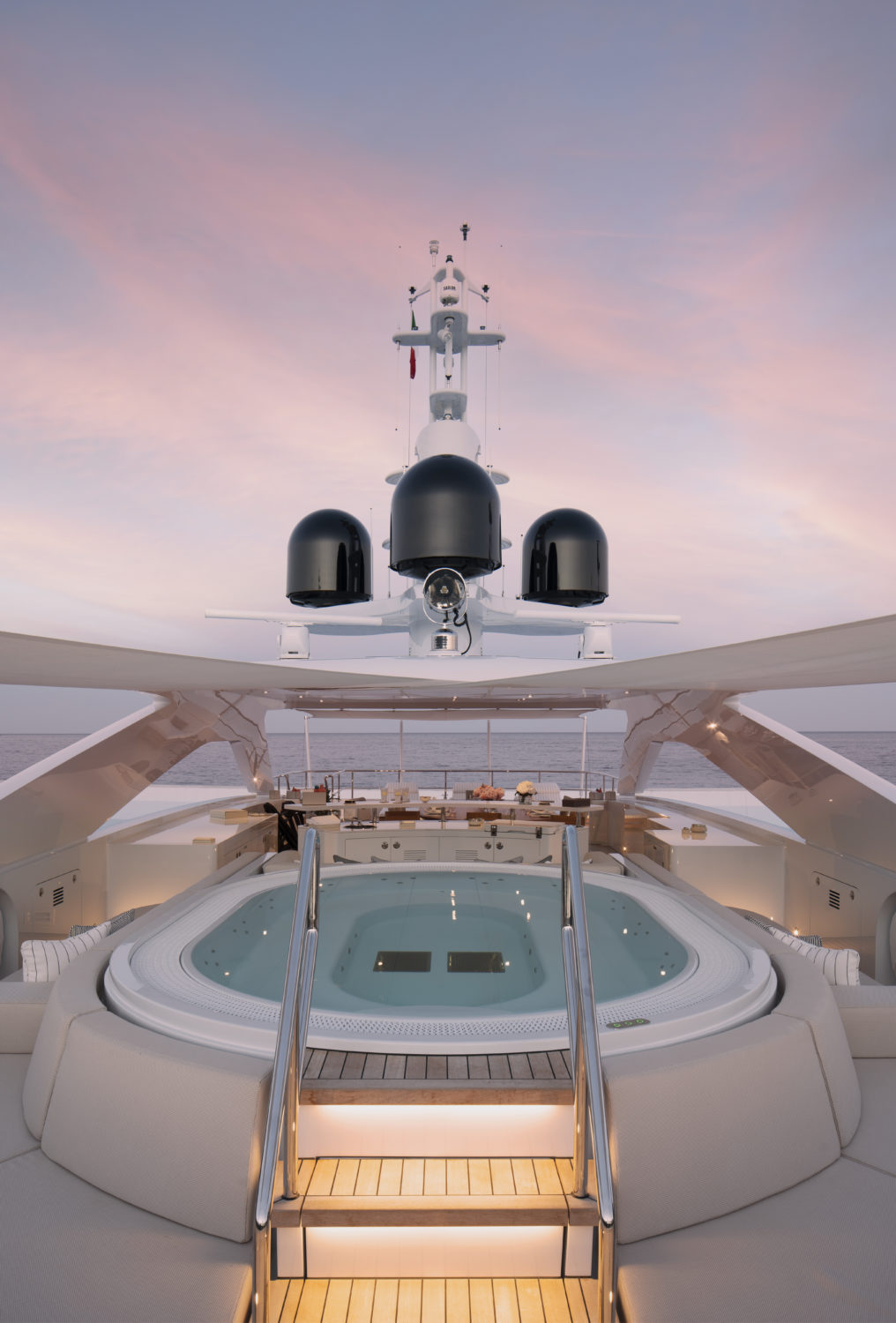 Moskito is a pleasure playground, with a sundeck jacuzzi surrounded by sunbeds, approved RYA water sports centre and an impressive selection of water toys. There is also a vast beach club in the stern which connects seamlessly to the wellness centre with its steam room, sauna and fitness centre. The beach club has loungers, armchairs and a widescreen TV, it is the perfect place to unwind. There is also a dreamy al fresco dining table, barbeque facilities and a bar which is ideal for dining and entertaining under the stars.
Moskito boasts a sophisticated and elegant interior by groundbreaking British design duo Bannenberg & Rowell Design. The London-based designers have a longstanding relationship with Heesen and have designed 10 Heesen yachts, including Moskito and her sister ship Solemates. Moskito has a mesmerising blend of natural, noble tones and a tailored spatial arrangement that lends the environment gravitas.
The result is an aesthetic masterpiece with warm bronze accents, smoked oak chevron parquet flooring and white Thassos, grey St. Laurent and ivory Travertine marble throughout. There is a palette of contrasting timbers, including both pale and dark-stained eucalyptus veneers. Leather treads were selected for the spiral stairs that connect the wheelhouse deck to the sky lounge, while custom-made, timber reeded panels are a feature of the beach club.
Bannenberg & Rowell's founding director Dickie Bannenberg explained, "We wanted to create something that would take the breath away at first sight, without being aesthetically intimidating. It was a case of treading that fine line between approachability and comfort, while also ensuring it looked super smart."
The majority of the furnishings were commissioned to Bannenberg & Rowell's own specification, including the desk for the owner's suite by GMS Joinery, custom-made armchairs by Holly Hunt and Carpets by Oliver Treutlein, to create a boat that is truly a one off. 
Dickie Bannenberg revealed, "Moskito was already a highly customised boat, but we upped the bespoke elements even further."
However spectacular the end result, the Moskito still faced some challenges. Every yacht project comes with the challenge of how best to integrate awkward but necessary shapes within the interior, a problem exacerbated aboard Moskito by the fact that windows run floor-to-celing down many of the sides.
Dickie Bannenberg revealed, "You don't want to encroach on the windows when they are such a feature of the architectural vision. Instead, we introduced curves to the walls that wrap around the air conditioning units and engine room air intakes in gentle arcs, while also giving graceful definition to the space. The trick was to keep them as symmetrical as possible so that the eye reads them as fluid and sinuous."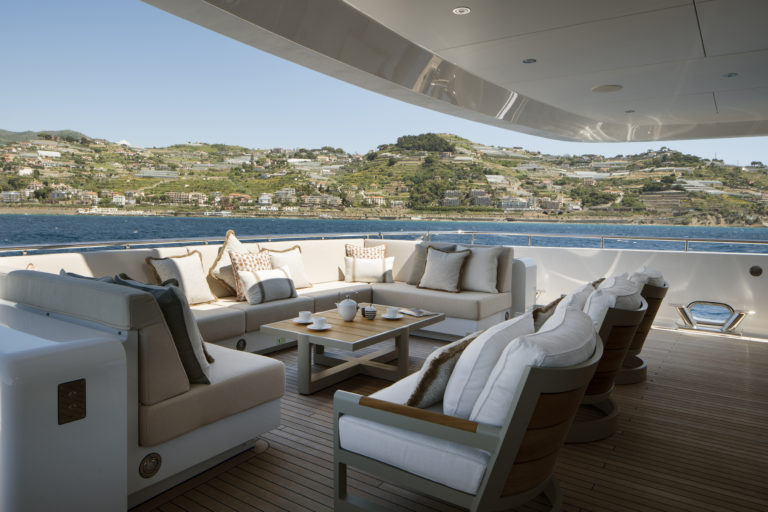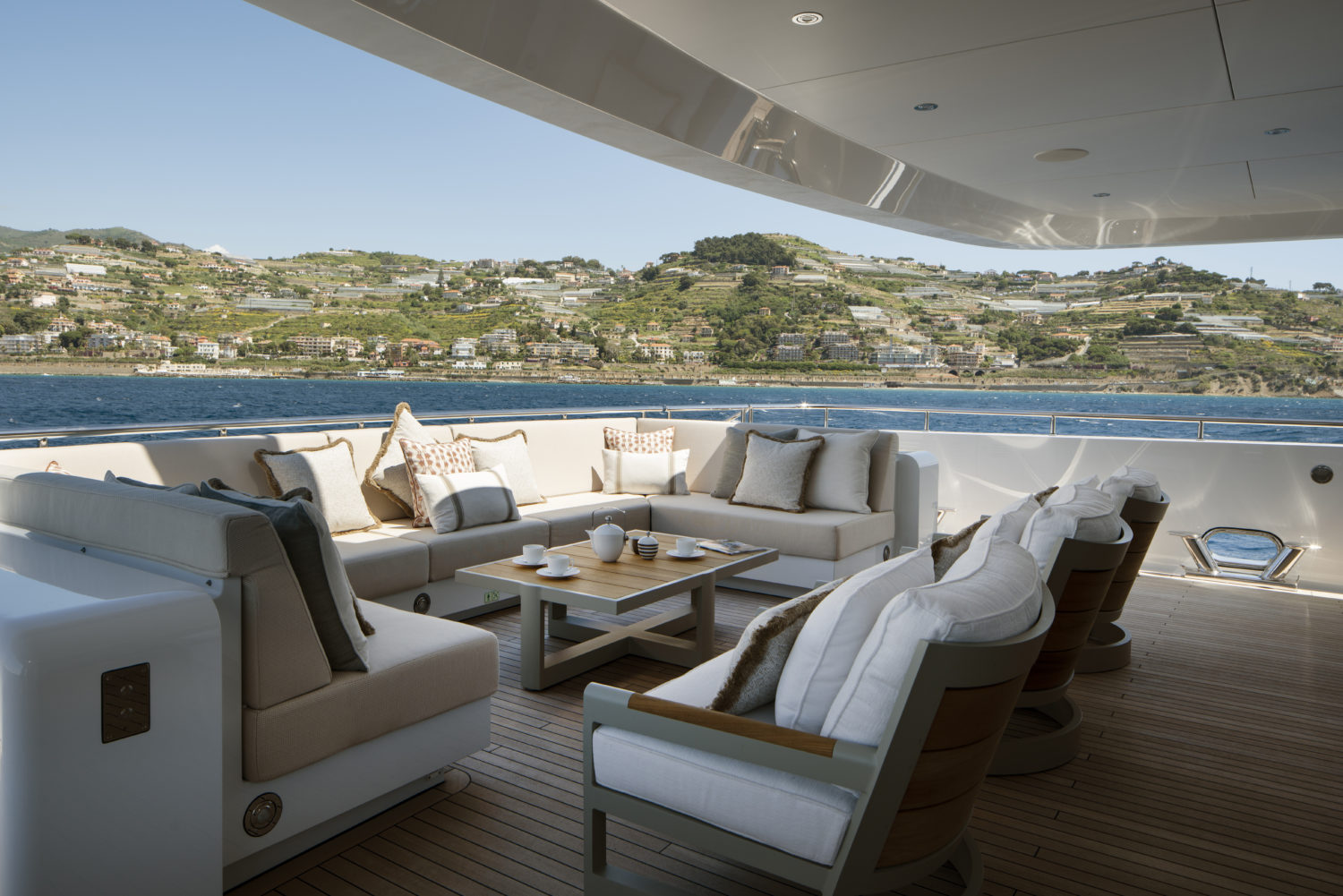 The attention to detail is magnificent and Bannenberg & Rowell prides itself on sourcing the most innovative and fascinating pieces, such as the coffee table that features nano-technology coating, allowing it to self-repair small scratches and marks.
Bannenberg & Rowell were commissioned by Heesen during the pandemic and the yacht was sold off-plan and unseen. Happily, the client loved the vision the design studio executed in terms of finishes, furnitures and furnishings, so much so that they requested them to source the artwork, tableware and decorative accessories.
The artwork was chosen to support british-based talents, such as Fenella Elms, Rose Vickers and Hormazd Narielwalla.
Dickie Bannenberg said, "For design control freaks like us, that was brilliant, as it gave us the chance to complete the project, right down to the games and the books. To have a clear run at it in this way is surprisingly rare."
He added, "Our guiding philosophy was that whoever owned this boat should be as happy hosting a black-tie dinner here as lounging in their shorts. We wanted to create something cool and interesting, but subtly realised. Looking at it now, we are proud of the trust that Heesen placed in us to allow us to do just that."

After a dreamy day sailing along the glittering coastline of the French Riviera, Moskito made her way to dock against the backdrop of the swaying palm trees of Cannes. What a sight it was to behold, the crews from neighbouring yachts appearing to lend a hand, moving in unison with all the grace and purpose of ballet dancers as dozens of onlookers who had gathered on the dock stood in awe of her majestic beauty.
The Moskito is available for charter to selected guests via International Yacht Collection. In the summer it is available in the Mediterranean and the Caribbean in winter.
@heesenyachts