Cappadocia is like no other place on Earth. Its landscapes are likened to those of Mars, its culture is unparalleled and its sunrise unrivalled. Staying in even the most basic of hotels, the Cappadocian experience would be truly unforgettable, so imagine the lasting impression that the stunning, 5-star, Argos in Cappadocia provided. The hotel, its facilities and the views to which I rose will stay with me forever. This is the story of the land of fairy chimneys, magnificent wines and breathtaking balloon tours.
A 12-hour drive from Istanbul (or a far easier connecting flight and significantly shorter drive from the nearby Kayseri), deep inside Central Anatolia, you will find a luxury haven, hidden amongst sprawling mountainscapes formed millions of years ago by volcanic eruptions which covered Cappadocia with a soft lava. Exposed to time and the elements natures' unique impression was carved into the lava leaving behind deep valleys, conical towers and impressive caves. Over the last Millennium, natures' aforementioned impression has been imprinted lovingly by mankind who built allegory-emblazoned cave churches, sprawling underground cities, sacred monasteries and, of course, Cappadocian dwellings in towns and villages that now exist complete with luxury mountain-side hotels. Arriving on a cool summer's evening, I discovered that this particular cave hotel was far from primitive.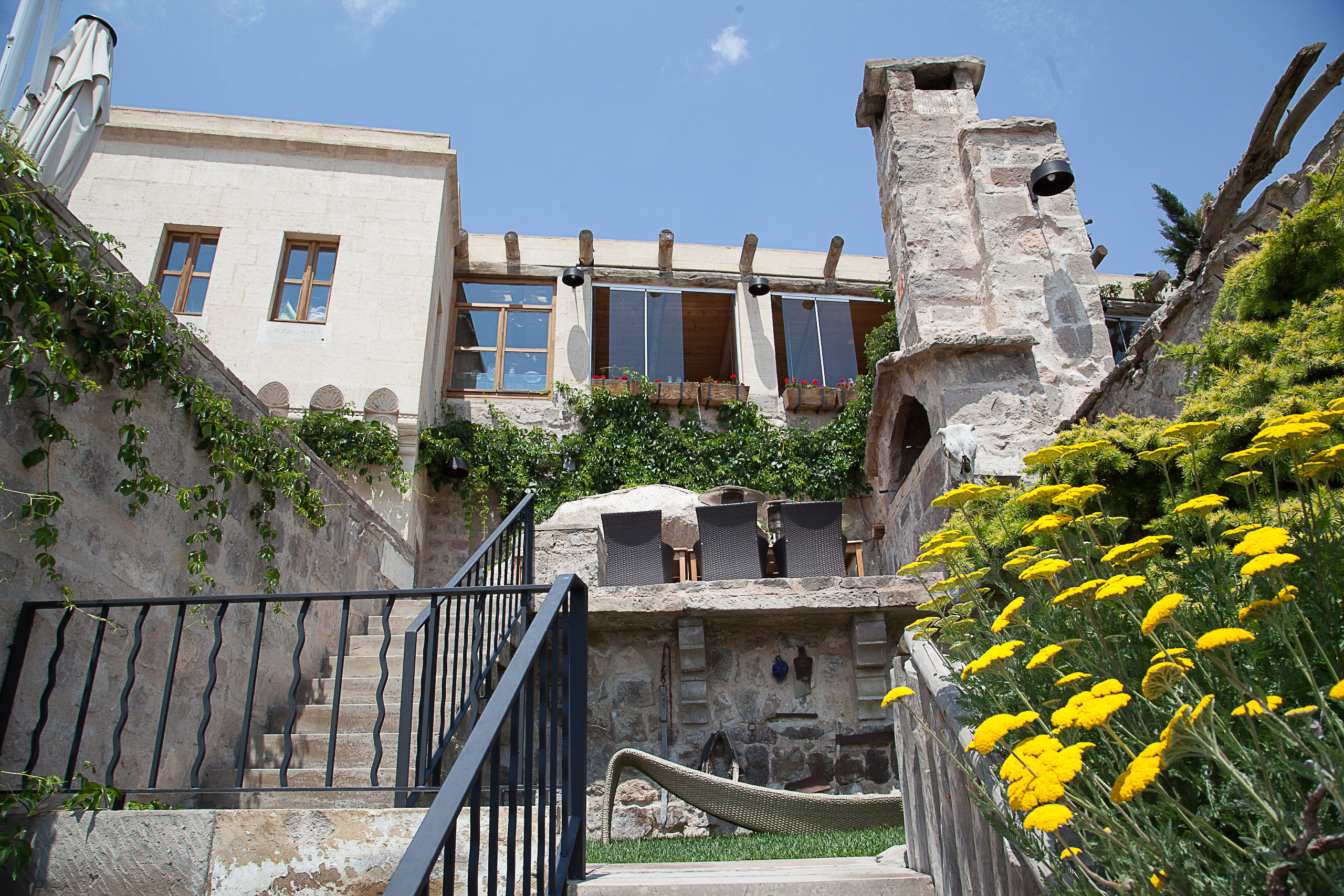 Argos in Cappadocia attracts visitors from all over the world. Situated unassumingly, just east of Ankara, the picturesque region has provided a harmonious sanctuary to which people of all walks of life still flock today. Cappadocia refreshes your view on life. Religion and ethnicity don't form divisions, but rather, they knit the community so closely that some places of worship still exist as half Church/half Mosque. It is the way people accept each other for who they are, regardless of their creed or colour and, due to this all-accepting approach, many of its residents fluently speak four or five different languages. This could be one of the most harmonious places in the world.
Opened in 1997, Argos in Cappadocia is the brainchild of founder Gökşin Ilıcalı and his good friend and Master Architect Turgut Cansever. Upon discovering and acquiring some of Uchisar's oldest and most dilapidated dwellings, the pair set out to create a boutique hotel, with their primary and main concern being to "restore Cappadocia to its former glory", an aim which they have truly surpassed.
Argos is now a proud member of Mytha Hotel Anthology, a collection of unique luxury hotels. It is a place of magic; of serenity; and of ultimate luxury. Moreover, it is a place from which one can discover the true marvels of this incredible place. Argos in Cappadocia bills itself as "an ancient village with a reception desk", in which "some come to tour, some come to savour, some arrive with preconceptions, some bring a sense of wonder, some take away memories and some go home enriched for life". I could not agree more…
The hotel has won huge awards from Fodor, departures.com, World Luxury Hotels, Condé Nast and Wine Spectator, with many hailing it 'Best in the World', an accolade which it is certainly worthy of, featuring the largest wine cellar in Turkey, sprawling vineyard valleys in which it grows its very own variety of grape, one of the largest on-site herb gardens in Europe, an incredible SEKI Restaurant, aptly-named Splendid Suites that feature their very own private in-room swimming pool.
"I started this hotel for myself", the owner told me over a fire-side cognac and cigar tasting session, "but now people come from all over the world to experience this special, magical, beautiful place… Nicholas Cage even flies in by private jet from time to time". Although Nicholas Cage is not an anomaly, many celebrities have stayed in at Argos with the iconic Martha Stewart enjoying the same extensive, stone-walled room as me, although not at the same time.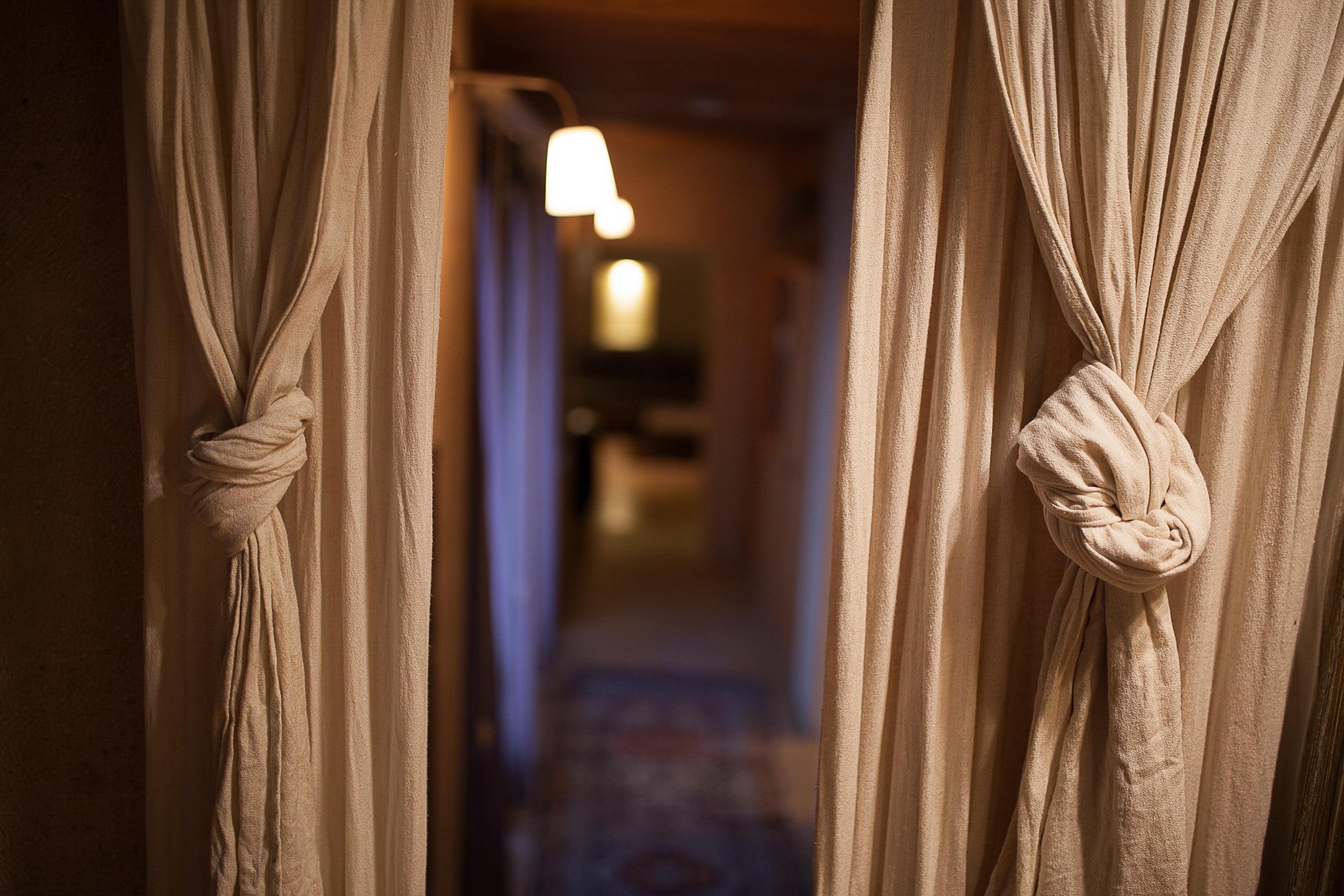 My room, however, would have been plenty big enough for us both. Upon entering, a large lounge area welcomed me with arched ceilings, low rustic furniture, majestic Turkish décor and an impressive open fire in the centre of the back wall, gratefully lit at the end of each day, with the warmth kept in by floor-to-ceiling draft-excluding drapes.
The bathroom was more impressive, still. Set out in a long side room with a well-lit mirror in the centre and the toilet and shower area at each end respectively, it provided a truly relaxing experience. The raindrop shower was enormous and drenched every inch of you within seconds, whilst Molton Brown toiletries provided ultimate nourishment as a spa-like scent wafted. The spa theme continued into the bedroom, wrapped in a super-soft hand stitched robe I parted a set of drapes. Ascending a small set of stone steps, I collapsed into one of the biggest, softest beds I'd ever seen and, gazing up at the wooden log ceiling that glowed with a soft, warm light, I was asleep in mere seconds.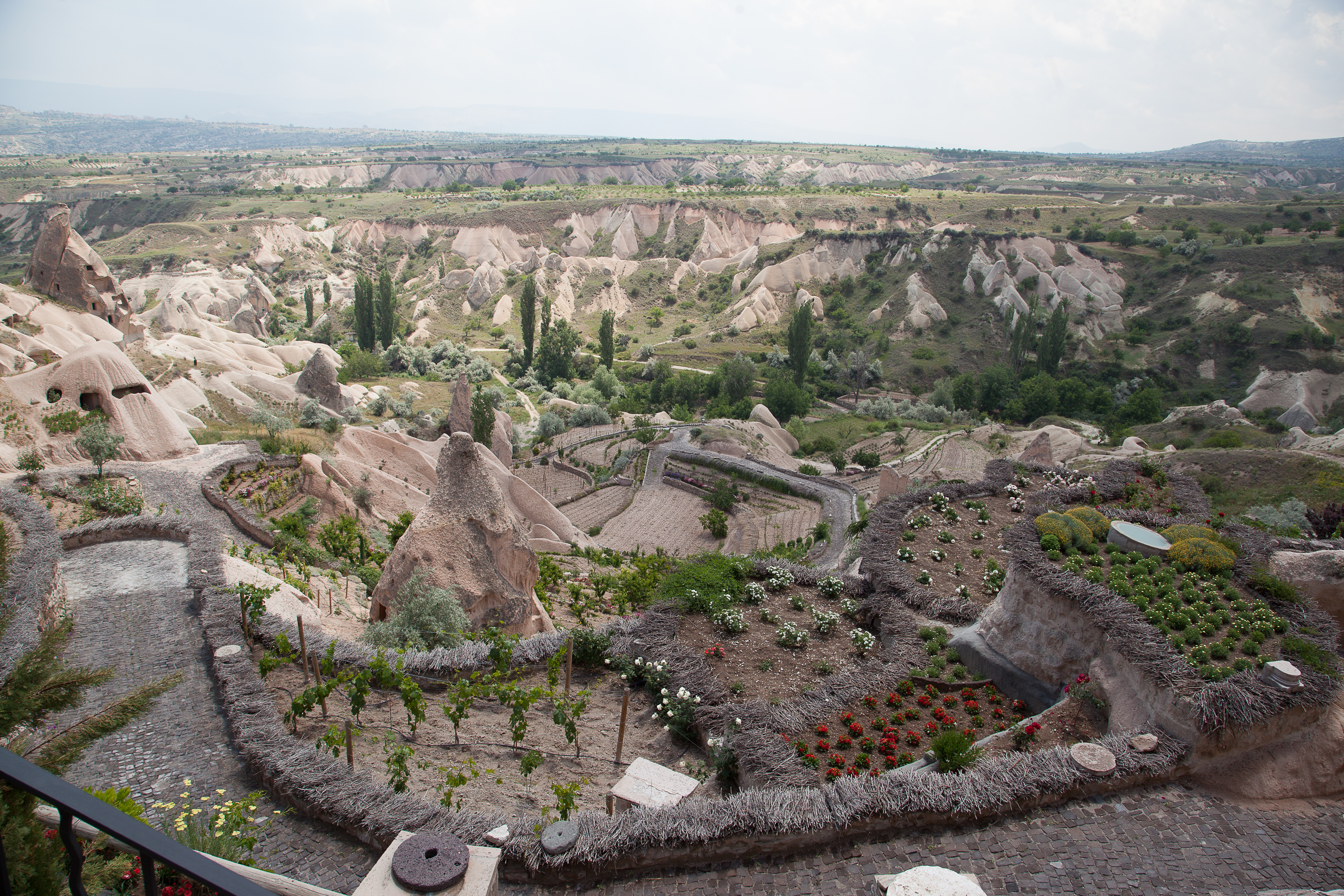 After a full ten hours of uninterrupted sleep had passed, I awoke in paradise. Parting the blackout drapes, the room flooded with warm, natural light as the traditional Muslim call for prayer boomed from a nearby tower. Having arrived in darkness, I stepped out onto my private balcony to experience Cappadocia for the first time. It was incredible. Graduated valleys stretched out below me in rich reds, greens and yellows, whilst a perfectly blue sky cast a light that made the magic before me come to life. The call for prayer ended, replaced with serene silence which only gave way to musical birdsong. I had read about the place prior to arriving, but nothing had prepared me for just how perfectly beautiful it would actually be.
After an indulgently long shower, I made my way down the hill to the SEKI Restaurant for breakfast, passing complimentary on-site mountain bikes along the way – a convenience I took advantage of later in my stay. The bikes were a fantastic way to explore the deep, winding valleys.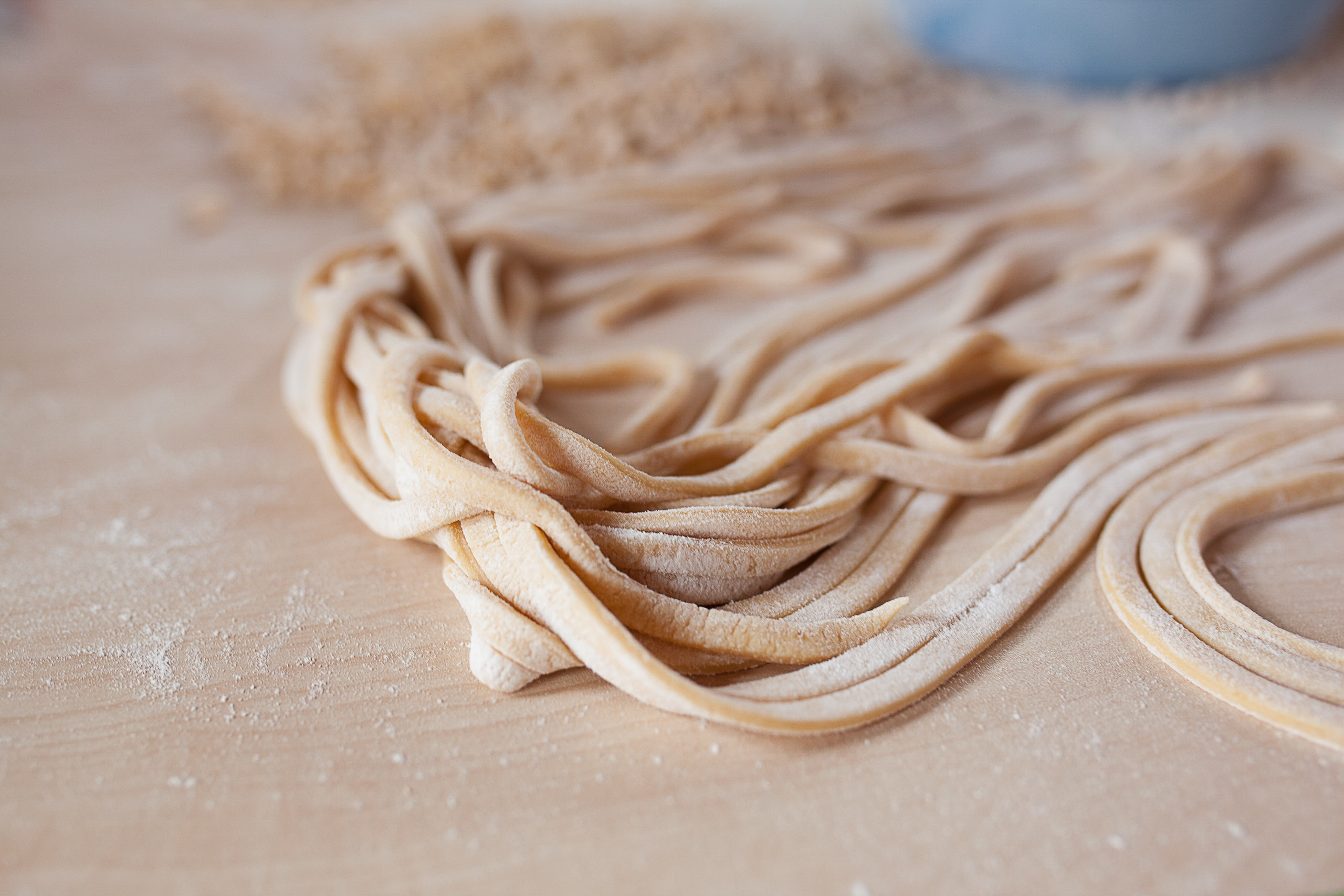 I really love food, especially when it becomes such an integral part of local culture. Combining Turkish influences with European classics, the fare was meze style, grazed on over an extended period with friends and with a variety of separate elements making up the meal. That's another thing I love: discovery – and the opportunity to discover new cuisines here was fantastic. I sampled an array of local cheeses, meats, herbs, seeds and fruits as conversation flowed at the same rate as the endless supply of traditional Turkish tea.
Argos in Cappadocia had such a wonderful energy about it, so much so that I could imagine it make a fantastic yoga destination, and with plans for a spa to be integrated in 2018 alongside even more luxurious villas, you're probably reading about your next self-discovery retreat right now. Although if yoga isn't your forté, I should let you know that the aptly-named 'Splendid Suites' provide you not only with fantastic views, but also with your very own private in-room swimming pool. If you're still not impressed, then why not indulge in a private tour of Argos' private wine cellar: The largest in Turkey, it has the capacity to hold over 70,000 bottles, many of which come from its own vineyard. If that isn't luxury, I don't know what is.
With such an impressive hotel as our base, the next few days would provide many things: ultimate relaxation, cultural discovery and life-changing experiences.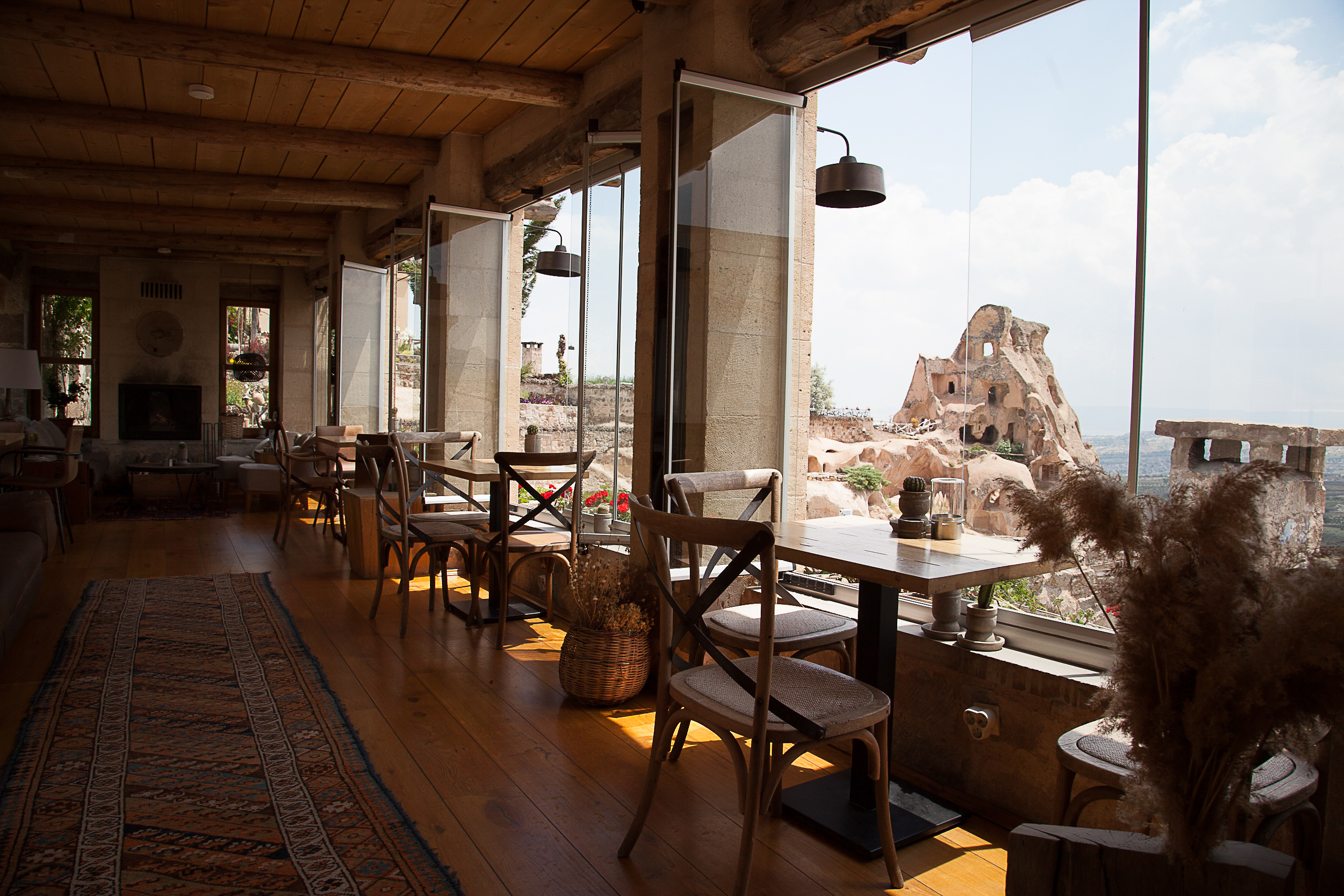 Cappadocia and the areas that surround it offer great potential for exploration, and heaven-on-earth for any experiential traveller. A short car journey away, we reached the UNESCO World Heritage site of Derinkuyu Yeralti Sehri or Underground City.
The Underground City was formed in the Byzantine era when it was heavily used as strategic protection from Muslim Arabs during the Arab-Byzantine wars between 780 and 1180AD. Extending to a depth of 200 feet, it in ancient multi-level underground city full of secrets and history. It is thought to have sheltered over 20,000 people at any any one time and to have saved the lives of thousands upon thousands. Only opened to visitors in 1965, only half of the city is currently accessible to tourists, but the areas that we were able to explore were truly impressive. Low ceilings and narrow corridors were used to trap the Muslim Arabs as the Byzantines fled in total darkness, and the original stones used to roll across and block the tunnels are still intact to this day.
The Underground City is a truly moving experience and one that you simply must take when you visit. An average of 2 million tourist visit Cappadocia, the place has so many stories to tell. As we explored Derinkuyu further we happened upon wonderfully Turkish carpet shops, small family-run restaurants and authentic street markets placed there just to attract tourist attention with models, dolls and flags for sale.
Cappadocia's tourism industry is booming. Whilst we were in the region, we toured a silk house and traditional Turkish carpet maker, with handmade works of art in all shapes, sizes and materials and an impressive pottery workshop and gallery. Perhaps the most impressive to behold were the Fairy Chimneys of Goreme left behind by years of volcanic eruptions and stretching high into the sky.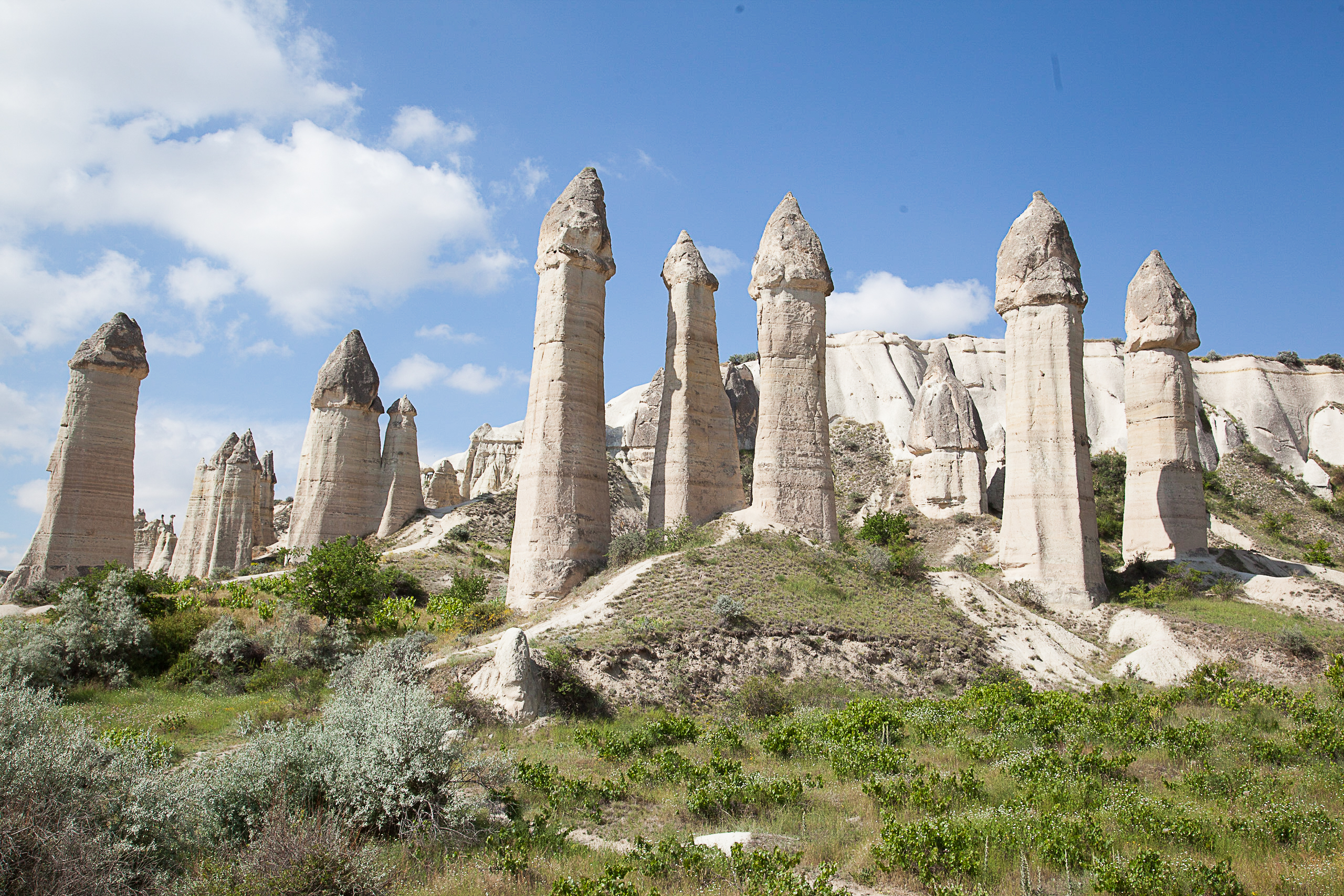 Goreme is magical. Its National Park features one of the most remarkable landscapes I have ever witnessed and I was in complete awe of my surroundings the entire time. Thousands of people, locals and tourists alike, visited on that day, viewing pigeon houses built into the caves by man, art-emblazoned churches and chapels and original dwellings complete with musk houses that provided a glimpse into Cappadocia's illustrious wine history. It was such a special place that many couples had visited the area to have their wedding photos taken, coming from all over the country and, in some cases, around the world.
We visited a traditional home-style restaurant for a well-earned break. Old Greek House was an idyllic al-fresco dining experience with lovingly home-cooked food and a cool breeze that crept through a luscious green trellis of nature above us. Vine leaves, hummus and lamb kofta were slowly grazed on as we reflected on how lucky we were to have experienced all we had that afternoon. I even rode a camel – surprisingly terrifying!
Back in our perfect little village, I returned to my room to shower before our wine tasting dinner in Argos' own private chapel. Entering the room, I noticed an extreme attention to detail. It was unlike any service I'd experienced before. My shoes were straightened by the door, my belt rolled and a perfectly chilled bottle of Argos' wine on my table. I could certainly get used to this.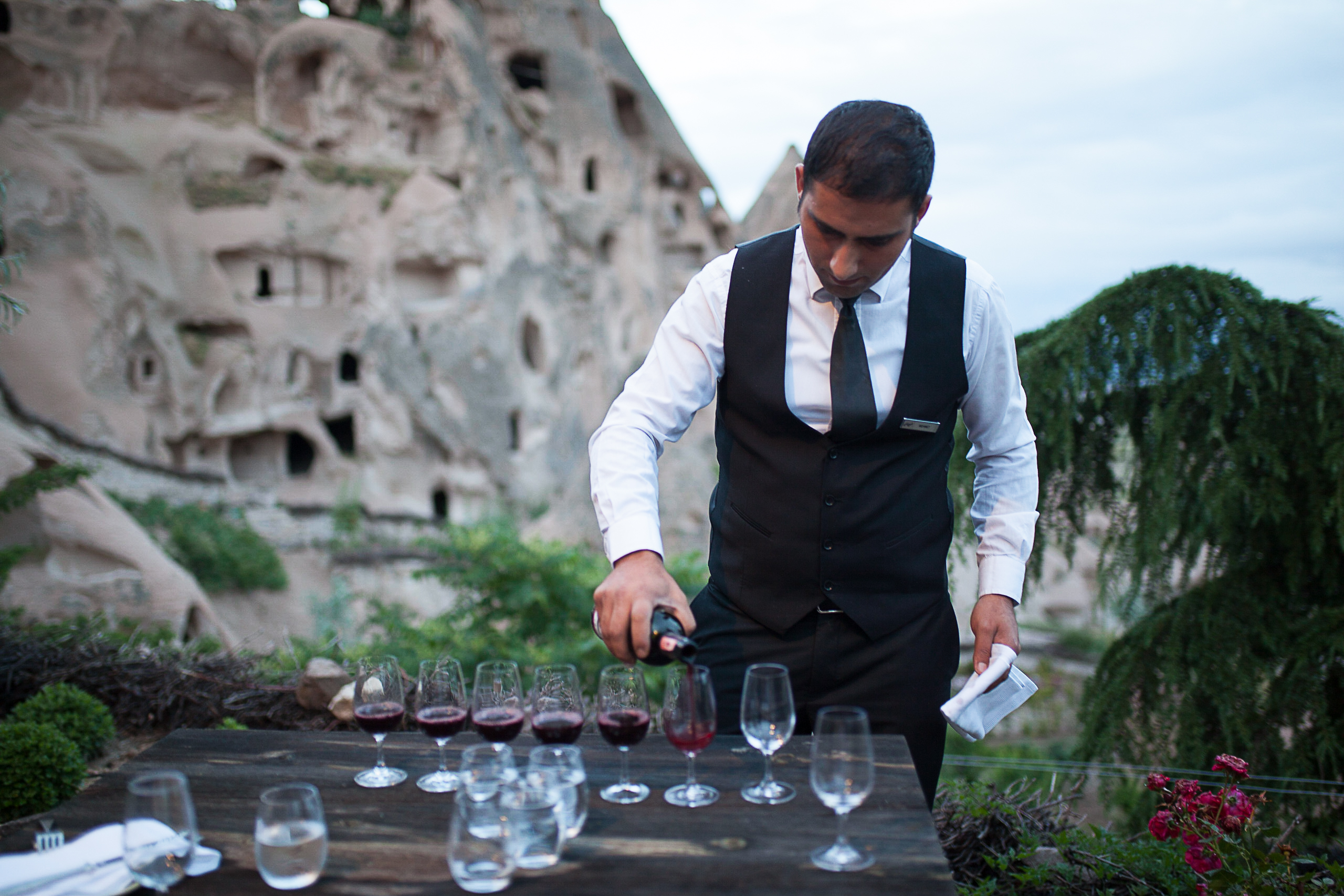 The chapel was set beautifully for the occasion. A long table was decorated with local plant arrangements, long white candles and pristinely polished cutlery and glassware. To begin, though, we stepped away from the table and outside the chapel doors, standing around a large fire pit and overlooking the intensely beautiful valley as the sun set, tasting 5 different Cappadocian wines as we gazed into the distance, occasionally falling silent as became distracted by the landscape stretching out before us.
Soon, the scent wafting from inside invited us back to the table and, taking our seats, the feast began, a celebration of interesting local ingredients and classical Cappadocian dishes. To start, we shared warm hummus with savoury pastrami, a local cheese and meat plate, cheese and onion samosa style pastries and the freshest salad in any hotel I've stayed at. Coming from Argos' own herb garden, with its naturally irrigated soil, the greens were vibrant and their taste dry and fiery.
Though the main course, it seemed, was the real celebration here. Three enormous tandooris of lamb were placed along the table, served on a bed of rice, dried wine grapes, pistachio and rosemary. It was rich, succulent and so very tender.
Dinner over, we retired back to the fire pit, where the owner surprised us with expensive cigars and large glasses of Hennessy. We sat there talking, drinking and smoking for hours, until the sky was black, and a galaxy of bright white stars revealed themselves to the valley below.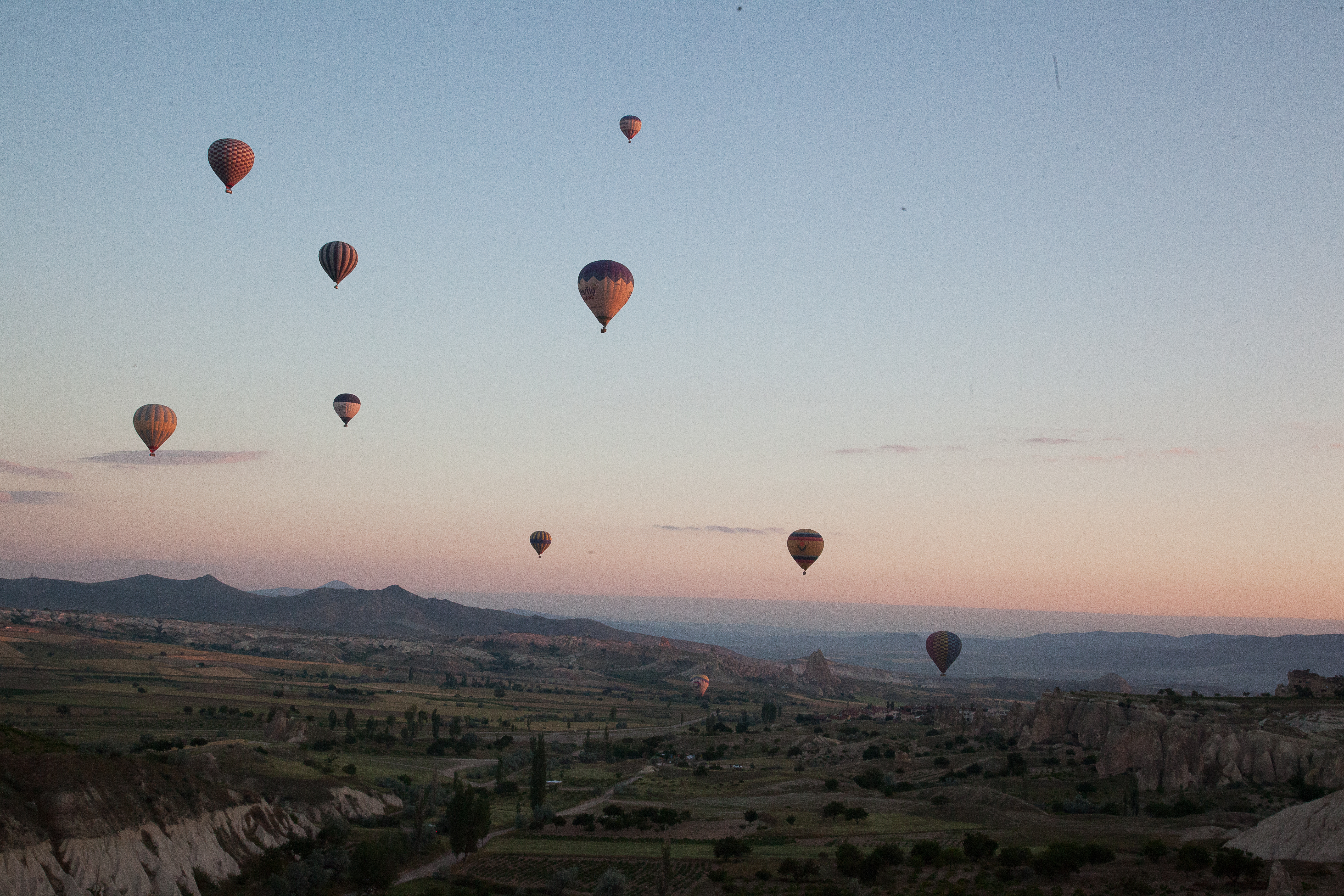 After a short night's sleep, a refreshing shower and a few Nespresso capsules to fight off the hangover, we departed the hotel just before 4am, for one of the world's very finest hot air balloon tours. 'Fine' does not even begin to cover it. After a continental breakfast at the base, we left in a minibus across the valley, looking out into the distance and hundreds of balloons preparing to take flight.
After watching our balloon take shape we excitedly climbed aboard. Within minutes were in the air, rising with the morning sun for what would be the most incredible experience of my life to date. There's nothing like some ice cold air at a slightly unsettling altitude to ease the hangover, but the views that stretched for miles had an incredibly soothing effect. As the sky lit up with a fusion of orange and pink, the fire above us subsided leaving behind perfect peace. You really do gain a new perspective up there in the heavens. Everything below looks so small in comparison to that wondrous landscape, what a perfect end to a perfect trip.
I've never taken so long to leave a hotel. I kept giving myself unnecessary things to do just to keep me in the room for that little bit longer… saying goodbye was heartbreaking. I can't wait to return and wake up in paradise once again. Cappadocia, you have my heart.
Argos in Cappadocia
Nevşehir Merkez, 50240 Uçhisar Belediyesi/Nevşehir Merkez/Nevşehir, Turkey
Photographer
Sam Dibley