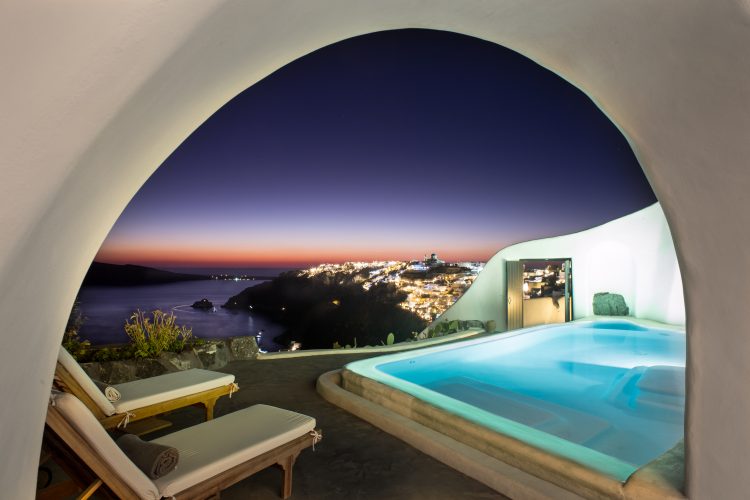 Nikos Kazantzakis, a bright light in contemporary Greek literature once wrote 'I felt once more how simple and frugal a thing is happiness: a glass of wine, the sound of the sea. Nothing else.'
The enchanting island of Santorini is a celebration of simplicity. Although it is often referred to as the jewel of the Aegean, it is most renowned for its raw beauty. Under the blazing Greek sun, whitewashed villages glow like pearls, perched upon cliff tops hundreds of metres above sea level. However, don't be fooled by the simplistic architecture, deep inside some of these villages lies unfathomable opulence.
In 1969 Manos Psychas, a captain of the Greek navy, and his wife Nadia bought a piece of cliff dotted with cave dwellings and stables in the Perivolas area of Oia. His family had roots in Santorini since the 19th century and he had a vision to create an idyllic retreat and to renew his ties with his heritage.
Over the next decade or so, the historic setting was carefully and gradually transformed, remaining faithful to Santorini's traditional architecture with the help of native craftsmanship and the use of local stone. Perivolas was a true labour of love, built and designed by the Psychas family which has been capturing the hearts of locals and travellers alike ever since its creation.
In 1983, iconic Hotel Perivolas opened its doors and the small coastal town of Oia, on the northwestern tip of Santorini was thrust into the spotlight. Tucked neatly into the cavernous hillside, made up of a cluster of 300-year-old traditional caves, known as 'yposkafa', Perivolas now has 20 luxurious studios and suites and is one of the most exceptional luxury hotels around.
We stayed in the iconic Perivolas suite, a true definition of contemporary luxury. The suite is the jewel in Perivolas' crown, a place of fluid consciousness where living and sleeping melt seamlessly into one. Inside the cool white-washed cave is an en-suite bedroom with a double bed made in crisp white sheets and a hot pink throw. Under the cavernous domed ceiling is the lounge area, with a sofa built into the stone and decorated with fluffy white pillows and complete with an additional king-sized bed built into the stone. Wicker baskets are dotted around the suite overflowing with cerise and lilac flowers and a crystal carafe of local wine sits on the wooden living room table.
The suite has not just a bathroom but the living area also boasts its own private beauty spa, with a steam room, double vanity sink and a hydrotherapy massage pool built into the stone floor. However, the unimaginable opulence does not stop here, a highlight is undoubtedly the heated caved infinity swimming pool that stretches from the bedroom out onto the grand private terrace.
Sink into the surprisingly deep azure waters of the pool and look out onto one of the mesmerising panoramic views, so staggeringly beautiful that I promise it will take your breath away. Watch the white sailboats waltz across the glittering cobalt blue of the Aegean sea with only the occasional toll of church bells for company.
With such perfect accommodation, you have to be dragged out kicking and screaming. However, should you feel the desire to explore, Perivolas has an intimate spa stocked with natural Apivita products which offers a range of bespoke facial and massage treatments. Relax in the outdoor jacuzzi overlooking the majestic volcano or slink into the steam room and sauna followed by a rejuvenating jet shower. For the more active guests, there is a fitness studio, as well as private yoga and pilates sessions that are also available overlooking the magical caldera.
If you are looking to venture slightly further afield, Perivolas has a sleek fleet of speedboats ready to whisk guests off to secret beaches, sea caves and neighbouring islands. The charms of the pretty village of Oia are only a 5-minute walk away; from designer boutiques to spas offering fish pedicures, there is truly something for everyone.
Although there are a vast array of delicious culinary options in Oia, you won't find better than the Perivolas restaurant, a converted wine cellar overlooking the pool and the ocean with tables spilling out onto the split-level pool terrace.
From your suite door, follow the black stone paths framed by fuchsia geraniums to the poolside Perivolas restaurant where a banquet-style breakfast is served each morning. Start with a freshly squeezed peach juice or an iced Earl Grey tea, followed by a golden omelette filled with peppers, feta and tomato and to finish a fluffy stack of sour cherry pancakes crowned with cool whipped cream.
Gastronomy is at the heart of Perivolas and this is perfectly executed for dinner. Arrive an hour before sunset to experience the true beauty of Santorini. Celebrated Chef Theodoros Kakoulis has created an incredible contemporary Greek menu with daily specials using only the finest seasonal local produce.
The 8-course Degustation menu is truly a work of edible art; it is a culinary journey through the Mediterranean and is as pleasing to the eye as to the palate. Highlights include an aromatic heritage salad with heirloom tomatoes, Santorinian white eggplant and feta cheese, Steamed Mussels with Greek bottarga and Smoked Sea Bass and the traditional Roasted Lamb with red pepper harissa and tzatziki.
Allow sommelier Panos Zoumboulis to guide you through the extensive curated wine list. We adored the local wines, especially Ktima Gerovassiliou, Viognier PGI Epanomi 2017 by the 'Godfather of Greek wine' Evangelos Gerovassiliou, who revived his family's vineyards from 1981 and single-handedly saved the native Malagousia grape from extinction. Sit back, sip your glass of wine and watch as the day ebbs away. Candles flicker on the crisp white cotton tablecloth, the pool is illuminated with lights and above, mother nature puts on her greatest show.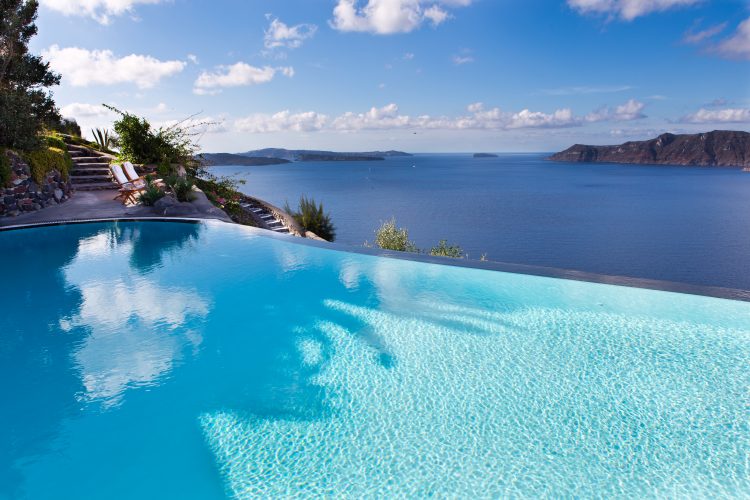 There are no sunsets in the world that rival those in Santorini. Watch as the cloudless powder blue sky powder fades to a dusky pink before being set alight with streaks of gold, orange and red hues. Once the sky has become a sea of black velvet, studded with stars, look closely as Mars, Jupiter, Mercury and Saturn can often be seen with the naked eye. A little closer to earth, the bright lights of Oia glitter in the distance like fireflies, like an oil painting, come to life.
Today his estate promotes indigenous Greek grapes and is recognised around the world as one of Greece's most extraordinary producers.
Finish with a glass of chilled Taittinger Brut Prestige Rosé and Pavlova, stacked meringue topped with forest fruits and pistachio ice cream sprinkled with roasted pistachio nuts or the Chocolate Ganache with fleur de sel, crispy caramel and spiced chocolate ice cream.

Bookings can be made at Perivolas.gr and the hotel is found at Perivolas, Thira 847 02, Greece