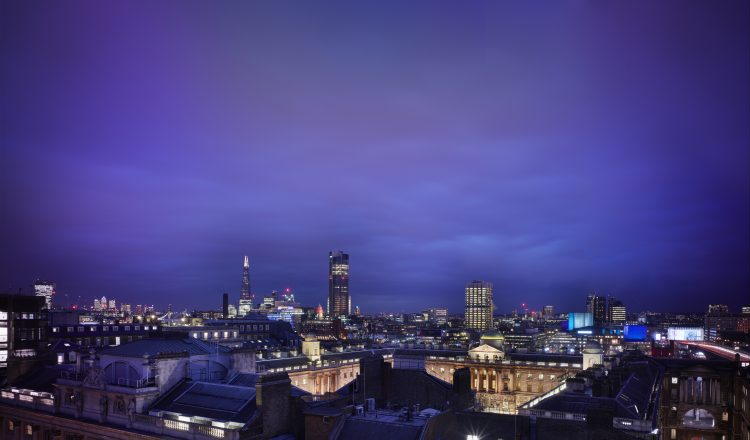 Situated on the 10th floor of the luxurious ME London hotel, Radio Rooftop is one of London's most iconic venues. It offers stunning views, overlooking the historic Somerset House, the River Thames and London's magnificent skyline. From sunrise to sunset, guests are welcome to eat and drink in the company of the cities most famous landmarks, from the London Eye to Big Ben.
There is an impressive cocktail and food menu year round but in winter something truly spectacular happens at Radio Rooftop. To celebrate the arrival of winter, the terraces are transformed into luxurious Alpine-style winter hideaways in partnership with Grey Goose Vodka. The north and south-facing terraces become Alpine-inspired lodges in the sky. Drape yourself in a cosy faux-fur throw and a blanket whilst flickering lanterns illuminate the luxurious lodge.
Start with a selection of seasonal cocktails, we particularly love the Alpine Slope, made with Sweetgrass infused Grey Goose, muju jasmine verte honey and chamomile cordial topped with tonic water. If you fancy something warmer, the Winter Warmer is served hot, an intoxicating infusion of Martini Fiero, pear cider, mead and aromatic spices. For food there is a choice of two decadent platters, the first is the French Alpine platter laden with French cold cuts, Bayonne ham, camembert, roquefort, pickled vegetables and fresh bread with chutney. Alternatively, there is the Mediterranean platter with patatas bravas, sweet potato and manchego croquettes, Giarraffa olives, beef meatballs and guacamole with tortilla chips, all served against the backdrop of this winter wonderland.

@radiorooftoplondon
336-337 Strand, London WC2R 1HA