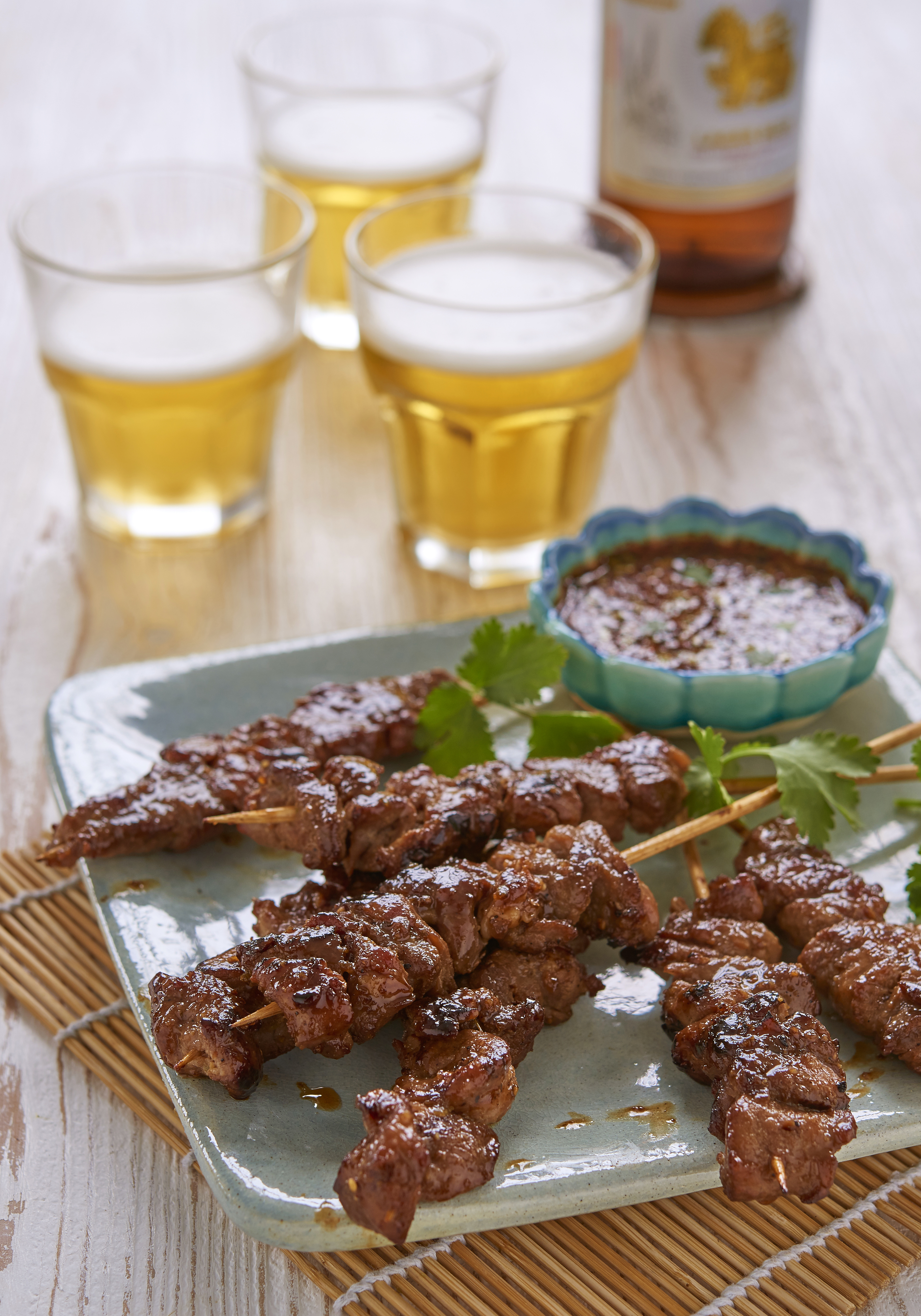 Andy Oliver is head chef and co-founder of London restaurant Som Saa. Andy will be working with Singha beer to create a range of mouth watering recipes that demonstrate the authentic taste of Thailand. As the first beer to be brewed in the country by Royal Permission in 1933, Singha's crisp rounded flavour works perfectly to complete any Thai meal.
Moo Ping pork skewers
These are THE classic Bangkok streetfood skewer, moreish sweet-salty pork, eaten any time of day, ideal with a ball of sticky rice.
Makes 12 skewers
Preparation time: 15-20 minutes
Ready in 2 hours (including marinating time)
Ingredients
400g pork shoulder (make sure it has a little fat)
1 lemongrass stalk, bashed
2 tbsp coriander roots, chopped
4-5 cloves of garlic
½ tsp white peppercorns
50g of shaved palm sugar or golden caster sugar
1 tsp dark soy sauce
2.5 tbsp fish sauce
1 tbsp vegetable oil
50ml coconut milk
pinch of salt
Bamboo skewers
Method
Soak the bamboo skewers in water for 15 mins or so
Cut the pork shoulder into 1cm thick slices against the grain, dont remove too much fat.
Now in a pestle and mortar add the pinch of salt and pound together the white pepper, garlic cloves and coriander roots.
Mix in the palm sugar, dark soy and fish sauce and use the pestle to mix and dissolve the sugar, now stir in the vegetable oil.
Pour this marinade mix over the sliced pork and leave for around 1 hour (maximum 4 hours). Thread the marinated pork on to skewers. Slowly grill the skewers over charcoal for 15-20 mins, occasionally basting with the coconut milk using the bruised lemongrass stalk.
Serve with a large ball of sticky rice