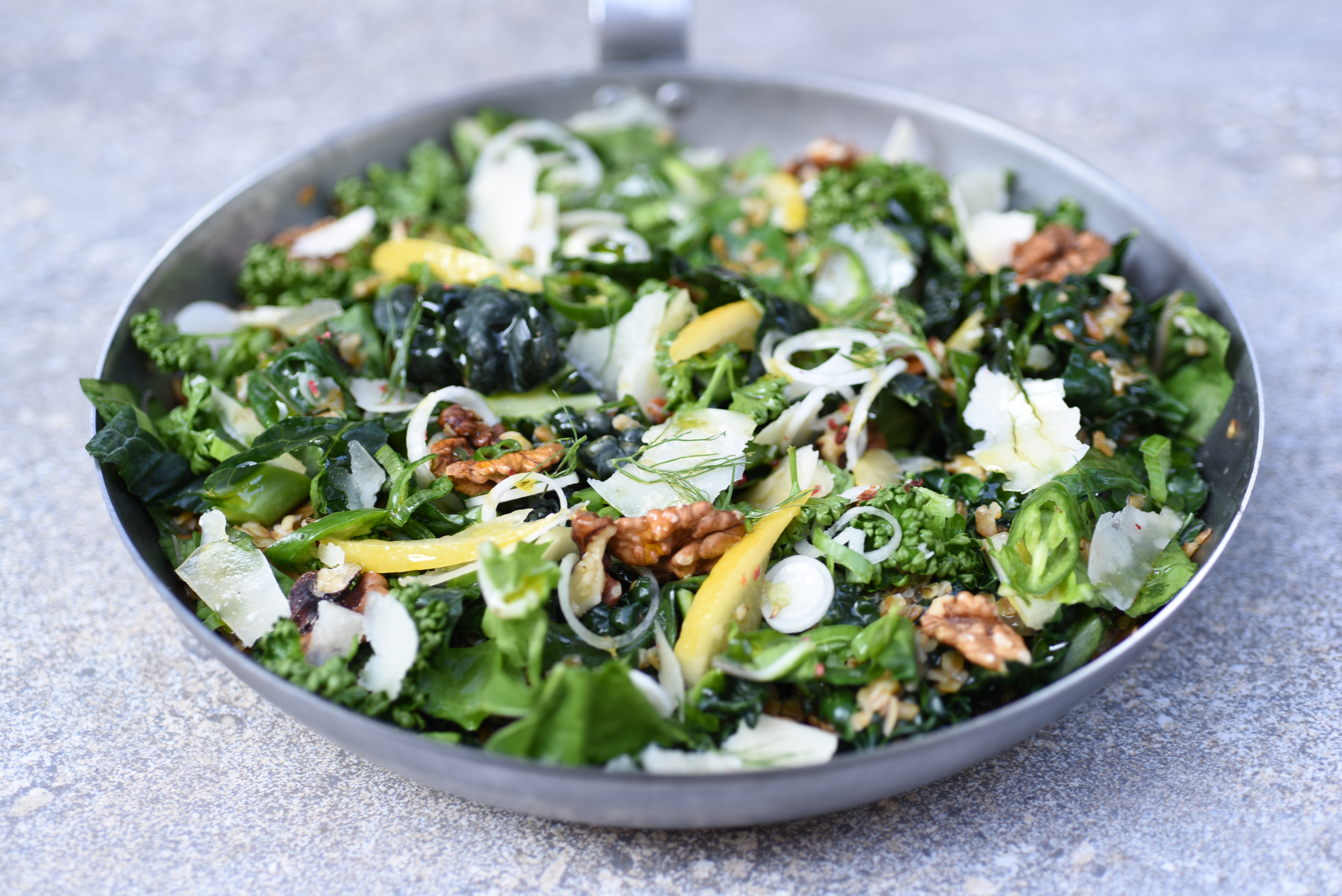 Preparation Time 10 minutes
Cooking Time 25 minutes
Serves 4
Ingredients: 
150g Buckwheat
Generous glug of rapeseed oil
1 Pint of water
Generous glug of extra virgin rapeseed oil
2 Large leaves of chard- Finely shredded
2 Leaves of Cavelo Nero – Finely shredded
½ Preserved lemon – Finely sliced
1 Spring onion – Finely sliced
Handful of parsley – Roughly chopped
1 Green chilli – Finely sliced
1 Tbsp Fennel tops
25g Parmesan – Finely peeled
Handful of walnuts
Generous sprinkle of sea salt flakes
Generous sprinkle of pink peppercorns (or black)
Method: 
First soak your buckwheat in boiling water. Leave for one minute then drain and lightly toast in a good glug of oil before adding your water (don't add salt until cooked as it makes them tough). Cook for 15 or so minutes then leave to rest for 10 minutes. Once the buckwheat is cooked allow to cool. Take a medium sized saucepan and add a small glug of rapeseed oil, add your chard and Cavelo Nero along with a generous sprinkle of seasoning. Cook over a medium heat for 2-3 minutes or until they begin to wilt and remove and allow to cool. Once cool add in the buckwheat and combine, adding further seasoning if necessary (have a try before you do).Sprinkle over the preserved lemon, spring onion, parsley, chilli, fennel tops, Parmesan and finally the walnuts. Finish with a little extra extra-virgin rapeseed oil and pink or black pepper. Keep refrigerated until ready to serve.
Follow Anna Barnett on Twitter: @AnnaBarnettCook
Follow Anna Barnett on Instagram:  @AnnaBarnettCooks