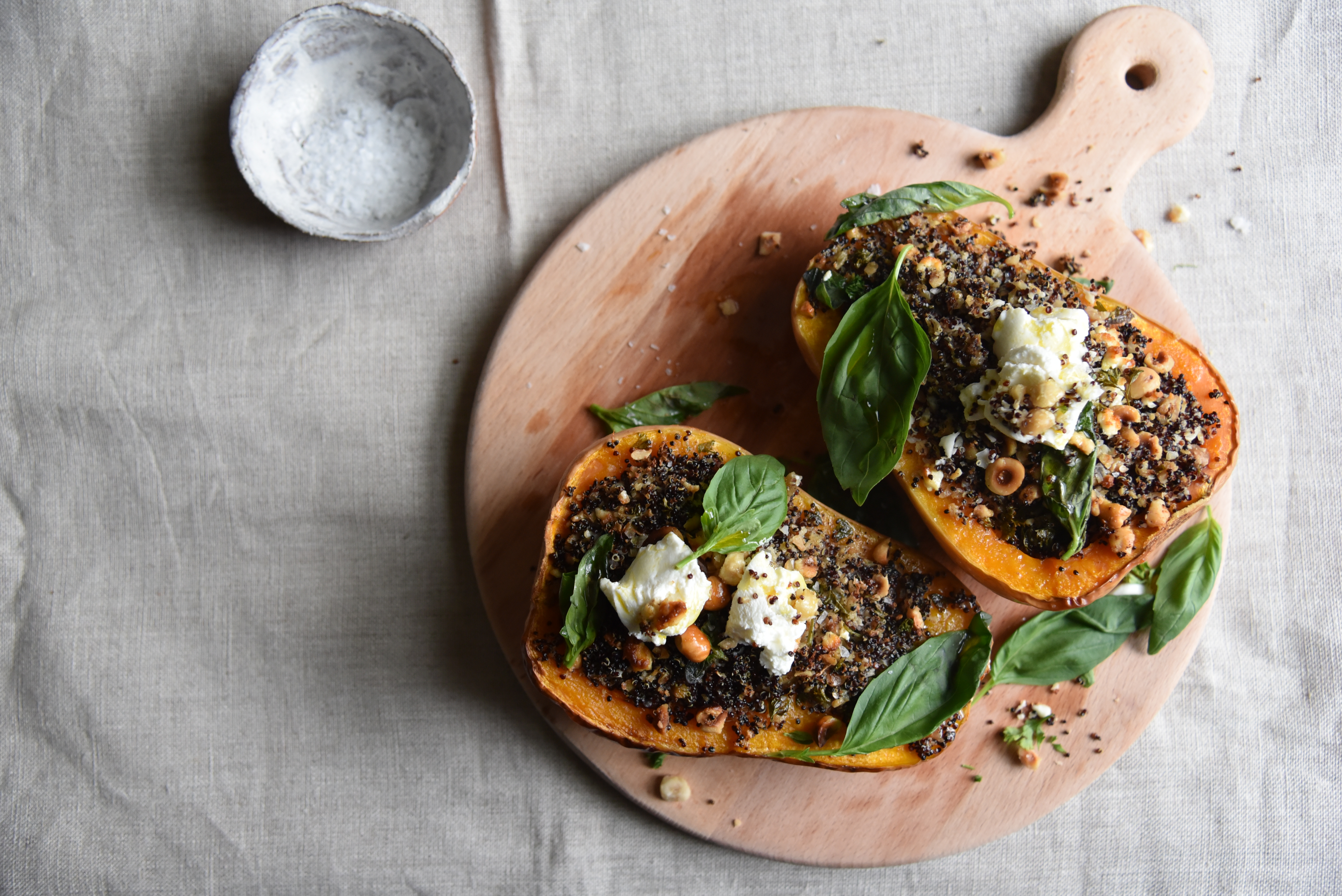 A perfect Sunday lunch option instead of the usual regular nut roast. This hearty, sweet, rich tasting squash works deliciously alongside the nutty, protein heavy filling of black quinoa, hazelnuts and herbed cauliflower rice. These can also be prepped well in advance.
Preparation Time 15 minutes
Cooking Time 45 – 55 minutes
Serves 4
Ingredients:
1 Large Squash – Cut in half, seeds removed, gently score flesh
Generous glug of rapeseed oil
Good sprinkle of sea salt flakes
½ Tsp of turmeric
200g Goats Curd/Cream Cheese or Feta
100g Black quinoa – Cooked as per instructions
Handful of hazelnuts – Roughly blitzed
¼ Cauliflower – Blitzed into rice
Generous glug of extra virgin rapeseed oil
Sprinkle of sea salt flakes
Handful of fresh oregano – Finely chopped
Handful of basil leaves – Roughly chopped
Method:
Begin by slicing your squash in half, scoop out the seeds, then score the skin, drizzle with oil and add seasoning. Roast on 190 degrees Celsius for 40-50 minutes or until soft and golden round the edges.
In a separate pan cook your quinoa as per instructions. This should take around fifteen minutes. You can also blitz up your raw cauliflower now along with your hazelnuts. Next chop up your fresh herbs, saving a small handful of basil leaves to garnish.
In a bowl mix the cooked quinoa, cauliflower rice, roughly blitzed or chopped hazelnuts and finally mix in your chopped herbs and add seasoning.
Once the squash is cooked, add two generous spoonfuls of goats curd then spoon in your quinoa/cauliflower mix, piling it up high. Drizzle with a little extra oil and return to the oven for 4-5 minutes.
Serve with an optional extra dollop of goats curd and sprinkle over the remaining basil leaves.
Follow Anna Barnett on Twitter: @AnnaBarnettCook
Follow Anna Barnett on Instagram:  @AnnaBarnettCooks