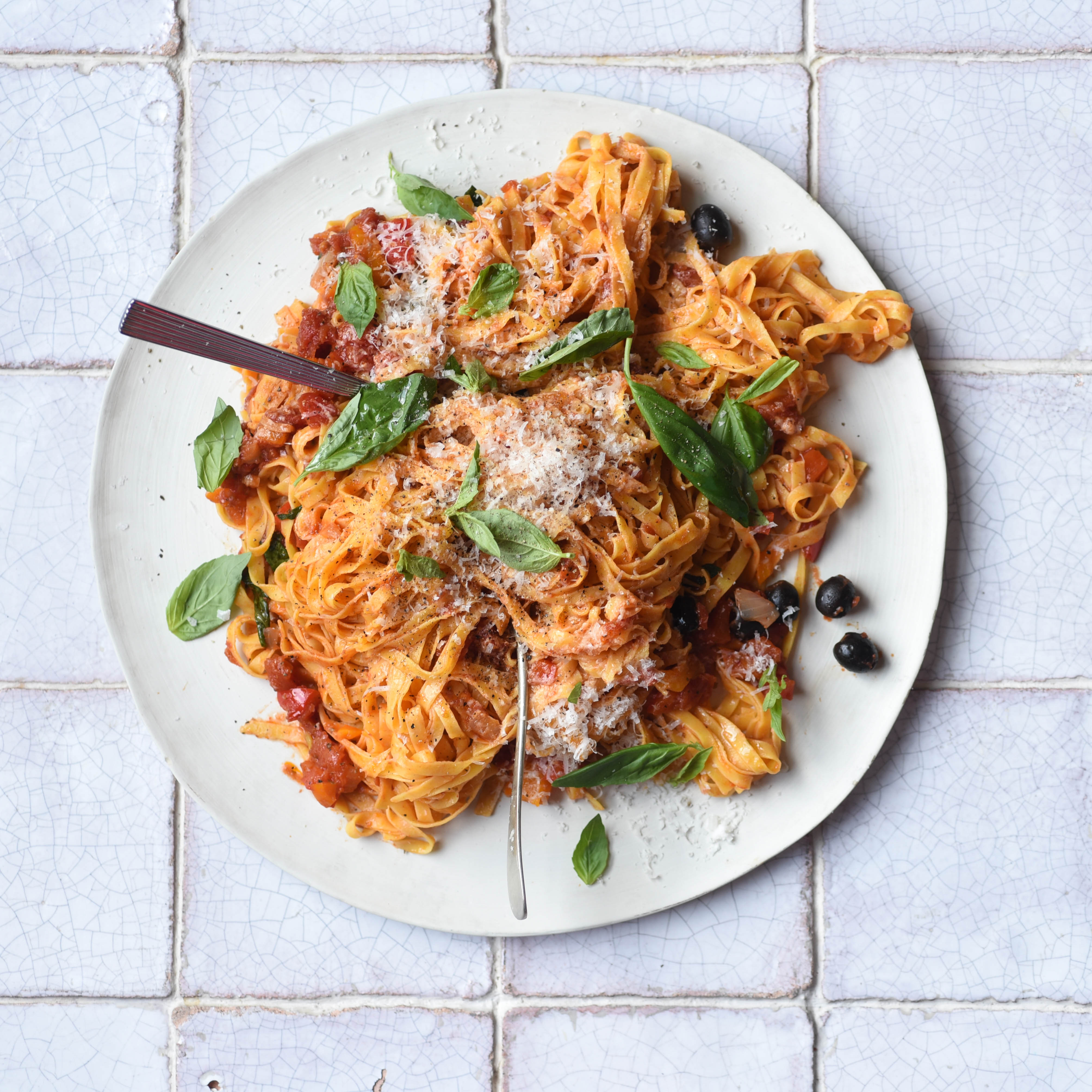 Preparation Time 10 minutes
Cooking Time 45 minutes
Serves 4
Ingredients:
3 generous glugs of olive oil
1 white onion – finely diced
1 red pepper – finely diced
3 large cloves of garlic – crushed and diced
2 tins of good quality cherry tomatoes (plum will do the job too)
4 tbsp black Greek style olives – stones removed
generous sprinkle of sea salt flakes
several turns of freshly ground black pepper
1 tsp of Turkish pepper flakes or chilli flakes
1 bunch of basil leaves – keep a small handful to garnish with
40g Parmesan (or vegetarian alternative) – finely grated
zest of half a lemon
Method: 
Begin by heating your oil in a large frying pan. Add the chopped onions, garlic and pepper and cook over a low heat for ten minutes. Add the tinned cherry tomatoes, olives, seasoning, chilli and a third of the basil leaves. Cover and allow to cook over medium heat for 25-30 minutes. Taste the sauce and adjust seasoning according to your taste, adding in extra spice if you prefer.
Serve with tagliatelle, cooking as per instructions. I opt for a large saucepan with plenty of sea salt. Bring the water to the boil then add pasta and stir for the first minute or so to stop the pasta sticking then cook without a lid for around 10-12 minutes or until al dente.
Once you've drained the pasta, hold back a little of the water and add that to your sauce then combine and thoroughly mix the sauce through the pasta.
Sprinkle over the remaining basil leaves then finely grate over heaps of Parmesan. Add extra freshly ground black pepper, a drizzle of olive oil and serve.
Follow Anna Barnett on Twitter: @AnnaBarnettCook
Follow Anna Barnett on Instagram:  @AnnaBarnettCooks